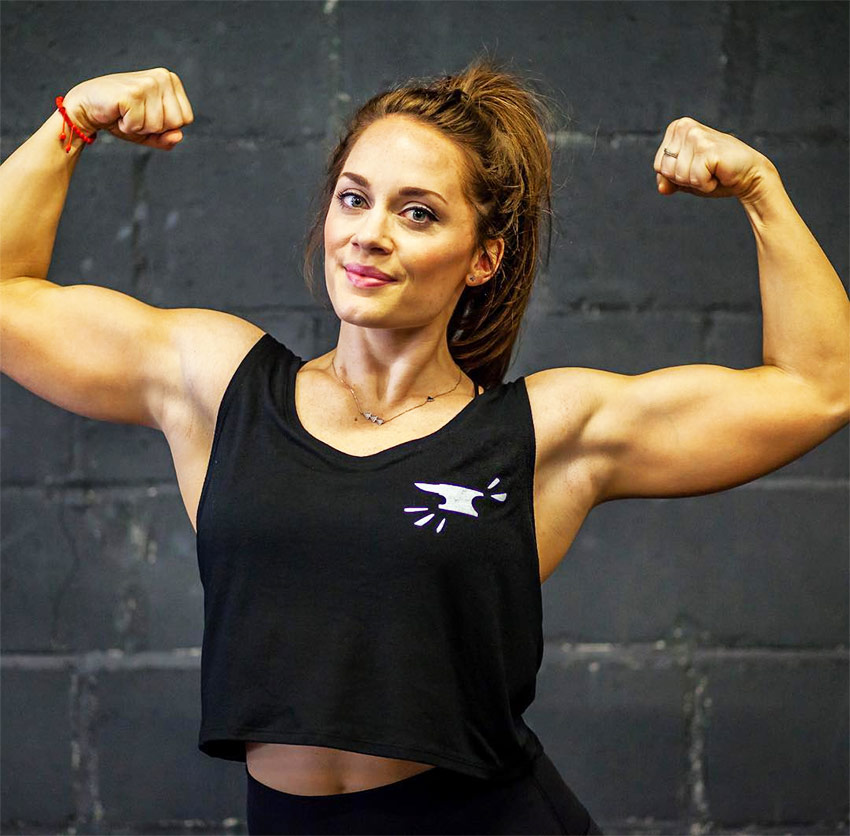 Meg Gallagher
Powerlifter, Social Media Star
Meg Gallagher (AKA. Meg Squats) is a social media star and fitness icon. She inspired masses of followers to build powerful figures, becoming known for her aesthetics and strength.
However, she wasn't always an motivational athlete – Meg lived a party lifestyle during college, regularly consuming alcohol and junk food.
This is her story:
---

"I'm at a point where I don't even care how I look. I think I look fine and I look happy, but that's not my main focus anymore, which is so freeing."
Athlete Statistics
Full Name: Megan Gallagher
Weight
Height
Year of Birth
Nationality
135 - 145lbs (61.2 - 65.8kg)
5'3" (160cm)
1989
American
Profession
Era
Powerlifter, Social Media Star
2010
| | |
| --- | --- |
| Weight | 135 - 145lbs (61.2 - 65.8kg) |
| Height | 5'3" (160cm) |
| Year of Birth | 1989 |
| Nationality | American |
| Profession | Powerlifter, Social Media Star |
| Era | 2010 |
---

"I think that every human possesses the ability to get stronger."
Accomplishments
Powerlifting
63kg USAPL 
Open New York State Raw Deadlift (175kg)
Open Washington DC Raw Squat (125kg)

Open Washington DC Raw Deadlift (172.5kg)

Open Washington DC Raw Total (385kg)


Open Washington DC Raw Push-Pull (240kg)




Top 10 at the 2015 USAPL Nationals
---

"I signed up for a half marathon with my mom and later decided for my New Year's resolution that I was going to try CrossFit."
Biography
College
Born and raised in Southern California (USA), Meg was a natural athlete during school. She participated in numerous sports, becoming highly skilled at basketball and cross country.
However, after enrolling at college. Meg began partying – drinking alcohol and eating junk food. These habits continued through her student life, with Meg taking no interest in sports or fitness.
---

"I enjoyed college, partied a little, and those habits stayed the same after I got a job."
---
Start of Fitness Journey
After graduating from college, Meg left her party lifestyle behind. The youngster realized how unhealthy she'd become, and began actively searching for ways to get in shape.
It wasn't long until she'd signed up to run in a half-marathon with her mother. As a result, Meg knew she had to begin training to complete the race in a respectable time – this is what re-sparked her passion for fitness.
Soon after, she started attending CrossFit classes – beginning her weight-lifting journey.
---

"I always tell people that if you're really interested in holding a barbell and doing things with it, a good first step is to try CrossFit."
---
CrossFit
Meg's new interest in CrossFit led her to find athletes such as Camille Leblanc-Bazinet on social media. She became fascinated by their powerful physiques, and set herself the target of building a similar figure.
"I tried it and was hooked because the competitive nature of the classes really appealed to me. It was the first time I was really noticing a change in my body" – Meg Gallagher
---

"One of my friends told me he knew how competitive I would be and he took a look at the amount of weight I was lifting and said I'd actually do pretty well at a competition"
---
Powerlifting
The American's dedication to fitness resulted in her developing her strength and figure quickly. Not long after, Meg's friends began encouraging her to enter powerlifting competitions – after being impressed by her performance in the gym.
Consequently, Meg entered her first powerlifting competition – the Open New York State show – in 2016, at the age of 27. She performed well, managing to record a very respectable 1975 raw deadlift.
This gave her the motivation she needed to pursue a career in fitness.
---

"There's a certain amount of confidence that comes with someone who doesn't care what anyone thinks."
---
Social Media Star
After her success in her first powerlifting competition, Meg decided to create social media profiles to gain more exposure as an athlete. The American began posting pictures and videos of her journey, sharing her passion for lifting weights with the world.
It wasn't long until the fitness community recognized her incredible figure – Meg started attaining masses of followers, becoming known as '@Meg Squats' on Instagram.
By 2017, Meg had become a social media sensation – inspiring her followers to lead a healthy lifestyle, encouraging females to build a powerful figure.
---

"With powerlifting, you can quantify your progress in a very concrete way that was very appealing to me.

It was no longer me looking at my body and maybe noticing a change or being confused about why a change was happening."