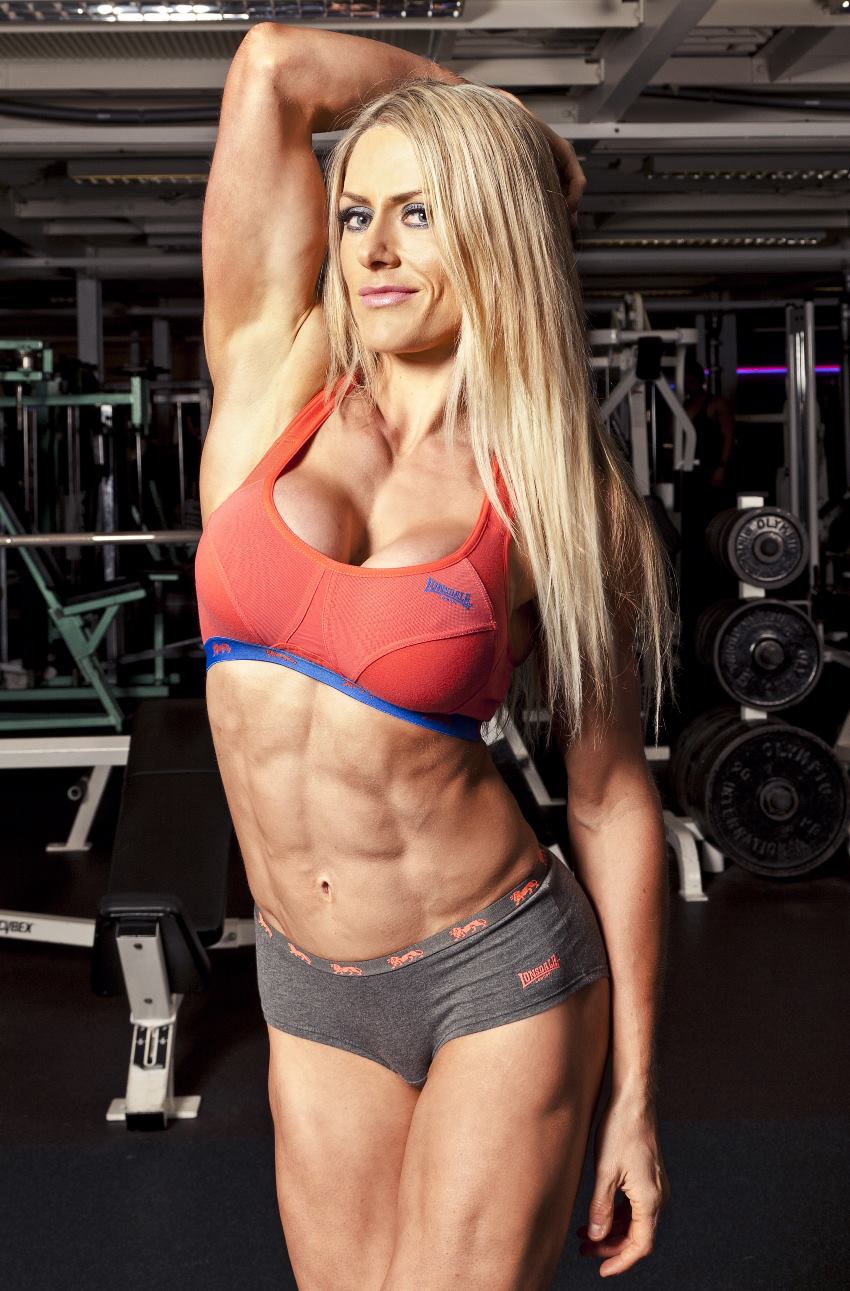 Louise Rogers
Professional Figure Competitor, Personal Trainer
Louise Rogers is a British IFBB Pro Figure competitor, personal trainer, and fitness model. She started going the gym at the age of 21, while she attended university.
After almost eight years of weightlifting, Louise decided to test her physique against other female fitness enthusiasts – taking part in her first bikini contest.
To her own amazement, Louise won her first three contests in a row, before earning her Pro Card with a 5th place at the 2009 IFBB World Championships.
As a result of her early successes, Louise became one of the most respected Figure contestants from the United Kingdom.
This is her story:
---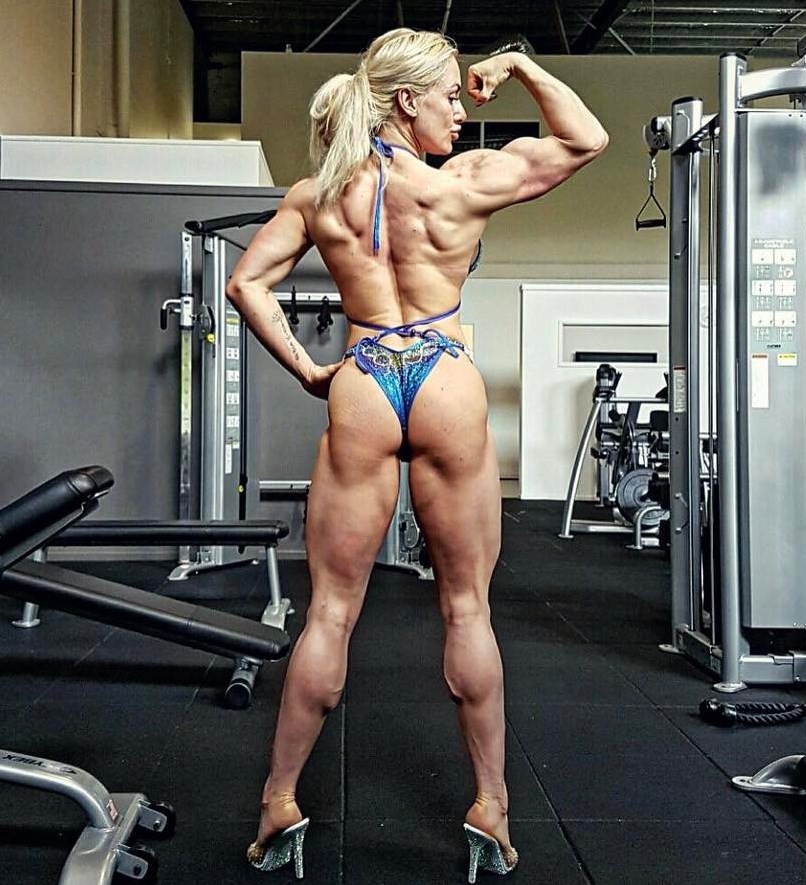 Athlete Statistics
Full Name: Louise Rogers
Weight
Height
Age
Date of Birth
125 - 135lbs (56.7 - 61.2kg)
5'8" (172.5cm)
41
May 22, 1982
Nationality
Profession
Era
British
Professional Figure Competitor, Personal Trainer
2000, 2010
| | |
| --- | --- |
| Weight | 125 - 135lbs (56.7 - 61.2kg) |
| Height | 5'8" (172.5cm) |
| Age | 41 |
| Date of Birth | May 22, 1982 |
| Nationality | British |
| Profession | Professional Figure Competitor, Personal Trainer |
| Era | 2000, 2010 |
---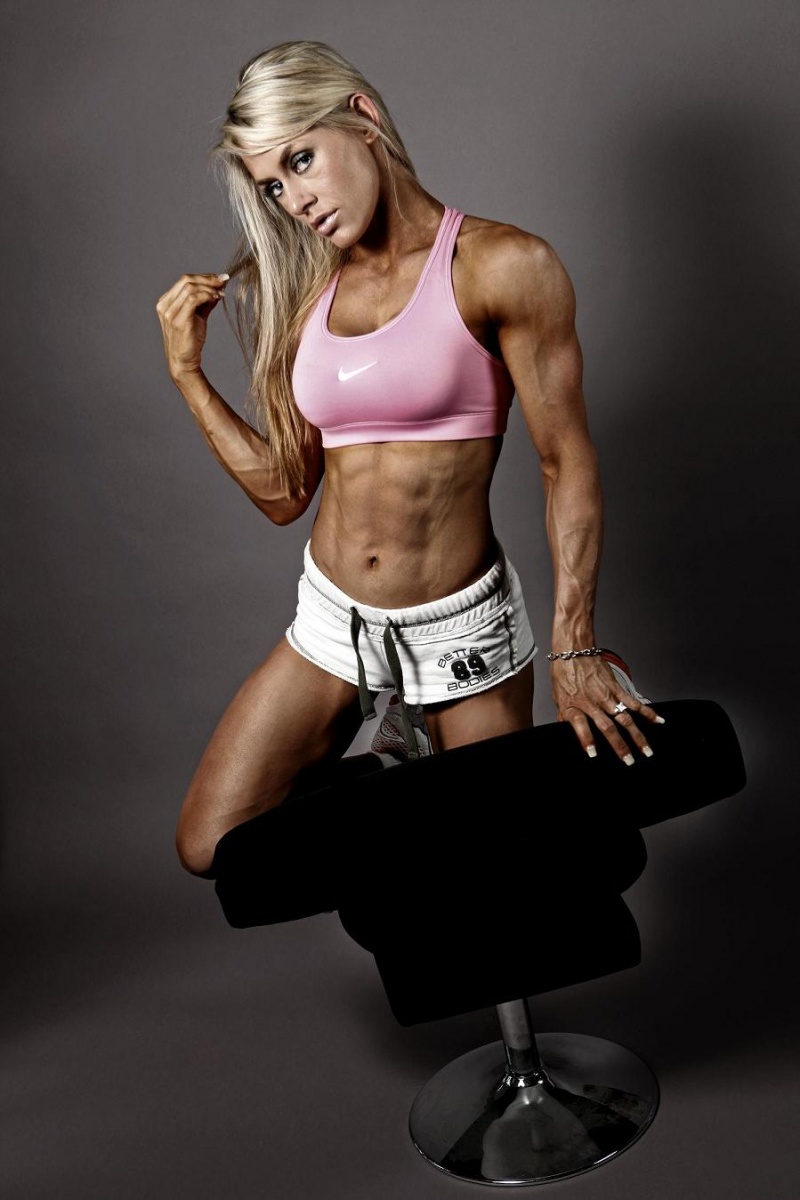 Accomplishments
Competitions
2015 IFBB Toronto Pro Supershow, 10th
2015 IFBB Bodypower Pro, 3rd
2014 IFBB Bodypower Pro, 3rd
2013 IFBB Wings of Strength Chicago Pro-Am Extravaganza, 16th
2012 IFBB Arnold Classic Europe, 8th
2012 IFBB Toronto Pro Supershow, 8th
2012 IFBB New York Pro, 16th
2010 IFBB Europa Super Show, 17th
2008 IFBB UK British Championships, 1st
---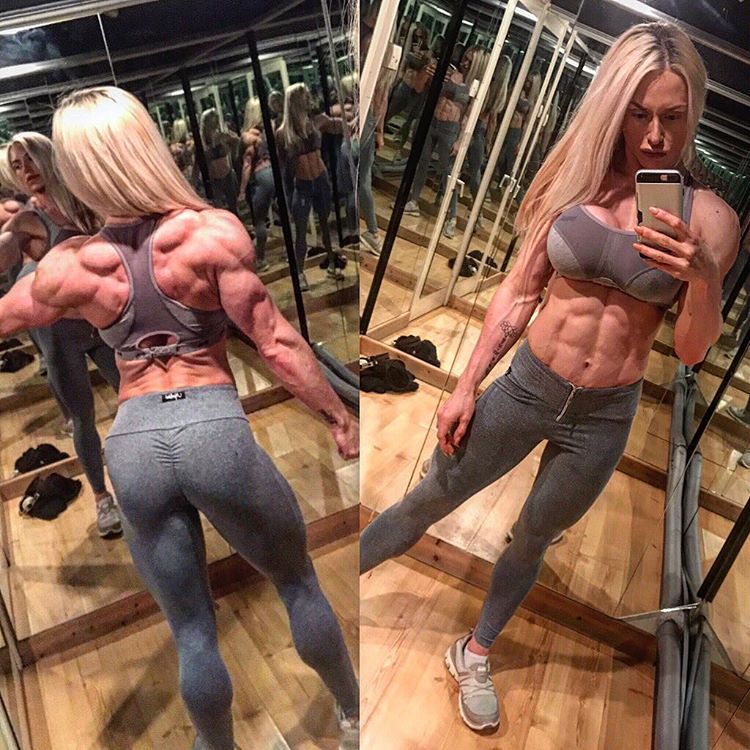 "I guess there's nothing you can't do if you work hard enough! I'm really just a normal girl, from a small town in a very rural area of England who spent everyday training, studying and working. Now I'm in such a different place. Just being consistent and staying positive was the key for me."
Biography
Gradually Adopting the Fitness Lifestyle
Like many athletes, Louise grew up playing sports and participating in competitive disciplines – her favorites were sprinting and hurdling.
After she finished school, Louise began going to the gym with her sister, as she says; "simply going along and spending time on the stepper whilst my sister did her workout."
The more time Louise spent watching her sister train in the gym, the more she became interested in fitness. Soon, she adopted the lifestyle herself; taking on a training program.
While she was at University, Louise decided to go a step further and chase fitness full-time. She began attending fitness instructor courses, becoming a certified personal trainer and sports therapist.
Strength Training
Not long after she received her certifications, Louise began working at a local powerlifting gym. There, she met a colleague who was a strongman competitor. Her colleague told Louise she did too much cardio, and advised her to start doing strength training instead.
Although skeptical at first, Louise was amazed when she saw changes in her appearance from doing a bodybuilding style workout. She says that, after this, she almost completely removed cardio from her training regimen.
---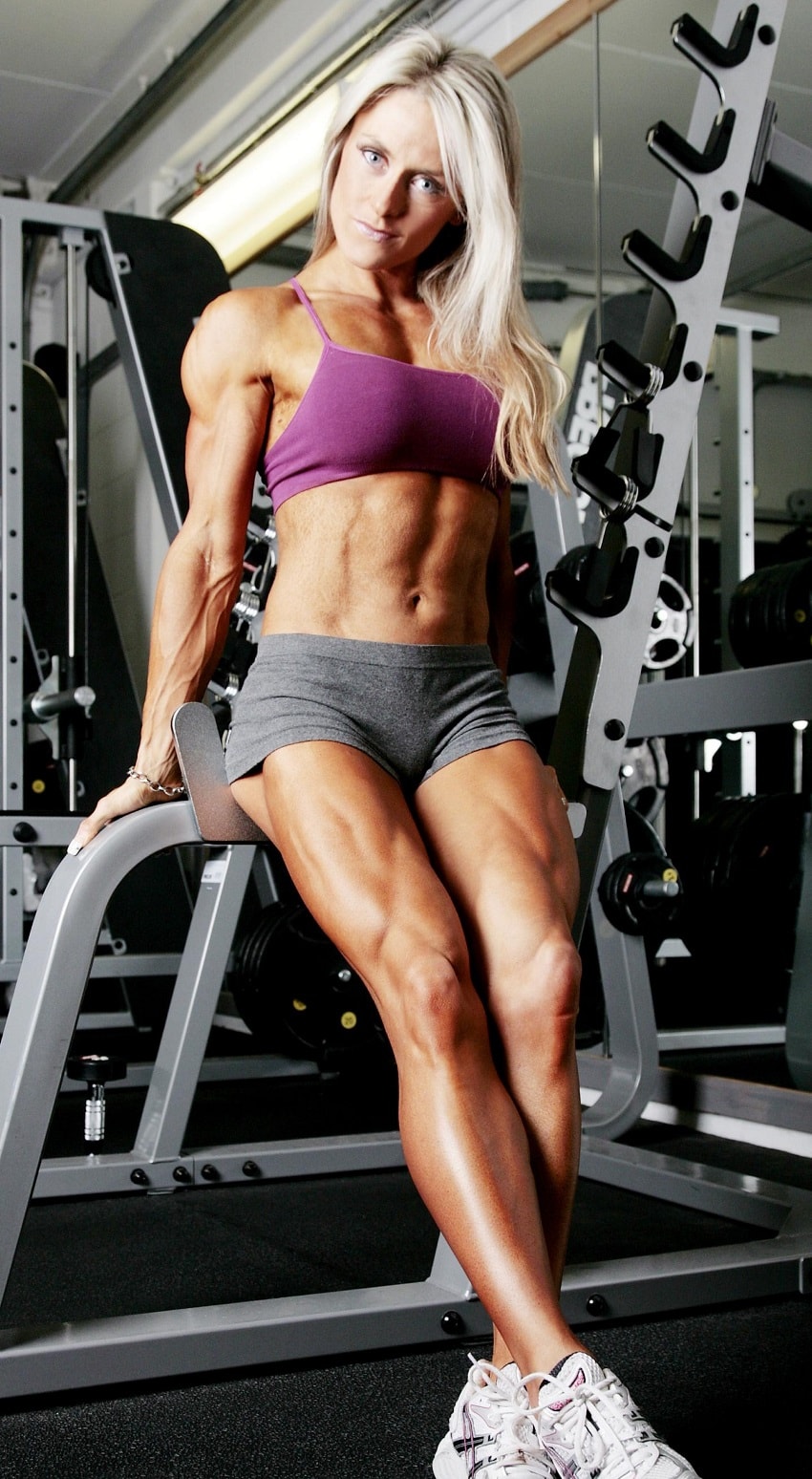 ---
Figure Competitions
Over the next several years, Louise worked hard in the gym; gradually developing a sharp and aesthetic physique. One thing led to another, and Louise caught the 'competitive bug' – she decided it was time to compete in figure fitness shows.
Several months later, she took part in the UKBFF local regional qualifier held in Portsmouth, and to her own surprise – she won the show. Furthermore, thanks to her victory, Louise received an invitation to compete in the IFBB British Championships.
She then began training hard and watching her diet carefully; doing everything in her power to enter the show in her best shape possible. Louise's dedication paid off – she won the British Championships finals several months later, in October 2008.
Receiving the Pro Card
The victory at the British Championships qualified Louis for the 2009 IFBB World Championships, which was held in Lake Como Italy.
Louise placed 5th at the contest, which earned her the illustrious Pro Card.
Professional Contests
After she entered the Pro circuit, Louise started competing in elite shows all around the world. Including the IFBB New York Pro, 2012 Arnold Classic Europe, 2015 Bodypower Pro, and 2015 Toronto Pro Supershow.
Her best results in those shows were 3rd place at both the 2014 and 2015 Bodypower Pro.
---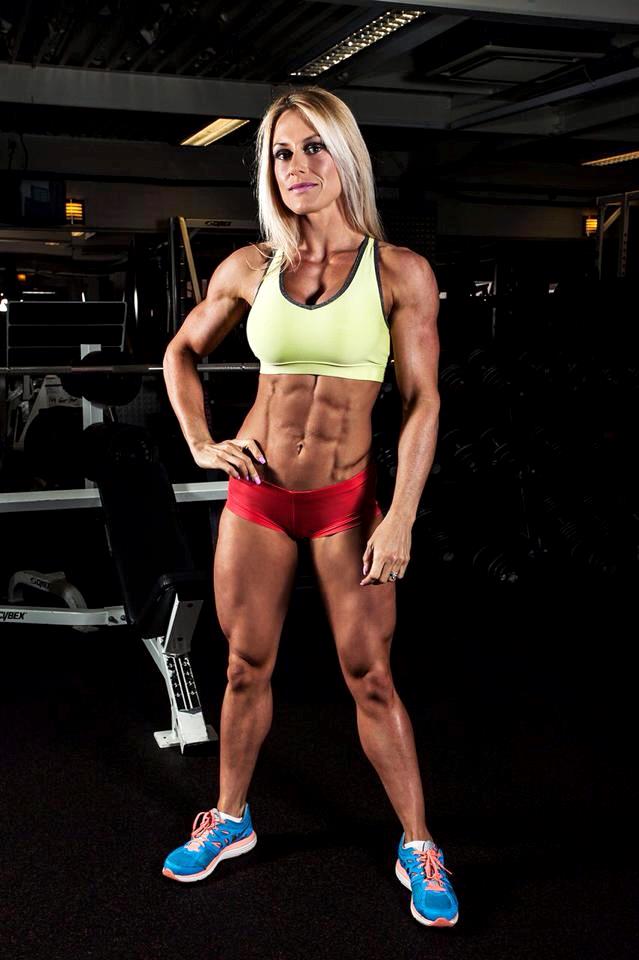 "One day I would like to compete at the Miss Figure Olympia. Although if this happened I might keel over! It would be the ultimate competition for me!"
Training
Louise typically trains every day, doing strength training five or six times per week, and doing cardio on the weekends.
She trains her weaker body parts on Mondays, Tuesdays, and Wednesdays, while towards the end of the week she focuses on her stronger body parts, such as back and chest.
As for arms and shoulders, Louise says they're massive and require little stimulation, so she trains them rarely.
Cardio Length
Louise doesn't like doing long cardio sessions. Instead, she aims to do something that's short, but high in intensity – such as sprints.
As she comes closer to the time of the show, she'll increase the cardio to about four times per week; doing more slow-paced cardio routines which last for around half an hour.
She says although long cardio sessions can sometimes be tedious, they give her the best results in terms of fat loss.
"I vary my cardio – anything from power walking, climbing, cross training, running.. all sorts! I like to do my cardio outside too."
Best Exercise For Glutes
When explaining which exercises are the best for developing her glutes, Louise was convinced there was only one; "The Hip Thrust. It has done wonders for my butt."
Still, she believes glute workouts shouldn't be based on this exercise alone. Louise advises combining hip thrusts with other movements, like squats and lunges, in order to achieve optimal results.
---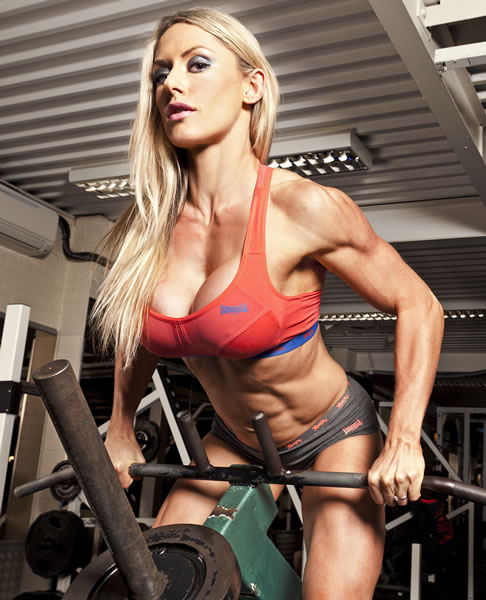 Nutrition
In-Season Diet
When she prepares for a show, Louis usually follows a high protein, moderate carb, and low-fat diet. She's found that having lower fat intake during this period helps her lose weight more quickly.
However, she said this is something that only works for some people. She believes that most individuals respond better to low carb, and moderate-to-high fat diet when they want to lose weight.
A Day of Eating
In terms of the exact meals Louise eats, she usually has egg whites or breakfast muffins in the morning. Before lunch, she'll have a snack such as protein shake or rice cakes.
She'll then have two small lunches which are two-three hours apart. They consist of the same food – usually fish or lean meat with sweet potatoes.
For post workout, Louise will drink a protein shake, and then one hour later, she'll have a steak with a large salad. If she feels hungry in the evening before bed, she'll have some sort of casein protein shake or yogurt.
Best Fat Loss and Muscle Building Foods
According to Louise, these foods helped her to get in the best shape for her contests;
Egg Whites
Beetroot
Lean Poultry Meat
Salmon
Skimmed Milk
Haddock
Spinach and Green Salad
Three Basic Supplements
The only supplements Louise takes are whey protein, BCAAs, and a pre-workout.
Favorite Cheat Meals
Louise's favorite food is Indian Cuisine. If she had to choose one, she says it would be a curry.
"A curry… Oh, don't get me started because I love Indian food so much!!" – Louise Rogers
---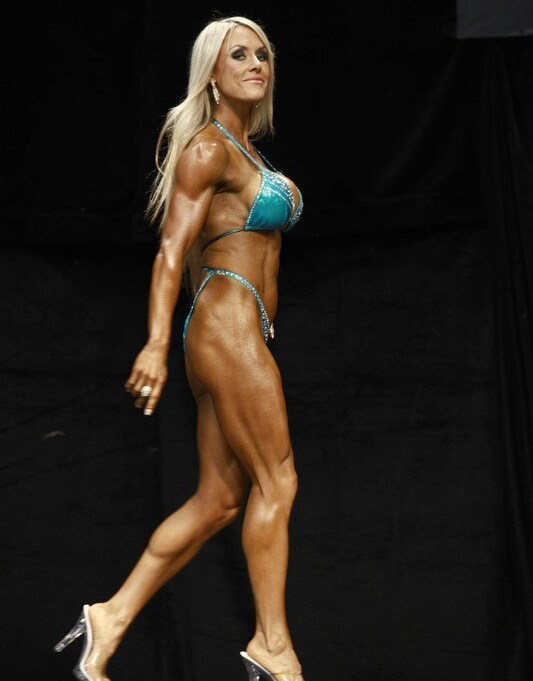 "The best moment of my career so far would have to be winning my IFBB Pro card. It is still an incredible moment in my memory and I don't think I will ever forget it."
Idols and Influences
Louise looks up to many athletes in the fitness industry. They include; Amanda Latona, Nina Moe, Rachael Grice, Oksana Grishina, Adela Garcia, Monica Brant, and Larissa Reis.
---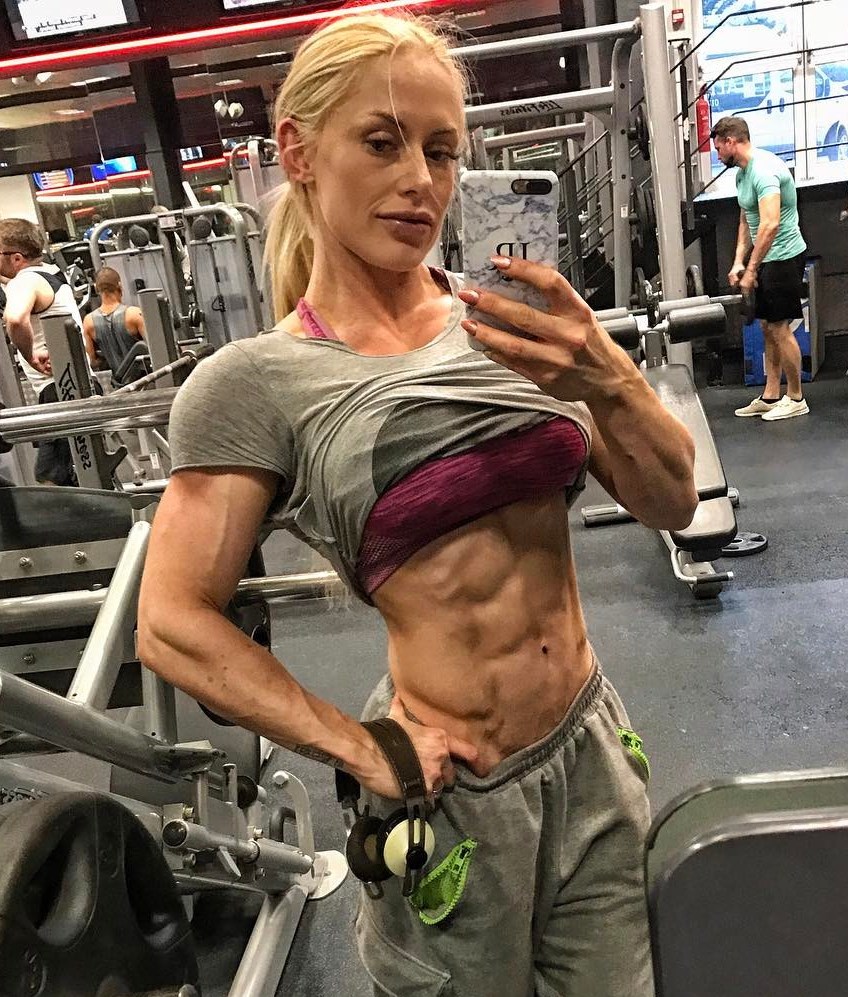 What we can learn from Louise Rogers
Louise Rogers is a representation of what's possible when you put your mind to something. Once she decided to chase fitness as her full-time job, Louise didn't stop working until she achieved her goal.
After years of sculpting her dream physique, and working as a fitness instructor, she started competing in fitness shows; gradually building a reputation in the industry. By 2015, she became known worldwide for her successes on the stage, and online as a training coach.
If you want to follow the same path as Louise, be prepared for years of hard work and dedication to your goal. It's not an easy process, but the rewards can be worth it – just like in Louise Roger's example.