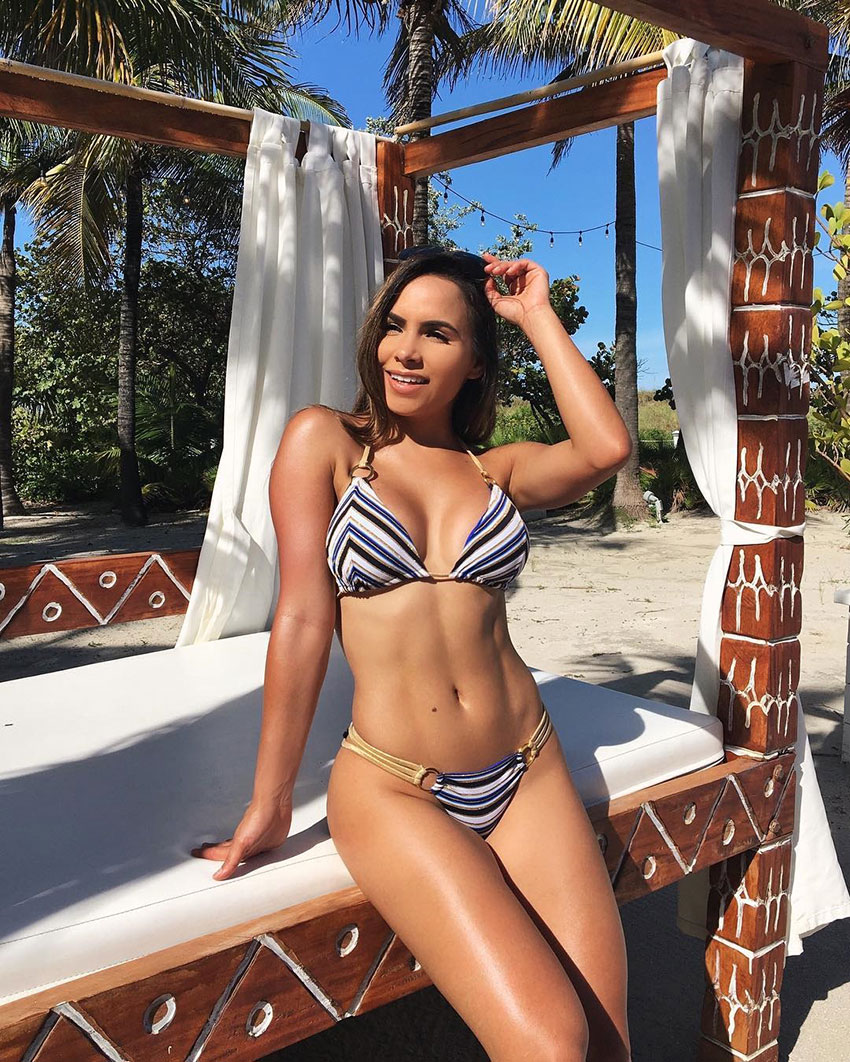 Lisa Morales
Sponsored Athlete, Model, TV Personality, Fitness Mentor
Lisa Morales is a model, TV personality, fitness mentor and sponsored athlete, currently residing in Miami, Florida. She began modelling at the age of 15, and she quickly began to gain recognition due to her striking looks.
By the time she turned 19, Lisa earned herself a TV role on one of the largest Spanish TV networks in the world. Her dreams began to turn into reality, and her fitness journey was kicked into overdrive.
She has since become a sponsored athlete, regularly sharing her fitness journey online. It is her aim to inspire others, to allow them to obtain the body of their dreams.
---
 
Athlete Statistics
Full Name: Lisa Morales Duke
Weight
Height
Bust
Hips
Under 115lbs (52.2kg)
5'3" (160cm)
34"
33"
Waist
Age
Date of Birth
23"
37
October 21, 1985
Nationality
Profession
Era
Cuban
Sponsored Athlete, Model, TV Personality, Fitness Mentor
2000, 2010
| | |
| --- | --- |
| Weight | Under 115lbs (52.2kg) |
| Height | 5'3" (160cm) |
| Bust | 34" |
| Hips | 33" |
| Waist | 23" |
| Age | 37 |
| Date of Birth | October 21, 1985 |
| Nationality | Cuban |
| Profession | Sponsored Athlete, Model, TV Personality, Fitness Mentor |
| Era | 2000, 2010 |
---

Accomplishments
Sponsored Athlete
Model
Fitness Mentor
TV Personality
Co-founder of Miami Model Citizens
---

Biography
Early Days
Lisa Morales is a Cuban model, sponsored athlete, fitness mentor and TV personality who currently resides in Miami, Florida. She attended her first modelling show at the age of 15, gaining entry to a career that would allow her personality to shine through.
At the age of 19, her career was taken to the next level as she began to gain more widespread recognition. She earned a spot on one of the largest Spanish TV networks in the world, and fitness soon became one of her biggest passions.
Fitness Journey
Lisa was always naturally thin, however as she was regularly in the public eye, it was her desire to improve her fitness levels. This would mean that she could always look her best, and achieve her ultimate aim of getting ripped, sculpted abs.
She joined the gym with the intention of building muscle and toning up, however like many, she initially struggled. She felt an overwhelming sense of intimidation when it came to the gym, and was unsure of where to start.
Nutrition was her downfall, and she soon found that her busy lifestyle led to her skipping meals. This halted her progress in the gym, and she came to realize that she would need to make some changes to reach her goals.
---

Present Day
Fitness became part of Lisa's life from a young age. It allowed her the chance to obtain the physique that she had always desired, and feel good about herself when modelling and appearing on TV.
She regularly posts workouts, blog posts, and inspirational messages online as she aims to motivate others into achieving their goals. Seeing her followers progress in their fitness journeys helps to keep her motivated.
She eventually became a sponsored athlete, which the focus on just how far she's come since fitness became part of her life. She made poor nutrition and naivety a thing of the past, to obtain a stunning physique that she could be proud of.
---

Training
Lisa became accustomed to life behind the camera, and so was regularly in the public eye. She soon realized because of this, it would be important to maintain her physique by following a suitable nutrition and workout programe.
She keeps herself motivated by mixing up her routine every 4-6 weeks, and by doing this she always looks forward to her next workout. Lisa focuses on keeping her abs and lower body toned by performing squats, which he lists as one of her favorite exercises.
A workout she enjoys performing regularly is listed below:
Lower Body Workout
Cable Kickbacks – 3 sets, 15 reps
Reverse Lunges
Squat Walks with Cable
Cable Pull Through
---

Nutrition
Since Lisa's fitness journey began, she has had to maintain a very busy lifestyle, and is often on the move. She found it difficult to get her calories in and found herself regularly skipping meals, hindering her progress.
Lisa has since cleaned up her nutrition, avoiding eating fast and processed foods that can often lead her to falling off track. Soon enough, through hard work and dedication, she was able to achieve her goal of getting abs.
She admits to having a sweet tooth however, so to combat this she eats 2-5 portions of fruit per day, choosing between the following:
Strawberries (152g / 1 cup)
Banana (Medium / 118g)
Grapes (92g / 1 cup)
Raspberries (150g / 1 cup)
Orange (Medium / 140g)
Pineapple (155g / 1 cup)
Watermelon (152g / 1 cup)
Kiwi (Approx 76g)
Sweet Cherries (117g / 1 cup)
Blueberries (150g / 1 cup)
Pear (Medium / 166g)
Peach (Medium / 98g)
Apple (Medium / 138g)
---

Idols and Influences
Lisa's passion for fitness began at the age of 18. Initially, she was naive and this stunted her progress in the gym. It was her ultimate aim to get abs, but felt as though her busy lifestyle got in the way.
She found herself regularly skipping meals, and not consuming the necessary amount of calories. This made it difficult for her to build and tone muscle, and she began to wonder where she was going wrong.
To send her on the right path, Lisa sought advice from those around her in the gym. She took on board the advice she had been given, and the results soon began to follow. From then on, she never looked back. Her fitness journey had truly begun.
---

What we can learn from Lisa Morales
Lisa continues to share her journey with others through posting inspirational messages online. It is her aim to ensure they don't make the same mistakes she did when starting out in fitness.
She states:
"I want to be a positive influence in the world, I want to reach as many people as I can".
Her message is that achieving fitness goals won't always be an easy task, but through hard work, dedication and following a suitable nutrition and workout programe, this will send you on the right path.