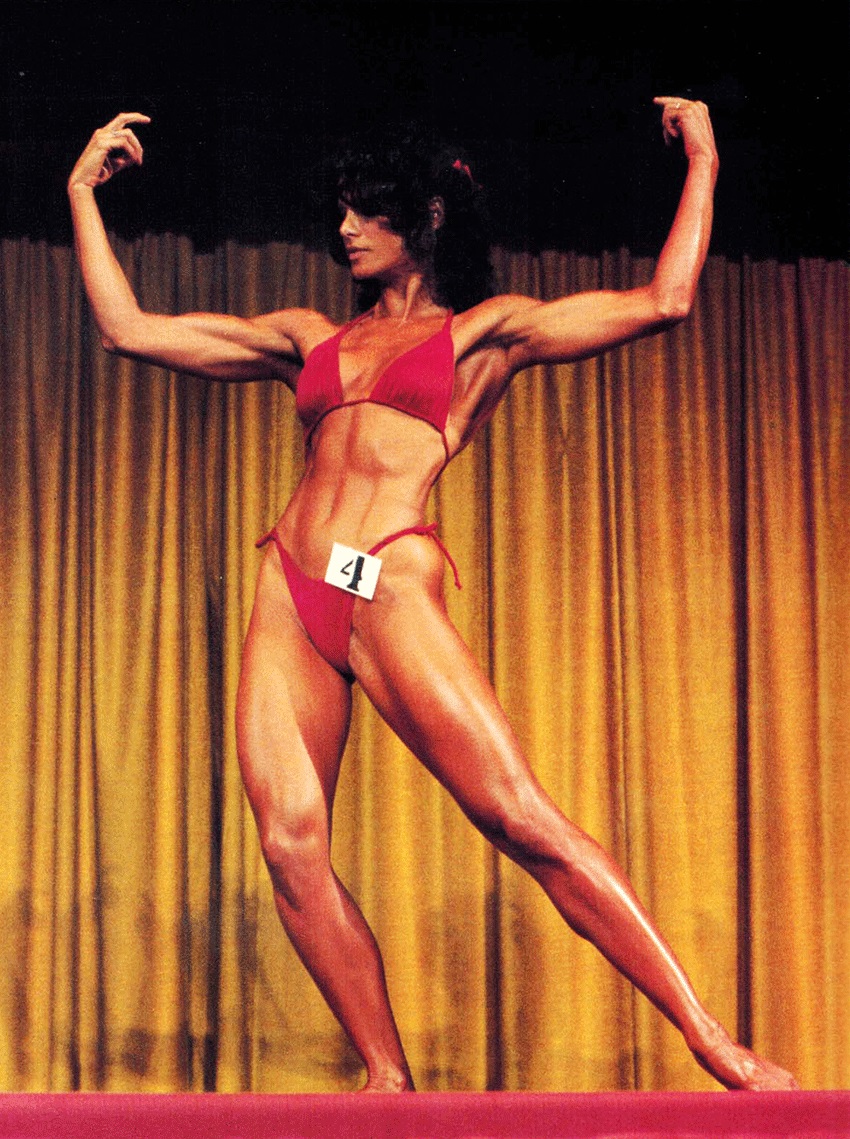 Lisa Lyon
From IFBB women's champion to becoming a Playboy model, Lisa Lyon broke through any limits set for female bodybuilders.
Lisa made history by winning the first ever IFBB championship for women and being the second female bodybuilder to appear in Playboy
But she started as a college student that practised Kendo. This is her story:
---

Athlete Statistics
Full Name: Lisa Lyon
Weight
Height
Bust
Hips
115 - 125lbs (52.2 - 56.7kg)
5'4" (162.5cm)
37"
35"
Year of Birth
Nationality
Era
1953
American
1970
| | |
| --- | --- |
| Weight | 115 - 125lbs (52.2 - 56.7kg) |
| Height | 5'4" (162.5cm) |
| Bust | 37" |
| Hips | 35" |
| Year of Birth | 1953 |
| Nationality | American |
| Era | 1970 |
---

Accomplishments
1979 AAU Junior Ms. America, 3rd
1979 IFBB Women's World Pro Bodybuilding Championship, Los Angeles, 1st
---

Biography
College
Born and raised in the City of Angels, Los Angeles, Lisa enrolled at the University of California in 1971. It was here that she became fascinated by art and began practising Kendo.
However, after a few months of training, Lisa realized that she wasn't strong enough to contend with her colleagues – she needed to gain strength.
---

---
Entering the Gym
Determined to improve her sporting ability, Lisa entered the gym and began lifting weights. It wasn't long until she fell in love with fitness and developed her physique.
At this point, she saw advertisements for the IFBB's first women's competition – Lisa set her sights on taking home the trophy.
---

---
First IFBB Women's Champion
Lisa wasted no time in entering the contest and began working to sculpt her dream physique. After years of rigorous training, in 1979, she stepped on the stage of the IFBB Women's World Pro Bodybuilding Championship.
After impressing the judges, all of Lisa's hard work had paid off. She walked away from the show crowned as the IFBB's first female champion – she had made history.
---

---
Playboy
Lisa had gained recognition after her victory, becoming a fitness icon for females around the world. It was at this point when Playboy invited her to appear in their magazine.
A year later, Lisa had become the second female bodybuilder in the history of the sport to appear in Playboy.
---

Lisa acting in "The Three Crowns" in 1983.
---
Acting Career
After gaining attention as a bodybuilder, Lisa decided to take her life in another direction. In 1983, she tried her hand at acting and featured in the film – Three Crowns of the Sailor.
She continued her short acting career by appearing in a further two films, Getting Physical in 1984, and Vamp in 1986.
It was this stint as an actress that inspired Frank Miller to base the Marvel Comics character, Elektra in 1981, on Lisa.
---

---
IFBB Hall of Fame
By the age of 1986, at 33, Lisa had become an international celebrity. She appeared on television talk shows promoting bodybuilding for women.
But Lisa's hard work hadn't gone unnoticed.
In 2000, at the age of 57, Lisa was inducted into the IFBB Hall of Fame for her efforts as " a one-woman media-relations activist on behalf of the sport and Elevating bodybuilding to the level of fine art". 
---

What we can learn from Lisa Lyon
Lisa has taught us never to settle for being average and always try to make history. She worked hard to become the IFBB's first female champion and was inducted into their Hall of Fame.
One thing we can take away from Lisa's story is that you shouldn't be scared to try new things in life – she had a brief stint as an actor, and although she wasn't a great success, she will never have any regrets.