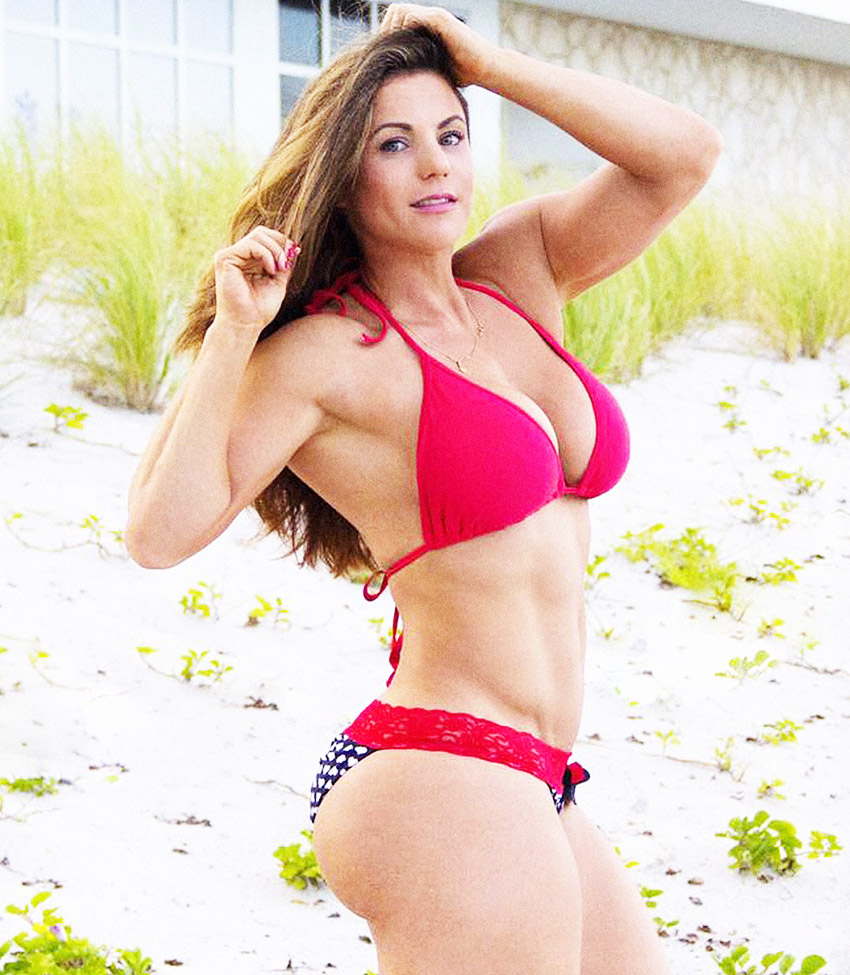 Linda Durbesson
Personal Trainer, Fitness Model, Fashion Model
Linda Durbesson started lifting weights in 2003, at the age of 24, and has gone on to sculpt one of the greatest female physiques in the industry.
She's a social media icon, personal trainer and owns her own brand. With her unique approach to training, Linda has inspired the industry with her incredible progress and positive attitude.
However, it wasn't always a smooth ride for Linda – after a battle with depression during her twenties, and a difficult move to America – she finally came out on top. This is her story:
---

Athlete Statistics
Full Name: Linda Durbesson
Weight
Height
Bust
Hips
145 - 155lbs (65.8 - 70.3kg)
5'5" (165cm)
41"
34"
Waist
Year of Birth
Nationality
27"
1979
French
Profession
Era
Personal Trainer, Fitness Model, Fashion Model
2010
| | |
| --- | --- |
| Weight | 145 - 155lbs (65.8 - 70.3kg) |
| Height | 5'5" (165cm) |
| Bust | 41" |
| Hips | 34" |
| Waist | 27" |
| Year of Birth | 1979 |
| Nationality | French |
| Profession | Personal Trainer, Fitness Model, Fashion Model |
| Era | 2010 |
---

Accomplishments
Tennis Junior Pro
Masters Degree in Personal Training
---

Biography
Early Years and Move to America
Born and raised in the south of France, Carpentras, Linda Durbesson had always been passionate about sports from an early age. At 5-years-old, she was practicing classical ballet, modern jazz dance, Martial Arts, Tennis and Mountain Biking.
Linda grew up fond of foreign cultures and travelling, determined to see the world. In 2010, she made the big decision to move to America to live with her boyfriend in Florida.
However, her relationship soon fell apart after the move and she was left to fend for herself in a new country.
She couldn't speak English very well and struggled to adapt to her new environment. With no friends or family to support her, Linda began suffering from depression and anxiety during her early twenties.
She was going through a dark period in her life, but eventually found the cure to her problems – fitness.
Start of Fitness Journey
After her heartbreaking experience, Linda became unhappy with her physique and she was determined to develop a body to be proud of. She refused to return to France as a failure, and enrolled at an American College to develop herself.
At 31, she chose to study a Masters Degree in Personal Training and started working out, with a strong drive to achieve her ideal body. The future fitness icon had found the motivation to bounce back from her situation, embarking on her journey.
---

---
Becoming a Fitness Icon
During her time at College, she learned about the importance of nutrition and training plans, lifting weights in the gym whenever she had time. At this point, Linda was more determined than ever to achieve her ideal body.
After 4 years of studying and hard work, in 2014, she completed her education and had realized her dream of developing an incredible physique. It wasn't long until she became recognized for her hard work.
By 2016, at the age of 37, Linda had gained a mass of followers on social media and been approached to appear in various magazines as a model.
Personal Training
That same year, after a lot of encouragement from her fans, she decided to give back to the fitness community. She created a website to help others achieve their ambitions and give an insight into her journey. To this day, she continues to inspire and motivate her fans with her progress.
---

Training
Linda has never followed a work out plan, but aims to train 6 days a week. She works her legs 2-3 times, and upper body 3 times per week to maintain and develop her amazing physique.
She is a fan of super-sets and high reps – 15-20 reps per set. In terms of Cardio, she swims and runs on the treadmill 4-6 times per week to keep her fitness levels up.
Workout Plan:
Linda's training plan would look something like this:
Monday – Legs
Tuesday – Upper Body and Cardio
Wednesday – Legs
Thursday – Upper Body and Cardio
Friday – Legs
Saturday – Upper Body and Cardio
Sunday – Rest
---

Nutrition
Linda aims to eat 5 meals per day to keep her metabolism high and feed her body. She plans her diet around lean proteins, complex carbs, fruits and green vegetables.
Although she eats clean all-year-round, Linda allows herself one cheat meal per week, often choosing chocolate and candy.
Diet Plan:
Meal 1: 3 Egg Whites + 1 whole egg, 1 1/2 Cups Oatmeal, 1/4 Raspberries or Kiwi
Meal 2: 4-5 oz Turkey Breast, Spinach
Meal 3: 4 oz Bison, Asparagus, 1/2 Sweet Potato
Meal 4: 3 Egg Whites +1 whole egg, Broccoli
Meal 5: 4-6 oz Tilapia, Green Beans
---
Editor's Tip

Inspired to reach your maximum potential like Linda? Read our comprehensive guide on how fat burner supplements can really up your game!

---

Idols and Influences
Linda doesn't have any fitness idols in the fitness industry, but she names her fans as the main influence behind her success.
---

What we can learn from Linda Durbesson
Linda has taught us to never give up, regardless of how bad our situation may seem. She fought back from depression to sculpt an incredible physique, becoming a fitness icon and inspiration to many.
One thing we can take away from Linda's story is that we shouldn't be afraid of stepping into the unknown. Moving to America for love, getting her heartbroken and staying there anyway takes perseverance. Even though she couldn't speak English very well, or have any friends of family, she still managed to make it work. She was up against it all – and came out on top.