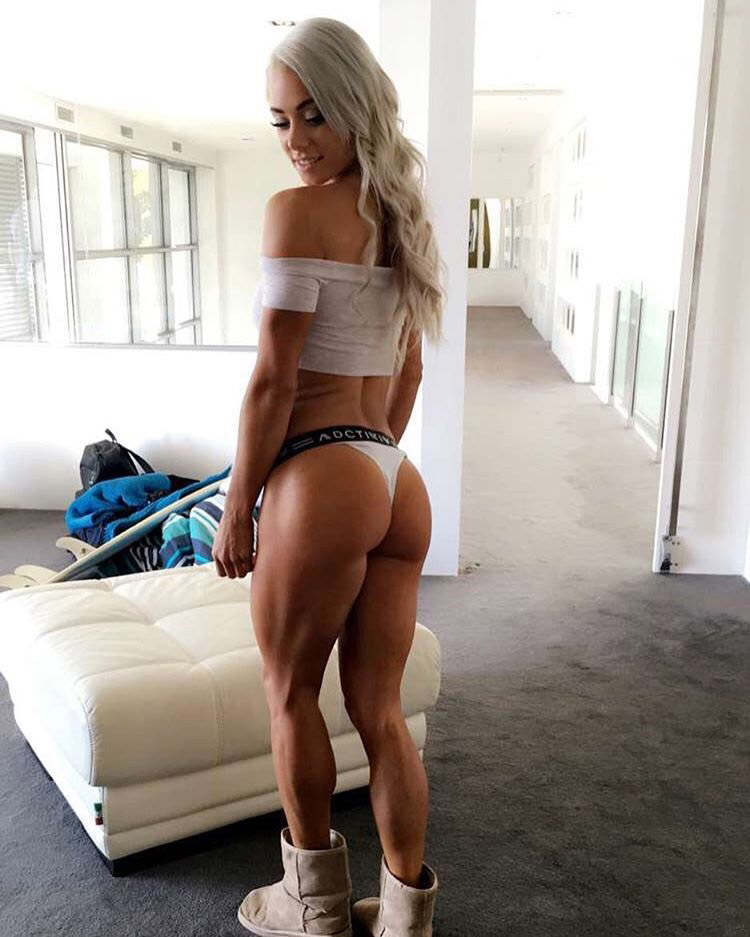 Lauren Simpson
Professional Bikini Athlete
Starting as an underweight, anxious office worker to becoming a WBFF Pro Bikini model, Lauren Simpson has developed arguably one of the greatest female physiques in modern times.
During high school, she was a keen sportswoman, playing netball, touch football, athletics and swimming. However, it wasn't until she was 25 that she found her passion for fitness.
This is her story:
---

"It is important to not expect rapid changes overnight. Good things take time. If you put in the work, you will see results."
Athlete Statistics
Full Name: Lauren Simpson
Weight
Height
Year of Birth
Nationality
125 - 135lbs (56.7 - 61.2kg)
5'7" (170cm)
1990
Australian
Profession
Era
Professional Bikini Athlete
2010
| | |
| --- | --- |
| Weight | 125 - 135lbs (56.7 - 61.2kg) |
| Height | 5'7" (170cm) |
| Year of Birth | 1990 |
| Nationality | Australian |
| Profession | Professional Bikini Athlete |
| Era | 2010 |
---

"Make sure you recognise the small goals and accomplishments you make while working towards your ultimate goal."
Accomplishments
INBA Southern Cross Championships, April 2015, 1st place and Overall Title
INBA Sydney Super bodies show in May 2015, NP
---

"I have always led a very active lifestyle and played sports such as netball and touch football competitively growing up."
Biography
Early Life and Gym
Born and raised in Sydney, Australia, Lauren was always very active as a child. She regularly took part in her school's netball, touch football and athletics teams, enjoying the competitive nature of sports.
After graduating from college, at the age of 20, she got her first job as an HR Coordinator in a financial advisory firm. Over the next 4 years, Lauren found herself stuck in a boring corporate environment, and so she began working out in the gym for a change of pace.
Lauren fell in love with working out – but she didn't know how to get the most out of her training.
She had no knowledge of nutrition or bodybuilding, she was only training cardio and eating around 1000 calories a day. A dangerous strategy, but Lauren was desperate to get into shape.
Anxiety and Weight Issues
Although she had the right motivation and drive to reach her goal of sculpting her dream physique, her diet and lack of knowledge was letting Lauren down. She wasn't eating enough to fuel her body, and started suffering from anxiety after becoming seriously underweight.
She had taken fitness to an unhealthy extreme, and was a mess; both physically and mentally. But this wasn't all – she also missed out on numerous social events, and her relationship with friends and family broke down.
Lauren knew that she had to change her ways to get her life back on track.
---

"I learnt that health and fitness shouldn't be about punishing yourself to a point where you are unhappy. I aspire to be fit and strong, but most importantly with my health, happiness, friends and family as first priority."
---
Turning Point and Start of Fitness Journey
By the time she was 24, towards the end of 2014, she had finally taken her first steps towards recovery and began researching different personal trainers to help her overcome her issues. This was to be a key turning point in her life, kick-starting her journey in the fitness industry.
It wasn't long until Lauren had hired a coach, and was taught about proper nutrition. She began following a balanced diet and lifting weights. She was finally gaining shape, making a bee-line towards her ideal shape.
Going Viral
After making serious progress in the gym under the guidance of her personal trainer, not only did Lauren manage to reach a healthy weight, but she had sculpted a very aesthetic physique. But she wasn't finished yet.
Proud of her transformation, she began posting pictures of her journey on her Instagram profile. Before she knew it, Lauren's uploads had gone viral and she was suddenly an online sensation.
Moved by all of the encouragement she received from her mass of followers, Lauren stepped up her training to develop an even better body.
She became aware of fitness competitions through social media and began researching them, gaining a new found respect for the competitors. After admiring the profiles of such Bikini Athletes as Paige Hathaway and Michelle Lewin, she soon found herself hungry for the stage.
---

"I became more aware of fitness competitions through social media and was in absolute awe of the bodies of the girls up on stage. To me, they represented months of hard work, dedication and commitment."
---
First Competition and Pro Card
After months of intense preparation, Lauren was finally ready for her first contest –  the INBA Southern Cross Championships in April 2015.
She walked away with the trophy, as well as the Overall title. All of her hard work paid off.
But this was just the beginning.
That same month, Lauren placed 1st and took home the overall title in the 2015 INBA Sydney Super Bodies show. However, that wasn't her only achievement of the night – she had won her Pro Card.
At the age of 25, 2 years after beginning her journey, she had made her dream of becoming a professional Bikini Athlete a reality.
Life as a Professional Bikini Athlete
Lauren's success in her first couple of competitions only made her hungry for more. 4 months after her victory at the INBA Sydney Super Bodies, she entered her first show as a professional – the WBFF Fitness and Fashion Gold Coast.
Although she didn't continue her winning streak, she was still placed in the top 3 in a fiercely contested Bikini Diva Tall with the likes of Rachel Dillon.
---

Training
Lauren's weekly training routine is split into 3 lower body and 3 upper body session, plus 1 full-body conditioning session. She trains 6 times a week to maintain her incredible physique.
She tried to limit cardio unless she is preparing for a competition, and instead enjoys going for 1-2 walks during the week.
"I have also found a love for 'lifting heavy' and find that being strong has been very empowering. I can now squat and dead lift over double my body weight which rivals a lot of men in my gym."
---

"I eat pretty plain and simple a majority of the time but I do LOVE to make my healthy Mexican bowls when I'm feeling a little fancy."
Nutrition
Lauren follows a balanced diet, planned around lean protein, healthy fats and complex carbs timed around her workouts. She attempts to eat clean wholefoods all-year-round, counting her macros to hit her targets.
Diet Plan
Meal 1: Beef rump steak, walnuts, spinach and a side of blueberries.
Meal 2: Turkey breast, macadamias, mushrooms and mixed green veggies.
Meal 3: Barramundi, avocado and mixed green veggies.
Meal 4: Pre-workout meal of chicken breast and white rice.
Meal 5: Post-workout meal of a protein shake with fruit.
Meal 6: Turkey breast and sweet potato.
Supplements Stack:
Whey Protein
BCAA
Glutamine
---

"I am very self-motivated and I find that it is my desire to succeed and continuously improve that drives my motivation."
Idols and Influences
Lauren's motivation comes from within, but she names female fitness icons, Paige Hathaway and Michelle Lewin as her main influences during her career. She also credits her fans for giving her the motivation to better herself throughout her fitness journey.
"There are fitness girls I completely admire such as Paige Hathaway and Michelle Lewin, however my main source of motivation comes from within"
---

"I have changed my life for the better and this is a lifestyle approach I am able to happily maintain. I am a more confident person, have loads of energy and have a very positive outlook towards everything I do."
What we can learn from Lauren Simpson
Lauren has taught us that if you aren't happy with your life, then working hard to find happiness is the best way to succeed. She began her journey as an underweight office worker with a variety of issues, but after many years of intense training, she became a professional Bikini Athlete.
An important lesson we can take away from Lauren's story is to never take fitness to an extreme – she ate around 1000 calories a day and constantly over-trained. This led her to becoming dangerously underweight with no progress towards her goals.