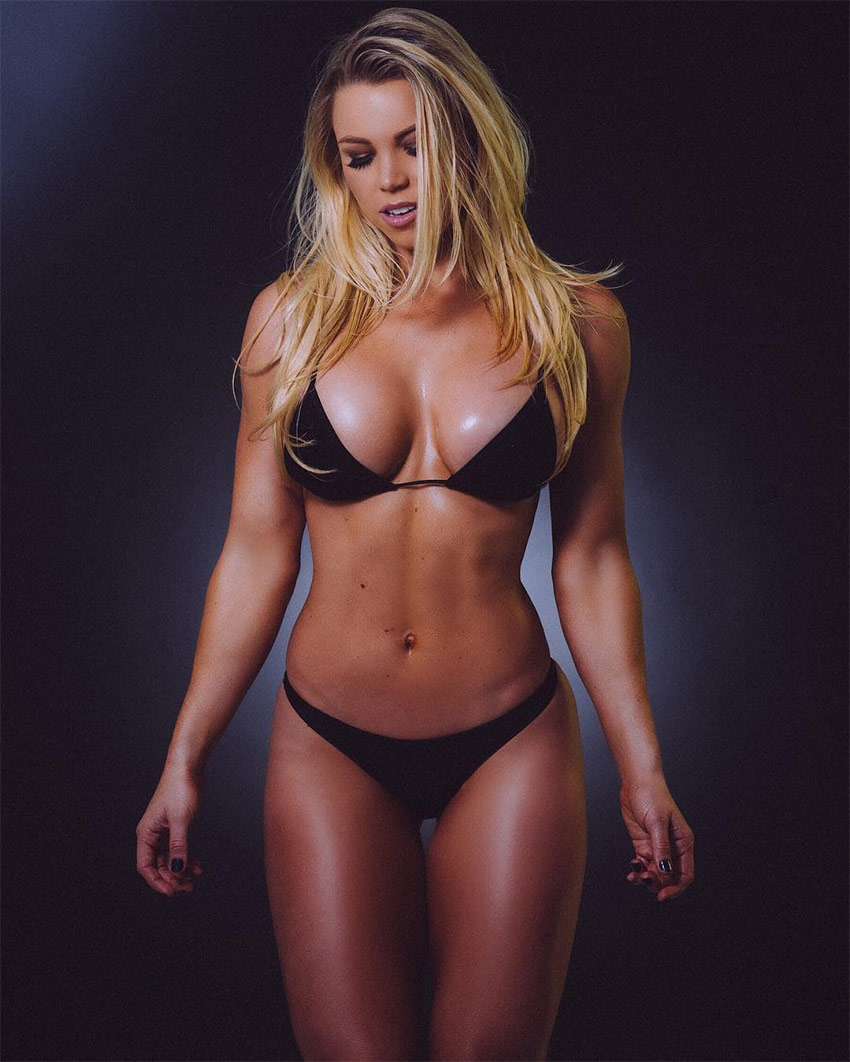 Lauren Drain
Professional Bikini Athlete, Registered Nurse, Personal Trainer
Lauren's life has always been full of challenges. From being banished from the Westboro Baptist church, to writing her first book and becoming a fitness icon – she is a prime example of determination over situation.
After being expelled from her home, and disowned by her family at 22 – Lauren still found the strength to move on and create a better life for herself.
After years of turmoil, she succeeded. Now a professional Bikini Athlete and online sensation, Lauren has gained a mass of followers that she constantly motivates with her progress and journey.
This is her story:
---

"I believe you can be in control of your own destiny if you chase your dreams hard enough."
Athlete Statistics
Full Name: Lauren Danielle Drain Kagan
Weight
Height
Year of Birth
Nationality
125 - 135lbs (56.7 - 61.2kg)
5'6" (167.5cm)
1985
American
Profession
Era
Professional Bikini Athlete, Registered Nurse, Personal Trainer
2010
| | |
| --- | --- |
| Weight | 125 - 135lbs (56.7 - 61.2kg) |
| Height | 5'6" (167.5cm) |
| Year of Birth | 1985 |
| Nationality | American |
| Profession | Professional Bikini Athlete, Registered Nurse, Personal Trainer |
| Era | 2010 |
---

---

"I almost always workout in "beast mode" where I end up with messy hair and sweat everywhere."
Accomplishments
2014 WBFF Boston Bikini, 9th
2014 WBFF Canada Fitness, 5th
2014 WBFF NYC Bikini, 2nd
2014 WBFF Boston Bikini, 2nd
2014 WBFF Rhode Island Bikini, 1st (Pro Card)
---

"Each show I entered I was able to improve on and learn from those around me."
Biography
Lauren was born in 1985, raised in the county seat of Hillsborough Country, Tampa, and had always been a keen sportswoman. She was an all-star team baseball and softball player during high school, but had never considered becoming a Bikini Athlete.
She lived an ordinary life for the first part of her childhood, but when she was 5-years-old, her father left home to study at the University of Kansas. Little did she know about the events that would unfold as a result.
Induction into the Westboro Baptist Church
Lauren's father visited the Westboro Baptist Church when filming a documentary intended to expose the cult. However, he returned home, he wasn't the same man.
Lauren's father's time with the cult had changed him into becoming one of them. In 2000, Lauren was moved, along with the rest of her family, to the heart of the mid-west, Kansas.
At 15, she was inducted into the Westboro Baptist Church, and spent the next 7 years living under their strict rules. During this period, she protested with the cult, growing up as one of their hateful members.
However, all hope was not lost for Lauren.
---

Lauren Drain before her transformation.
---
Dismissal from the cult
Lauren became unhappy with her life after realizing that the cult's views did not add up with the bible. At 20, she began to question her parents and other members about her revelation. However, the members didn't take her rebellion lightly.
By the time she was 22, in 2008, she was eventually kicked out of the Westboro Baptist Church for refusing to follow all of their rules. Her family disowned her, and both of her parents refused to speak to her. Lauren had hit a very dark point in her life, and things would only get worse.
Almost immediately after being officially dismissed, Lauren was forced to leave her family behind. She was told to pack her suitcase and was given a few hours to leave. After, her father drove her to a motel and left her there against her will.
She was told not to contact her family or attempt to return to her home.
Life after her banishment
After being banished from the hate cult, Lauren decided to move to Connecticut and trained to become a registered nurse. She spent the next 6 years as a full-time nurse in her newly adopted state, working day and night in order to survive.
Here, Lauren slowly began to accept her new life, and began regretting all of her actions while part of the Westboro Baptist Church:
"If there were a way to fully erase my past in the WBC and give me knowledge about cults/dangerous religions, I would prefer that. I feel very ashamed to think of many of the pickets I was a part of, and looking back I don't even know that person I was"
---

---
First steps into fitness and turning point
In 2012-2013, Lauren began to feed the thrill-seeking part of her by entering adventure races like Tough Mudder and the Spartan Races. Her passion for sports was returning, along with a new-found appreciation for the fitness industry. However, she was unhappy with her physique. Determined to sculpt a body she'd be proud of, the outcast began watching videos and learning about how to get into shape.
The ex-Westboro Baptist member's first steps into the industry took the form of Cross-fit. She began competing locally, and this is where she learned all of the Olympic lifts, developing great cardio endurance in the process. She began to realize what her body was capable of and was excited to see where fitness could take her.
After all of the misery she had faced, Lauren had finally found something which made her happy.
---

---

"To me, sexy is confident and happy. If you are threatened by others or unapproachable, that ruins any exterior strength and sexiness to me."
---
First competition
Although Lauren had managed to build up her endurance through cross-fit, she still wasn't happy with the appearance of her body. After doing more research into the fitness industry, she hired a coach and made the decision to enter her first competition as a Bikini Athlete – the WBFF show in 2014, Boston.
This was a decision that would change her life as she knew it.
She knew that she only had two weeks to prepare, but it was this determination that would see her eventually succeed. During her competition prep, she dropped 13lb in 14 days.
Although she didn't win, she had gained valuable experience into the world of fitness, and she was hungry to take home a trophy. She took her training to the next level and set her sights on more competitions.
Entering more competitions
Lauren worked relentlessly over the next 8 months, training hard everyday in an attempt to reach her goal. She continued to work nights as a registered nurse, desperately trying to win her Pro Card.
She entered 5 competitions during this period, gaining more insight into how the industry worked after each one. She finished higher in every competition she entered, coming a close second twice in the WBFF New York and Boston, respectively.
This experience proved to be key for Lauren.
---

"Seeing my own progress photos is like adding fuel to the fire. Results are really really addictive and I tell everyone to take a before photo just for themselves… once you see the hard work pay off you don't want to stop."
---
Early Mistakes
After having a taste of more competitions, Lauren was even hungrier for success. She started to analyze her prep and realized she had made some big mistakes.
She had over-trained during the build up, not allowing her body to grow because she wasn't taking any rest days. She had also under-eaten at times, in an attempt to get lean faster and miscalculated her macros.
Lauren began to correct her mistakes, and her physique started to improve significantly.
Becoming a Professional Bikini Athlete
Finally, all of her hard work had paid off. After months of rigorous training and dieting, she walked away from the 2014 WBFF Rhode Island championship with silverware. At 29, Lauren had reached her ambition of becoming a professional Bikini Athlete after earning her Pro Card with her first place prize. But she was only getting started.
She never stopped working hard, and entered her first competition in the professional division, only 4 months after. She was placed at a very respectable 4th, but has remained as determined as ever to be the best.
---

"I like to mix up my routine because I never want boredom to keep me from my goals."
Training
Lauren trains 4 days a week to keep her physique lean, but doesn't have scheduled days for different muscle groups – she prefers to constantly mix things up as she fears she'll get bored by routines. She trains cardio 4-5 days a week when maintaining her physique, but takes it up to 6 days when preparing for a show.
She enjoys training legs, naming squats as her favorite exercise. She trains her lower body more, focusing on her glutes, thighs and calves, as she feels that her upper body grows faster, training with heavy weights and low reps.
---

"I respect all forms of fitness and basically the love of life. If you are full of passion and life, I can totally dig that and support it one hundred percent."
Nutrition
Lauren makes sure to eat 4-5 meals a day, of lean protein, healthy fats and vegetables – her carbs vary depending on her goals. She prefers to eat lean whole foods all-year-round, with one or two cheat meals every week to satisfy any cravings and reset her metabolism. Her favorite cheat meal is green tea ice cream.
---
Editor's Tip

Inspired to reach your maximum potential like Lauren? Read our comprehensive guide on how fat burner supplements can really up your game!

---

"I've looked up to other women in the past that lost my respect when they turned out to be selfish or jealous."
Idols and Influences
Lauren gains her motivation from many fitness models and athletes. However, she has been disappointed when meeting some of her heroes after they turned out to be selfish.
She named a fellow WBFF Pro, Sue Lasmar, as her biggest influence during journey:
"I've spoken to her a few times now and she is not only extremely powerful and sexy embodied in one, she's sweet and nonthreatening"
---

"Perfect Love Casts Out All Fear. It's part of a Bible Quote. It describes so many aspects of life that it is my number one quote."
What can we learn from Lauren Drain
Lauren has taught us that it's possible to make a fresh start and find happiness. She had a very unusual upbringing and was disowned by her family, but she worked relentlessly and reached her goals in the end.
One thing we can learn from Lauren, is that you should never stop chasing your dreams and learn from your mistakes. This way, you can become a more driven and better person.