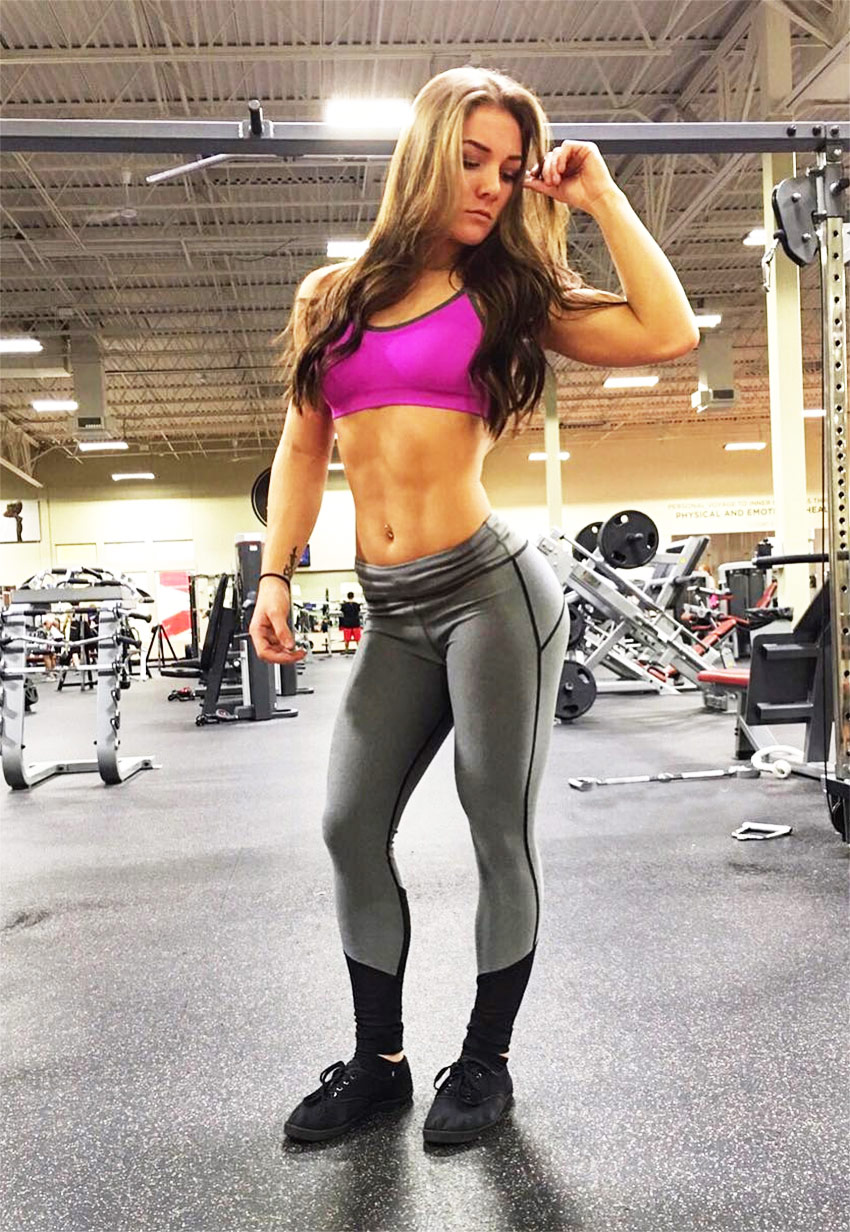 Kryss DeSandre
Bodybuilder, Model
Kryss DeSandre is a bikini athlete from Utah (USA). She began her journey after becoming unhappy with her figure during high school.
After years of dedication and intense training, she sculpted an impressive physique. She's since won her first bikini show in 2015, Kryss has become recognized around the world as a fitness icon.
This is her story:
---

Athlete Statistics
Full Name: Kryss DeSandre
Weight
Height
Year of Birth
Nationality
135 - 145lbs (61.2 - 65.8kg)
5'4" (162.5cm)
1995
American
Profession
Era
Bodybuilder, Model
2010
| | |
| --- | --- |
| Weight | 135 - 145lbs (61.2 - 65.8kg) |
| Height | 5'4" (162.5cm) |
| Year of Birth | 1995 |
| Nationality | American |
| Profession | Bodybuilder, Model |
| Era | 2010 |
---

Accomplishments
Competition History
2015 NPC Utah, Figure – 1st and Overall
---

Biography
Early Years
Born and raised in the 'Crossroads of the West', Salt Lake City, Utah (USA), Kryss participated in numerous sports during her childhood; basketball, athletics, and cheerleading. As a result, she grew up with a naturally lean frame.
However, during high school, her increased workload meant that she had less time to exercise and play sports – Kryss began living an unhealthy lifestyle, consuming junk food and being less active.
At this point, her metabolism slowed down, and she started to put weight on.
Start of Fitness Journey
It wasn't long until Kryss became unhappy with her appearance. For the first time in her life, she was overweight – she knew that she had to change her lifestyle and get back-on-track with fitness.
Encouraged by her husband, Kryss began following a clean diet and working out, using videos she found on YouTube. Soon after, she entered the gym and started lifting weights, determined to sculpt her dream physique.
At the age of 19, in 2014, Kryss had embarked on her fitness journey.
---

---
First Competition
Over the next year, Kryss trained rigorously to lose weight and tone her figure. By 2015, at the age of 20, she'd regained her abs and was motivated by her progress in the gym.
At this point, she was approached by a personal trainer to be trained. She accepted the help, and was encouraged to enter a fitness competition.
After 6 months of preparation, Kryss entered her first show – the 2015 NPC Utah Figure contest. Although she was inexperienced, she performed admirably and impressed the judges.
Her hard work paid off, and she walked off stage with the 1st place trophy.
Social Media Star
Alongside her preparation for the 2015 NPC Utah show, Kryss began posting pictures and videos of her fitness journey on social media.
Her amazing physique and transformation inspired countless fans around the world – by 2016, she'd become a fitness icon.
---

Training
Kryss trains in the gym 6 days per week, giving herself one day off to rest and allow her body to develop. She usually works one muscle group per gym session, except for when she trains chest & shoulders.
Workout Routine
Here's Kryss' weekly workout routine:
Monday – Rest Day
Tuesday –  Legs, with focus on hamstrings & Glutes
Wednesday – Biceps & Triceps, with HIIT cardio afterwards
Thursday – Chest & Shoulders, with sprints afterwards
Friday – Legs, with focus on quads
Saturday – Abs, with HIIT afterwards
Sunday – Back
---

Nutrition
Unlike other bikini athletes, Kryss doesn't stick to a specific diet plan. Instead, she eats a variety of meals, making sure to watch her calories and consume clean foods.
She aims to eat 5 meals per day, to keep her metabolism high. But she allows herself a cheat meal once a week, if she's trained hard and made progress on her figure – her favorite cheat meal is burger and fries.
Supplements Stack
Whey Protein
BCAAs
Glutamine
Vitamin C
Fish Oil
Biotin & Folic Acid
---

Idols and Influences
Kryss' husband has been her key influence throughout her fitness journey – they've been in a relationship since they were 15 years old, and push each other to improve themselves on a daily basis.
In terms of idols in the fitness industry, Kryss names Andreia Brazier as the athlete she looks up to:
"From day one of my fitness journey, her physique has inspired me. She isn't afraid of having some muscle on her, yet she doesn't have so much that it takes away her femininity. Plus, I respect anyone who can hold a world champion title for four years!"
---

What we can learn from Kryss DeSandre
Kryss has taught us to actively make a change and pursue our goals. She started leading an unhealthy lifestyle during high school, but transformed her diet and physique to become a champion bikini athlete.
Kryss has proved that you can achieve anything you want to – as long as you work hard enough.