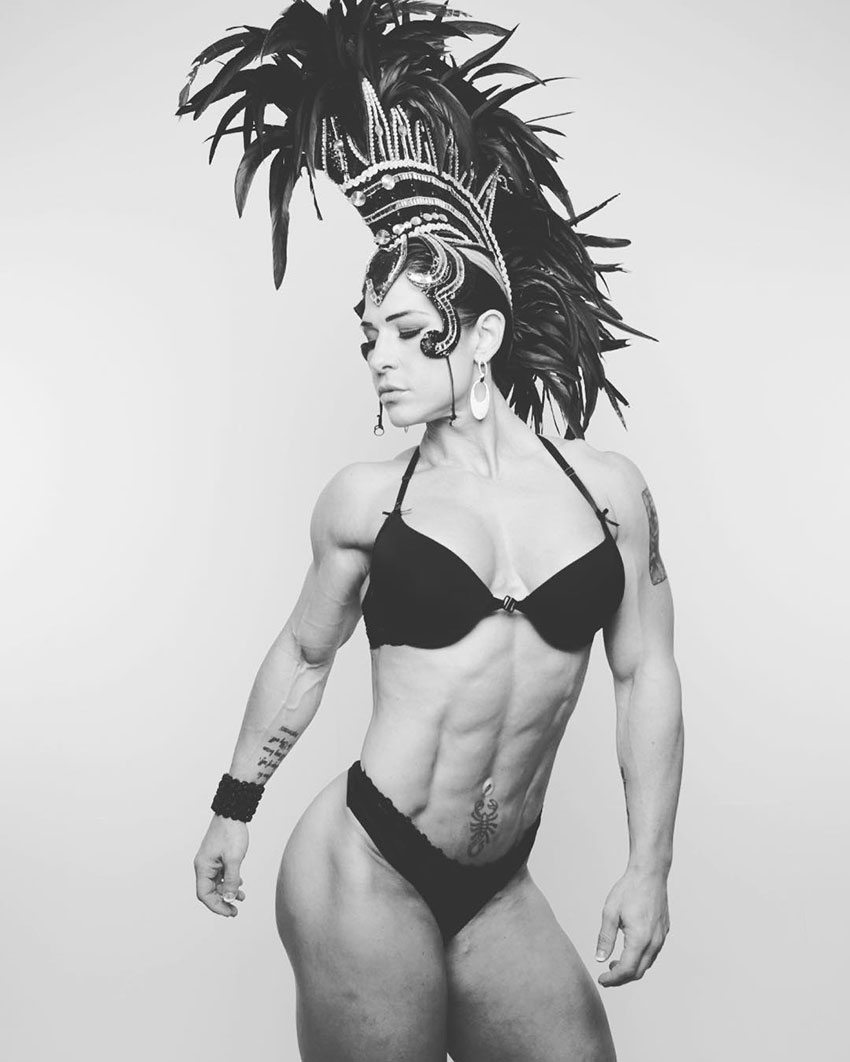 Kortney Olson
Online personality, entrepreneur, bodybuilder and arm wrestling champion
Kortney 'KO' Olson is online personality, entrepreneur, bodybuilder and arm wrestling champion from California, USA. She rose to fame after posting several videos of herself crushing watermelons between her thighs in the late 00's.
Growing up, Kortney suffered from an addiction to methamphetamines and alcohol which started in her late teens. She used bodybuilding and fitness as a way to kick this habit to the curb – entering bodybuilding competitions and eventually moving to Australia to pursue a strength-based career.
In Australia, she became the national arm wrestling champion and began to start a career in fitness coaching. She also posted the career-making video of her first watermelon crush. This video went viral, and Kortney was invited to perform the act on a popular TV show.
Following his success, Kortney attracted a large social media following. She decided to create a wellness camp for women, as well as a (now successful) clothing line that caters to muscular females who can't buy traditional sizes. This is Kortney's story:
---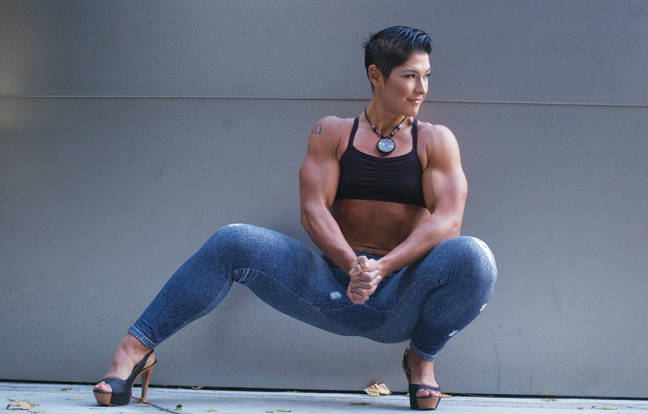 "It's progress not perfection."
Athlete Statistics
Full Name:
Weight
Height
Arms
Waist
155 - 165lbs (70.3 - 74.8kg)
5'7" (170cm)
14.5" -biceps 12" - forearms
28"
Thighs
Calves
Age
27.7"
18"
42
Date of Birth
Nationality
Profession
November 9, 1981
American
Online personality, entrepreneur, bodybuilder and arm wrestling champion
Alias
Era
KO
2010
| | |
| --- | --- |
| Weight | 155 - 165lbs (70.3 - 74.8kg) |
| Height | 5'7" (170cm) |
| Arms | 14.5" -biceps 12" - forearms |
| Waist | 28" |
| Thighs | 27.7" |
| Calves | 18" |
| Age | 42 |
| Date of Birth | November 9, 1981 |
| Nationality | American |
| Profession | Online personality, entrepreneur, bodybuilder and arm wrestling champion |
| Alias | KO |
| Era | 2010 |
---

Accomplishments
Television appearances
Internet fame
Arm Wrestling Champion
---

"Stop comparing: you'll be better than someone else, and they better than you."
Biography
Drug Addiction
Growing up, Kortney unfortunately developed a drug addiction. She was addicted to both alcohol and methamphetamines – saying it became a serious habit which dominated her life.
For Kortney, lifting weights and staying fit was a way to combat this ongoing issue. She has spoken of this hobby as a form of self empowerment during this period, which would ultimately help her to kick the drugs.
Bodybuilding Career
This passion for lifting weights eventually became a large part of Kortney's life. She began to improve her body in the gym – believing that she had the genetics to one day compete and win trophies.
After years of training and reading about bodybuilding, she decided to take part in the 2011 NPC Contra Costa Classic. While she didn't win the competition, taking part gave her a huge confidence boost as she felt like she belonged on the stage.
Migrating To Australia
Following this first step into the bodybuilding competition world, Kortney decided to migrate to Australia to pursue another strength related career. This time, she decided that arm wrestling would be her passion.
She entered an arm wrestling club for women, finding out quickly that she was a natural. As a result of her hard work in beating off Australia's strongest women, Kortney became the 2012 Australian female arm wrestling champion.
---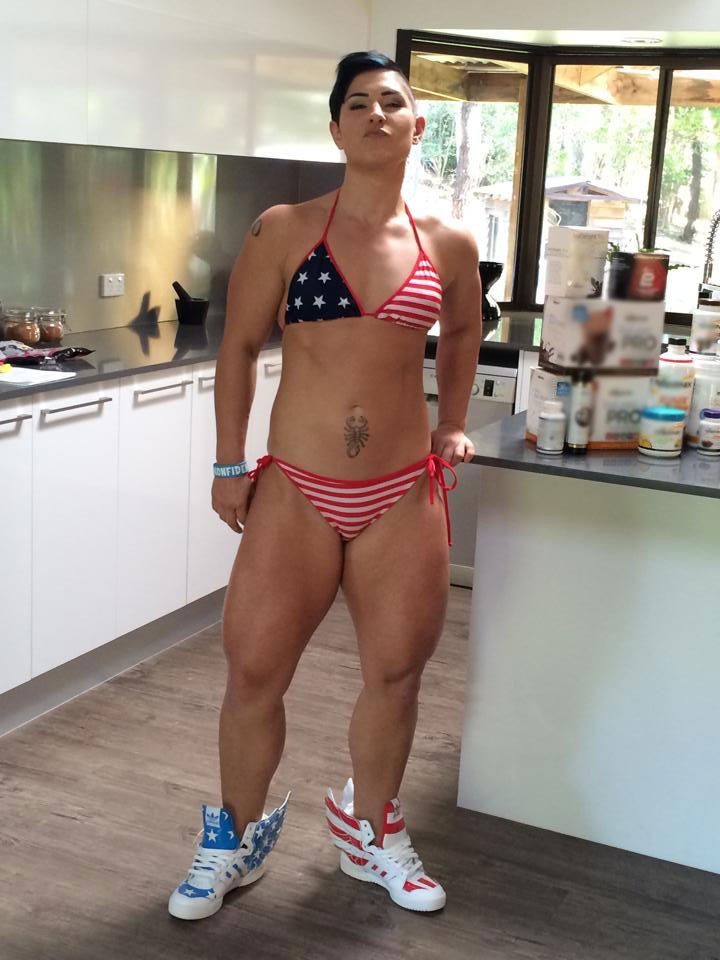 ---
Internet Fame From Crushing Watermelons
Combined with these new career moves, Kortney also established herself as an internet star. She decided to place a watermelon between her thighs and smash it as a joke one night, to show her strength.
As a result of posting this video, Kortney became a viral star. A few days after she posted the clip, the view count was in the tens of thousands and she was being contacted by websites internationally.
---

Kortney crushing a watermelon
---
TV Fame
The watermelon video landed her a spot on the popular TV talent show 'Stan Lee's Superhumans.' Kortney appeared on a season 3 episode, showing the strength she had in her thighs by breaking another melon.
Through appearing on this show, her fan base exploded internationally and she took part in a number of other videos online – some of these for adult entertainment sites.
Getting Married And Strength Coaching
Around this time, Kortney married David may – the coach of the Australian rugby league club 'Gold Coast Titans.' Through this connection, Kortney was asked to coach the youth side of the club in strength training and personal fitness.
This was ultimately a controversial move for Kortney, and she received a lot of criticism online due to her adult entertainment past. Mr May also mishandled his finances and lost the club shortly after.
Setting Up A Clothing Company And 'Empowerment Camp'
While things were not looking up for Kortney at this stage, she built on this position as a strength coach and decided to start a clothing line as well as a girls camp. She called the clothing line 'Grrrl' and the camp 'Kamp Konfidence.'
Her ambitions for both of these companies were to empower girls and women. Her clothing line was aimed as muscular women who couldn't buy 'normal' sized items, and the camp was started as a place for women to meet and build their self esteem.
Instagram Fame
Unfortunately Kortney had to close down Kamp Konfidence in 2016. Her clothing line remained popular though, and the continuing success of this brand allowed her to increase her social media following.
By 2017, she had attracted over 160,000 followers. She began posting videos and pictures, aiming to promote her clothing line and encourage female empowerment internationally.
---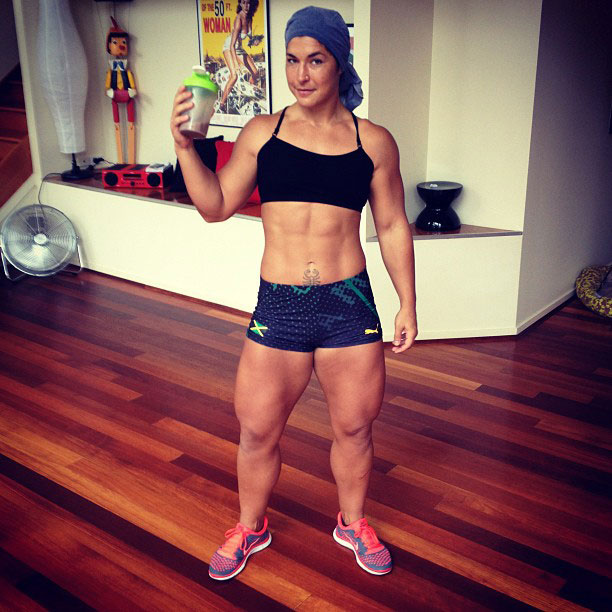 "Whoever told you Women 'bulk up' when they lift weights, LIED. If you lift things like washing machines on a regular basis and take lots of steroids, then maybe. But physical strength is one of my proudest achievements."
Training
Typical Leg Workout
Kortney's legs are her biggest asset when it comes to her online career. Without the strong quadriceps she has developed, she would struggle to break a watermelon at all. Due to this necessity for strength, she has developed a hard-hitting workout.
The routine plan is below:
Cardio:
Warm up: Rowing machine for 500m
HIIT: Tabata regimen — 20 seconds work, 10 seconds rest with four different jumps
The jumps are: 1 minute pop-squats, 1 minute jumping lunges, 1 minute kneeling step-ups and 1 minute jump squats
Repeat 4x with no rest.
This should take around 16 minutes
Strength:
Back or front squats
1 warm-up set at 50% max weight for 5 reps
 1 set at 80% for 5 reps
4 sets at 90% for 3 reps.
1 set at 100% for 1 rep
Box Jumps 3 sets 10 reps
Thigh Strength:
For Kortney's thigh strength she uses scissor squeezes. This exercise is basically a simulation of the watermelon crush and uses a rolled up towel or foam roller as the melon. She sits with her legs out on front, squeezing the foam as hard as she can between her thighs.
She jokingly says that she visualizes "squeezing the head" of her mother-in-law until it explodes. After this she completes some stretches to allow the muscle to rest.
---

"I have this unshakeable belief that if the female energy isn't united, lifted up and emancipated globally, our chances of survival as a human race are slim to none.  How can we focus on be our best when we're busy fearing we look our worst?"
Nutrition
Vegan Diet
Kortney's diet was primarily based around meat and vegetables when she first started competing. She aimed to consume around 1600-2000 calories a day – eating the same meals most days.
While she is a vegan now, she used to love to eat meats such as chicken, kangaroo, ground beef and various green vegetables such as kale, broccoli and cabbage. She combined these options with sweet potato and brown rice and ate 3 large meals everyday.
She still eats brown rice, sweet potato and vegetables now, but has swapped out the meat for vegan protein sources such as beans, soya, quinoa and lentils.
---

What we can learn from Kortney Olson
Kortney Olson has used bodybuilding as a tool to empower herself and other women to be their best, healthiest selves. She struggled with drug addiction growing up, but fought through this addiction and dedicated herself completely to her workouts.
If you are struggling with your own demons, bodybuilding could be a tool to restore order and routine to your life. It can be an empowering and positive force in anyone's life.