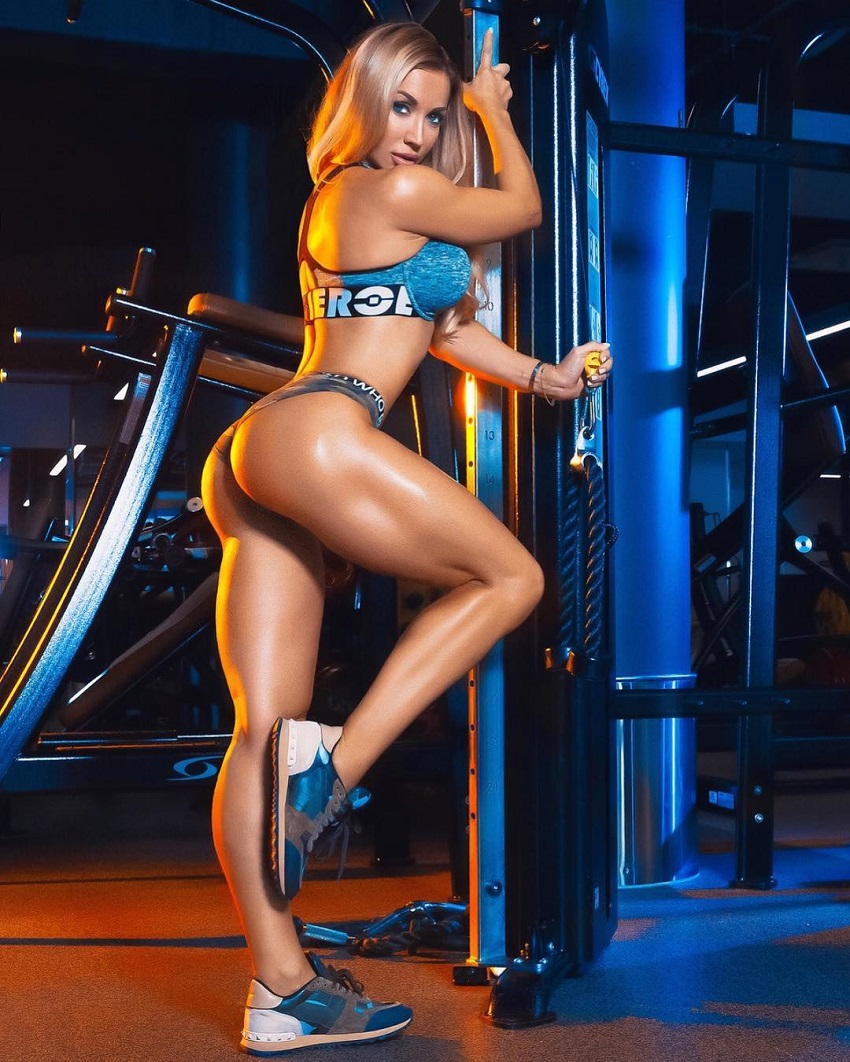 Kate Krasavina
Fitness Model, Sports Brand Ambassador,
Kate Krasavina is a Russian fitness model, bikini competitor, and sports brand ambassador. She's well known for her curvy and fit looks, as well as her achievements on the competitive stage. However, Kate wasn't always a representation of health and fitness like she is today.
During her 20s, Kate encountered a big obstacle on her way towards a successful life. Over the course of several years, she'd gained a lot of excess weight, which made her look, and feel terrible.
Determined to turn her situation around, Kate became involved in the fitness lifestyle. After years of trial and error in the gym, Kate was able to lose all of her excess weight and build an awesome figure.
In the process, she discovered her passion for weight training and bikini competitions – something that she's since turned into a full-time career.
This is her story:
---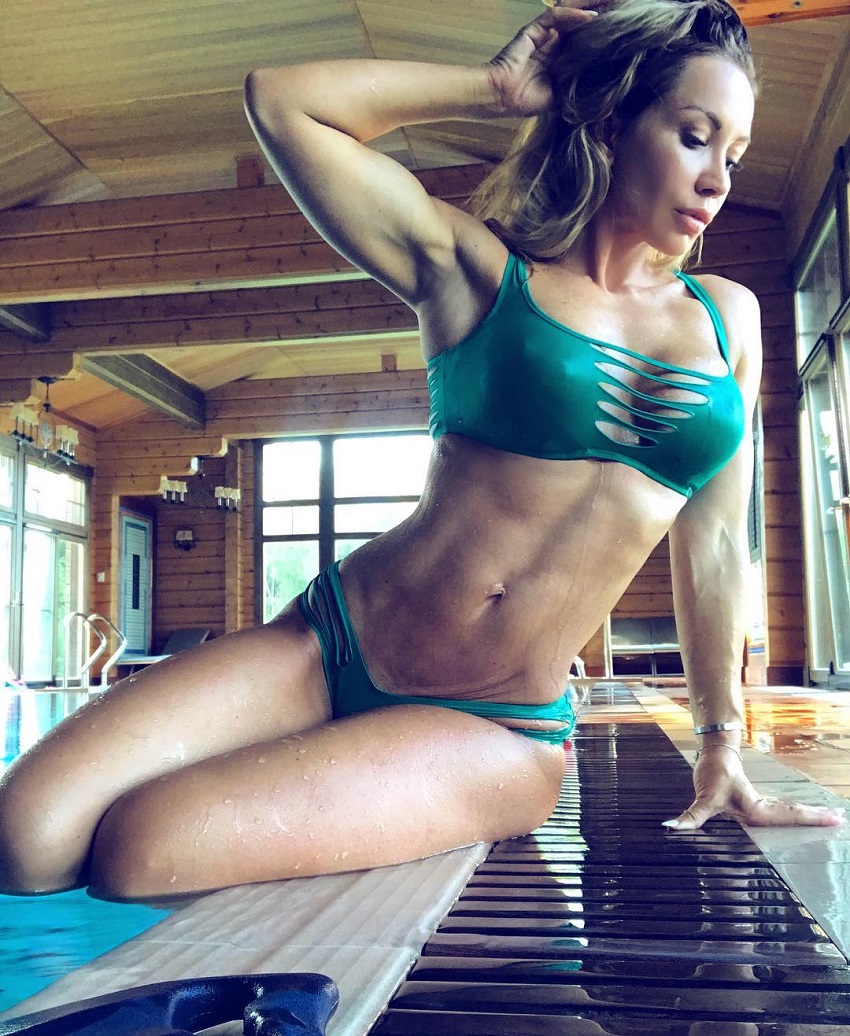 Athlete Statistics
Full Name: Kate Krasavina
Weight
Height
Nationality
Profession
115 - 125lbs (52.2 - 56.7kg)
5'5" (165cm)
Russian
Fitness Model, Sports Brand Ambassador,
Era
2010
| | |
| --- | --- |
| Weight | 115 - 125lbs (52.2 - 56.7kg) |
| Height | 5'5" (165cm) |
| Nationality | Russian |
| Profession | Fitness Model, Sports Brand Ambassador, |
| Era | 2010 |
---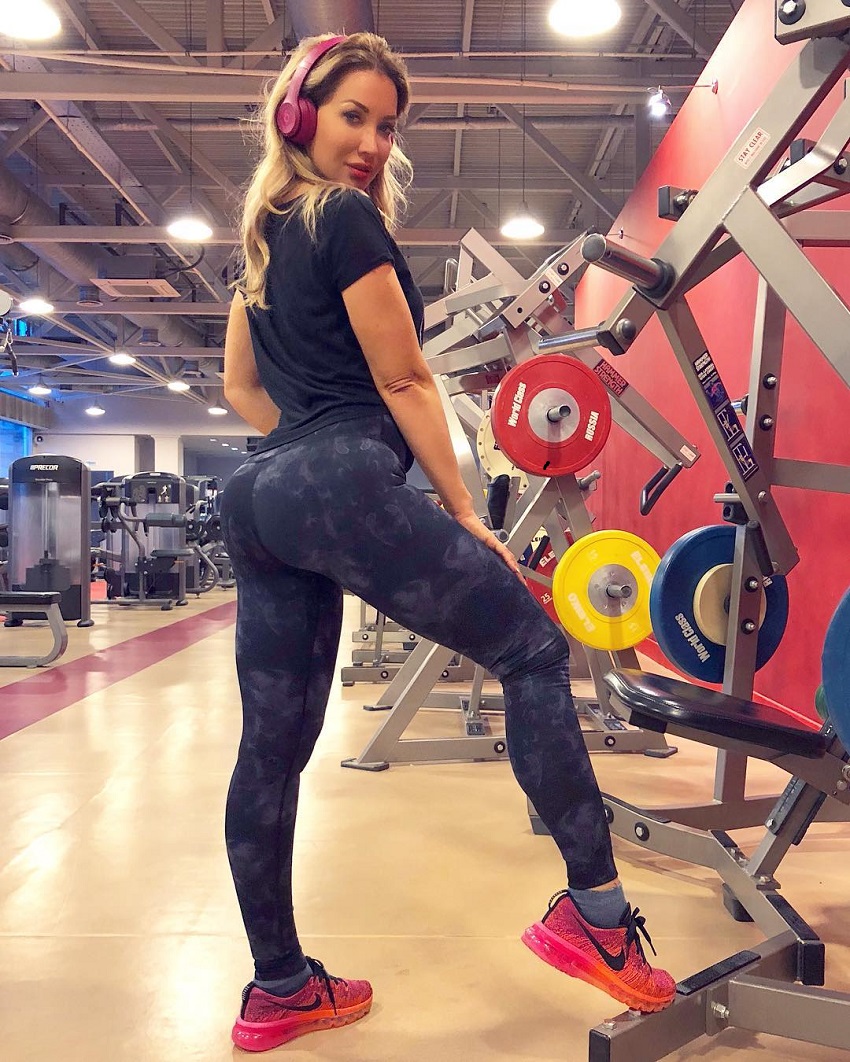 Accomplishments
Fitness Achievements
Russian and Eastern European Cup Champion in Fitness Bikini, 2015
Power Pro Show Champion, 2015
Moscow Olympia Winner, 2015
Certified Fitness Bikini Trainer
---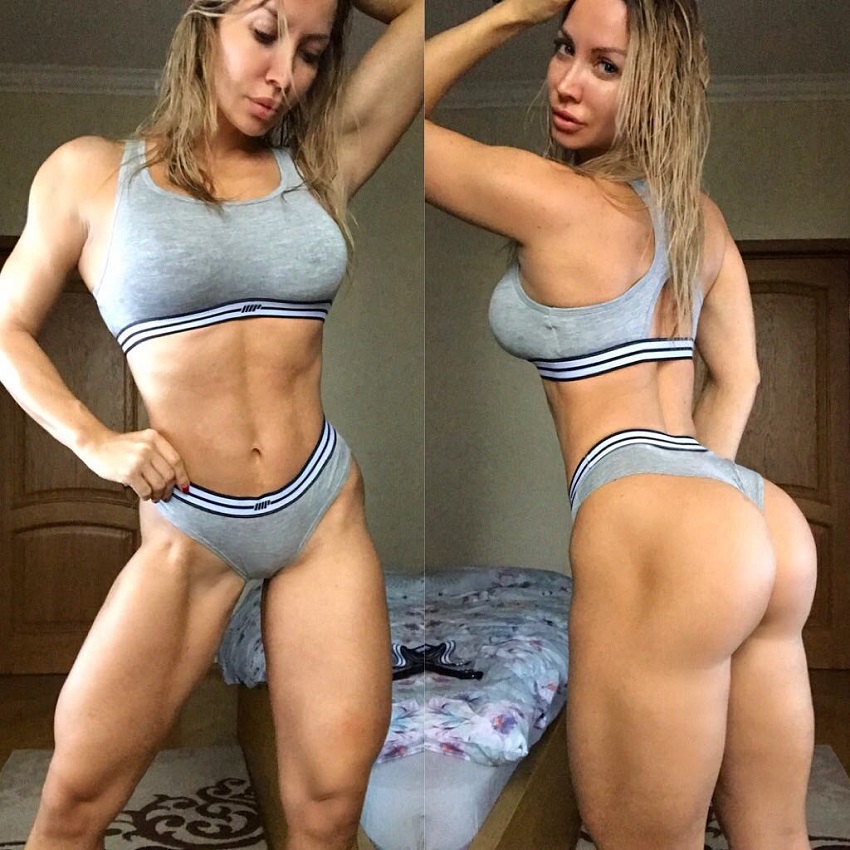 Biography
Early Years of Kate Krasavina
From Moscow, Russia, Kate Krasavina learned how to become self-reliant from a very young age. Growing up, Kate often spent time alone as her parents were busy working. By the age of 16, Kate was fully independent, with a job and her own place to live.
However, not everything in Kate's life was going like she wanted. Coming into her 20s, Kate became overwhelmed with life's responsibilities. As a result, she gained a lot of excess weight over the course of several years.
Using Fitness to Turn Her Life Around
In an attempt to regain a fit and lean figure, Kate began experimenting with different at-home workout programs and diet plans. However, nothing really worked.
It wasn't until 2014, when Kate finally found a way to get back in shape. This is when she discovered weight training in the gym. With the help of some of her friends, Kate went on to learn all the weight training basics that helped steer her body transformation in the right direction.
After several months of intense training, Kate lost all of her excess body fat and her physique looked better than ever before.
---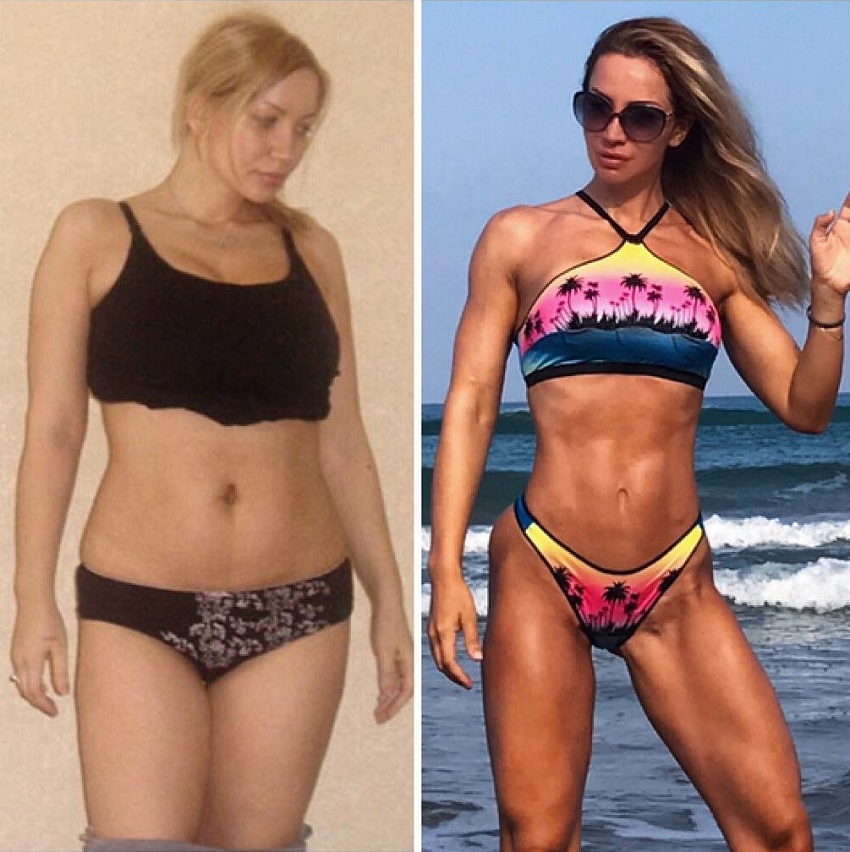 Kate Krasavina's fitness transformation.
---
Bikini Fitness Competitions
Inspired by her awesome progress, and encouraged by her close friends, Kate decided to test her physique by entering a bikini contest. She was accepted and so immediately began contest preparations.
In the following months, Kate 'lived and breathed' fitness. This was the period where she not only improved her training knowledge, but also her nutrition.
Kate says, it was during her preparations when she realized just how much effort and dedication it's required in order to succeed in fitness contests.
When show day finally came. Kate stepped on the bikini fitness stage in her best-yet version, subsequently taking home 2nd place in the 166cm bikini category. Needless to say, she was extremely happy with the result.
Starting a Career in Bikini Contests
However, despite her awesome debut on the bikini stage, Kate wasn't convinced she should compete on a regular basis. The debut competition she partook in was only a test for Kate to see how much she could improve her physique – not to actually make a career out of competing.
At the time, Kate had friends who were heavily involved in bodybuilding competitions. They urged Kate to reconsider her decision not to compete, and to give it a try at least one more time.
Kate decided to listen to her friends' advice, giving competitions another try. This time, Kate set a big goal in front of herself – she promised herself that if she would enter top 10 in the contest, she would start a career in bikini competitions. If she wouldn't enter top 10, then she would find another career path.
It turned out, Kate finished in eighth place in the following competition. Following through on her promise, Kate started competing regularly from there on.
---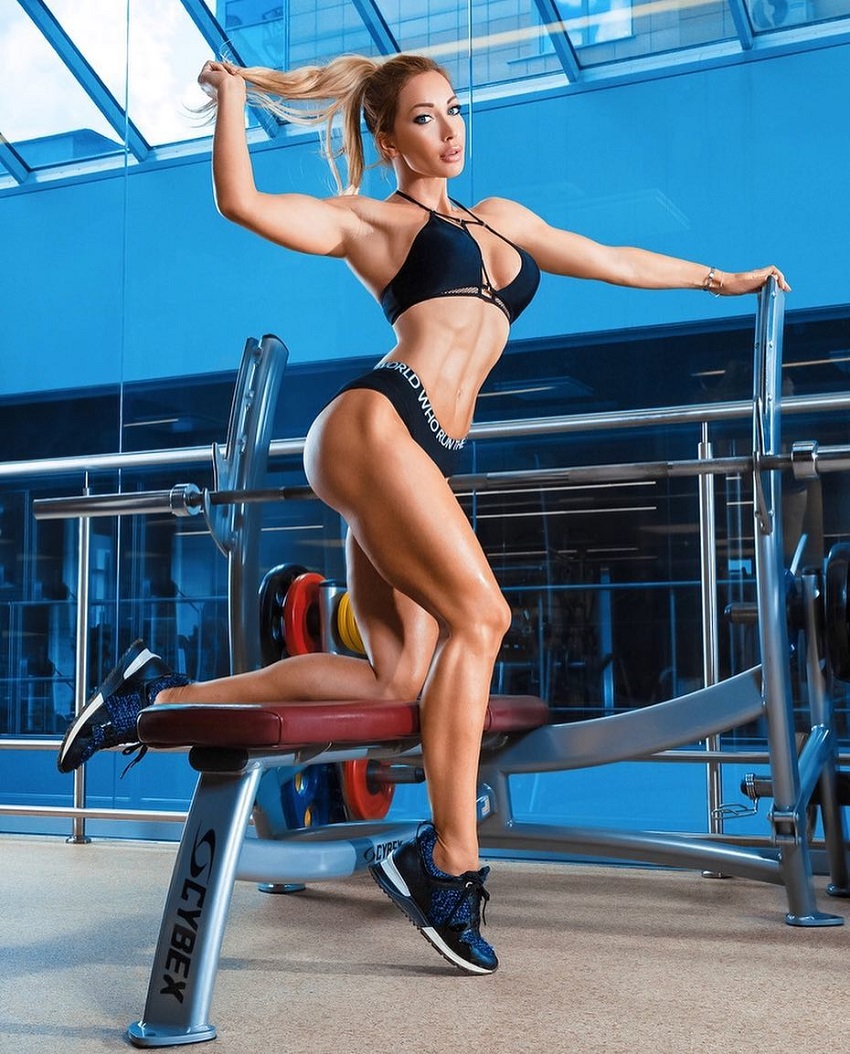 ---
Kate's Successful Career
In the next three years, Kate gradually made her way to the top of competitive bodybuilding in Russia. By 2015, she already had several titles to her name. Including the 2015 Moscow Olympia Champion, and Russian and Eastern European Cup Champion titles.
Kate also became a well-known name on social media, where she'd attracted numerous fans with her inspirational story. Kate continues to work hard on her goals, looking to reach, and motivate as many people as possible along the way.
---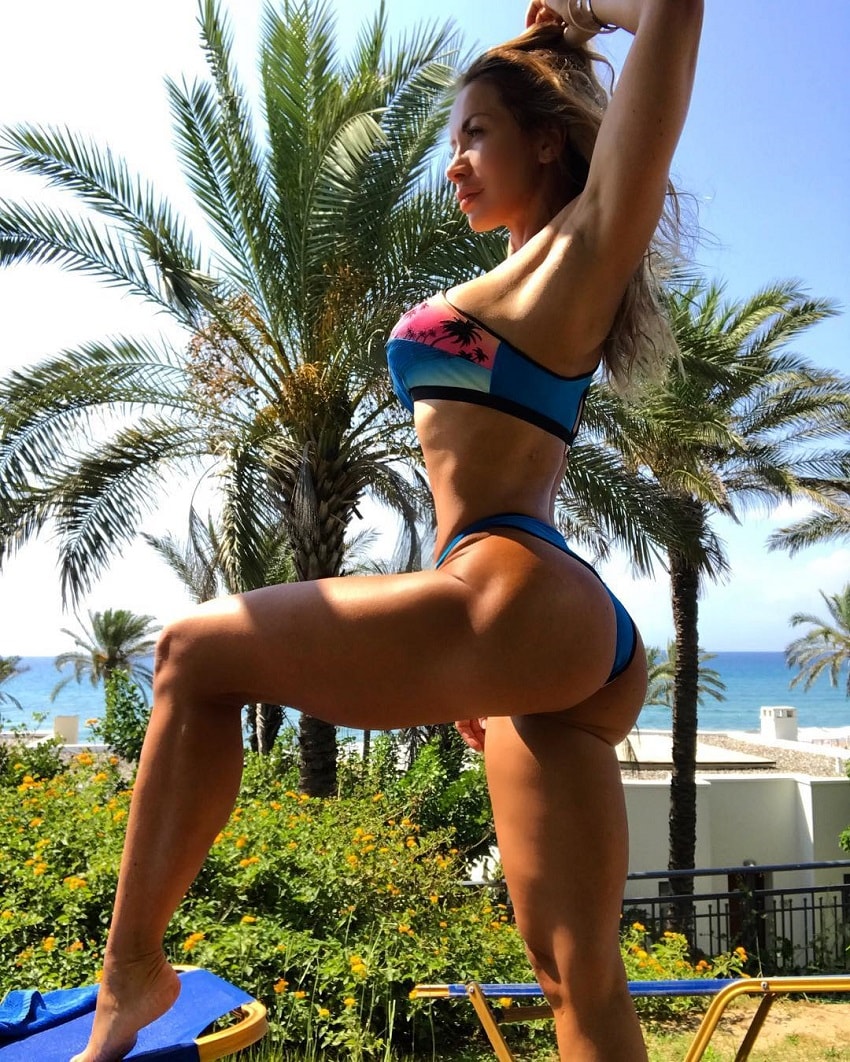 Training
Depending on her goals, Kate will train in the gym anywhere between 5 to 12 times per week. If she's in the 'off-season,' Kate will mostly train with weights.
However, in the 'in-season,' she'll increase her training frequency to do both weightlifting and cardio on the same day. She'll do this up to six days a week, taking only one day off from training.
---
Nutrition
Healthy Diet Year-Round
It doesn't matter whether she's in the 'off-season' or 'contest-prep' period, Kate eats a clean and healthy diet. Her favorite foods include porridge, fish, lean meat, and vegetables.
By having such a clean diet, Kate maintains a fit figure all year-round. More precisely, Kate never gains more than five or six kilograms during the offseason – making it easier to prepare for her competitions.
Measuring Progres
Kate measures her progress by looking at herself in the mirror. She doesn't like using a weight scale, believing the numbers on it them can be misleading.
As Kate says, unlike the mirror, numbers can't tell whether she'd gained or lost muscle, body fat, or water weight.
---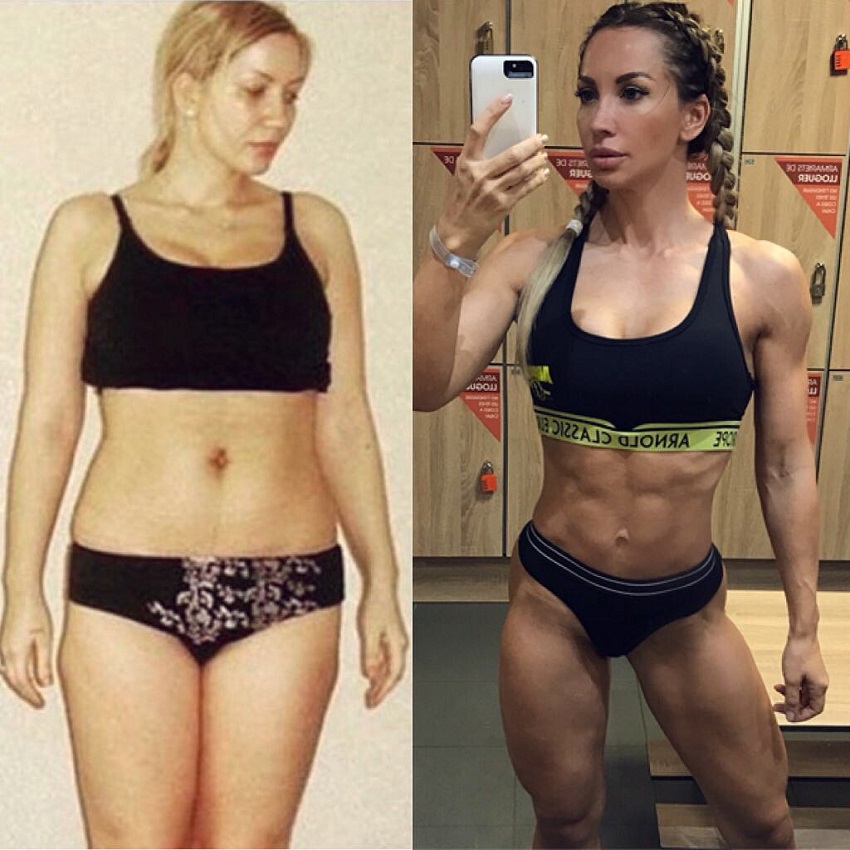 Another picture of Kate Krasavina's inspiring body transformation.
Idols and Influences
From her earliest years, Kate learned to be her own biggest influence and motivation. During her youth, she learned to become self-reliant, disciplined, and hard-working in the absence of her parents.
This carried on into her adulthood, where she completely transformed her physique with the help of fitness.
With her example, Kate is now an inspiration for countless people worldwide.
---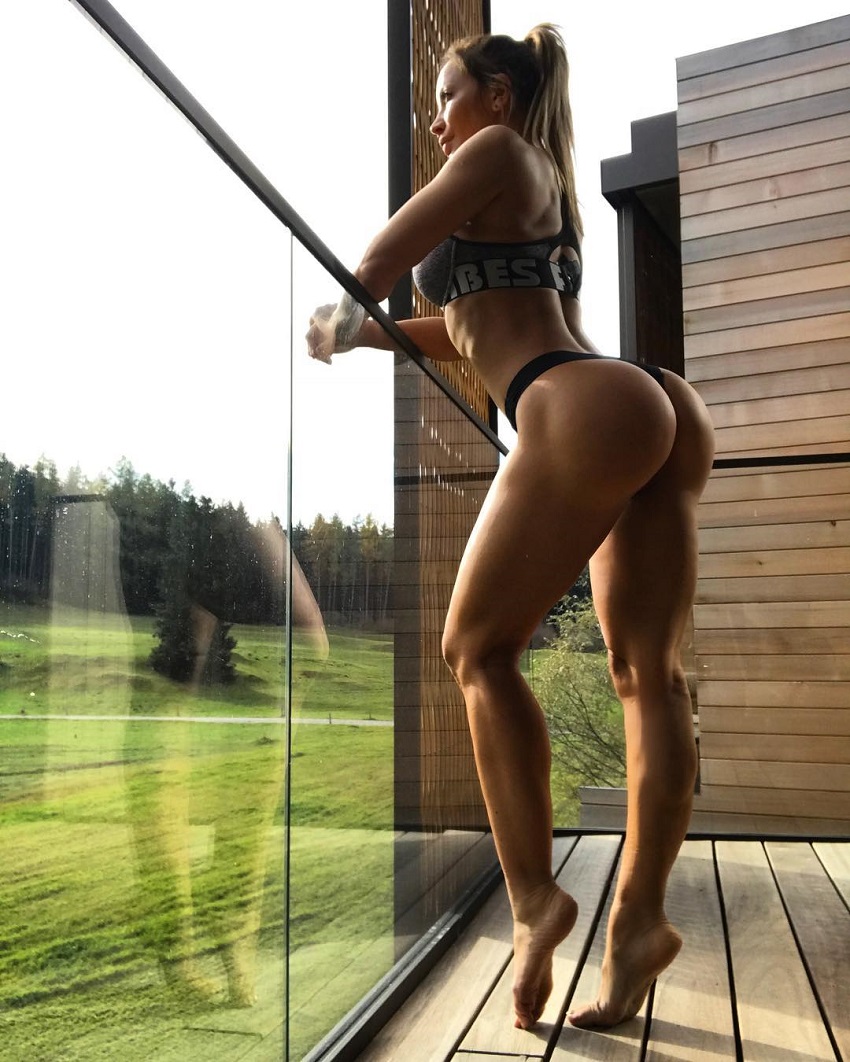 What we can learn from Kate Krasavina
What we can learn from Kate Krasavina, is that in order to achieve any major success in life, you'll need to work hard, and stay patient.
Kate spent years perfecting her training and diet before she achieved her transformation. While it wasn't an easy process, it was all worth it in the end. She not only sculpted an awesome physique, but also built a healthy career in fitness along the path.
Ultimately, Kate Krasavina taught us this; by adopting a strong discipline, work-ethic, and commitment to your goals, there's nothing that can stop you from reaching your ultimate destination in life.