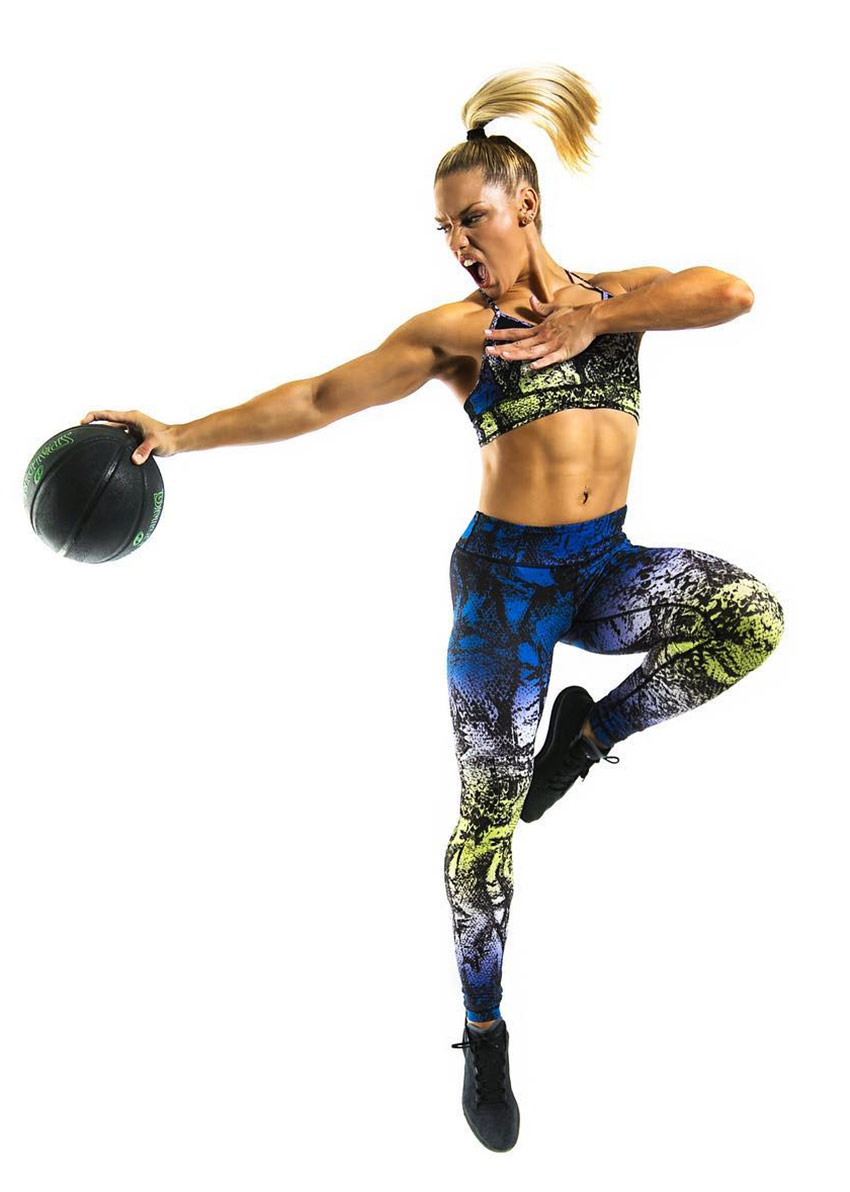 Kaisa Keranen
Fitness Instructor
Kaisa Keranen is a respected fitness instructor from Seattle, USA. She found her passion for an active lifestyle from an early age, taking part in numerous sports throughout high school.
However, she after graduating from college, she wasn't sure which career to pursue.
Eventually, her friends encouraged her to become a coach at her local gym, and she's since become an icon in the fitness industry; motivating others to begin their fitness journey.
This is her story:
---

Athlete Statistics
Full Name: Kaisa Keranen
Weight
Height
Age
Date of Birth
125 - 135lbs (56.7 - 61.2kg)
5'10" (177.5cm)
37
January 29, 1986
Nationality
Profession
Alias
American
Fitness Instructor
Kaisafit
Era
2010
| | |
| --- | --- |
| Weight | 125 - 135lbs (56.7 - 61.2kg) |
| Height | 5'10" (177.5cm) |
| Age | 37 |
| Date of Birth | January 29, 1986 |
| Nationality | American |
| Profession | Fitness Instructor |
| Alias | Kaisafit |
| Era | 2010 |
---
 
" I grew up playing sports and so movement has always been a big part of my life. The simple truth is that I feel much better when I move so I try to make it a daily habit."
Biography
Start of Fitness Journey
Born in Seattle, Washington (USA), Kaisa was encouraged by her parents to participate in various sports from an early age; gymnastics, swimming, ballet, soccer, and sprinting.
As a result, she grew up with an athletic frame with huge potential in the fitness industry; she was one of the most naturally gifted sportswomen in her age group throughout high school.
At the age of 18, in 2004, Kaisa enrolled at the University of Washington – continuing her progression in sports by representing their track & field team and breaking records.
---

---
Fitness Instructor
After graduating from college with a degree and a Masters in Exercise Science, Kaisa didn't have any immediate plans for the future. Consequently, she began searching for jobs, eager to begin her life as a working professional.
Not long after, her friend encouraged her to become a fitness coach; known for her love of exercising during college, Kaisa was the perfect fit to become the trainer at her local gym.
She accepted the role as a boot camp instructor, and soon fell in-love with her new position. Kaisa's new passion led her to create a website, offering to help aspiring athletes to realize their fitness goals – and it wasn't long until she'd became recognised for her hard work.
---

---
Social Media Star
Towards the end of 2015, Kaisa began posting pictures and videos of her journey on Instagram. Her passion for leading a healthy lifestyle inspired others to follow in her footsteps.
As a result, Kaisa became the idol to many aspiring athletes around the world – becoming known as one of the leading female fitness instructors in America, and being featured in numerous fitness magazines.
---
 
"I just don't believe in working out and dieting to look a certain way, it's not sustainable nor is it healthy."
Nutrition
Kaisa has a very basic approach to nutrition – she simply eats healthy, and cooks meals at home as frequently as possible.
The instructor from Seattle strongly advises against following any extreme diets; she believes that you should be able to follow your diet throughout your life, instead of setting yourself a time-frame to follow a certain plan.
"I think our goal should be to move daily, eat healthy as often as you can." – Kaisa Keranen.
---

Idols and Influences
Kaisa has inspired countless fans to begin their fitness journey, but she has one source of inspiration that's pushed her to succeed – her mother.
"She is my biggest supporter and is truly the reason I am out reaching for my dreams every single day. I definitely would not be where I am today if it wasn't for her." – Kaisa Keranen.
---