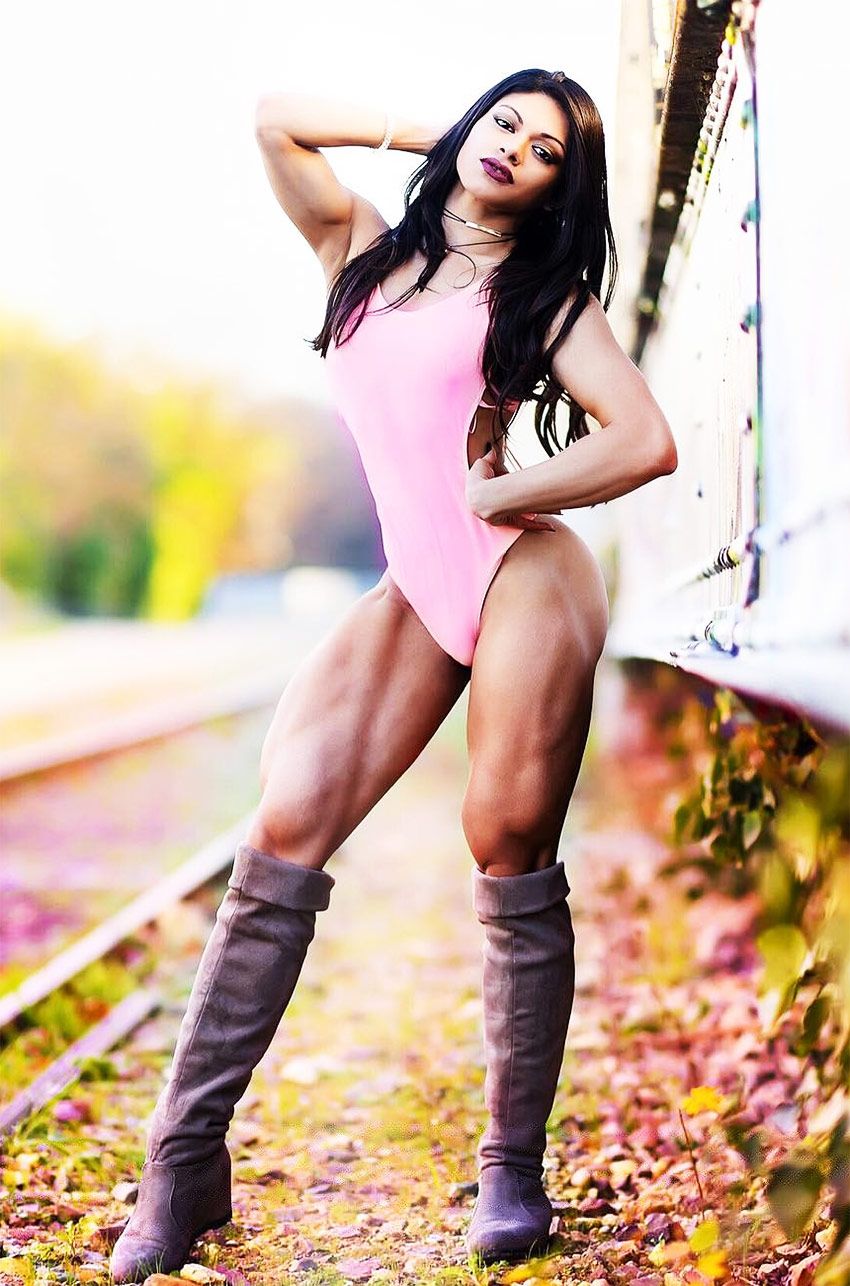 Juliana Mota
Fitness Model
Juliana Mota a.k.a 'jujubafit_' is a Brazilian fitness model, who's known for her muscular glutes, quads, and lean physique. She's become increasingly popular online as a motivational fitness model, and a Bikini Wellness Competitor.
Ever since she started her fitness journey at the age of 15, and throughout her years of hard work in the gym, Juliana has gone from strength to strength. However, all of her success didn't come easy. Juliana had to settle into a new way of living – moving from Brazil to France.
Shortly after Juliana Mota moved to Paris, she began posting pictures and videos of her fitness journey online in 2015. Soon after, she gained a reputation as a strong and powerful woman with an incredible physique – her followers soon began to multiply.
It wasn't long until she'd gained world-wide recognition for her impressive figure – being admired throughout online forums, becoming an online sensation in the process. During her entire journey, Juliana has stayed true to her passion for fitness, never stopping, or letting herself 'slip' – Juliana continues to inspire people all over the world with her motivational quotes and pictures of success.
---

"I've learned that having roots is important, but they do not bind me. I know where I came from but I do not take my eyes off where I want to go. I admire the eagles, free, imposing … they retire when they need to renew their wings to raise bigger flights, fly above the storms. I think I'm an eagle, but not to look at the people above, but rather to motivate them to look up."
Athlete Statistics
Full Name: Juliana Mota
Weight
Height
Year of Birth
Nationality
125 - 135lbs (56.7 - 61.2kg)
5'5" (165cm)
1995
Brazilian
Profession
Era
Fitness Model
2010
| | |
| --- | --- |
| Weight | 125 - 135lbs (56.7 - 61.2kg) |
| Height | 5'5" (165cm) |
| Year of Birth | 1995 |
| Nationality | Brazilian |
| Profession | Fitness Model |
| Era | 2010 |
---

"You do not see me waiting to train my glutes and quads with impatience. Leg training is the one where I suffer the most, but the one that gives me more bliss afterwards. I know I've been to the end, how far I could go, sometimes I go some more. The best thing is that even in the face of all the fatigue, I can smile, knowing that I am exactly where I am. I transform my weaknesses into strong ones, and the strong ones into unbeatable ones. WHO HAS A DREAM DOES NOT KNOW!"
Biography
Early Life
Jiliana Mota was born in Brazil, where she spent her early life living a well-balanced lifestyle, enjoying time with friends and family with no real interest in fitness apart form the occasional sports class in school, or games on the beach with friends. However, when she turned 15, that's when things started to change.
Juliana became unhappy with her physique at this point, she wanted to 'do something' the way she looked and felt in her own skin. That's when she joined a gym and began working out.
In the beginning, it took a lot of time for Juliana to learn the 'basics', but she soon progressed and the results quickly began to follow. This is when Juliana became 'hooked' on the weightlifting lifestyle.
Lifting Heavy From The Beginning
In the beginning, Juliana started to lift heavy weights with the focus on building as much muscle as possible. To do this, she used low reps and a lot of weight, focusing mainly on her favorite body parts – her legs. Unknowingly, this was to become the foundation of her 'soon to be' success seven years later.
Juliana continued to workout in the same fashion for almost 7 seven long years, building as much muscle as possible.
Finding Inspiration To Compete
Once Juliana became happy with the amount of muscle she'd gained, she bagan to 'cut' for the possibility of competing in bikini shows – growing a keen interest in pushing her body to the next level, along with taking-up fitness as a full-time occupation. 
One thing led to another, and Juliana decided to take the leap into fitness full-time. It was during this period in 2015 that she bagan to prepare for her first competition, while at the same time, making the choice to move from her homeland Brazil, to France. This is where she started a new life and a career in fitness – more specifically, modeling and bikini competing.
European Competitions
In 2017, after becoming settled in her new home country of France, Juliana prepared for her first major competition in Europe – the Norte France Wellness Bikini Championships. It was this competition which gave her the recognition she deserved. Her years of hard work had paid off, Juliana became the champion of the Semi Final placing in the top four.
This was her first experience on an international stage, where she received positive feedback form the judges, crowds, and her coaches for her hard-earned efforts. Here's Juliana talking about how she felt after the results were given:
"For those who ask me my opinion about my placement, I came to understand better after talking to the referees. It is not a matter of standard, it is a matter of adaptation, 80% of Europeans still do not know the Wellness category, it was presented to Europe this weekend." – Juliana Mota
This highlighted for Juliana, that although she didn't win first place, she walked away with a deeper understanding of the sport. More so, the different categories and physiques that compete within bodybuilding. This ultimately lead to Juliana grasping a deeper concept of what a 'Wellness Athlete' should try to uphold in training, and on the stage. Finally, when the dust settled, this is what Juliana had to say:
"I had the support of my team, I was encouraged and welcomed with open arms by all, I've built bonds that will be marked forever. This is my biggest trophy so far."
---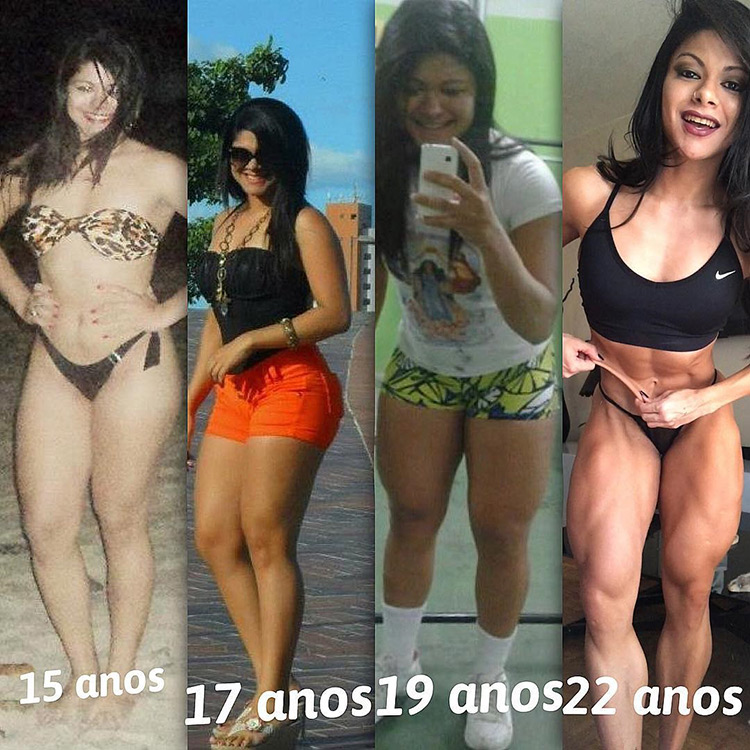 Juliana Mota before and after years of training.
Living Her Dreams
After moving from Brazil to France, and living her ultimate dream of becoming a Wellness Athlete and motivational figure in the sport of fitness. Juliana continues to hope for the best in her future within the sport, wising to inspire more people to do the same – leading a healthy and active lifestyle helping them to secure their dreams and realizing their ambitions.
Here's Juliana expressing her feelings about living out her dreams every day:
"Every day I have the option to choose between continuing to dream, and getting up to pursue my goals. Dreaming is good, it is the fuel of life, it keeps us hopeful, with a better future perspective. But how far are you just fantasizing goals in your head? To what extent are you deceiving yourself? I'm not taking your right to draw whatever you want in your head, but life happens out here!
When we put our feet out of bed, and tune into our reality, with the here and now. Dreaming should be like the starting foot tip in pursuit of your goals, but waking up, getting up and starting to act should be as natural as the air that enters your lungs.
You do not think you have to breathe, you just breathe. And often, in the pursuit of our dreams and goals, we do not have to think much, neither tiredness nor obstacles, nothing … we have to simply DO! Do the best we can, setting our hearts, enjoying the sweet melody of life, which invites us to dance with her." – Juliana Mota
Juliana's Words of Motivation
"Remember: There is within you the greatest force in the universe, the power of creation itself, love in its purest form. Do not miss out on the chance to become the best version of yourself. Realize your greatness, but never forget that before the dimension of the universe, the love of God, we are short beings! Life is brief. Do not waste a second. I wish you the most beautiful day of your life."
---
 
Training
Heavy Lifting
Juliana has always liked to lift heavy weights from the very beginning of her fitness journey. However, it's taken her a long time to build up a level of resistance to the 'huge' weights that she lifts today.
Her dedication is exactly how she's been able to create the dense, and muscular physique she's know for throughout her years of training. Ultimately, it all comes down to a few simple rules that Juliana follows – time, patience, and progressive overload.
Her favorite exercises are – the squat, deadlift, weighted lunges, and isolated glute kickbacks, among many others.
Typical Leg Workout
Educator machine 2 x 15 + 7 with progressive rest 45's 30's 15's 5's 15's 30's 45's.

Abduction Rack pulley low, maximum contraction possible 4 x 10 without rest between legs.

Grip stretch extension 4 x 8, without rest between the legs.

Hip Thrust 4 x 10.

Squat sumo 4 series drop set.

Bulgarian Split squat 4 x 15 Without rest between the legs.
---

"How I love it! Wake up in the morning already knowing what I should do, and do with total dedication and love. My breakfast is my holy hour, who lives with me knows, I take my time and I create according to my wishes, it takes a little bit of preparing, but this is a time that I take for myself, to make my day lighter and sweeter."
Nutrition
Carbohydrate Cycling
Juliana has tried a lot of diets of the years, but her main focus has always been eating to create as much muscle as possible, while keeping her body fat levels as low as possible all year round.
She's been able to do this by eating with a dieting principle that's known as 'carb cycling'. This is where Juliana eats in a series of high, medium, and low carb days. This ensure her body fat levels never exceed her desired amount, while building muscle at the same time.
A bonus of carb cycling in Juliana's eyes, is that she allows herself to eat more carbs on the heavy training days, such as a squat day. This helps her body to recover, while optimally fueling her workouts. On her lower intensity days, such as cardio, or rest days, her carbohydrate intake will be much lower.
Balanced & Nutritious Breakfast
Juliana is well-known for eating a balanced diet, with a variety of clean souses of proteins and fats – such as egg whites and grilled chicken breasts. For Juliana's carbohydrates, she'll opt for oats, yams, brown rice, and many other common bodybuilding food choices that are low on the glycemic scale. This is just another way Juliana keeps her body fat levels low, while maintaining strength and muscle mass.
Taking all of her food choices into consideration, she likes to spend extra time each morning to create a healthy breakfast that will fuel her body for the day. This is a time where Juliana takes extra care to appreciate how far she's come in life, reflecting on all of the things she's grateful for.
Here's Juliana talking about how her morning ritual is an important part fo her life:
"My breakfast is my holy hour, who lives with me knows, I take my time and I create according to my wishes, it takes a little bit, but this is a time that I take for myself, to make my day lighter and sweeter. This is just my breakfast, where I use all the imagination and creativity to give new flavors to the same ingredients. I learned, day after day, with habit, with repetition! And today I do not see myself any other way". – Juliana Mota
---

"There's no chocolate that's hotter than the taste of pride in yourself. Yes, because I'm too proud of my choices. When I look at myself, I'm the first to lean on and be proud of my results. And you should also feel pride of yours yourself? Even if it is a minimal advance. Lost 1 kg? Did I say no when they offered you something out of your diet?"
Idols and influences
Even tough Juliana has pushed herself thanks to the support of her idols and influences, Juliana is also know as a huge inspiration for others around the world – helping people push through their boundaries and setbacks.
However, becoming a figurehead in the sport of fitness hasn't come easy for Juliana, it took years of hard work and determination. Juliana has been been able to remain focused and dedicated to her goals, which is exactly why she's a European champion bodybuilder, along with becoming an idol for people the world over within the fitness community.
Juliana's Words Of Advice
"TAKE PRIDE! Do not expect approval from others, or congratulate yourself, do these things yourself. LOVE YOURSELF ! And you do not have to be with 10% of bf for this, exercise immediately, self-love is everything, and make life more beautiful."
---

---
What we can learn from Juliana Mota
What we can learn from Juliana Mota is: creating a world famous physique takes years of never missing a gym session, and being disciplined 'all-year-round' with a healthy and nutritious diet designed to build muscle, and lose fat.
It took Juliana seven 'long and hard' years to create a physique worthy of the European championship stage. She stayed true to her love for fitness, and her belief within herself – becoming victorious in the process.
This type of commitment that Juliana has displayed to making her dreams more than just 'a dream,' is – with the right attitude and patience, you too can make your goals into a realty just like Juliana did.
Juliana's Words Of Wisdom:
"Do not forget everything you went through to get here. Do not think yourself small or incapable, because everything you have today is a result of the right steps (or not) that your feet gave in the past. We know that life is made up of stages and that many of them are just phases that will never return.
Within you, it is important that you know how to organize things in their proper places, thus structuring your being, remembering the landscapes of your entire journey of life. Honor all the moments you have spent, the adversities you faced and the joys you experienced.
Honor your entire journey, guard with affection the memories of the people that have passed in your life, feel blessed and grateful to have lived so many moments and had the ability to leave more strengthened of each one of them" – Juliana Mota