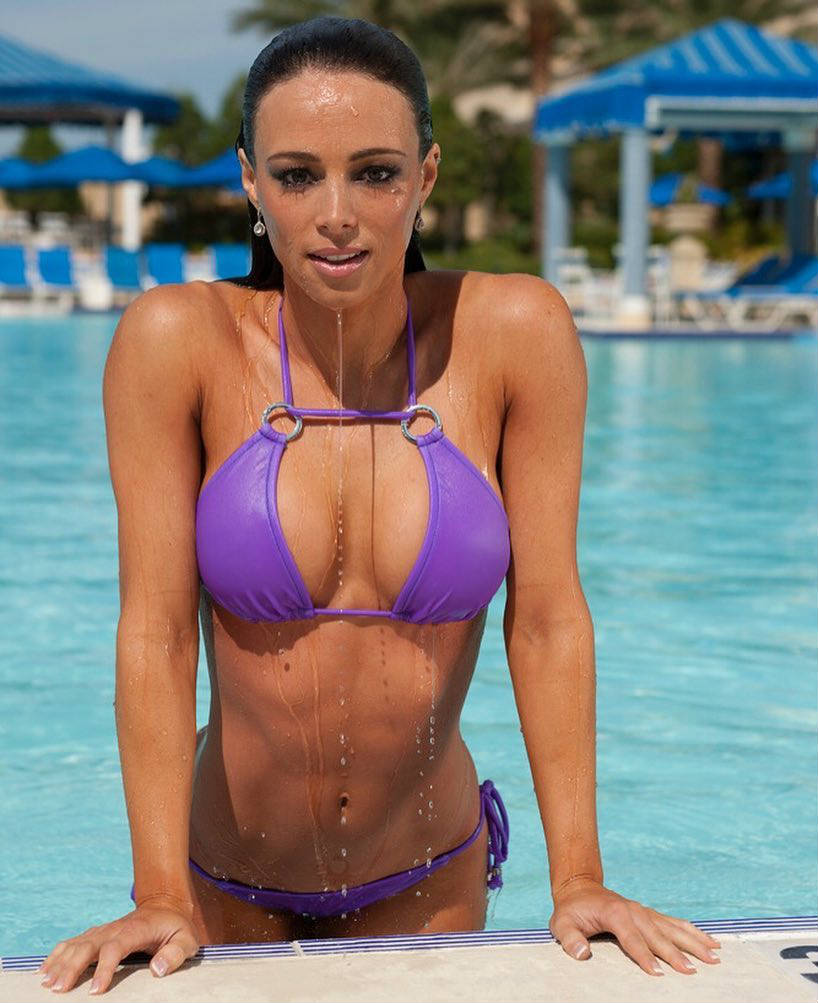 Juliana Daniell
Cheerleader
Juliana Daniell is an IFBB professional bikini competitor from Atlanta, USA. She is a well-known figure who gained fans while working as a professional cheerleader.
Growing up, Juliana was very active and played a number of sports. She excelled in swimming at school, so followed this sport into college – setting records with her team.
Following graduation, Juliana decided that she would become involved in cheerleading. She landed spots as a cheerleader for three major sports teams and became a well-known figure on social media as a result.
Her training and nutrition knowledge gained throughout her life, allowed her to begin competing in Bikini shows. She would go on to place well at a number of major shows and land a job as a television presenter for Motocross.
This is Juliana's story:
---

Athlete Statistics
Full Name: Juliana Daniell
Height
Age
Date of Birth
Nationality
5'6" (167.5cm)
40
November 12, 1983
American
Profession
Era
Cheerleader
2010
| | |
| --- | --- |
| Height | 5'6" (167.5cm) |
| Age | 40 |
| Date of Birth | November 12, 1983 |
| Nationality | American |
| Profession | Cheerleader |
| Era | 2010 |
---

Accomplishments
Competitions
2010 NPC Team Universe & National Fitness Championships, 1st

2010 IFBB Jacksonville Pro, 9th

2011 IFBB Pittsburgh Pro Figure & Bikini, 2nd

2011 IFBB New York Pro Bodybuilding, Figure & Bikini Championships, 4th
2011 IFBB Phoenix Pro, 4th
2011 IFBB Olympia, 8th
2011 IFBB Pro World Masters Championships, 3rd

2012 IFBB Olympia Weekend, 14th

2012 IFBB Arnold Classic, 6th

2012 IFBB Arnold Classic, 6th

2012 IFBB New York Pro, 9th

2012 IFBB Valenti Gold Cup Pro, 8th

2012 IFBB Olympia Weekend, 14th

2014 IFBB Arnold Classic, 13th

2015 IFBB Dallas Pro, 5th
---

Biography
Sporting Beginnings
Growing up in Atlanta, USA, Juliana had very active childhood and got involved in sports from a very young age. In school, her sport of choice was always track and field and she excelled in it throughout junior and high school.
In high school, she mastered sprinting, pole vaulting and swimming – loving every second of competing against other schools and other athletes. She was particularly good at swimming, so decided to pursue the sport as far as she could.
College
After high school, she managed to land a swimming scholarship with Virginia Tech University.  At 5′ 6 ", Juliana chose to compete in the butterfly and the freestyle events.
She was very successful as a swimmer; making her mark early on when her 200 meter freestyle team landed a school record. They completed their laps in 1:35.17 – the 2nd fastest time in the schools history.
Poor Diet After College
When Juliana graduated from college, she stopped all of her normal athletic routine and became a "cardio bunny" – avoiding weight lifting and, admittedly, not looking her best.
She says that, in all, it took her about three and a half years for her to realize that she was missing sport in her life. Being involved in a sport, with a personal goal was everything she wanted.
Cheerleading
Juliana found this team, goal and sport in cheerleading. She tried out and was accepted to cheer for the Atlanta Hawks – her cities basketball team. She also joined the Atlanta Braves Baseball cheerleading team in 2008 and the Atlanta Thrashers hockey cheer squad in 2010.
Juliana loved every aspect of cheerleading and enjoyed dieting, training and rehearsing complex routines before big games. She says that the camaraderie of being in a cheerleader squad was "incredible".
---

---
IFBB Bikini Pro
Training hard as a cheerleader gave Juliana an excellent body, so she decided she would try her hand at Bikini Competitions.
In 2010, she managed to land her Bikini Pro Card at the NPC Team Universe & National Fitness Championships. She won this competition decisively and was invited to pose a the 2011 Olympia Weekend shortly after.
In the same year, she came 2nd at the IFBB Pittsburgh Pro Figure & Bikini, then 4th at the IFBB Phoenix Pro.
In the Olympia itself, she placed a very respectable 8th. She had trained hard for this show and came into it looking flawless, but the competition was extremely strong.
Media Attention
Through these exploits, Juliana began to attract the attention of major magazines. She landed spreads in the popular Fitness RX magazine, as well a number of online bodybuilding publications.
This attention inspired Juliana to follow her dream of being on television. She applied to, and landed work with a number of channels. Notably, she was crowned Miss Motocross 2016 – spending a lot of time on major television networks covering Motocross events.
---

Training
Pre-Training Ritual
Before Juliana trains, she always walks at 3.6 mph for roughly four to six minutes on the treadmill. She also likes to incorporate some front skips, side skips to each side and occasionally 45 seconds of backward running.
Through doing this, Juliana says that she can gauge exactly how hard she can push during the workout itself. It also allows her to warm up gradually, avoiding any injury during her intense sessions.
Abdominal Workout
Now Juliana has stopped cheerleading, she tries to maintain the tempo of this sport in the gym. She has designed an intense workout routine which works her body hard.
Her ab workout is a particularly brutal session, involving a series of hard-hitting movements which use her body weight only. She says that she is constantly adding new exercises in, due to the fact that her muscles adapt quickly to the sessions.
A few of the exercises Juliana had chosen over the years are below. They all focus on hitting the core as hard as possible.
Plank With Knee Pull- Ins Using A Towel
For this exercise, Juliana gets into a plank position with her hands flat on the floor. She holds her shoulders directly above her hands and her toes on top of two separate towels.
She keeps her body level, pulling each knee toward her chest, sliding her feet on the towels. To complete this exercise properly, she says you have to keep your core tight at all times.
Windshield Wipers With Straight Legs
For the Windshield Wiper, she lies on her back with her arms stretched out like a letter T. She then raises her feet (keeping her legs straight) and rocks her legs from side to side with an item between her feet.
Pelvic Tilts
Juliana's favorite exercise of the entire routine is the pelvic tilt. She lays flat on her back with her knees bent and feet flat on the ground. She then aims to rotate her hips by pulling her spine flat against the floor.
The aim is to work the deep transverse abdominal muscles. She looks at her stomach throughout the movement to make sure she is not engaging her abs. This is the best way to complete the movement correctly so she always makes sure to do this.
---

Nutrition
Healthy And Nutritious
When it comes to her diet, Juliana loves variety. She is a vegetarian, so makes sure to include high-protein vegetarian options such as cheese, quinoa, soya, ezekial bread and hummus.
Her vegetable options are predictably numerous. She likes to eat sweet potato, asparagus, beets, peppers, and countless other options. She loves eating this healthy and nutritious food and experiment with new meals.
Her favorite vegetable of all is asparagus. Juliana loves to steam them, grill them and eat them lightly seasoned. She says, "any way you cook them, they taste delicious and are great for you."
Protein Berry Cookies
One of Juliana's favorite desserts is her 'Protein Berry Cookie'. She loves these cookies, as they satisfy her sweet tooth and help her with her protein intake at the same time. The recipe for this sweet treat is below:
Ingredients:
1 8oz. pack of fat free cream cheese
3 scoops of chocolate or vanilla whey protein
1 cup of frozen raspberries
Directions:
Preheat oven to 325 degrees
Combine the whey protein with the cream cheese. Add the frozen berries.
Scoop out the dough into 9 cookies
Bake for 18-20 minutes
---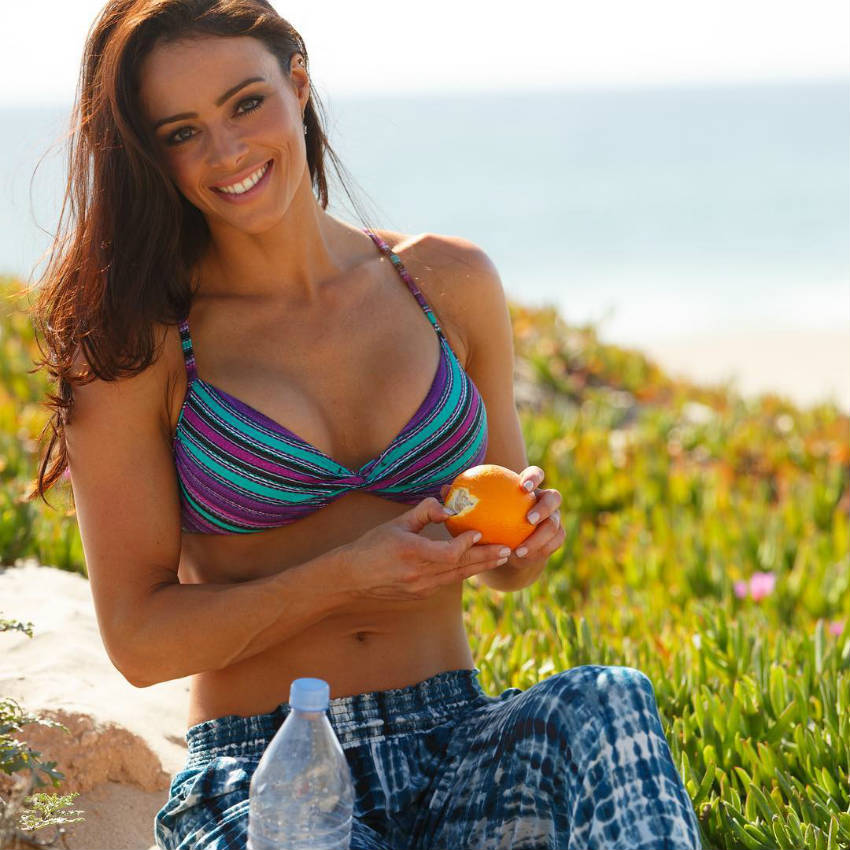 ---
Morning Smoothie
Another favorite meal for Juliana is breakfast. She will usually eat some oats with fruit; washing them down with a homemade natural orange juice and ginger smoothie.
Small Junk Food Snacks
To maintain her dedication to eating clean, Juliana will eat tiny pieces of dark chocolate throughout the day. She says "I usually have a chocolate bar or two lying around that I will snack on when I need something sweet. And I mean snack, as in, like, one tiny little square— two if I really need it."
---

What we can learn from Juliana Daniell
Juliana never stopped chasing her dreams. She was a high level swimmer in college, but decided after graduating that she she would change her career path altogether.
Her decision to follow cheerleading was a fateful one, as she became one of the best in the business. It also allowed her to build an excellent physique and win Bikini competitions.
If you can show the same level of dedication that Juliana has shown, who knows where you might end up on your fitness journey.