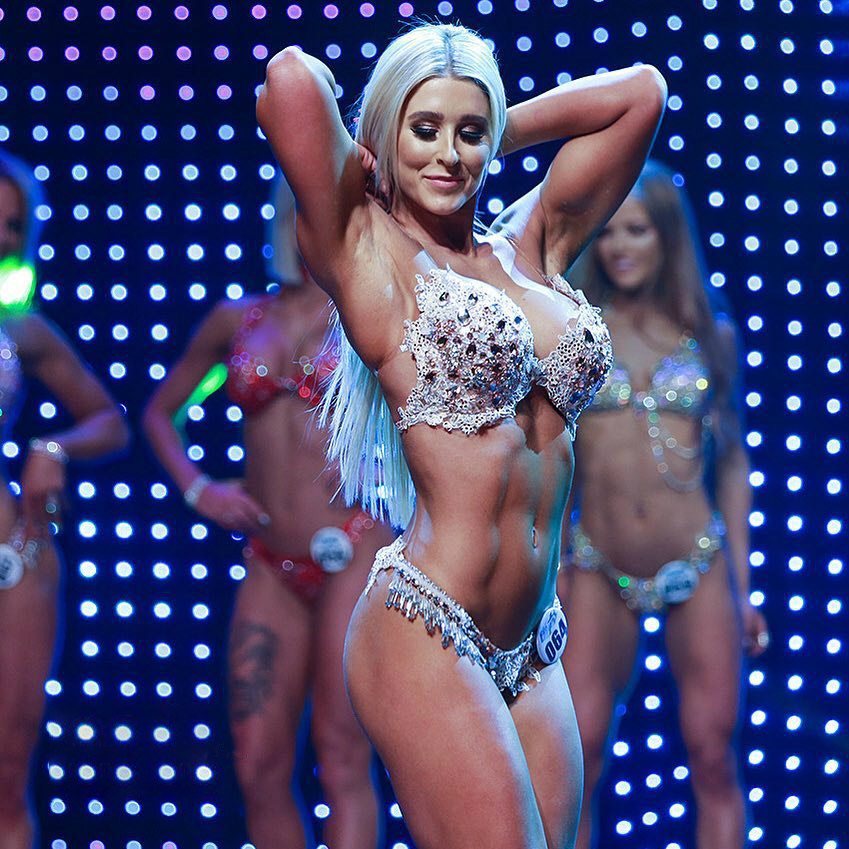 Julia Woodford
Gym Owner, Personal Trainer, Sponsored Athlete, Competitor
Julia Woodford is a gym owner, personal trainer, and WBFF Bikini Pro athlete from Gold Coast, Australia. Ever since winning her Pro Card, she's only continued to rise in the fitness industry – becoming an inspiration for her fans on social media.
Julia first showed interest in fitness when she 8 years old. She initially took on gymnastics, but after finishing school, she entered the world of fitness and bodybuilding.
It was this transition that saw Julia become who she's today. Through dedication, she's built a successful career as an influencer and inspiration for other fitness enthusiasts.
This is her story:
---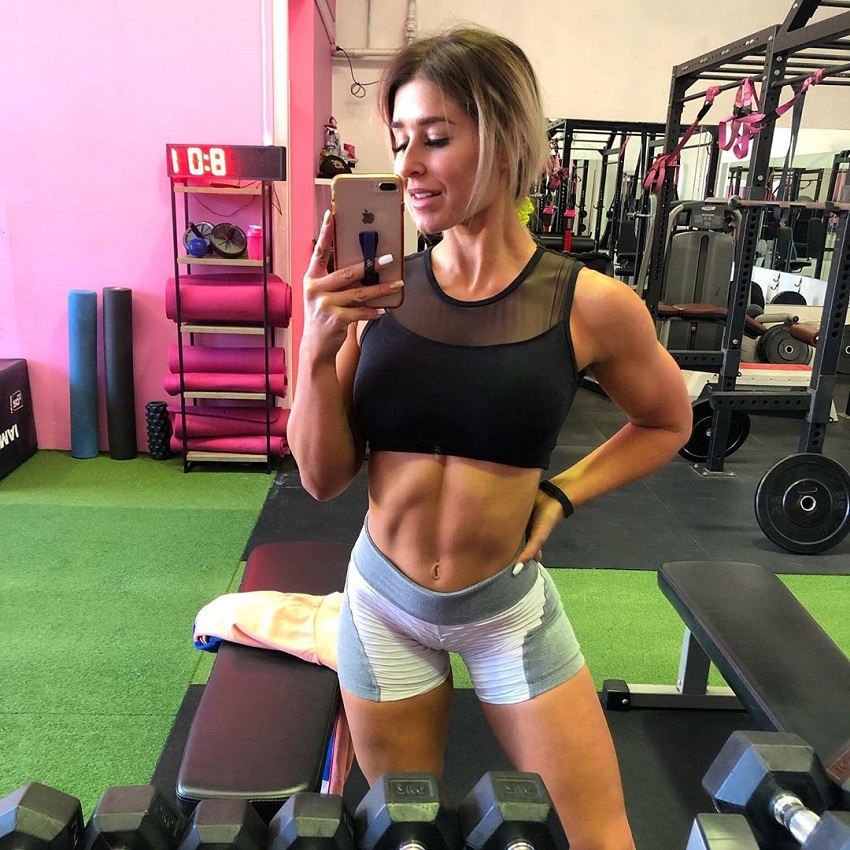 "The first and most important step in this journey is getting started. If you are reading this there is a good chance that you are ready to start your journey. Do your very best, push your limits, but don't dwell on your defeats."
Athlete Statistics
Full Name: Julia Woodford
Weight
Height
Nationality
Profession
135 - 145lbs (61.2 - 65.8kg)
5'5" (165cm)
Australian
Gym Owner, Personal Trainer, Sponsored Athlete, Competitor
Era
2010
| | |
| --- | --- |
| Weight | 135 - 145lbs (61.2 - 65.8kg) |
| Height | 5'5" (165cm) |
| Nationality | Australian |
| Profession | Gym Owner, Personal Trainer, Sponsored Athlete, Competitor |
| Era | 2010 |
---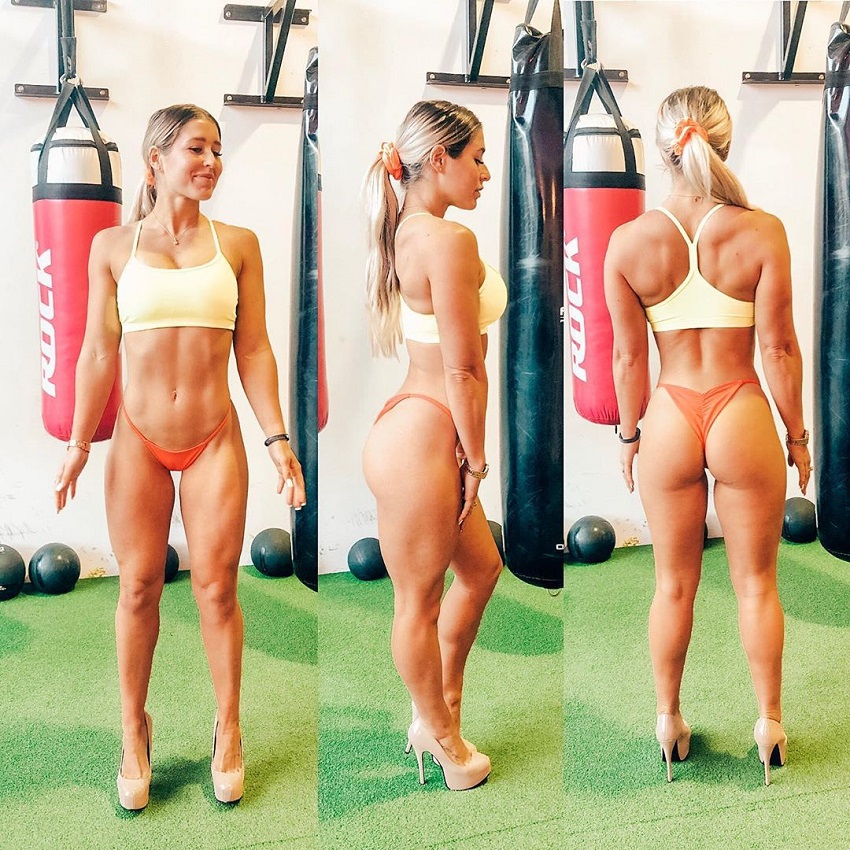 "There is no comparison to the feeling of accomplishment that comes as a result of achieving a goal you once thought was once impossible."
Accomplishments
Fitness Entrepreneur
WBFF Bikini Pro (Proshow Debut in October 2020)
Model
Former CrossFit Athlete
Coach
Brand Ambassador
---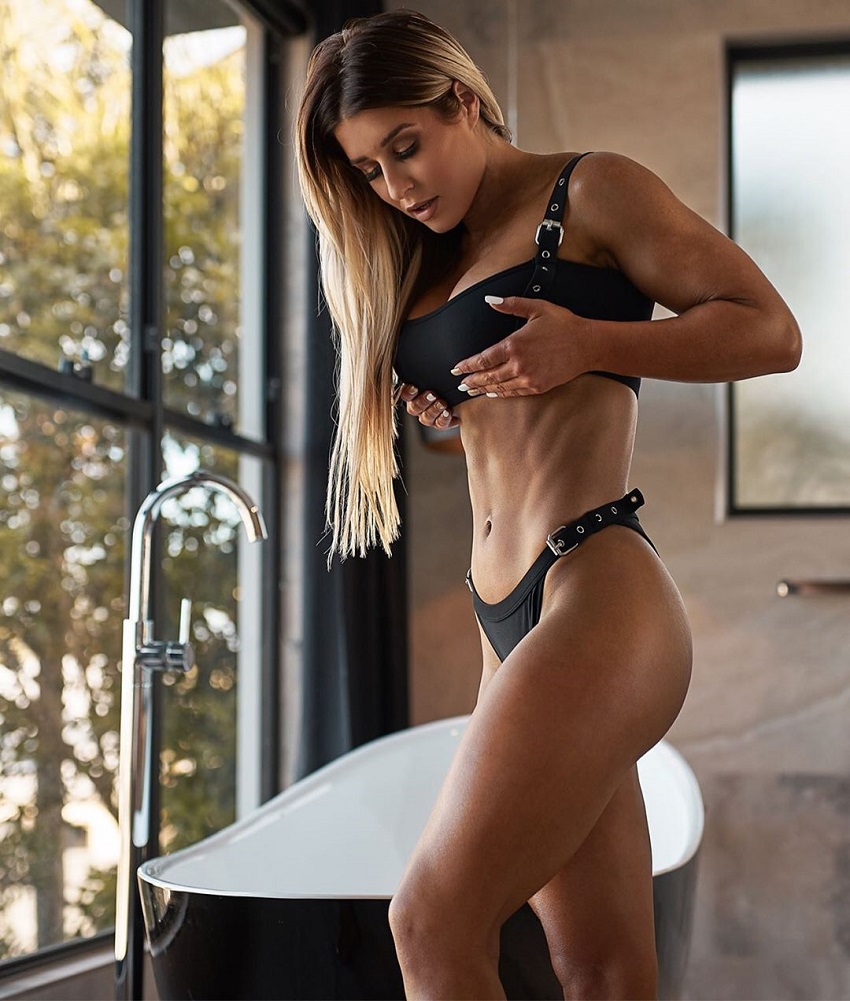 Biography
Gymnastics
Julia Woodford is a personal trainer, WBFF Bikini Pro competitor, fitness model, and gym owner from Australia. According to Julia, she's been active since a young age.
She started competing in gymnastics when she was 8, and from there, she continued to train and compete in the discipline all the way through high school.
---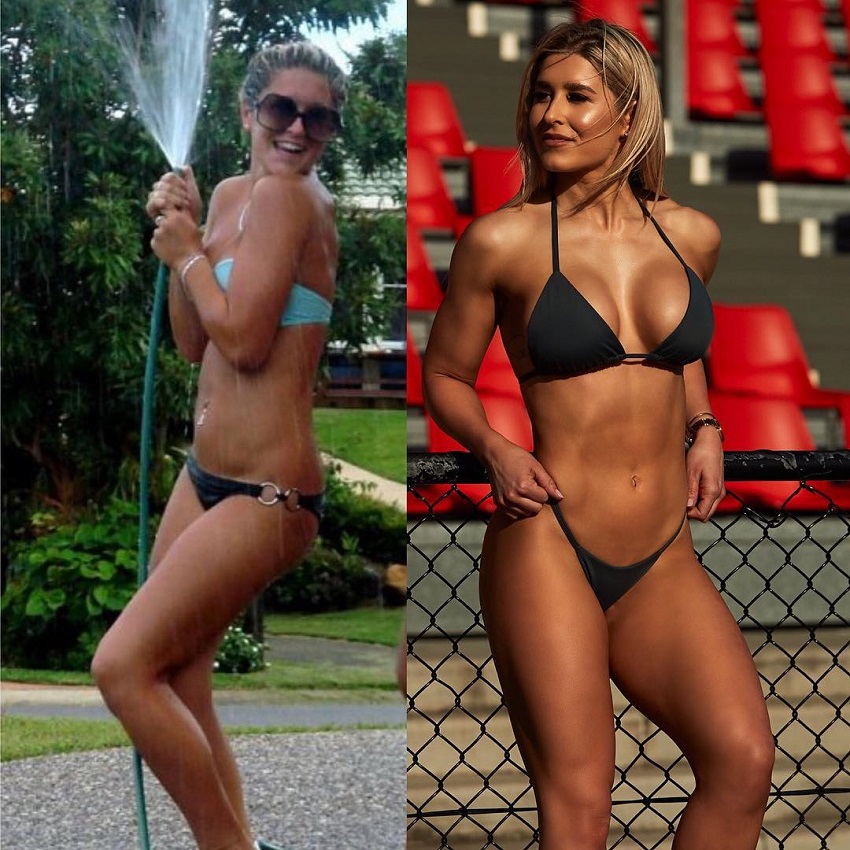 ---
Fitness Coaching
As her school days came to an end, so did Julia's time as a gymnastics competitor. However, her passion for training and staying fit was still very much present.
Because of this, Julia went on to pursue her passion for fitness. At first, she worked as a children's gymnastics coach. However, she later went on to become a full-time bikini athlete and competitor.
---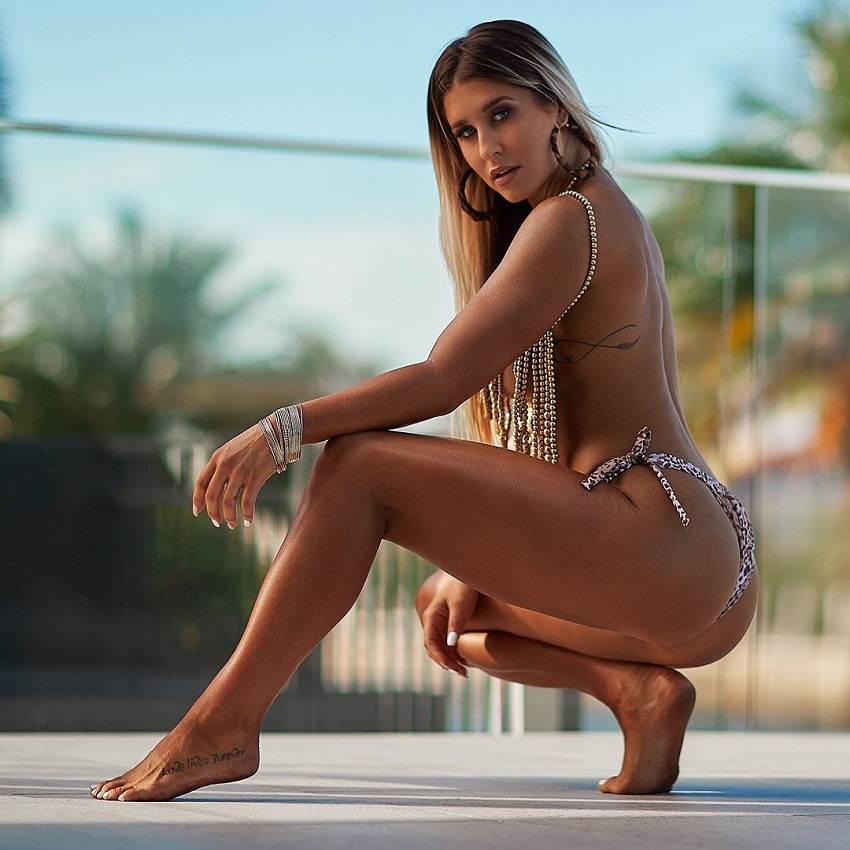 ---
Becoming an Influencer
Over the years, Julia began competing within the prestigious organization WBFF, where she ended up winning the WBFF Bikini Pro Card.
However, this feat didn't come easy. Julia says she had a lot of travel during her competition preparations. Always being prepared while out of her normal routine and on planes was a challenge, but Julia always made it work.
"I have had the opportunity to travel doing what I love and that's helping motivate and inspire people to live a healthier more active lifestyle."
Apart from this, Julia was also at one point working as a coach and competitor in CrossFit. During this period, which lasted between 2014 and 2016,  Julia achieved some amazing personal records. This includes doing a one-rep max 120kg squat and 130kg deadlift.
---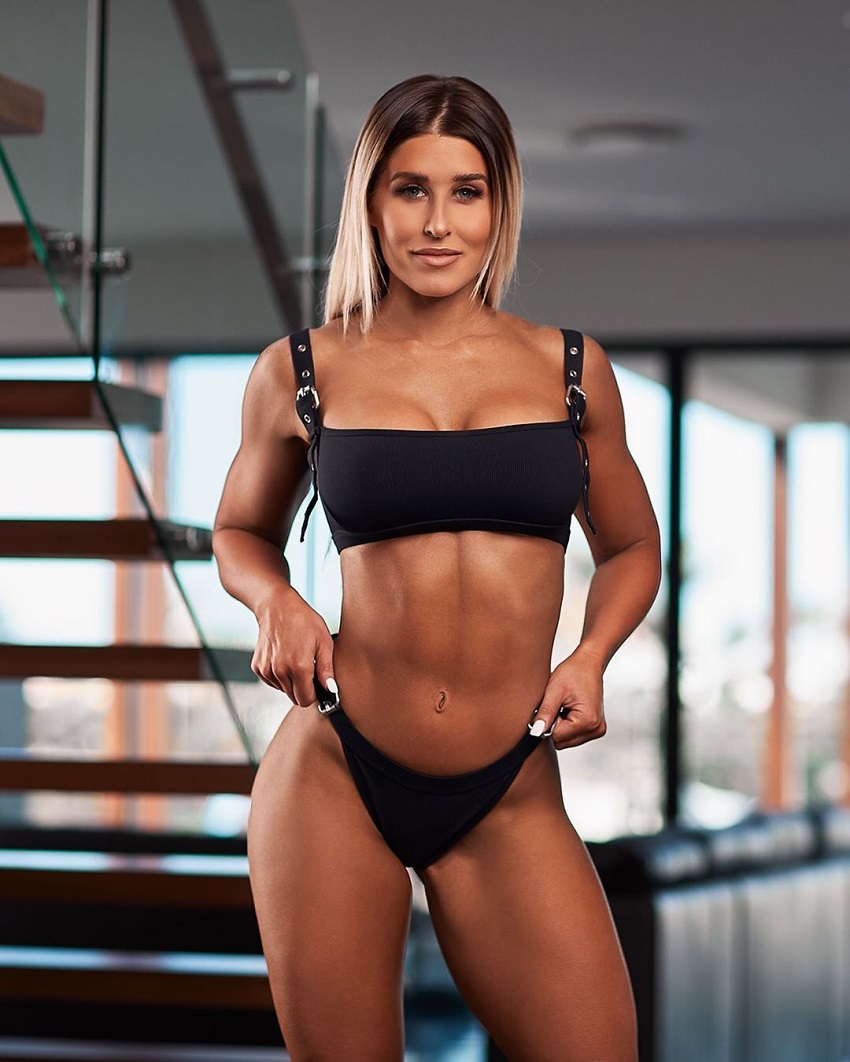 Training
Julia loves training in the gym around 5 times per week. Not only to shape and sculpt her figure, but also to sweat out toxins, relieve the stress, and stay healthy and energetic.
As Julia says: "To maintain balance in my life I need to have time for myself every day and that's to train. It not only makes me feel good but it's a stress release."
In terms of her workouts, Julia prefers hypertrophy training. This includes upping the weights where she can each session, and being consistent.
Julia Woodford's Workout Plan
Monday: Back, hamstrings, glutes
Tuesday: Chest and shoulders
Wednesday: Quads and calves
Thursday: Arms, abs, and delts
Friday: Glutes and hamstrings
Julia on Females Who Lift Weights
There's a common belief in the fitness industry that women who lift weights might "look bulky". However, Julia doesn't agree with this.
She believes that weightlifting only makes a person look healthier, and their muscles leaner and more defined. In her words:
"Lift weights they said… It will make girls bulky they said. To me strong is everything! Lifting weights will not make you look manly, it will give you a strong, lean, sexy body. Chase the burn ladies." – Julia Woodford
---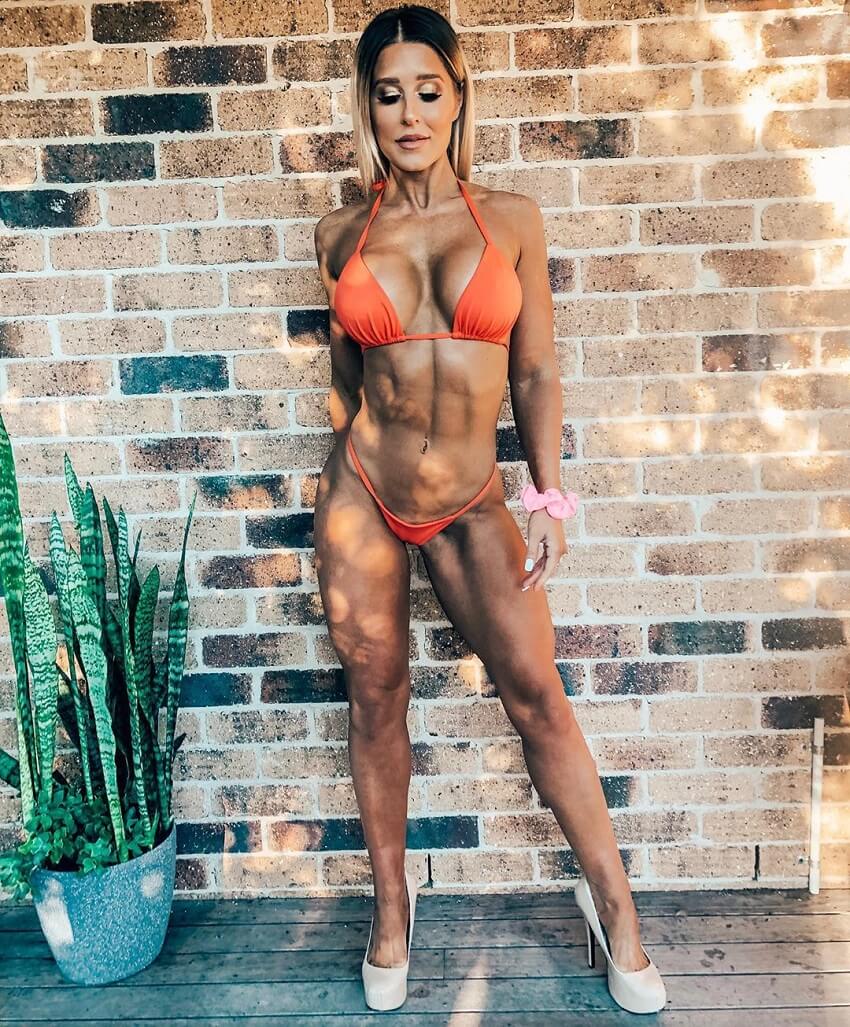 Nutrition
Julia says that her perspective on healthy nutrition habits is simple. According to her, people go on various diets only to fall back off track very quickly.
The key, she believes, is listening to your body and eating real food. "You don't need to starve yourself to get results."
That said, Julia does eat set to her macros, especially when she's preparing for a show. This includes:
Protein – chicken, turkey, eggs, lean beef
Carbs– rice, sweet potato, oats, vegetables

Fats– nuts, avocado, nut butter, seeds, coconut oil
Day of Eating in the Off-Season
Julia eats about 2000 calories in her off-season. During this phase, her goal is to maintain her weight and continue to up her calories as much as she can before her diets starts.
Her day of eating looks something like this;
Breakfast: Protein oats or eggs
Lunch: Chicken with rice, avocado and vegetables
Post-workout: Protein and carbs
Snacks: Protein shake, rice cakes, and nut butter
Dinner: Chicken with rice, avocado, and vegetables
Dieting Rules
There are a few key rules Julia sticks to when it comes to her diet:
Lots of simple, whole foods
Colorful vegetables for fiber and nutrients
Adequate intake of lean proteins including chicken and turkey
Healthy fats, mostly from plant sources such as flaxseed oil and avocados
Julia also regularly drinks water during the day. She uses supplements before and after workouts to replenish her muscles and maintain energy. During the workout, she'll sip on BCAAs and will have protein shake post-workout.
Off-Season vs Competition Diet
Julia is always watching what she eats all year round – this is a lifestyle for her. However, off-season she'll enjoy more good food and have more balance and flexibility on the weekends.
When it comes to the contest prep, she's eating more or less the same foods, just in different amounts.
Supplements Julia Woodford Takes
Julia's training supplement stack includes:
Whey Protein
Casein Protein
Glutamine
BCAAs
Athletes like Julia combine whey and casein protein because both have their roles in muscle building. Whey, for example, helps to quickly replenish Julia's muscles after a workout. Casein, on the other hand, is released more slowly into the body, which makes it ideal to take before bed.
In terms of general health supplements, Julia takes magnesium which helps with muscle recovery, fish oil which helps with inflammation, zinc as an essential trace mineral, and Evening Primrose for a number of additional benefits.
---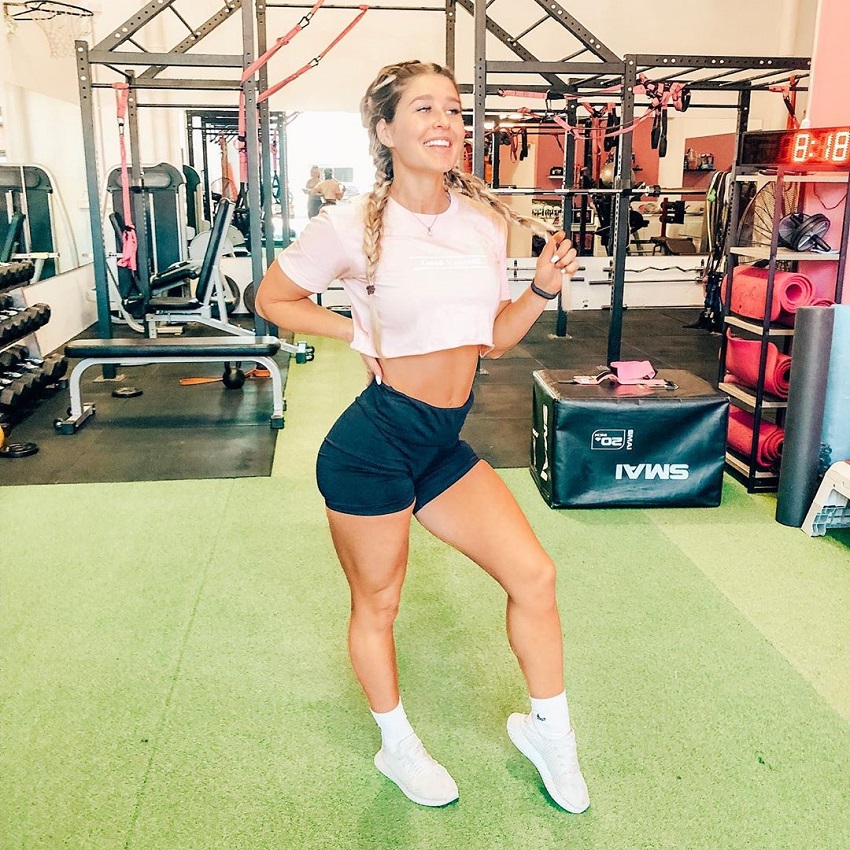 Idols and Influences
Motivation
Julia says she gets her motivation from lifting weights. She loves the feeling after an intense workout, knowing she's given everything she's got. "It's my escape from the world where I can be with myself and nothing else matters," says Julia.
However, while Julia sees herself as motivation and her own competition. She has always loved Paige Hathaway as her inspiration. She also looks up to Gary Vee as an entrepreneur.
---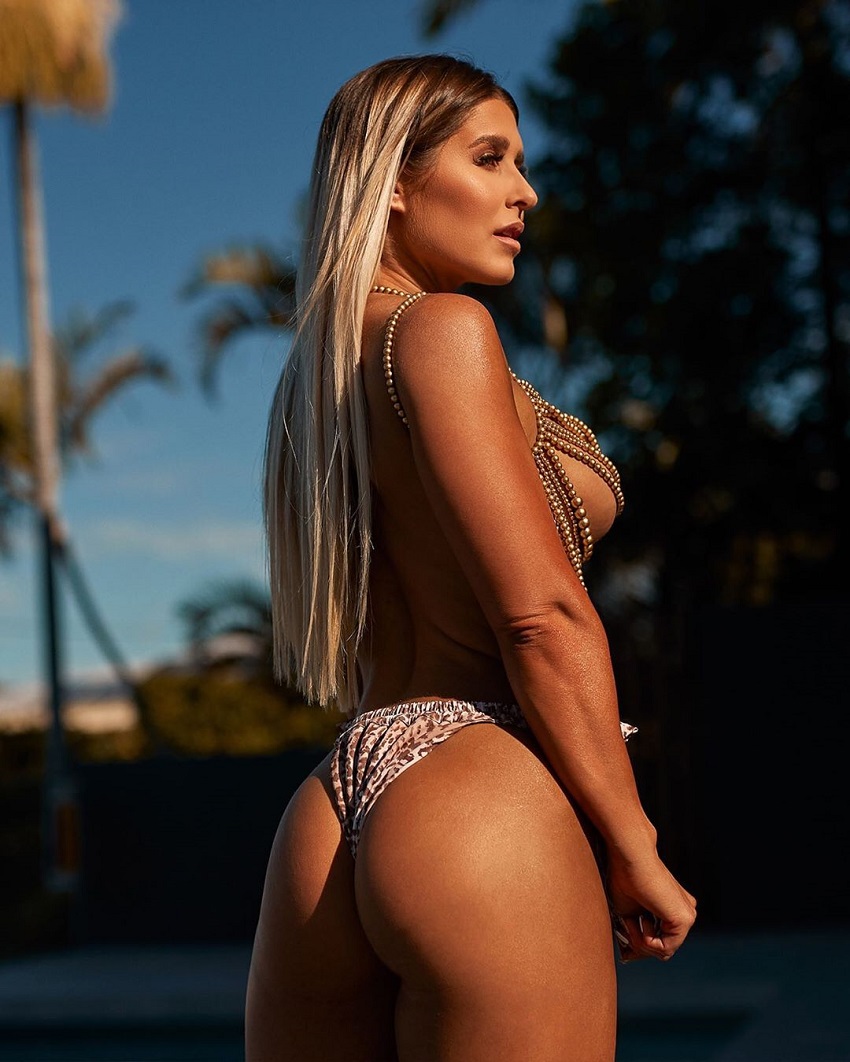 "I realized it was important to constantly challenge myself on a daily basis. The harder I challenged myself physically the more I began to believe in myself and the stronger I became mentally."
What we can learn from
Julia Woodford
Something to learn from Julia, is that nothing's out of reach when you set your mind to it.
Julia's lifelong commitment to fitness has seen her build a fantastic career, where she now coaches others and trains with the best.
Julia also competes on the bikini stage, showing determination to win as many titles as she can.
With the same kind of mindset, there's no telling how far you can go on your own journey.