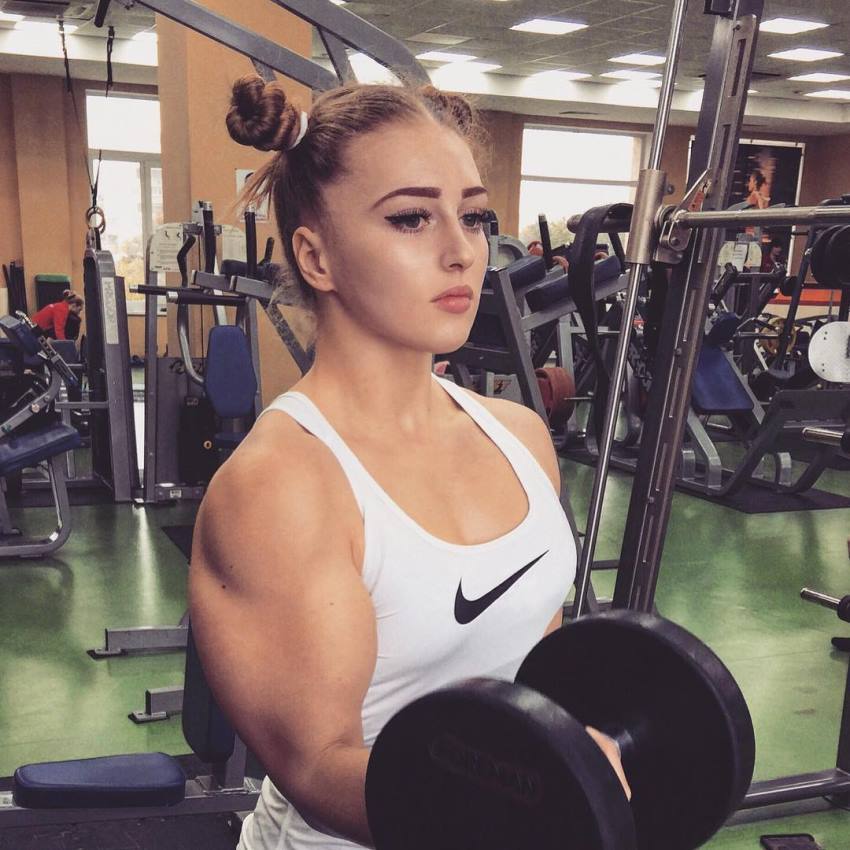 Julia Vins
Powerlifter, Fitness Model
Julia Vins is a Russian powerlifter, and a social media personality, who's famous for her unique looks. Julia first took on weight training in 2012, in a pursuit of gaining confidence, and strength.
After transitioning to powerlifting in 2013, she began to notice major progress in both her strength, and size – this motivated her to start competing in powerlifting shows.
Since then, Julia has gained a lot of exposure online, and has become a "rising star" in the fitness industry.
This is her story:
---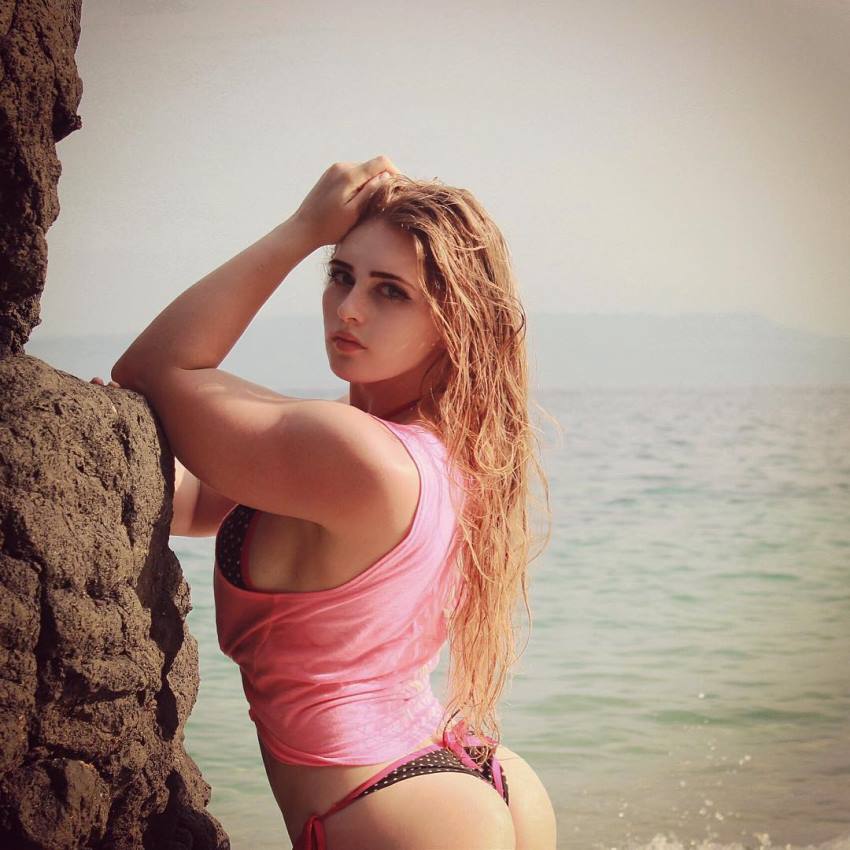 "Many people ask me, why I do this sport? I like the way my body is changing. I'm enjoying the process. I have more opportunities. I gained confidence in myself."
Athlete Statistics
Full Name: Julia Vins
Weight
Height
Nationality
Profession
135 - 145lbs (61.2 - 65.8kg)
5'5" (165cm)
Russian
Powerlifter, Fitness Model
Era
2010
| | |
| --- | --- |
| Weight | 135 - 145lbs (61.2 - 65.8kg) |
| Height | 5'5" (165cm) |
| Nationality | Russian |
| Profession | Powerlifter, Fitness Model |
| Era | 2010 |
---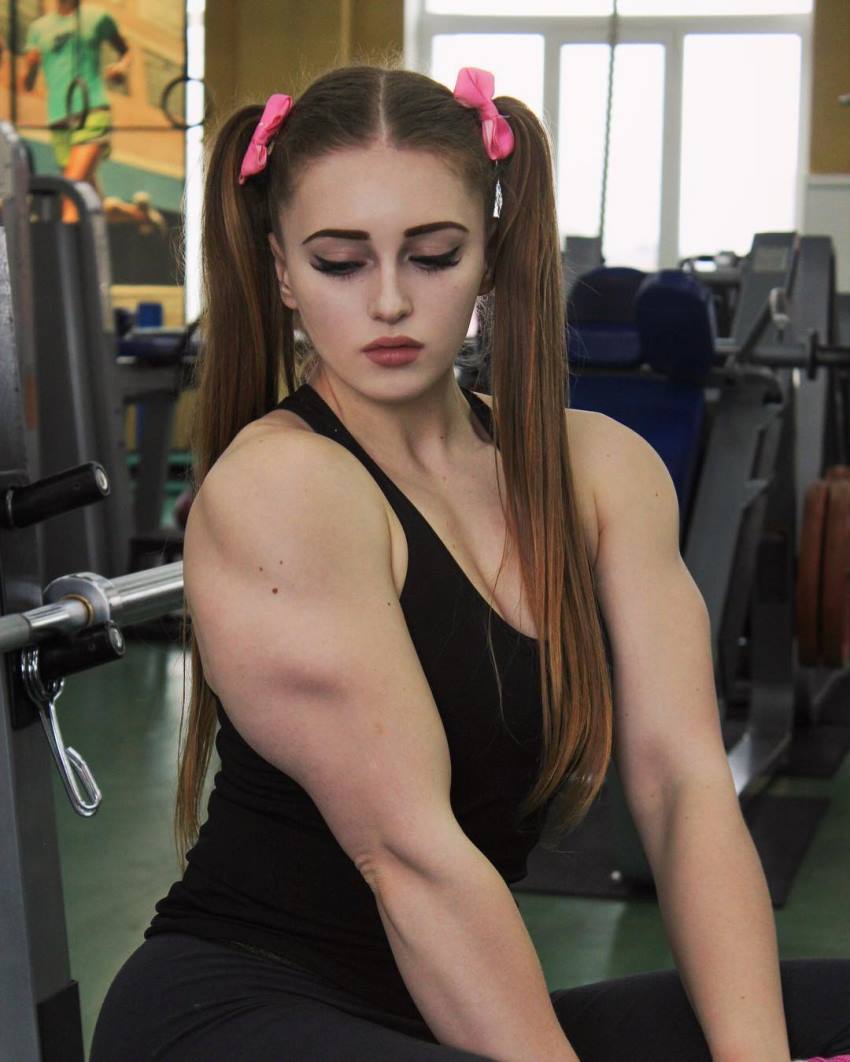 "If you ask me for the most important advice, I'll say: Do what you love to do, and don't care what others will think about you."
Accomplishments
Personal Record Lifts
Squat 235 kg
Bench press 140 kg
Deadlift 190 kg
---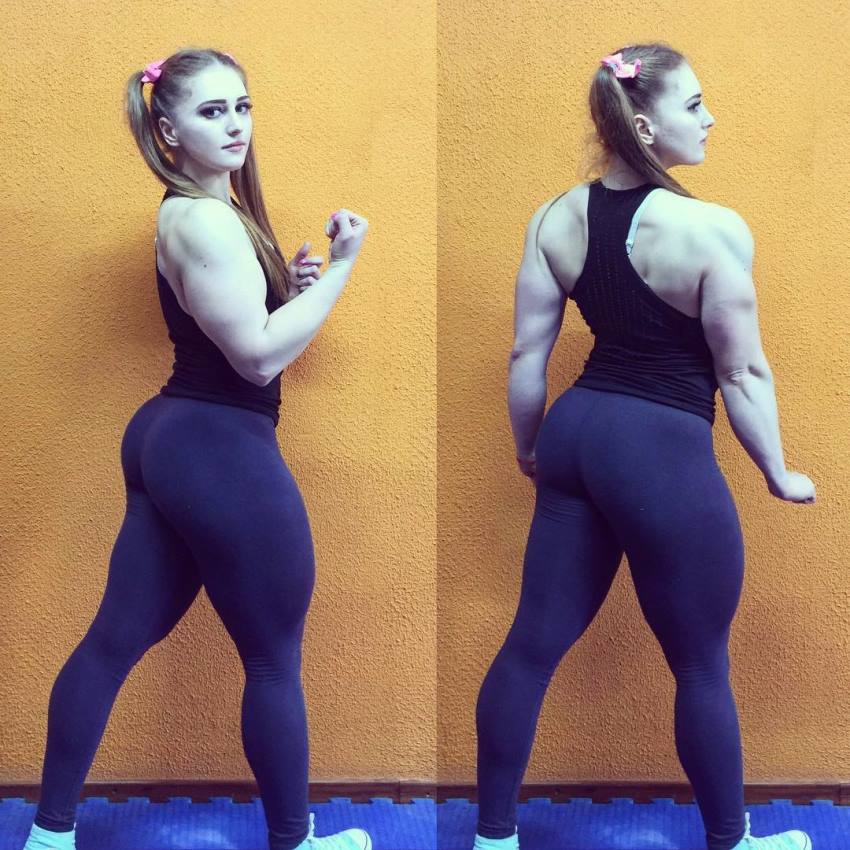 "If you don't have haters it means you're doing something wrong. It sounds strange and contradictory but it's true."
Biography
Julia's Beginnings in Fitness
Born in 1996 in Russia, Julia Vins' journey in fitness first began when she was 15. At the time, her only goal was to become stronger, and gain confidence. Julia says; "Initially, I set a goal to become stronger, because I have absolutely no confidence in myself. At first, I just went to the gym, and worked out without a program for a year."
After one year of training in the gym, she was offered an opportunity to engage in powerlifting. Initially, Julia was resistant about choosing this discipline, but as she said, she had no other option.
She needed a coach to help her develop a balanced physique, but there was only a coach in powerlifting and kettlebell training in her school. Due to a lack of choice, Julia chose powerlifting.
"There was only coach in powerlifting and kettlebell lifting. I did not like kettlebell lifting, because I wanted to harmoniously developed body. And I simply had no choice."
---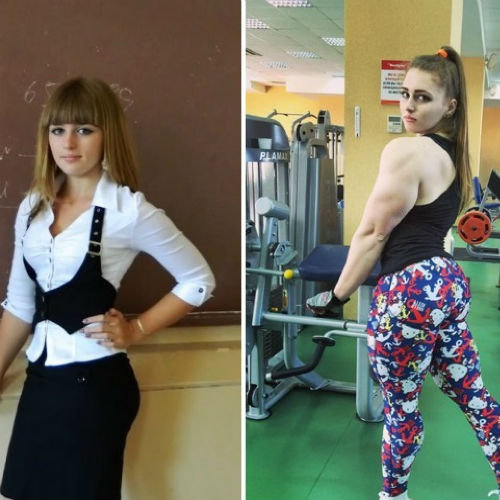 Julia's transformation (15-20 years old).
---
Powerlifting, a Career
From that moment on, Julia grew fond of powerlifting – so much so that she began competing in various contests just several months after she first took on the discipline.
By 2016, she became a powerlifting icon, and a fitness sensation in Russia.
---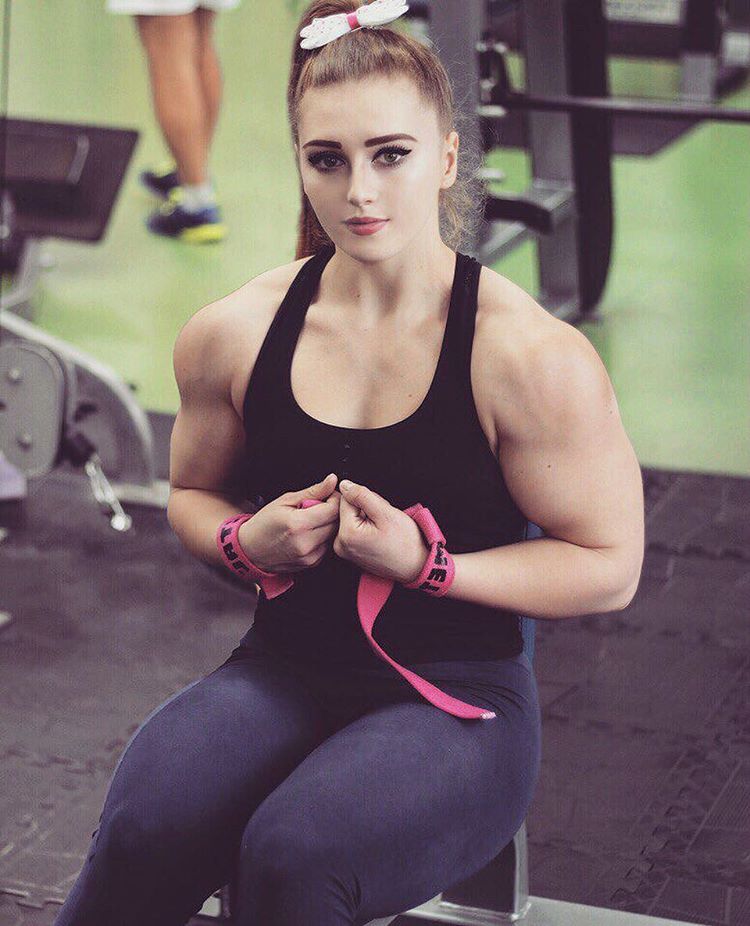 Training
Long Workouts
Julia trains in the gym five times per week; on one of those days, she incorporates a 1-2 hour cardio session. She prefers having long and high-volume workouts instead of  short and intense.
As a result of this type of training, Julia is able to hit several muscle groups within one workout. For example, on Friday, Julia usually trains triceps, biceps, back, and chest – all in one workout.
Needless to say, this kind of training requires tremendous effort, and willpower to complete. Still, Julia says she enjoys spending a lot of time in the gym.
"I have two legs workout per week."
---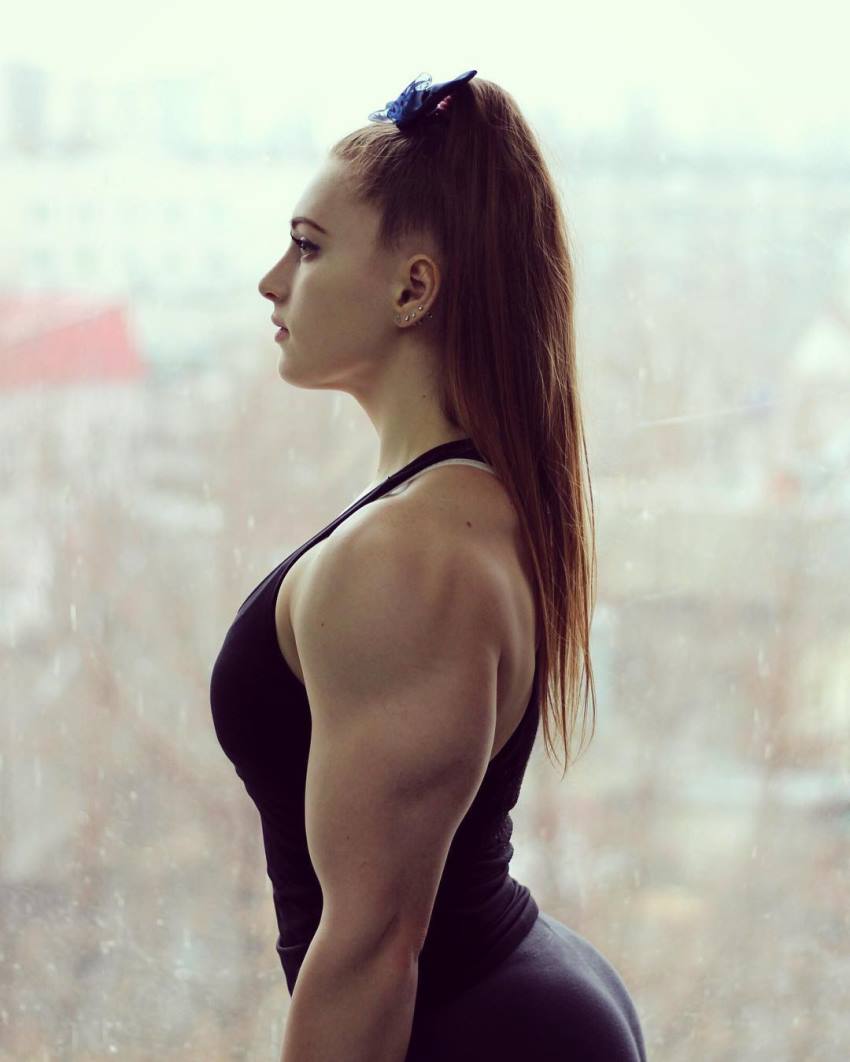 ---
Julia's Training Plan
Monday – Cardio, Legs, Calves
1-2 hours of running on a treadmill or any other type of cardio
Squats, 5 sets of 4-8 reps
Les Press, 5 sets of 6-10 reps
Leg Extensions super-setted with lying leg curls machine, 5 sets of 8 reps
Standing Calf Raise, 3 sets of 12 reps (warm-up without weights first)
Seated Calf Raise, 3 sets of 8 reps
Tuesday – Chest, Triceps (light)
Bench Press, 5 sets of 5 reps
Incline Dumbbell Press, 5 sets of 5-8 reps
Flat Dumbbell Flyes, 3 sets of 12 reps
Skull-Crushers, 3 sets of 8 reps
Close-grip Bench Press, 3 sets of 5 reps
Wednesday – Shoulders, Triceps (heavy)
Military Press/Seated Dumbbell Shoulder Press (Alternate Every Month), 3 sets of 5 reps
Lateral Raises, 3 sets of 5-8 reps
Front Raises, 3 sets of 5-8 reps
Rear Delt Dumbbell Raises, 3 sets of 5-8 reps
Triceps same as on Tuesday
Thursday – Legs, Calves
Friday – Triceps, Back, Chest, Biceps
Triceps and Chest same as before.
Weighed Pull-ups, 3 sets of 8 reps
Lat Pull-downs, 3 sets of 8 reps
T-Bar Rows, 3 sets of 5 reps
Deadlifts, 3 sets of 5-10 reps
Barbell Biceps curls, 3 sets of 5-10 reps
Dumbbell Hamer curls, 3 sets of 5-10 reps
---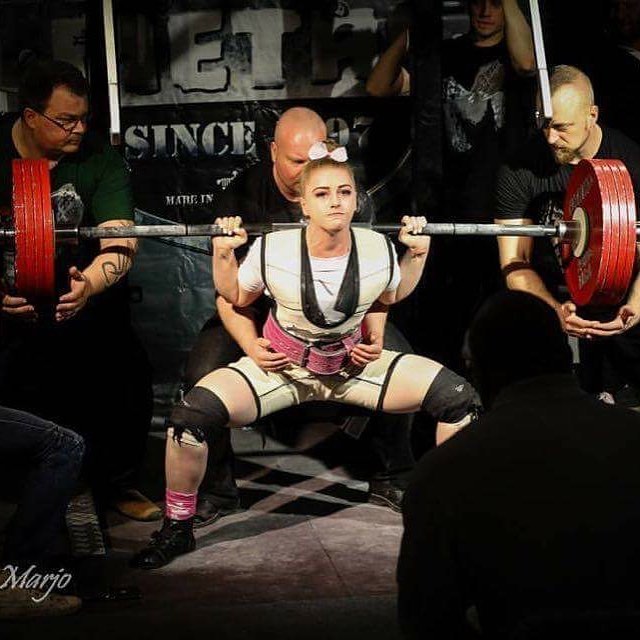 ---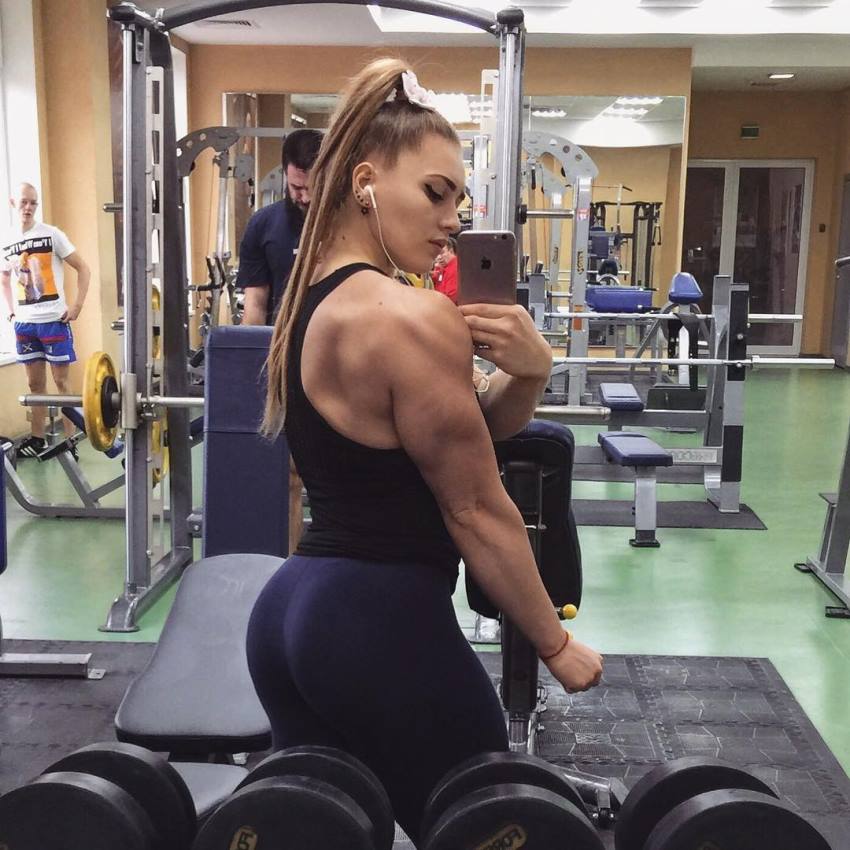 Nutrition
Julia's Diet
Julia's daily calorie intake depends on if she's preparing for a powerlifting competition, or not. Generally, she has found that 3000 kcal per day is her "sweet spot" for gaining lean muscle mass.
As for her macronutrients, Julia says she avoids fast carbohydrates; only consuming slow-releasing food sources, such as sweet potatoes, brown rice, and healthy fats.
For proteins, she eats like every other powerlifter. Such as chicken breasts, egg whites, and fish, which all represent the backbone of her diet. She consumes around 150g of protein per day.
Once a week, Julia will allow herself a cheat meal, which can be anything she wants.
Top Foods
These are some of the foods that can be found in Julia's fridge:
Rice
Buckwheat
Beef
Chicken
Eggs
Broccoli
Tomatoes
Oatmeal
Beans
Dairy
Supplements
Julia doesn't use supplements to help her with weight loss or gaining muscle; instead, she uses them to improve her performance in powerlifting contests.
Some of the supplements she uses are BCAAs (30-60 grams each day), CLA, creatine, vitamins, fish oil, and glutamine.
---
Editor's Tip

Inspired to reach your maximum potential like Julia? Read our comprehensive guide on how fat burner supplements can really up your game!

---