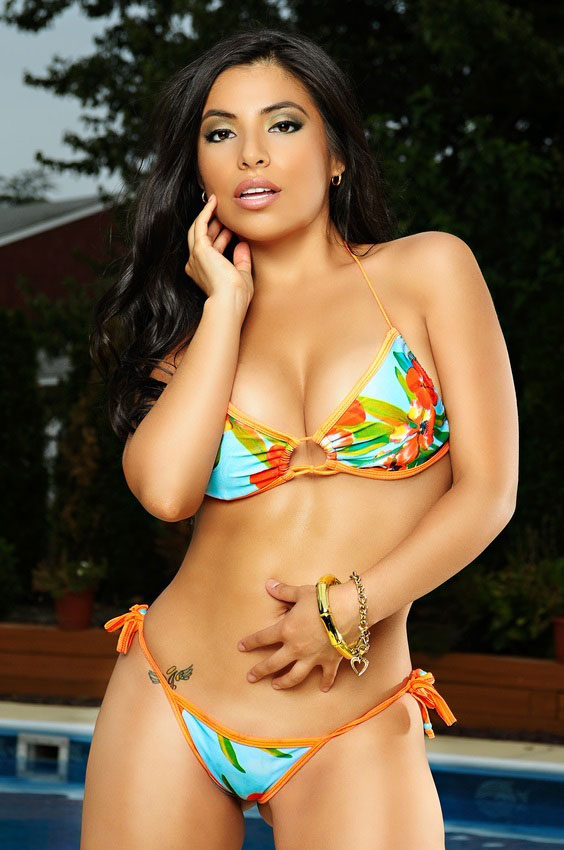 Jessenia Vice
Model, Social Media Celebrity, Sponsored Athlete, Personal Trainer, TV Host, Actress, Singer, Nurse
Jessenia Vice, also known as Jessenia Katherine Gallegos, went from childhood obesity and an abusive relationship, to becoming high profile fitness model and athlete.  Now the American is also an advocate against domestic violence, alongside helping others in her career as a nurse.
Throughout adolescence, Jessenia began to suffer from low self-esteem, brought on by substantial weight gain. By the age of sixteen, Jessenia's weight had increased to 280 lbs, which left her struggling to cope with everyday life, both physically and mentally. But once doctors told her that she could potentially face cardiac issues or diabetes, Jessenia quickly realized that she needed to make a change.
She started to follow a healthy diet and began regular exercise, and things appeared to be looking up. However, Jessenia unfortunately began to suffer from domestic abuse at the hands of her former partner, which caused her self-confidence to reach an all time low.
Further down the line, Jessenia was thankfully able to break free from her toxic relationship, offering her the chance to live her life more positively. From then on, she was given the opportunity to achieve things she never thought she could – entering the limelight as a model and TV host. Later on, she found herself part of the fitness industry, becoming a personal trainer and sponsored athlete along the way.
This is her story:
---

Athlete Statistics
Full Name: Jessenia Vice
Weight
Height
Bust
Hips
115 - 125lbs (52.2 - 56.7kg)
5'3" (160cm)
34B
37"
Waist
Age
Date of Birth
25"
39
September 5, 1984
Nationality
Profession
Era
American
Model, Social Media Celebrity, Sponsored Athlete, Personal Trainer, TV Host, Actress, Singer, Nurse
2010
| | |
| --- | --- |
| Weight | 115 - 125lbs (52.2 - 56.7kg) |
| Height | 5'3" (160cm) |
| Bust | 34B |
| Hips | 37" |
| Waist | 25" |
| Age | 39 |
| Date of Birth | September 5, 1984 |
| Nationality | American |
| Profession | Model, Social Media Celebrity, Sponsored Athlete, Personal Trainer, TV Host, Actress, Singer, Nurse |
| Era | 2010 |
---

Accomplishments
Model
Actress
TV Host
Singer
Nurse
Sponsored Athlete
Social Media Celebrity
Certified Personal Trainer
---

Biography
Early Life
Born and raised in New Jersey, USA in 1984, Jessenia Vice grew up under difficult circumstances, with most of her childhood spent living among various gangs and drug dealers who roamed the streets around her.
Throughout her childhood, exercise and a healthy diet were the last things on her mind. Consequently, her weight began to rise considerably, reaching 280 lbs by the time she reached sixteen years old.
As a result of her weight gain, Jessenia had little self confidence, if any at all throughout her adolescent years. But Jessenia became fully aware of the damage she was doing to her body, when she was informed by doctors that she could face health issues if she carried on the way she was. This included potential cardiac problems, as well as a high risk of diabetes.
It was at this point, Jessenia realized that she needed to make a change to live her life in a more positive way. Jessenia then completely overhauled her diet, and adopted a regular exercise routine to commence on her weight loss journey.
---

Jessenia Vice as an overweight child compared to her dramatic weight loss by her mid 20s.
Abusive Relationship
By the time she reached her mid twenties, Jessenia began to take part in high intensity cardio fitness classes for around two years. This enabled her to lose a substantial amount of weight at a fast pace, which in turn allowed her to become content with the way she looked. Throughout this period, she also dedicated her life to helping others while working as a nurse.
However, just as things appeared to be going well for her, Jessenia unfortunately became a victim of domestic abuse from her partner at the time. This is when Jessenia's life commenced on a downward spiral, with her self-confidence lower than ever.
Thankfully, her days of domestic abuse came to an end when her friends and family became aware of what was going on. Ever since then, Jessenia became determined to push past any negativity, setting her sights on building a whole new life for herself.
Jessenia Vice Nowadays
After she'd worked as a nurse for several years, Jessenia Vice has built a successful career within the entertainment industry, becoming a TV host, model, and actress. Being in the limelight meant that she realized the importance of keeping her body in perfect condition all year round. Because of this, she began to place focus on regular training alongside paying close attention to her diet.
Eventually, she was able to achieve the incredible physique that has earned her social media fame. Along the way, Jessenia has obtained a sponsorship deal with a bodybuilding website. As well as this, she's also become a certified personal trainer.
---

Training
Bodyweight Exercises
Jessenia performs many of her workouts using bodyweight exercises, which she's found works the best for her body. Some of her favorite bodyweight movements include squats and lunges, which allows her to continually build her glutes, which she cites as her favorite muscle group and best feature.
Strengthening The Core
Jessenia likes to keep her core strength at a high level, in order to push her body to its limits every time she works out in the gym. Here's some of the bodyweight moves she performs, with a detailed explanation of each exercise:
Bodyweight Crunches
Jessenia keeps her neck and back straight to avoid injury. She takes a deep breath before she performs the exercise, repeating 10-15 times per set.
Bicycle Kicks
Jessenia lies parallel with the floor, keeping her back as straight as possible. She places her hands on the floor beside her for extra support, then begins to perform the movement which imitates riding a bicycle.
Scissors
Jessenia lifts her legs to a 45 degree angle while lying on her back, again placing her hands on the floor beside her for extra support to perform the move correctly. She then moves both legs from left to right, crossing them over each time.
---

Nutrition
Eating at Regular Intervals
Jessenia has a preference of eating six to seven meals per day, focusing her diet on 'clean' foods which allows her to stay as lean as possible. Over the years, Jessenia learned to fuel her workouts by following a healthy nutrition plan which consists of lean proteins, complex carbohydrates, and healthy fats. In turn, this leads to consistent lean muscle growth.
Here's what Jessie had to say about the importance of following a healthy diet to reach her fitness goals:
"They say 80 percent of it is in the kitchen and the rest of it is at the gym, working out or doing some type of activity. And they're completely right".
Jessenia's meal plan is listed below:
Jessenia Vice's Nutrition
Breakfast
Egg Whites
Choice of Vegetables
Oatmeal
Snack
Lunch
Chicken
Brown Rice
Asparagus
Snack
Protein Shake (No dairy, just water)
Water
Dinner
Lean Protein such as Tilapia, with a Carb Source (Brown Rice, Wholewheat Pasta).
---

What we can learn from Jessenia Vice
What we can learn from Jessenia Vice is that she was able to build a diverse career with nursing, entertainment, and fitness, all down to her huge strength of character to build a happy, prosperous life for herself. In the process, she was able to overcome negativity that often left her close to breaking point.
By following a similar mindset to Jessenia, then one day, you might just achieve things you never thought were possible – just like her.