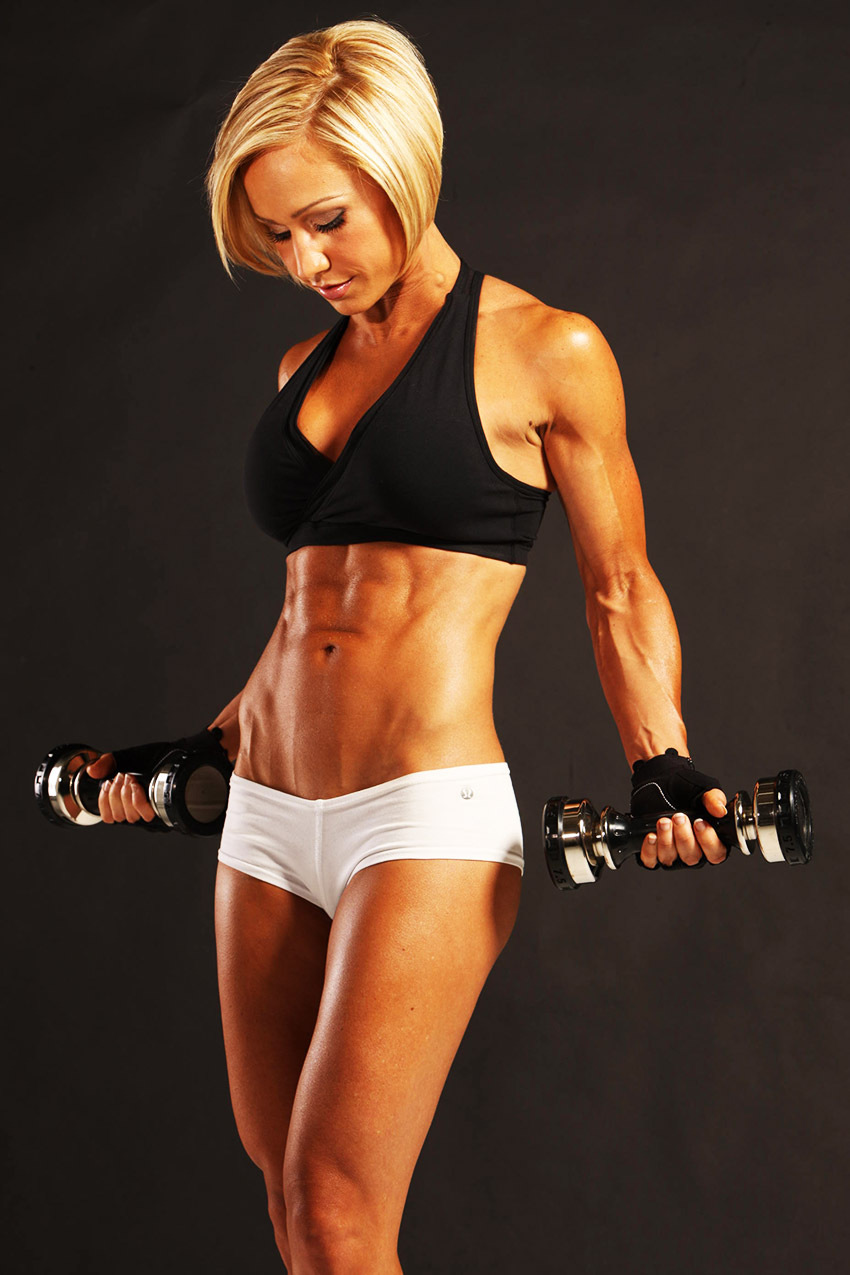 Jamie Eason
Fitness Model, Writer
Born in the Space City, Houston, Jamie Eason is a fitness model and writer – an incredible athlete who has been there and done it all.
From professional cheerleading to becoming the face of a bodybuilding website, she has become an icon in the industry, and an inspiration to millions. She won the title of "Worlds Fittest Model" after being placed first in a competition in Las Vegas in 2006, and has since become a contributor at a leading bodybuilding website.
However, Jamie's journey has been an emotional rollercoaster – she was diagnosed with breast cancer at the age of 22.
This is her story:
---

"I love lifting weights because I know that building muscle is what gives me shape and definition"
Athlete Statistics
Full Name: Jamie Eason Middleton
Weight
Height
Bust
Hips
Under 115lbs (52.2kg)
5'2" (157.5cm)
35"
33"
Waist
Year of Birth
Nationality
25"
1976
American
Profession
Era
Fitness Model, Writer
2000, 2010
| | |
| --- | --- |
| Weight | Under 115lbs (52.2kg) |
| Height | 5'2" (157.5cm) |
| Bust | 35" |
| Hips | 33" |
| Waist | 25" |
| Year of Birth | 1976 |
| Nationality | American |
| Profession | Fitness Model, Writer |
| Era | 2000, 2010 |
---

"I need to lift with regularity, hitting every muscle group with enough variety and intensity to initiate growth"
Accomplishments
Winning the title of World's Fittest Model and a 75K custom chopper from Hardbody Entertainment in 2006 in Las Vegas, NV
Landing an official sponsorship with a bodybuilding website in 2008
Landing a contract with a magazine as a model/writer in 2008
---

"A breast cancer scare in 2005 prompted a lifestyle change, which led to hiring a personal trainer and a nutritionist"
Biography
Early Life and College
Born on the 10th April 1976, Jamie Eason's first embarked on her fitness journey while she was studying at Texas A&M University. She took a weight training class for extra credit towards her degree, and instantly fell in love with working out.
During her time at college, Jamie began training almost on a daily basis and developed a lean physique. After graduating in 2001, at the age of 25, she worked for her grandfather's roof construction company. However, she started to become unhappy with not following her passion and began looking for jobs closer to the fitness industry.
Cheerleading and Breast Cancer
It wasn't long until Jamie found a job that she was interested in – the Houston Texas Cheerleading squad were searching for girls to join their team. After an intense two-day trial process, she was named as one of the 35 that had been chosen from nearly 2000 applicants.
However, after 4 years of being an NFL Cheerleader, her whole life was turned upside down. At the age of 29, in 2005, Jamie was diagnosed with breast cancer.
Desk Work and Getting out of Shape
The news that she was suffering from Cancer shocked Jamie, and she was forced to leave her cheerleading career behind. She took up a desk job and as a result of being inactive, her fitness took a hit.
Over the next 4 years, Jamie became miserable with her life – from the life-changing diagnosis to not being able to work out, she was going through a very difficult period of her life.
But Jamie wasn't about to give up.
Return to the Gym
At the age of 30, in 2006, Jamie finally found the motivation to fight back against breast cancer. However, her inactivity had already done its damage.
The year away from the gym and leading a very unhealthy lifestyle had led to Jamie's becoming overweight. She had been left her with stretch marks and cellulite on her body.
It was at this point that she found the determination to return to the gym and get back on her fitness journey.
Back on the Fitness Journey
With the help of a personal trainer and nutritionist, Jamie was soon on the path to sculpting a physique to be proud of. Facing adversity head on had made her a much stronger person, and it wasn't long until she was making great progress.
After a few months of intense training and dieting, Jamie had completely transformed her body. She was more determined than ever to make a name for herself in the fitness industry.
First Competition
Proud of her transformation, Jamie decided to enter her first competition – Hardbody Entertainment's World's Fittest Model 2006.
Her hard work paid off, and she walked away with the award after being 14 other female models at the Olympia Weekend. This was the start of an illustrious career in fitness for Jamie.
Cover Girl and Fitness Writer
Not long after becoming the World's Fittest Model in 2006, Jamie was approached by several magazines to become their cover girl. But her success didn't stop there.
By the time she was 32, Jamie had become the face of a leading bodybuilding website. She began posting training plans and motivational tips that she had picked up through her journey.
Before she knew it, she had become an online sensation, with millions being inspired by her story and advice.
---

"If you know your calorie range, you can eat more calories when you train harder, and fewer calories when you're not training as hard"
Training
Jamie enjoys working multiple muscle groups at a time, incoporating cardio a few times during the week. She is a strong believer in lifting heavy weights to achieve a great physique. However, unlike other athletes, Jamie only trains 5 times per week, allwoing her body to rest and recover for the other two.
Workout Plan:
Her workout plan would look something like this:
Monday – Shoulders, Triceps and Cardio
Tuesday – Glutes and Abs
Wednesday – Back, Biceps and Cardio
Thursday – Legs and Abs
Friday – Chest and Abs
Saturday – Rest
Sunday – Rest
---

"I usually eat six times a day, at even intervals. This keeps my blood sugar steady and my food choices are so "clean" that they do not contain heavy calories"
Nutrition
Jamie is a big believer that a clean diet is key to transforming, maintaining and developing your body. She eats clean all-year-round, without any cheat meals, because she feels that giving into temptation once would lead her on a slippery slope off track.
She plans her diet around lean proteins, vegetables and complex carbs, as well as setting herself specific times to eat her 6 meals everyday.
Diet Plan:
Meal 1 (6 a.m) – Half a cup of oatmeal and five egg whites with chopped bell peppers and onions
Meal 2 (9 a.m) – 4 to 5 ounces of homemade turkey meatloaf with a side salad and cherry tomatoes
Meal 3 (12 p.m) – Five ounces of stir-fried chicken with half a cup of brown rice and steamed veggies
Meal 4 (3 p.m) – Two corn tortillas topped with black beans, pepper, onions and five ounces of grilled chicken.
Meal 5 (6 p.m) – Homemade Italian turkey zucchini burger with pita, lettuce and tomato
Meal 6 (9 p.m) – 1/2 cup fat-free cottage cheese with cinnamon, and a few almonds.
---

 Idols and Influences
While Jamie is the inspiration for millions of fitness fans, she doesn't have any specific influences herself. However, she is grateful to her personal trainer and nutritionist for helping to turn her life around when she was at her lowest point.
---

What we can learn from Jamie Easton
Jamie has taught us to never give up, regardless of what cards you are dealt in your life. After being cut from the cheerleading team and diagnosed with breast cancer, Jamie came back stronger to become the World's Fittest Model.
One thing we can take away from Jamie's story is that chasing your passion will always grant you happiness – she worked for a roof construction company after graduating and became unhappy, but it was only when she decided to pursue a career in fitness that she overcame all of her issues and found success.