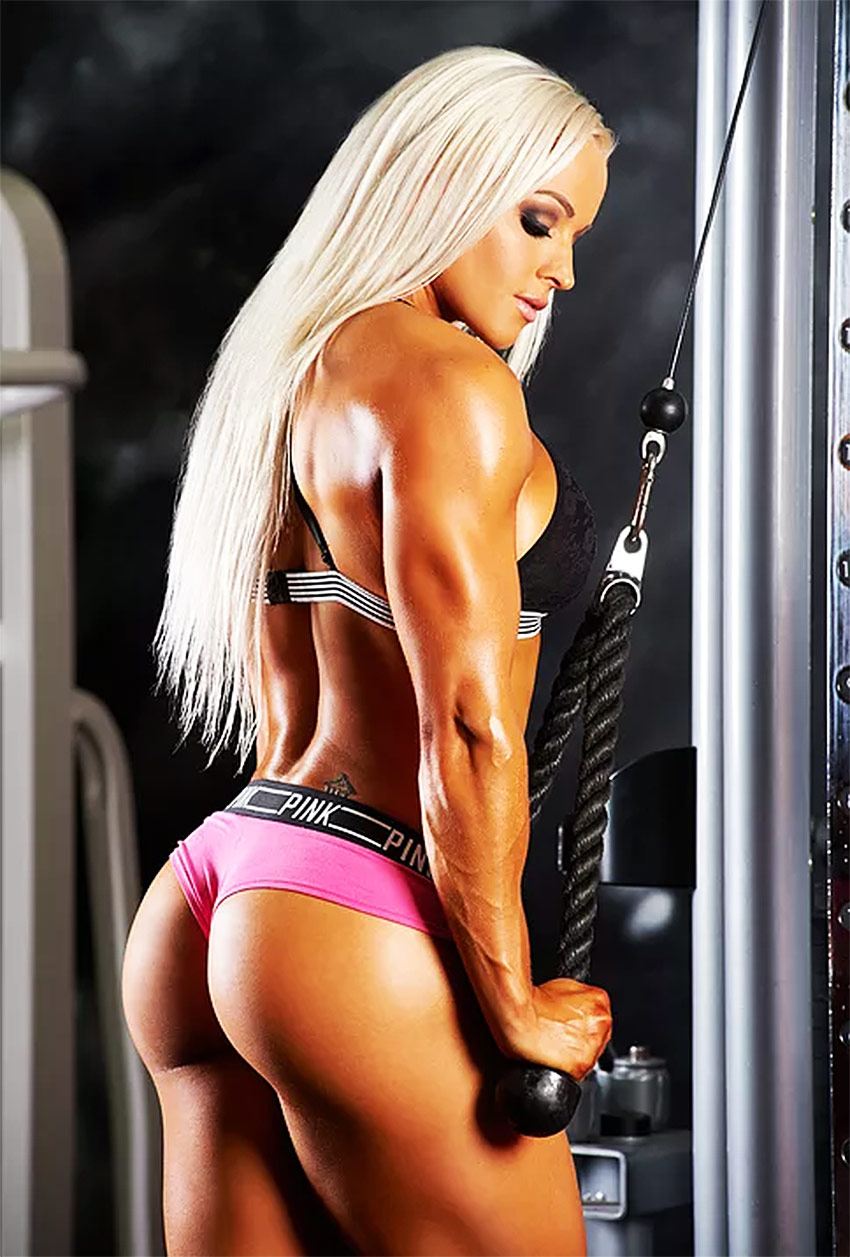 Jade Mead
Figure Athlete, Fitness Model
Jade Mead is a bikini athlete, personal trainer and social media sensation. She started competing at the age of 22, earning 2 trophies just 2 years later.
The Australian has since guided many clients to success as a personal trainer – using her valuable experience as a competitor to her advantage.
This is her story:
---

"Don't let anybody tell you that your goals and dreams are too big or unachievable."
Athlete Statistics
Full Name: Jade Mead
Weight
Height
Age
Date of Birth
135 - 145lbs (61.2 - 65.8kg)
5'4" (162.5cm)
36
November 1, 1987
Nationality
Profession
Era
Australian
Figure Athlete, Fitness Model
2010, 2000
| | |
| --- | --- |
| Weight | 135 - 145lbs (61.2 - 65.8kg) |
| Height | 5'4" (162.5cm) |
| Age | 36 |
| Date of Birth | November 1, 1987 |
| Nationality | Australian |
| Profession | Figure Athlete, Fitness Model |
| Era | 2010, 2000 |
---

"I started training seriously in 2009, which is when I decided to enter my first bodybuilding competition."
Accomplishments
Competition History
2015 Arnold Classic Australia Figure Novice 6th Place
2015 Arnold Model Search 2nd Place – Presented winning trophies on stage at the Australia Pro Show with Arnold Schwarzenegger
2015 IFBB WA O'Mara Classic Figure Novice 2nd Place
2013 IFBB WA State Championships Bikini Open 3rd Place
2012 WA State Arm Wrestling Championships 1st Place
2011 NABBA/WFF Australian Championships Sports Model 1st Place
2011 NABBA/WFF WA State Championships Sports Model 1st Place
2009 IFBB WA State Championships Sports Model 3rd Place
Qualifications
Certificate III in Fitness
Certificate IV in Fitness
Pad Work Cardio Fitness Trainer
Precision Nutrition Level 1 Certification – Currently Studying
Australian Strength Coach Strength System Level 1
Nutrition for Exercise & Sport – Sports Dieticians Australia
Recomp Registered Trainer
Provide First Aid & CPR
---

"I have always been into fitness from a young age. In primary school I loved to dance & competed in interschool athletics carnivals."
Biography
Start of Fitness Journey
Born and raised in Perth (Australia), Jade had always been active from an early age; she was a talented athlete as a child, thriving at track & field events. The youngster also excelled at dancing, proving to have natural sporting ability – but she hadn't considered a career in fitness at this point.
It wasn't until her late teenage years when she began lifting weights in the gym. However, Jade soon fell in-love with bodybuilding and set her sights on sculpting her dream figure.
At the age of 18, in 2005, the Australian had embarked on her fitness journey.
First Competition
For the next 4 years, Jade trained rigorously in the gym, determined to attain the figure she desired – and her hard work paid off. By the time she was 22, in 2009, the Australian began gaining recognition for her lean body.
After being encouraged by her friends and family, Jade made the big decision to enter her first fitness competition – the 2009 IFBB WA State Championships, as a sports model.
Although she didn't win, the youngster placed a very respectable 3rd in her debut show. Motivated by this experience, Jade made it her goal to pursue a career in fitness.
---

---
Success
After her first contest, Jade spent 2 years focused on developing her figure in order to earn her first trophy. By 2011, at the age of 24, she returned to the stage at the NABBA/WFF WA State Championships as a sports model.
This time, using her new experience in posing, Jade impressed the judges – placing first and getting her first taste of silverware. But she wasn't finished yet.
A few months later, she appeared in the national Australian Championships, walking away with her second trophy that year. This gave her the exposure she needed to make a name for herself in the industry.
Personal Trainer
Riding high from victories, Jade began being asked questions by her followers on social media; they were fascinated by how quickly she's managed to find success as a bikini athlete and wanted to learn from her.
As a result, Jade found the motivation to train towards her personal training certifications – in order to help her fans around the world achieve their fitness goals.
Since then, she's helped dozens of clients both online and in person – using her experience as a sports model to help her succeed in her new profession.
---

"As I got older I discovered the gym & I have never looked back!"
Training
Since she began training in the gym, Jade has been working out for 5-6 days per week – depending on her busy schedule, she'll decided whether to train on the weekend on the days necessary.
Jade enjoys lifting weights and aims to train each body part twice per week. However, her favorite days are Legs & Abs – which she believes to be her best features.
Workout Routine
Here's Jade's weekly training plan:
Monday – Upper Body Weights & HIIT Cardio
Tuesday – Legs & Abs
Wednesday – Back & Shoulders
Thursday – Legs & Abs
Friday -Chest & Arms & HIIT Cardio
Saturday – Rest Day or Abs & Cardio
Sunday – Rest Day
---

"I follow flexible dieting principles so I track my macros (protein, carbs, fats, fibre) each day but it gives me the option to eat a variety of different foods."
Nutrition
When it comes to dieting, Jade is a big advocate of a 'flexible' approach; this means she doesn't follow set diet plans on a daily basis, although she makes sure to only eat clean foods – such as lean proteins, vegetables and complex carbohydrates.
Ultimately, Jade believes giving yourself this freedom to choose your foods benefits you long-term – she believes restrictive diets lead to more people giving up on their journey.
Diet Plan
Here's an example of Jade's daily diet plan:
Breakfast – Protein Pumpkin Pancakes with Berries & Peanut Butter
Snack – Protein Balls or Protein Bar
Lunch – Chicken, Avocado, Vegetables, and Rice
Snack – Rice Cakes with Peanut Butter & Peanut Shake
Dinner – Chicken and Vegetables with Potato or Rice
Supplements Stack
In terms of supplements, Jade takes:
L-Carnitine
BCAAs
Protein Powder
Glutamine
---

" I want to make the most of the position I am in by continuing to help inspire and motivate others to achieve their health & fitness goals."
Idols and Influences
Jade's motivation comes from within; she has always been driven to realize her dreams through hard work and dedication to her fitness goals. In terms of fitness models, her main influences are Larissa Reis, Erin Stern and Candice Keene.
However, since she became a personal trainer, Jade has been encouraged by the progress of her clients – she is passionate about helping others achieve their ideal figures, guiding them to success.
---

"I want to be able to look back on my life and say I did that!"
What We Can Learn From Jade Mead
One thing we can learn from Jade, is to always play to your strengths – she realized that she had a natural sporting talent, and searched for a career to make use of it. Ultimately, this led to her earning 2 trophies as a bikini athlete by the age of 24 – as well as becoming a respected personal trainer.
Also, Jade has taught us to always help others when possible; she realized her own dreams of sculpting an incredible figure and winning trophies, so she set her sights on helping others achieve their own as a fitness coach.