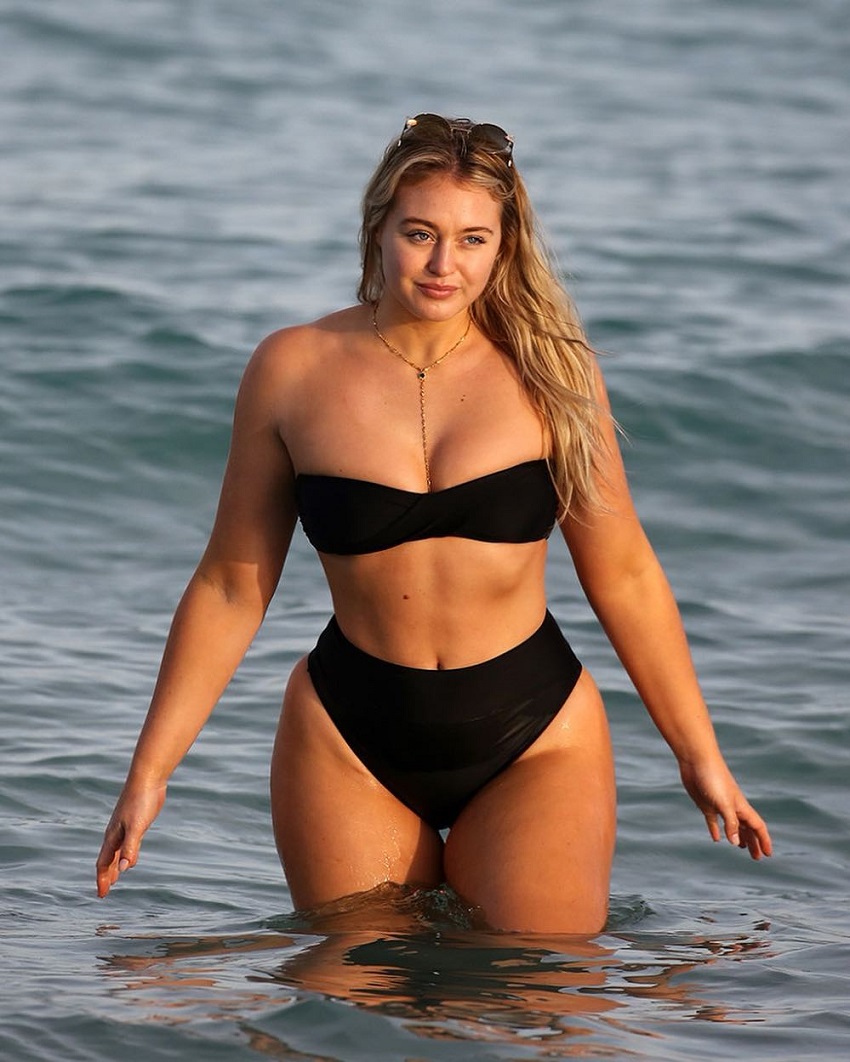 Iskra Lawrence
Model, Brand Ambassador, Motivational Speaker, Internet Star
Iskra Lawrence is a British model, fitness enthusiast, and internet celebrity. With her unique and curvy figure, Iskra inspires women around the world to "not be afraid to stand out." 
She's well-known for posting unedited and un-retouched photos of her figure, aiming to show other women that they too can feel confident in their own skin.
Iskra helps others because she knows from her own experience what it is like to have low self-confidence. During her youth, Iskra wanted to become a model but was rejected by agencies because she was "too big for a straight-size model and not big enough for a plus-model".
Having grown tired of the norms of the modeling industry, Iskra decided to create her own image online by posting pictures of her awesome physique. She's since gained huge support from people, and has become an ambassador for campaigns that support a positive body image in women.
This is Iskra's story:
---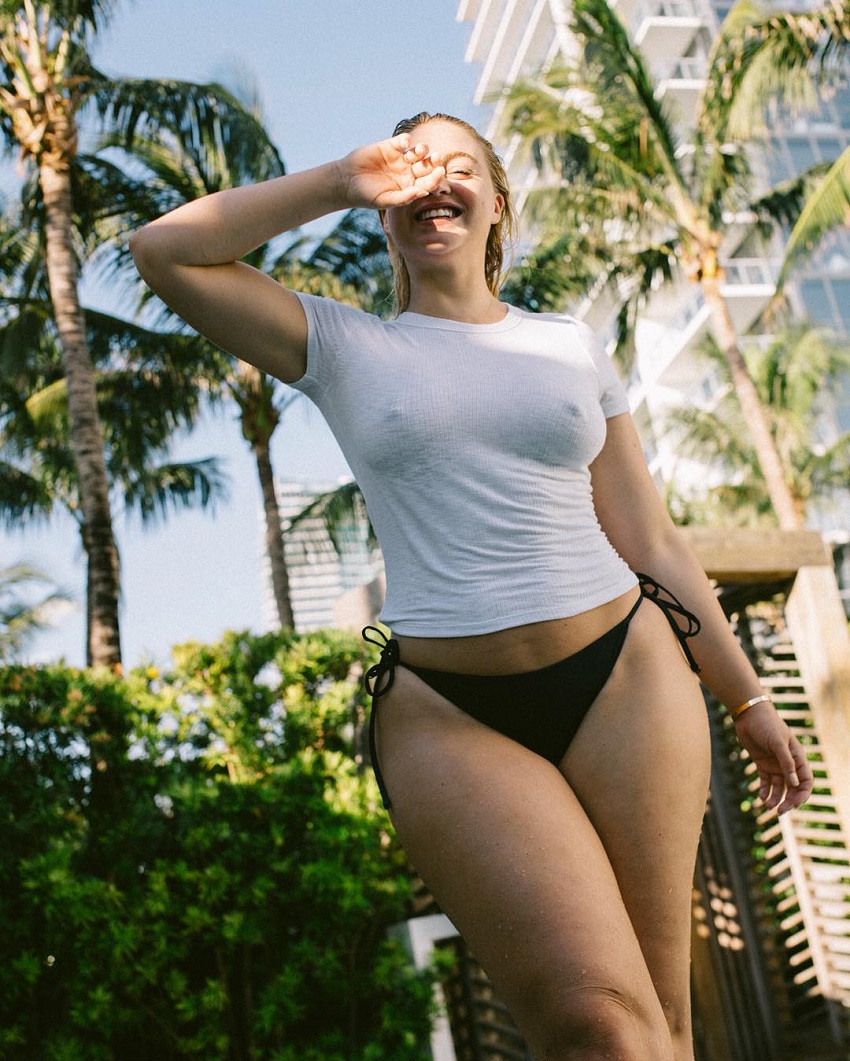 "Make the jeans fit you, don't change to fit the jeans. And if they don't fit well that's their loss."
Athlete Statistics
Full Name: Iskra Lawrence
Weight
Height
Bust
Hips
185 - 195lbs (83.9 - 88.5kg)
5'9" (175cm)
38''
43''
Waist
Age
Date of Birth
29''
33
September 11, 1990
Nationality
Profession
Era
British
Model, Brand Ambassador, Motivational Speaker, Internet Star
2010
| | |
| --- | --- |
| Weight | 185 - 195lbs (83.9 - 88.5kg) |
| Height | 5'9" (175cm) |
| Bust | 38'' |
| Hips | 43'' |
| Waist | 29'' |
| Age | 33 |
| Date of Birth | September 11, 1990 |
| Nationality | British |
| Profession | Model, Brand Ambassador, Motivational Speaker, Internet Star |
| Era | 2010 |
---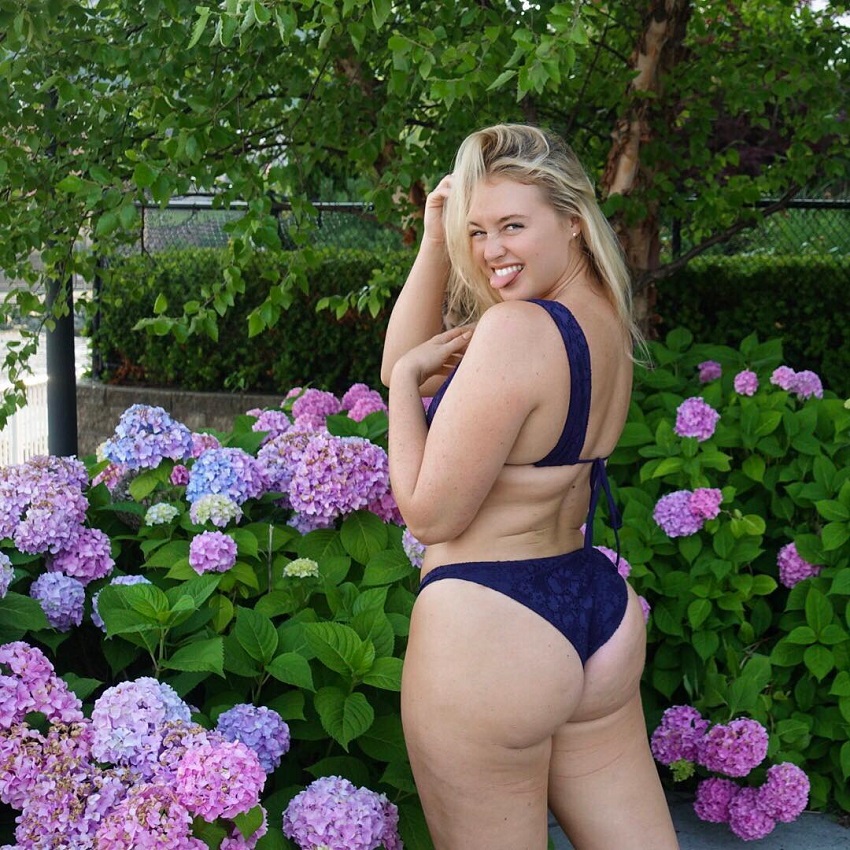 "Don't be fooled, lighting and angles change everything! I love my real skin, lumps, bumps, scars, squish, fat, muscle, pigmentation all of it. You are good enough just the way you are. Your body or your life doesn't need airbrushing."
Accomplishments
Cover Model
Fitness Enthusiast
Guest Author & Blogger
National Eating Disorders Association Ambassador
Internet Personality
---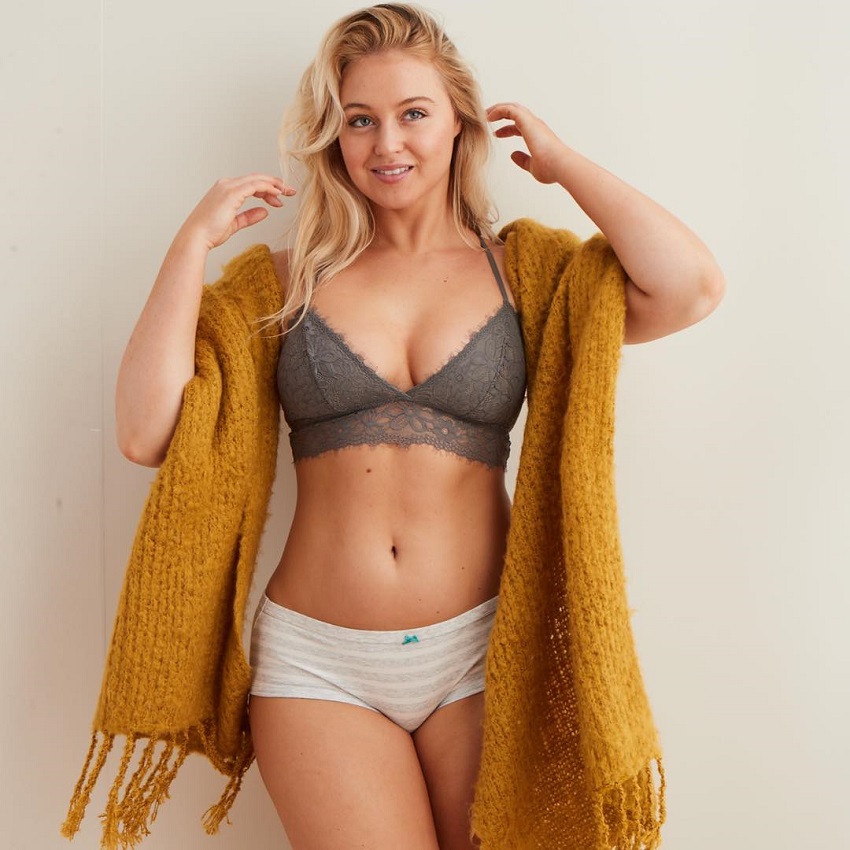 "Because that 'celluLIT', those rolls are cute, that jiggle is sexy and everybody deserves to feel confident in the skin they're in. Who we are is what makes us beautiful not just a beauty ideal…"
Biography
Early Life
Iskra Lawrence was born in September 1990, in Wolverhampton England.
When she was six weeks old, Iskra and her family moved to Kidderminster, Worcestershire. This was the place where she spent most of her early years growing up.
Iskra went to Malvern St. James School, and later, Bromsgrove school. She excelled in a number of fields as a youth; including national competitive swimming and Theatre performances.
---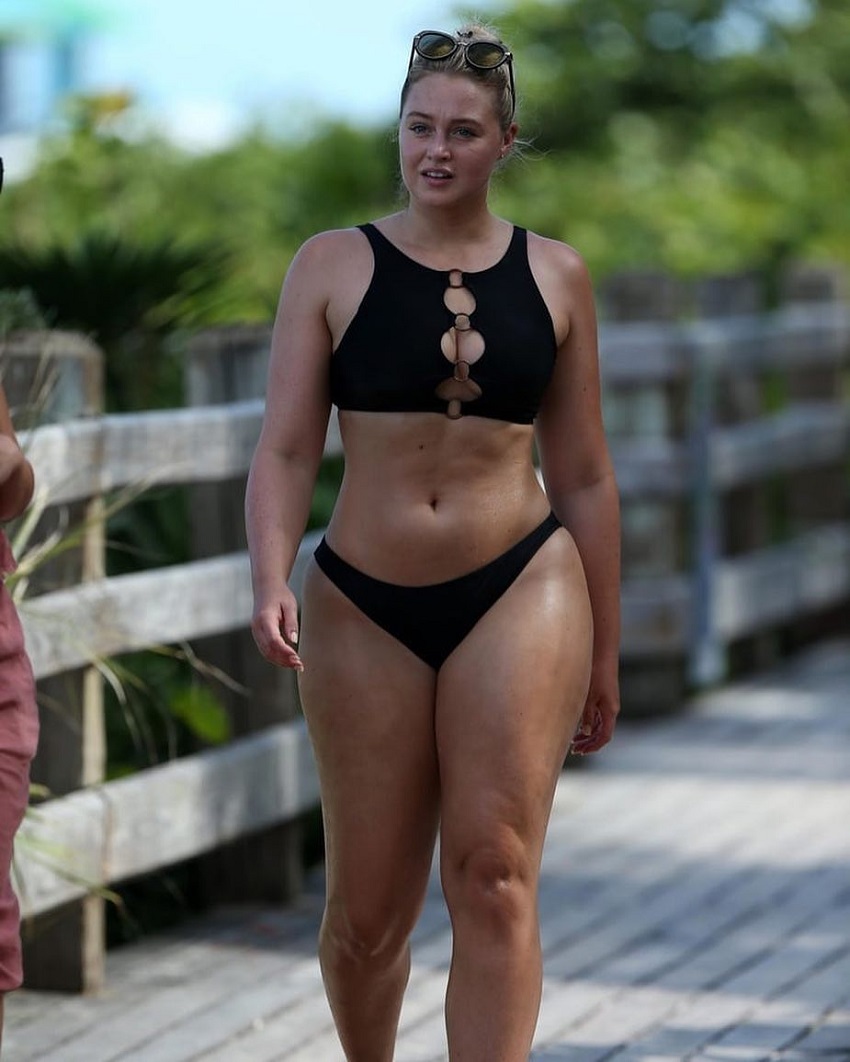 ---
Struggles in Modeling
Apart from her success in sports and Theatre, Iskra's early life was far from easy. During her mid-teens, Iskra became interested in modeling. However, she was rejected by modeling agencies because she was both "too big" for some, and "not big enough" for plus-modeling companies.
To add to the issue, Iskra was also teased and mocked in school by her peers. She said; "At 13, having hips, and having breasts at 14, and having to wear bras before anyone at my school. 
I remember doing the pencil test where the girls in my class would put a pencil between your chest, and if you squished your arms together and you could hold the pencil, they would laugh at you because you had boobs."
Such negative comments severely affected Iskra's state of mind. She lost her self-confidence and began feeling as if she "wasn't enough." Before long, Iskra started comparing herself to other models on TV screens, distorting her self-image even further.
---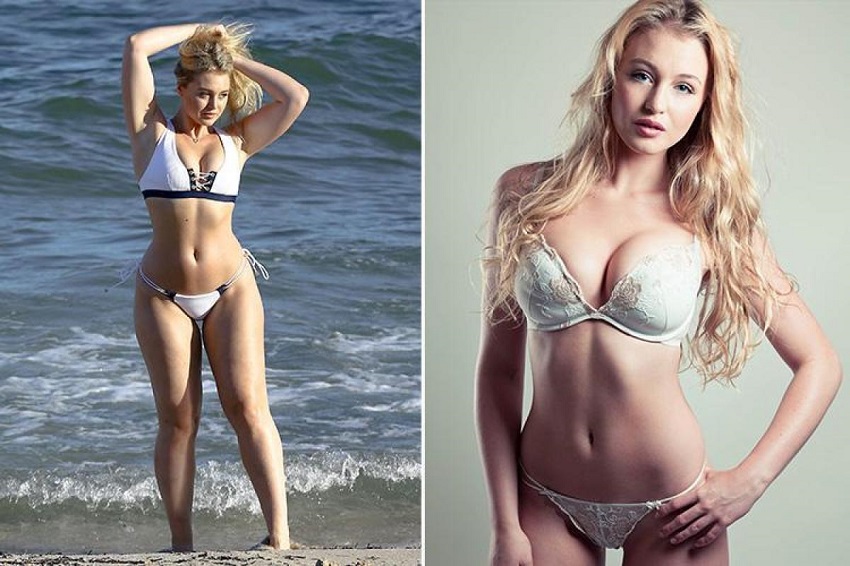 Iskra Lawrence: before(right) and now(left).
---
Going Through Extreme Diets
After seeing models on TV, Iskra fell even deeper into the downward spiral of low confidence and self-esteem.
She began trying various diets, hoping she would achieve a body that was deemed as "acceptable" by society's standards. Although these diets had different approaches to losing weight, all of them had one thing in common – severe calorie restriction.
Iskra would spend weeks eating nothing but maple syrup and cayenne pepper – "This was called the Beyonce maple syrup and cayenne pepper diet. That one was disgusting," says Iskra.
She also tried diets where she only ate protein for weeks at the time. As Iskra says, "I was just eating ham constantly. I remember writing down all the calories in the food that I had in a little diary. That's just horrible, writing down the calories in everything you eat every single day." – Iskra Lawrence
---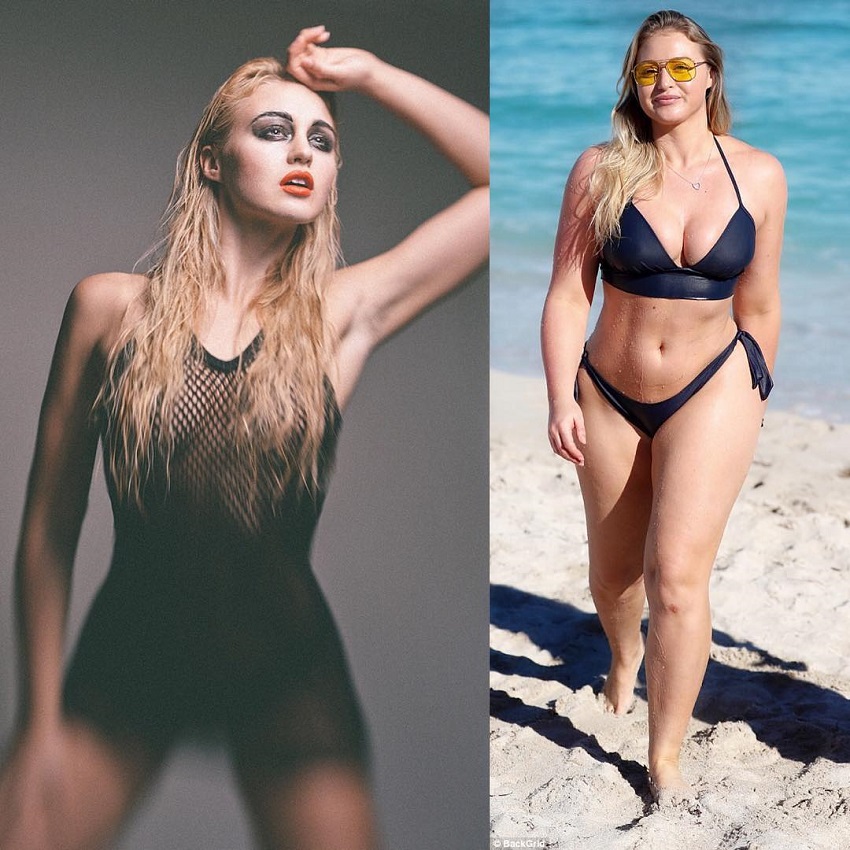 Another picture of Iskra's transformation; before(left) and after(right).
---
Making a Radical Turn
The diets that Iskra tried only made her feel worse over time. Eventually, she was hit with an epiphany; "I learned you are more than your body. Your body's your home, and you need to love and respect it."
Having grown tired of succumbing to society's norms, Iskra decided to create her own image of health and fitness. She set up a social media profile and began uploading un-edited and un-retouched photos of herself – being fully transparent with everyone.
This decision saw Iskra's popularity skyrocket. People from everywhere started commenting on her photos, admiring her curvy and awesome figure, as well as her bravery and boldness.
The response from people motivated Iskra to continue posting online, and inspire others along the way. Her goal was to encourage both men and women to not let the fitness or modeling industry define how they should look, but instead, to create their own image – just like she did.
---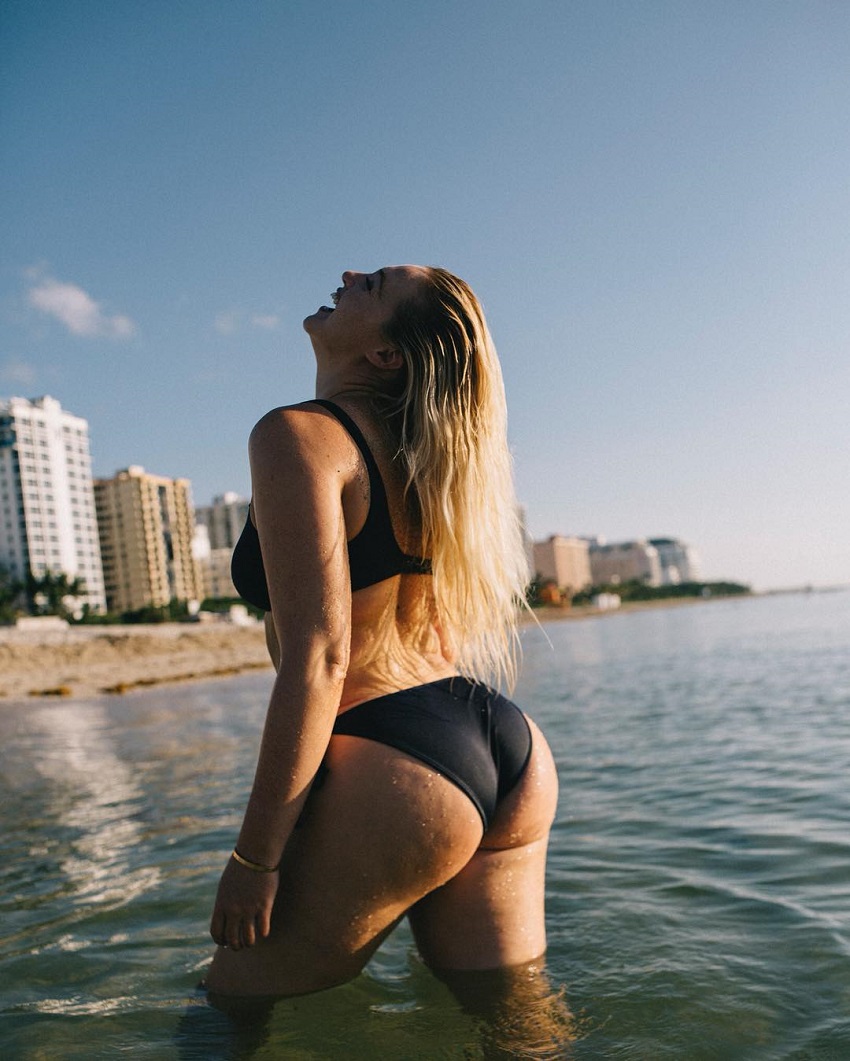 ---
Becoming a Fitness Icon
Before long, Iskra became a fitness icon and model in her own right. She partnered up with like-minded agencies and companies to start a campaign of spreading body-image positivity amongst people.
Today, Iskra is known as a world-renowned fitness model, influencer, and ambassador of the National Eating Disorders Association. She's also become one of the leading fitness influencers on social media, as well as an author for a number of sites and blogs.
Iskra Lawrence continues to inspire women from around the world with her example and message to "not allow the society to dictate how you should look."
---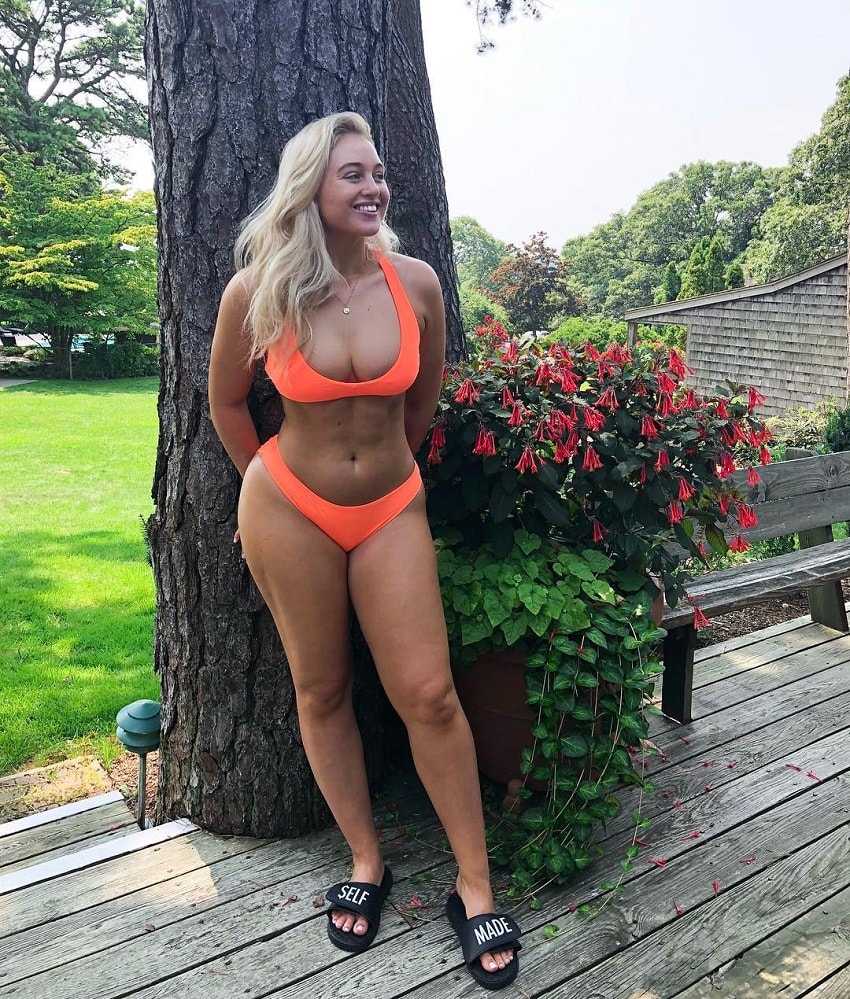 Training
Everything in Moderation
When training, Iskra Lawrence likes listening to her body instead of following what a piece of paper says.
On some occasions, she'll train six days out of the week, and on others, only three times per week. This mostly depends on her goals and how she feels.
Iskra likes to switch things up in her training. Meaning, she'll change sets, reps, and exercises to constantly keep her body guessing.
However, although she changes her routines often, Iskra sticks to one rule at all times – "everything in moderation." She doesn't push her body too much but also doesn't take it too easy in the gym. This allows her to achieve balance in both her fitness routine and life in general.
---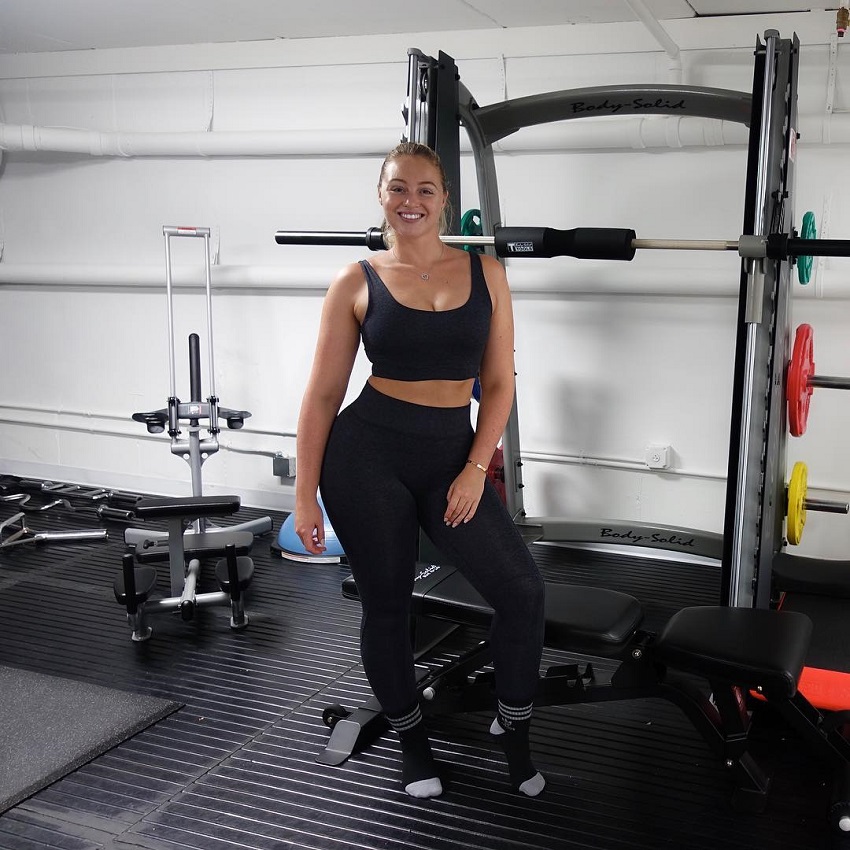 ---
Iskra's Favorite Exercises
Iskra's favorite body parts to train are abs and legs. She loves the feeling of squats and believes it's one of the most effective exercises for building a lower body like hers.
One of her favorite squat variations for building glutes is squat jumps onto a bench. She does 3 sets of 12 reps in this exercise, using a 10lbs medicine ball for extra resistance.
However, Iskra says that the weight and reps aren't as important as the form of the exercise itself. According to her, the key to doing squat jumps onto a bench lies in "your booty hitting the bench each squat."
---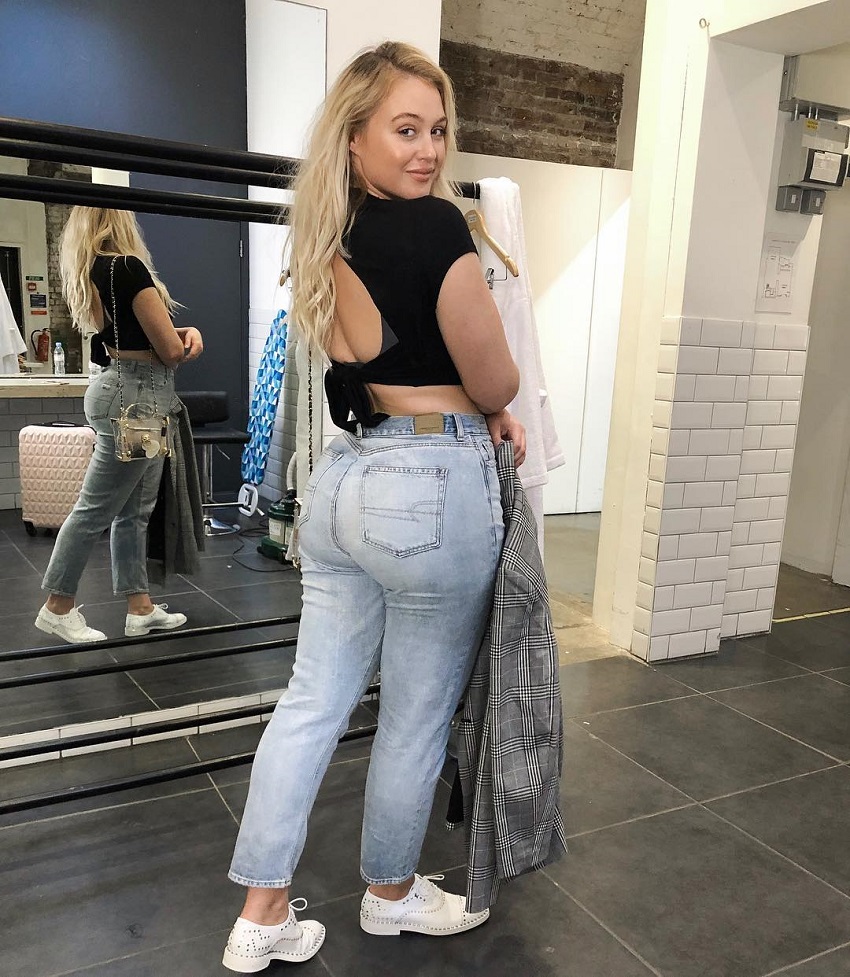 ---
Training Abs
In order to develop a strong core, Iskra spent years devising a perfect ab routine for her goals. She eventually came up with a training plan that allows her to maintain toned and strong midsection.
Iskra starts her ab workouts by doing jump ropes for warm-up. She experiments with various forms of this exercise, including side-to-side jump ropes, crisscrosses, and high knees.
After she's fully warmed-up, Iskra moves on to a circuit workout which consists of five exercises. These include;
Alternating heel touches (or penguin crunches), 30 reps
Toe crunches, 30 reps
Bicycle crunch, 30 reps
The other two exercises constantly change, depending on Iskra's goals. Sometimes, she'll do high-rep hanging leg raises. Other times, it will be a specific exercise with resistance bands.
---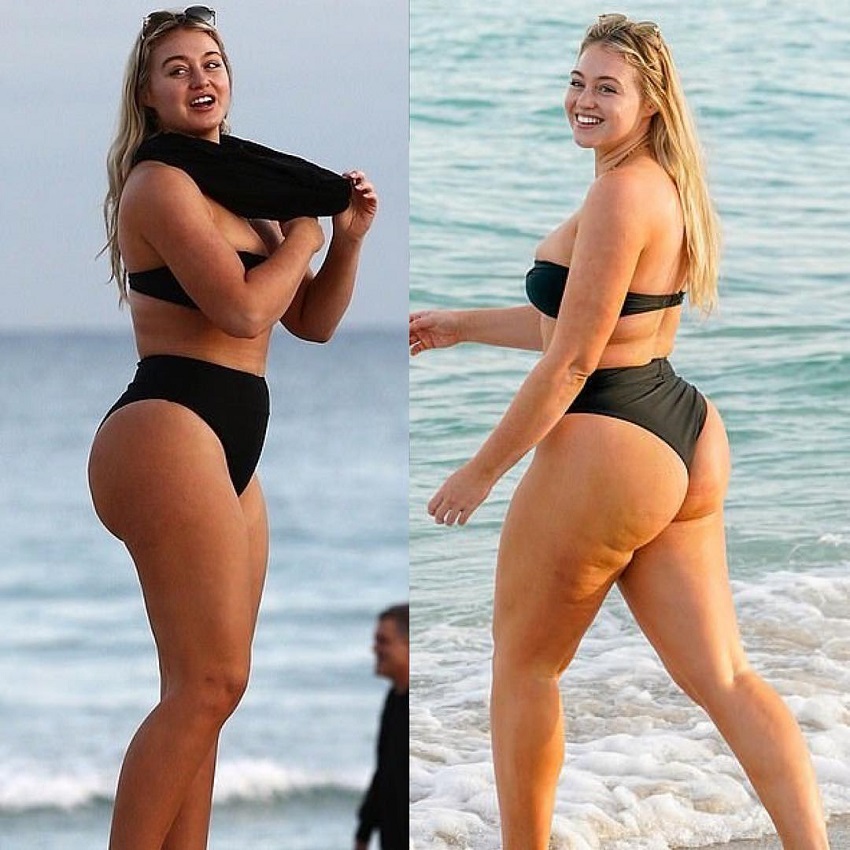 Nutrition
One of the secrets of Iskra's 'hourglass' figure lies in her specific diet.
She sticks to rules such as reducing sugar intake and eating healthy fats, proteins, and vegetables. That said, Iskra also lets loose once in a while and treats herself with something sweet.
As for the food she never eats, Iskra says it includes "eggplant. I associate it with pretty inedible things for some reason. I'm not a fan of oysters either; they have an alien-esque look for me, thus I find them hard to swallow!" – Iskra Lawrence
Since she's extremely busy, Iskra rarely has the time to make her own meals. Instead, she goes to healthy restaurants which have plenty of nutritious foods to choose from.
---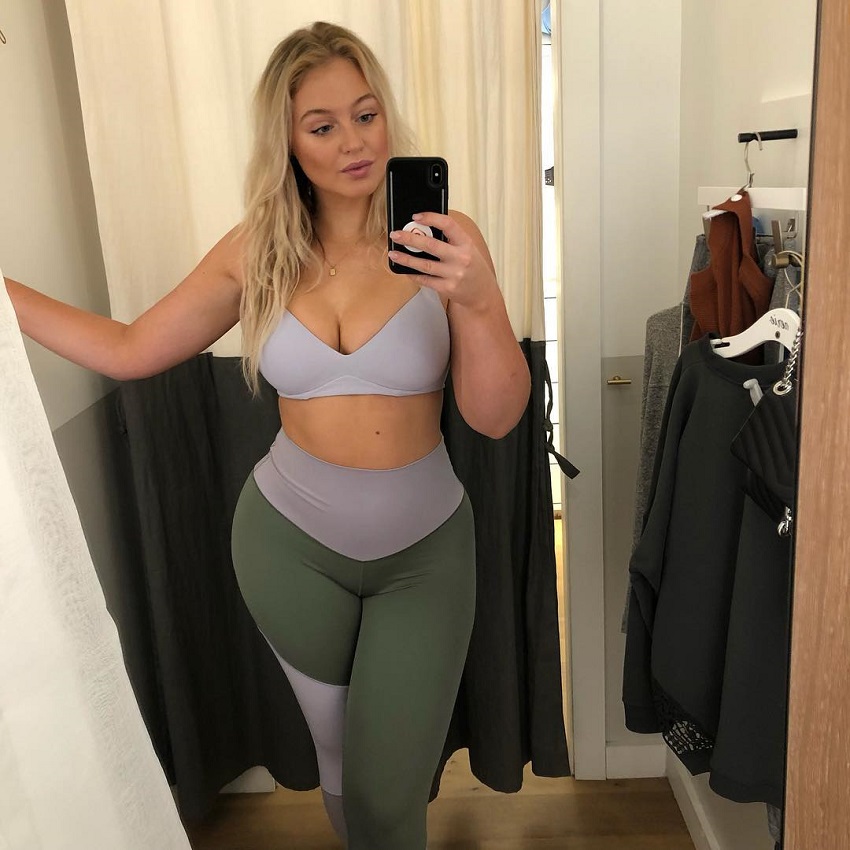 Idols and Influences
Iskra Lawrence mentions Lyzabeth Lopez as one of her fitness influences. Here's what Iskra said about Lyzabeth; "Her body is so strong. She's great at fully expanding each exercise to make sure you get the technique right."
Another source of inspiration for Iskra are her fans, which send her "hundreds of direct messages. They are my daily motivation," says Iskra.
---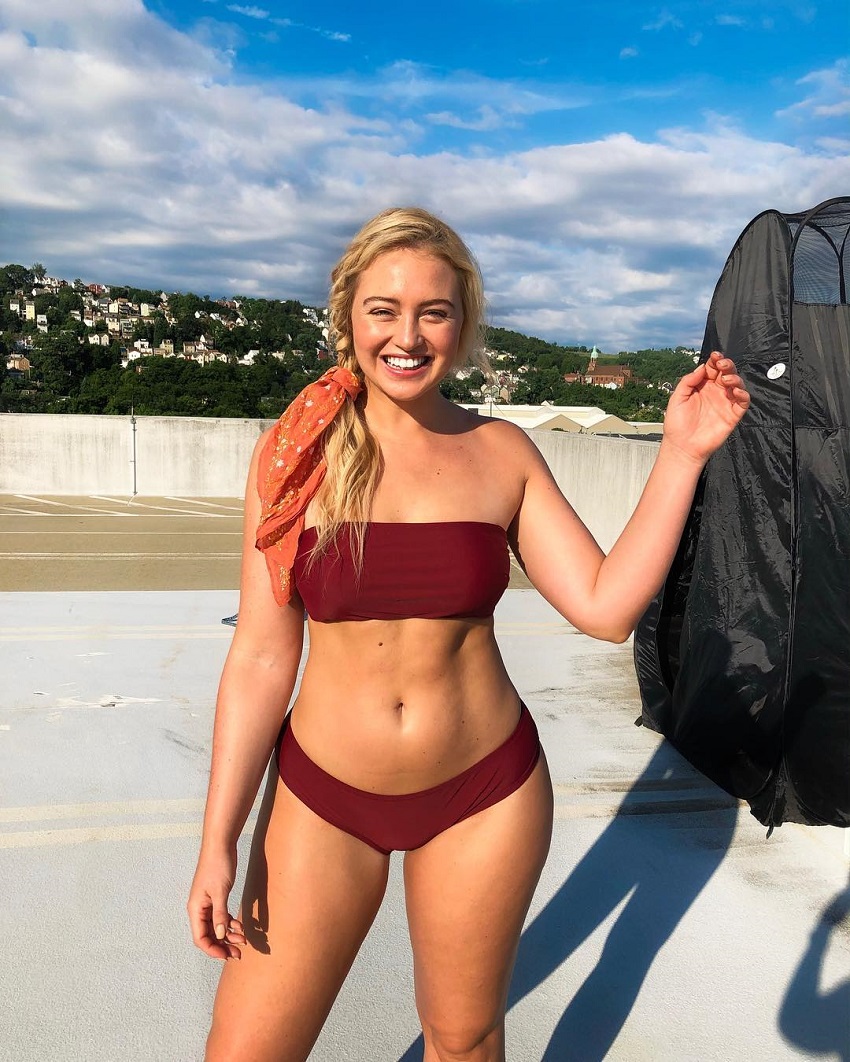 What we can learn from Iskra Lawrence
Iskra Lawrence proved that you can achieve success in your life without following what everyone else is doing.
Iskra was initially rejected by modeling companies because she didn't have the type of body they looked for.
Since these agencies didn't give Iskra the opportunity to achieve her goals in modeling, she created her own path to success. She began posting un-retouched photos of her awesome body on the internet, gaining countless fans along the way.
Iskra's success story serves as an example for everyone. Keep dreaming big and don't let society's norms get in your way. Like Iskra, you too can create your own version of success – whatever it might look like.