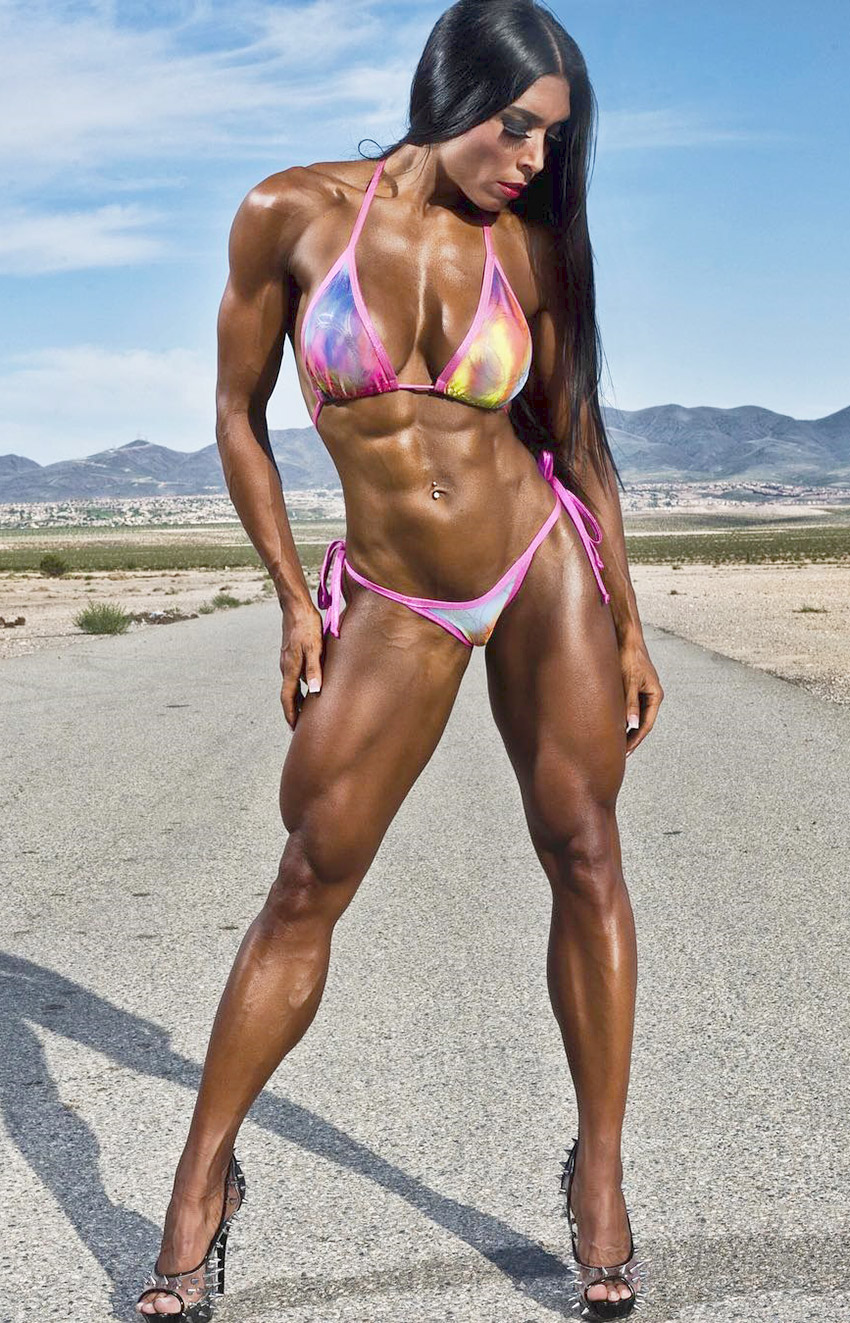 Gal Ferreira Yates
Fitness Model
Glauce (AKA. Gal) Ferreira Yates, is a professional fitness model and an icon in her own right.
Through her journey, she's sculpted one of the greatest female physiques in the world. But she only started competing as a bikini athlete by chance.
This is her story:
---

"As we know, a healthy lifestyle helps you build and maintain a good shape, but genetics definitely helps"
Athlete Statistics
Full Name: Glauce Ferreira Yates
Weight
Height
Year of Birth
Nationality
135 - 145lbs (61.2 - 65.8kg)
5'5" (165cm)
1975
Brazilian
Profession
Alias
Fitness Model
Gal
| | |
| --- | --- |
| Weight | 135 - 145lbs (61.2 - 65.8kg) |
| Height | 5'5" (165cm) |
| Year of Birth | 1975 |
| Nationality | Brazilian |
| Profession | Fitness Model |
| Alias | Gal |
---

"I won my Pro Card in 2007 when I won the World Championship, in my debut year"
Accomplishments
2012 Olympia, 16th place
2012 Nordic Pro, 1st Place
2007 IFBB World Bodyfitness Championship, 1st place (Pro Card)
2007 IFBB South American Championship, 1st place
2007 Figure Brazilian, 1st place
---

"I worked as a fitness model doing photo shoots for TV shows, magazines and various advertisements sessions. Much of my work has been in Europe. I was 32 when I started in the fitness industry"
Biography
Early Years
Born in Belo Horizonte, Brazil, Gal always had a passion for fitness growing up. She took part in numerous activities such as Ballet, Gymnastics, and Aerobics and naturally developed an aesthetic physique from an early age.
She made the decision to further her knowledge in fitness by studying Physical Education and Sports Science at College. However, she had no intention of becoming a fitness model or competitor at this point.
Start of Fitness Journey
At the end of 2006, Gal went on holiday in her home country. While lying on the beach, she was approached by a fitness coach who noticed her potential to succeed in the industry.
After a lot of encouragement from the coach, she decided to begin training and compete as a bikini athlete. At the age of 32, Gal had embarked on her fitness journey.
---

"I know what it takes to go all the way"
---
First Competition
For the next year, Gal trained rigorously in the gym to attain a physique capable of placing in a fitness show. By the middle of 2007, she'd reached her goal.
She stepped on stage at her debut contest – the 2007 Figure Brazilian show. Impressively, she walked away with the trophy.
This is what motivated her to pursue a career in fitness.
World Champion
Gal wasted no time in gaining more experience as a bikini athlete. She entered her second show a few months later – the South American Championship.
Gal managed to replicate her success, placing 1st and qualifying for the world championships. At this point, Gal started to focus on becoming a world champion.
It wasn't long until she'd reached another milestone. Riding high from her victories, she took home the trophy from the 2007 IFBB World Bodyfitness Championship.
However, along with her win, Gal had realized her dream of becoming a professional bikini athlete.
---

Gal with her husband, Dorian Yates
---
Marrying a Bodybuilding Legend
After earning her Pro Card, things moved very quickly for Gal. She was invited to numerous fitness exhibitions around the world, but it was a trip to America that changed her life.
In 2008, Gal flew to Ohio, US, to represent a supplements company at a fitness exhibition alongside many other professionals. It was here that Gal was introduced to 6x Mr. Olympia winner, Dorian Yates.
For the next 7 months, the two kept in touch and eventually, Gal traveled to England to see Dorian again. The two fitness enthusiasts quickly fell in love, and by 2009, they were married.
Becoming an Icon
Through her marriage with Dorian, Gal had huge exposure in the bodybuilding community. It wasn't long until she became admired around the world for her great physique.
After competing in a further two shows – the 2012 Nordic Pro and 2012 Olympia – Gal had gained a mass of followers on social media, inspiring others to start their journey in the industry.
By 2016, at the age of 41, Gal had become a fitness icon.
---

"I always keep myself mentally strong and push myself hard. The obstacles are just there to make us stronger"
Training
Gal trains in the gym everyday of the week, never taking a day off. She enjoys splitting her usual gym sessions with yoga and crossfit.
Workout Routine:
Monday – Weight training and cardio
Tuesday – Yoga and stretching
Wednesday – Weight training and cardio
Thursday – Cross fit and stretching
Friday – Weight training and cardio
Saturday – Cross fit
Sunday – Yoga, cardio or swimming
---

"Nutrition is the key to a healthier body, mind, and life. Eat well, be well"
Nutrition
Gal aims to eat 5-6 meals per day, in 3 hour intervals, to keep her metabolism as high as possible.
Unlike other athletes, she's a big advocate of cheat meals – she'll treat herself to ice cream, pizza, pasta, bread or cheese fries once a week. Gal believes this is actually beneficial to your body, as she uses her cheat meals to shock her body to keep developing.
"To keep the metabolism working fast, I give it something totally different than it's accustomed to having.
If you have "healthy" cheat meals on your "break day," your body is just going to continue to act like it's on a diet. Your metabolism may slow and you may start to plateau"
Diet Plan:
Meal 1 – Protein Pancake (egg whites, banana, oats, cinnamon, raisins)
Meal 2 – Chicken breast, brown rice, green salad, olive oil
Meal 3 – Oats, banana, olive oil
Meal 4 – Chicken breast, brown rice, green salad, olive oil
Meal 5 – Chicken breast, green salad
Supplements Stack:
Whey Protein
Fat Burner
Pre Workout
Creatine
Glutamine
Glucosamine
Multivitamins
Vitamin C
Omega 3
Probiotics
---

"I did not know of the existence of Dorian or some other bodybuilding great, even when I competed in 2007, since I came from a very different sporting environment"
Idols and Influences
Gal wasn't always a fitness fanatic, so she didn't always know about bodybuilding legends like her husband, Dorian Yates.
However, she names her first coach in Brazil as the main influence that motivated her to start competing. Gal began drawing her inspiration from Dorian after marrying him – he helps to train her on a daily basis.
---

"I had different priorities. I have been making big changes in my life. I left Brazil to go to England and married; I had to build my life from scratch to adapt to a new culture, customs, language"
What we can learn from Gal Ferreira Yates
Gal has taught us that it's never too late to begin chasing your dreams. She only started working towards becoming a fitness model at 32-years-old, earning her Pro Card that same year.
You should never be afraid of change and traveling to better yourself. After becoming a professional bikini athlete, she flew to different countries with her profession, even traveling to England after meeting her husband, Dorian Yates.