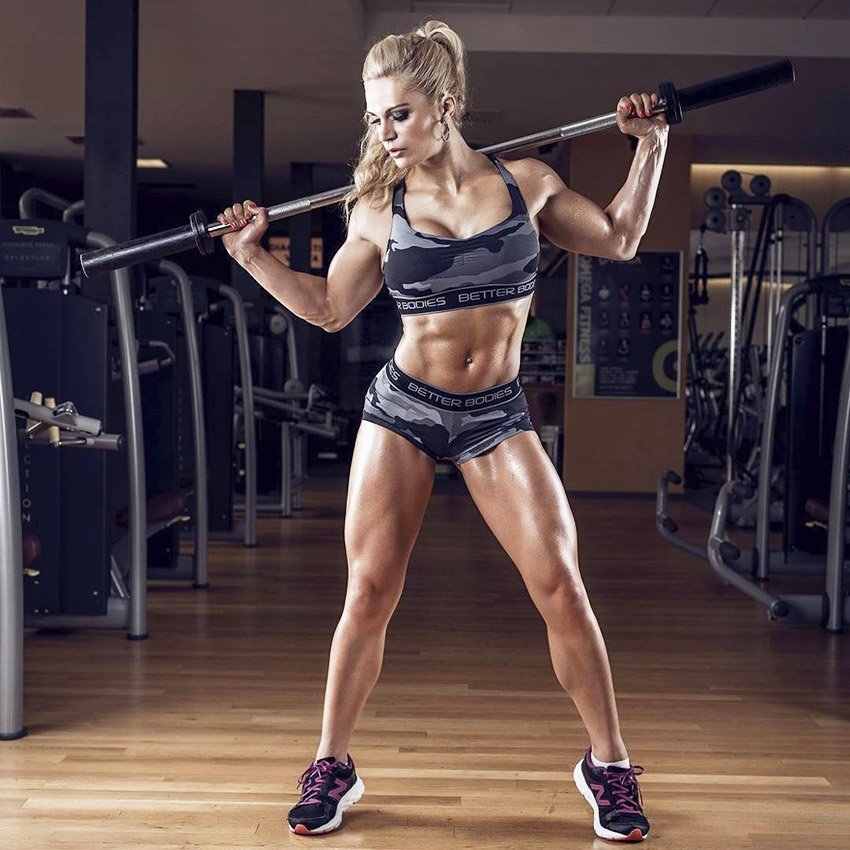 Evelian Nellen Van Pelt
From horse riding to personal training, Evelian Nellen Van Pelt has become a social media star during her fitness journey. She's gained a lot of experience from competing in shows, gaining a reputation for her incredible physique.
But it's not been an easy ride for Evelian – she's accomplished everything while working full time at a bank and raising her daughter.
This is her story:
---

Athlete Statistics
Full Name: Evelian Nellen Van Pelt
Year of Birth
Nationality
Era
1989
Dutch
2010
| | |
| --- | --- |
| Year of Birth | 1989 |
| Nationality | Dutch |
| Era | 2010 |
---

Accomplishments
2009
• Muscle Beach Endurance Challenge 1st place
2012
• Walters Open, 1st
• EK Romania, 6th
• Flexcup, 1st
• Flexcup, NP
• Ironman and Iron Maiden, 1st
• Ironman and Iron Maiden, 1st and Overall title
• Grandprix, 2ns
2013
• NK, 1st
• Arnold Classic Madrid, 6th
2014
• Loadedcup, 2nd
• Loadedcup, 4th
• NK, 2nd
2015
• NK, 4th (only for participation in international qualification)
• Grandprix, 1st and overall title
2016
• NK, 4th (international qualification)
• European Championships Spain, 7th
---

Biography
Early Life
Born and raised in the south of Holland, Ridderkerk, Evelian was very active growing up. As a child, she took part in gymnastics, martial arts, and horse riding.
However, it wasn't until she was a teenager that she entered the gym.
Start of Fitness Journey
At the age of 18, in 2007, Evelian began lifting weights after finding the desire to become muscular and strong. She trained intensely after working daytimes at a bank.
After months of hard work, she'd made serious progress.
Evelian met her husband that same year, who was also a fitness enthusiast. He started motivating Evelian, becoming her coach.
After encouragement a lot of encouragement, she decided to enter her first competition.
---

Evelian posing on stage.
---
First Competition
2 years after starting her journey, in 2009 Evelian stepped on stage at the Walters Open in the bodybuilding category. Her years of hard work paid off, and at 20, she took her first trophy home.
But she was just getting started.
Women's Physique and Personal Training
After her debut show, Evelian decided to switch categories to women's physique. Over the next 7 years, she entered a further 15 shows, placing in the top 4 in all but one competition.
During this period, she decided to give back to the industry and help others achieve their dreams. She began training others, using her website to offer her services as a personal trainer.
---

Training
Evelian trains 3-4 days per week, making sure to maintain and develop her amazing figure.
She works out twice a day – cardio in the morning on an empty stomach at 6am and lifting weights in the evening.
---

Nutrition
Evelian plans her meals around lean protein, complex carbs, vegetables and healthy fats. She aims to eat 6 meals a day with 2-3 hour intervals between each.
She limits her carbs, cutting them out of her diet after her third meal.
Diet Plan:
Meal 1 – Protein shake with oatmeal
Meal 2 – Chicken with rice cakes and peanut butter
Meal 3 – Rice with chicken and vegetables
Meal 4 – Protein shake with cashew nuts
Meal 5 – Rice with steak and vegetables
Meal 6 – Eggs with almonds
---

Idols and Influences
Evelian draws her inspiration from her many fans online. However, her main influence has been her husband – he encouraged her to compete as an athlete after seeing her potential to succeed in the industry.
---

What we can learn from Evelien Nellen Van Pelt
Evelian has taught us to always search for how to better ourselves. Although she's always been sporty, she wanted to improve her physique and began training in the gym.
One thing we can take away from Evelian's story is we should help others when given the chance – she began personal training after sculpting one of the greatest female physiques in the world.