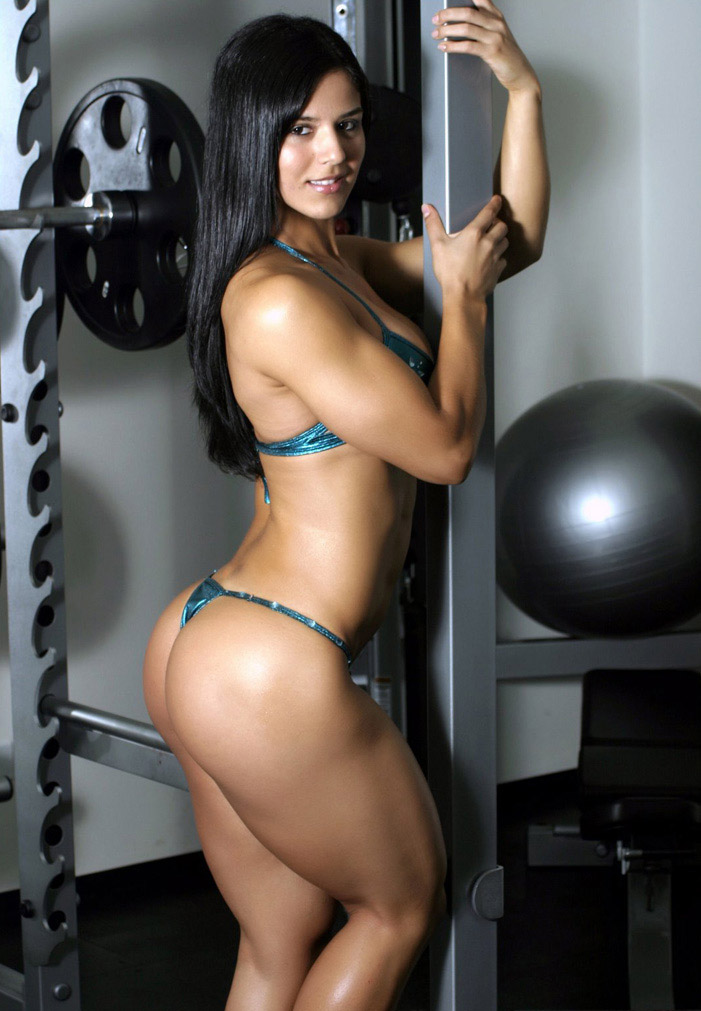 Eva Andressa
Professional Bikini Athlete, Fitness Model
Starting as a skinny teenager in Brazil to becoming a global fitness sensation, Eva Andressa has sculpted one of the greatest female physiques in the industry.
From a rocky start at 17, to an IFBB athlete by 29 – Eva has a gift for overcoming the odds. With over a million followers on Instagram, and even more fans, she has been featured on numerous fitness magazines, inspiring fans around the world to achieve their goals.
She has developed into one of the most recognized fitness models in the world, this is her story:
---

"We should dedicate ourselves 100 % in everything we wish to do"
Athlete Statistics
Full Name: Eva Andressa Viera Nascimento
Weight
Height
Arms
Chest
135 - 145lbs (61.2 - 65.8kg)
5'5" (165cm)
32.5cm
40"
Bust
Hips
Waist
40"/109cm
44"/112cm
27"/69cm
Year of Birth
Nationality
Profession
1984
Brazilian
Professional Bikini Athlete, Fitness Model
Era
2000
| | |
| --- | --- |
| Weight | 135 - 145lbs (61.2 - 65.8kg) |
| Height | 5'5" (165cm) |
| Arms | 32.5cm |
| Chest | 40" |
| Bust | 40"/109cm |
| Hips | 44"/112cm |
| Waist | 27"/69cm |
| Year of Birth | 1984 |
| Nationality | Brazilian |
| Profession | Professional Bikini Athlete, Fitness Model |
| Era | 2000 |
---

"I learned to have persistence, discipline and became a champion"
Accomplishments
2005 NABBA Brasil, Lobo Bravo Cup Champion, Figure, 1st
2006 NABBA Brasil, Parana, Figure, 1st
2006 NABBA, Brasil, Figure, 1st
2008 IFBB Brasil, Bodyfitness, 1st
2009 IFBB, Overall Champion Brazilian, Bodyfitness
2009 IFBB Peru, South American Championship, Bodyfitness, 3rd
---

"Endure their pain, weakness and difficulties in life. Always remain focused on your goal and never give up on the way"
Biography
Start of Fitness Journey
Born and raised in Brazil's Pine Nut Land, Curitiba, Eva Andressa became unsatisfied with her physique during her teenage years. Embarrassed about looking a lot younger, due to having a skinny frame – she began working out to help thicken up her figure.
At 17, she tried to get into shape, but with no trainer or knowledge of fitness, she quickly gave up after the first month. However, her desire to achieve her dream physique never left.
After a period away from the gym, she met her future husband, Jardel Barros, and soon entered a relationship with him. Coincidentally, the new man in her life was an athlete, and gave Eva the inspiration and training that she needed to change her body.
---

Eva before her transformation.
---
First Competition
After only a year of training, she realized that she had the right genetics to compete as an athlete. She was excited to see where fitness could take her.
"When I realized that my genetics was good and my body responded quickly, I thought, 'Why not compete?'"
Within just a few more years, Eva had made serious progress towards her ambition. She worked hard to achieve her dream physique, and was motivated by her fast development.
By the age of 21, she entered her first competition, the 2005 NABBA Lobo Bravo Cup in her homeland. Under the guidance of her husband, she walked away as the Figure champion.
But she was only getting started.
---


Eva at her first competition with her husband and trainer
---
More Success and Short Break
Building on her success from 2005, Eva continued the intense development of her physique for the next couple of years. At the age of 22, she decided to further her career by entering the nationals, the 2006 NABBA Parana Championships in Brazil.
She managed to replicate her previous success and add to her trophy cabinet by placing 1st. In a short few years, she had become the Figure champion of Brazil – but it was this hard work that led her to take a short break from competing.
She spent a year away from the stage in 2007, but she never stopped training in the gym during this time. She was still determined to achieve her dream physique.
Return to the stage and the IFBB
At 24, Eva decided that she had enough time recovering both mentally and physically. She decided to begin competing again, and set herself new ambitions of winning bigger shows. This was what led her to enter the 2008 IFBB Body Fitness competition in Brasil.
Continuing her perfect competition history, she was placed 1st in her biggest show yet. But she was hungry for more.
In 2009, Eva entered another IFBB competition in the Bodyfitness category. Despite this being one of the most difficult categories to enter, not only was she placed 1st again, but she won the overall as well.
She finished 2009 by being placed 3rd in the IFBB South American Championship, Bodyfitness.
---

---
Becoming a Fitness Model and Icon
Although Eva didn't win her last competition in 2009, she believed that she had achieved her ambition. She had attained her dream physique and become the champion of several shows.
She enjoyed her time on stage, but she couldn't continue as she wasn't earning much money from competing. Her love for fitness meant that she couldn't leave the industry, but was forced to find a way to support herself financially.
"I am very grateful to the sport, but it is difficult to live as an athlete in our country. I only started to earn some money when I became a fitness model"
At the age of 25, Eva decided to continue down the path of fitness by pursuing a career as a fitness model. This turned out to be a great decision – she gained more exposure after becoming the face of a sports nutrition company.
Working as a TV Host
It wasn't long until she was noticed by the media, and in 2010, she was invited to appear on a celebrity TV show in Brasil – Programa do Jo. After the show, she became one of the best known athletes in Brasil and an online sensation.
But she didn't stop there. Over the next 6 years, Eva was featured in numerous magazines around the world, becoming globally recognized. With a strong following of over a million, she has become a fitness icon.
Since 2014, she has been working hard to inspire others to achieve their own dreams through motivational speeches and giving training and nutritional advice.
In the same year, she had set herself a new goal of getting her getting her own TV show. This would allow her to reach out to more people and spread her love for fitness.
This soon became a reality, she was given her own program called Dica Fitness in 2015. On her show, she interviews famous athletes and discusses their journeys.
---

"Works, persists and never passes over anyone. It is through hard work that you find success"
Training
Eva doesn't follow a workout plan, and trains what she feels is necessary on the day. However, she always completes 4 sets of every exercise, training to failure without counting reps.
When she was competing, she trained twice a day, everyday. During this time, she focused on aerobic exercises, training for around 40 minutes per session. But since she has left her career as a competitor behind, she only trains 3 times a week.
Interestingly, unlike other athletes, Eva has stopped training her chest, biceps and triceps since becoming a fitness model. She believes that these parts of her body are at her ideal size.
---

"I want to continue passing on to people the importance of leaving the sedentary lifestyle to practice physical activities and a healthy diet"
 Nutrition
When competing, Eva followed a very strict diet in order to maintain her lean physique. However, she still monitors her diet carefully and aims to stay at around 12% bodyfat.
She only indulges in a cheat day twice a year – both in December over the Christmas period. She plans her diet around lean proteins, fruit and vegetables. She consumes carbs through the day until 6pm, when she'll only eat proteins and vegetables – she believes that her body responds to this the best.
Diet Plan:
Meal 1: Omelet (2 whole eggs and 4 egg whites) made with olive oil, 2 slices of bread with green tea
Meal 2 – 120 grams of chicken breast grilled, 2 tablespoons whole wheat pasta, vegetables
Food 3 – 1 liquefied whey protein, 2 tablespoons oatmeal
Food 4 – 

Tuna in water, c

ottage cheese, 3 graham toast
Food 5 – 120 grams of chicken breast grilled with vegetables
Food 6 – Omelet (2 whole eggs and 4 egg whites)
Food 7 – 1 whey protein shake with Glutamine
Supplements Stack:
---
Editor's Tip

Inspired to reach your maximum potential like Eva? Read our comprehensive guide on how fat burner supplements can really up your game!

---

"Then, with the help of Jardel, I began to prepare myself as an athlete. It was a great challenge for me, because I had to completely change my eating habits, however, with discipline and determination competed"
Idols and Influences
Eva gets her motivation from the fans that have been following her fitness journey from the beginning:
"I love the people who want to change their lifestyle and become fit and healthy"
However, the person that she credits all of her success to, is her husband and personal trainer, Jardel Barros. Without him, she wouldn't have found the initial push to kick-start her fitness journey and get back in the gym.
---

"All of us are able to realize our dreams, however impossible they may seem"
What can we learn from Eva Andressa
Eva has taught us that following a healthy lifestyle can lead you to happiness. She began her journey as a skinny teenager who never worked out, but after she began training, she met her future husband and became a fitness icon.
One thing we can take away from Eva's career, is that always pushing to improve yourself is the key to success in life. She hit the floor running by winning her first competitions, but she always looked for a way to further her career. This is what has led her to becoming one of the most well-known fitness models of her generation.