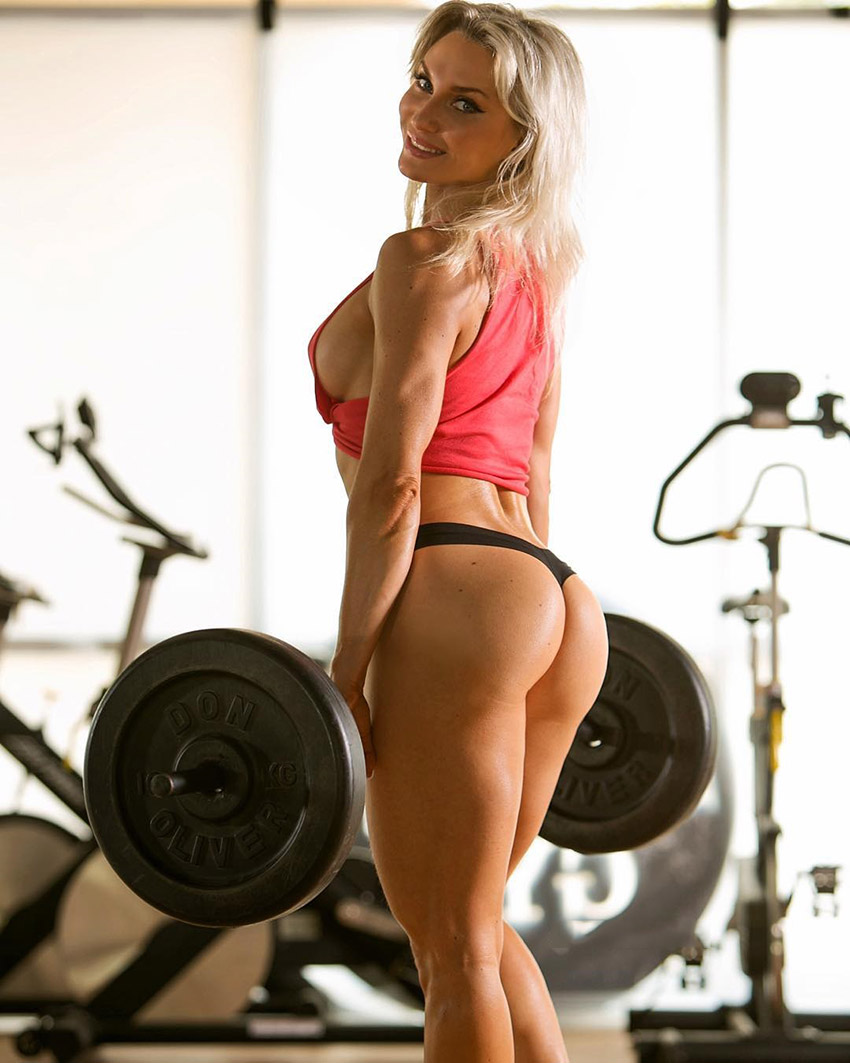 Elena Skinner
Fitness Model, Bodybuilder
From a budding gymnast to becoming a business owner and fitness model, even as a child, she always had a passion for fitness. Elena Skinner has attracted a mass of followers for her incredible physique.
With gymnastics taking its toll on her schooling, Elena eventually swapped the sport for lifting weights. It was at this point when she set off on her lifelong journey into the industry.
This is her story:
---

"For me it's not how big your muscles are; it is a balanced, beautiful, aesthetic look."
Biography
Early Life
Born and raised in the motherland, Russia, Elena's fitness journey began at the age of 4 when she joined a gymnastics academy. She began training several days per week, developing a love for athletics, but it wasn't until later on when she entered the gym to sculpt her physique.
Over the next decade, she developed a lean frame due to the demands of her sport.
---

"I've been into sports since I was 4 years old. I am a former gymnast. I attended gymnastics school at the age of 4 and for 10 years I devoted myself to it."
---
Leaving the Gymnastics Academy
Elena devoted herself to becoming a gymnast, and the sport gradually took over her life. However, at the age of 14, balancing education with the high intensity of the gymnastics academy finally took its toll.
She found herself at a crossroads, choosing between education and gymnastics. With her parents keen to see her graduate, she was forced to focus on school.
However, she quickly became unsettled by the void left in her life from leaving the sport that she loved. She knew that she had to find another way of keeping active, and she found the answer in fitness.
---

 "I realized that working out is an amazing sport in which anybody can sculpt their body the way they want it to be."
---
Start of her Fitness Journey
A few months later, with the intention of keeping fit, Elena began lifting weights in the gym. Unknowingly, she had set off on a journey that would take her around the world.
It wasn't long until she had fallen in love with fitness, and she quickly started seeing serious results. Her experience as a gymnast had taught her the necessary discipline and work ethic to succeed as an athlete.
Through hard work and dedication, Elena built an incredible physique. She continued her intense training routine, learning about different training styles and nutrition along the way.
Fitness had become her passion, and she was determined to make a name for herself in the industry.
---


"Physical fitness became my passion, and it has never stopped."
---
Leaving the Motherland
After graduating from college with a MBA in General Management, she needed to support herself financially to survive in the real world. She found a job in the IT industry, managing multi-million dollar projects.
But Elena soon found herself with a serious dilemma. Although she continued working out in the gym, she was forced to prioritise her job over her passion.
But it wasn't long until her physique began gaining recognition.
Elena was approached to become a model in America, and with her sights set firmly on fitness, she packed her bags and travelled to the land of opportunity.
---

"People have always told me that I'm very photogenic and should explore the modeling business, and I'm glad I did."
---
Becoming a Fitness Model and Personal Trainer
For the next few years, Elena continued down the path of fitness modelling. She was gaining more recognition with every photo-shoot, and she was becoming the subject of many online fitness forums.
When the public began asking her for advice on dieting and training routines, she became inspired to help others achieve their dream physiques. It was at this point when she began working towards a new goal.
She realized that she could make a positive impact in many lives, and dedicated her time earning her personal training qualifications. Equipped with the tools to make a change, she created a website to provide online fitness training and nutrition plans.
It was at this point that she began writing blogs about her journey to encourage people to live a healthy life. She had a new purpose in life –  to spread her passion for fitness around the world.
"I absolutely love to help my clients to get in the best shape of their lives. For me, there is nothing more rewarding than seen my clients' happy smiles when they get close to their fitness goals"
---

"I'm an ambitious person and I believe that there are no limits, as long as you see the potential in yourself, and you work hard toward your goals."
What we can learn from Elena Skinner
Elena has taught us that it's always possible to realize your lifelong dreams, regardless of any obstacles you may face. She was faced with the prospect of leaving fitness behind in order to survive. However, she never stopped training hard and developing her physique, and eventually, she succeeded in becoming a fitness model.
One thing we can take away from Elena is that you should always make a positive impact in the world when given the opportunity. She quickly began helping others to achieve their ideal bodies after gaining a reputation for her own.