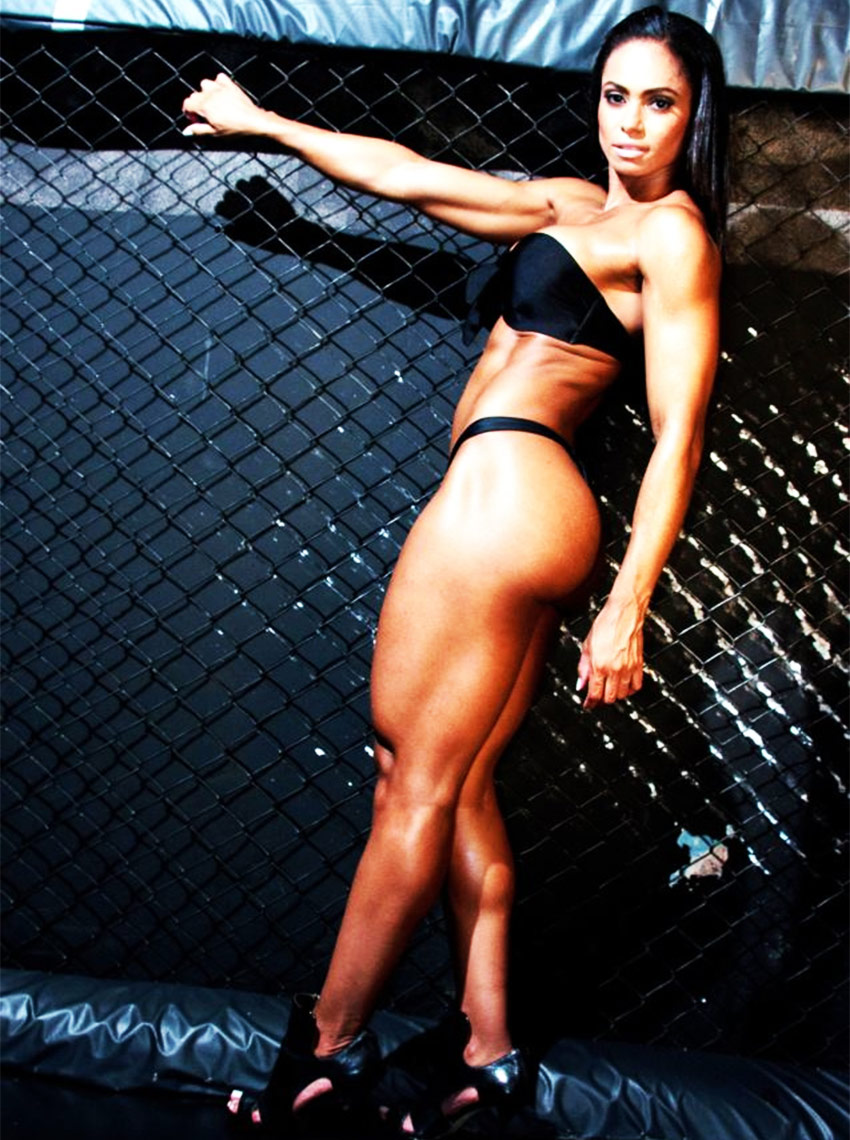 Denise Rodrigues
Bikini Competitor,
Denise Rodrigues is a fitness model and competitive bikini athlete from Brazil. She began her journey in 1999 at the age of 17, after being inspired by Larissa Reis.
However, Denise didn't find it easy to sculpt her dream figure; she spent over 11 years training hard before entering her first competition.
This is her story:
---

Athlete Statistics
Full Name: Denise Rodrigues
Weight
Height
Age
Date of Birth
115 - 125lbs (52.2 - 56.7kg)
5'2" (157.5cm)
41
July 14, 1982
Nationality
Profession
Era
Brazilian
Bikini Competitor,
2010
| | |
| --- | --- |
| Weight | 115 - 125lbs (52.2 - 56.7kg) |
| Height | 5'2" (157.5cm) |
| Age | 41 |
| Date of Birth | July 14, 1982 |
| Nationality | Brazilian |
| Profession | Bikini Competitor, |
| Era | 2010 |
---

Accomplishments
Competition History
2011 IFBB Brazilian Bodybuilding Championship – 5th
2012 Paranaense Bodybuilding Championship – 1st
2012 IFBB Brazilian Bodybuilding Championship – 3rd
---

Biography
Start of Fitness Journey
Born and raised in Londrina, Paraná (Brazil), Denise had always been interested in fitness; she dolized the her fellow countrywomen such as Larissa Reis, finding the desire to build a strong figure from an early age.
However, it wasn't until the age of 17, in 1999, that she began lifting weights in the gym. Although she didn't progress as much as she'd hoped, she never gave up and started sculpting the foundations of her powerful figure.
First Competition
Denise never took her eye from her goal; over the next 12 years, she trained rigorously in the gym. In order to realize her dream of attaining a similar figure to Larissa Reis, the Brazilian laid the foundations for her future success.
Eventually, her hard work paid off. Denise finally achieved a body she was proud of; as a result, she entered her first competition (the 2011 IFBB Bodybuilding Championship).
The Brazilian walked on-stage very inexperienced. However, she still managed to place highly, at a very respectable 5th place, beating some seasoned athletes in the process.
But she wasn't done yet.
Success
After her first taste of life as a bikini competitor, Denise immediately set her sights on earning her first trophy. As a result, she spent the rest of 2011 further developing her figure in the gym.
By 2012, Denise was ready to enter her second show – the Paranaense Bodybuilding Championship. And this time, she impressed the judges enough to win the contest.
At the age of  30, Denise finally tasted success, walking away with a trophy.
---

Training
Believing that high volume leads to better results for her body, Denise enjoys performing until failure during her workouts. Typically, she'll perform 3-4 sets per exercise, enjoying upper body training sessions the most.
Upper Body Workout Routine
Denise's training plan would look similar to this:
Military Press – 4 sets until failure
Tricep Pulldowns – 3 sets until failure
Bicep Curls – 3 sets until failure
Lat Pulldowns – 3 sets until failure
Seated Back Row/Pull – 3 sets until failure
Romanian Deadlifts – 3 sets until failure
Bentover Barbell Row – 3 sets until failure
---

Nutrition
Denise knows the importance of following an effective and clean diet plan. She believes that consuming meals every 3 hours will keep her metabolism high – allowing her to maintain her lean figure all-year-round.
The Brazilian athlete aims to consume a protein-rich diet, eating less calories as her day progresses.
Daily Diet Plan
Here's an example of Denise's meal plan:
Breakfast -Egg whites, fruit & oatmeal
Snack – Protein shake
Lunch – Chicken or fish, sweet potato, brown rice, vegetables & extra virgin olive oil
Snack – Protein shake & nuts
Dinner – Chicken or fish & vegetables
Snack – Casein protein source (cottage cheese, yoghurt)
---

Idols and Influences
In terms of idols, Denise looks up to other bikini competitors; such as Larissa Reis, Juliana Malacarne and Gal Ferreira.
However, she states that most of her motivation comes from within – Denise has always been a 'self-starter', willing to work hard and get results.