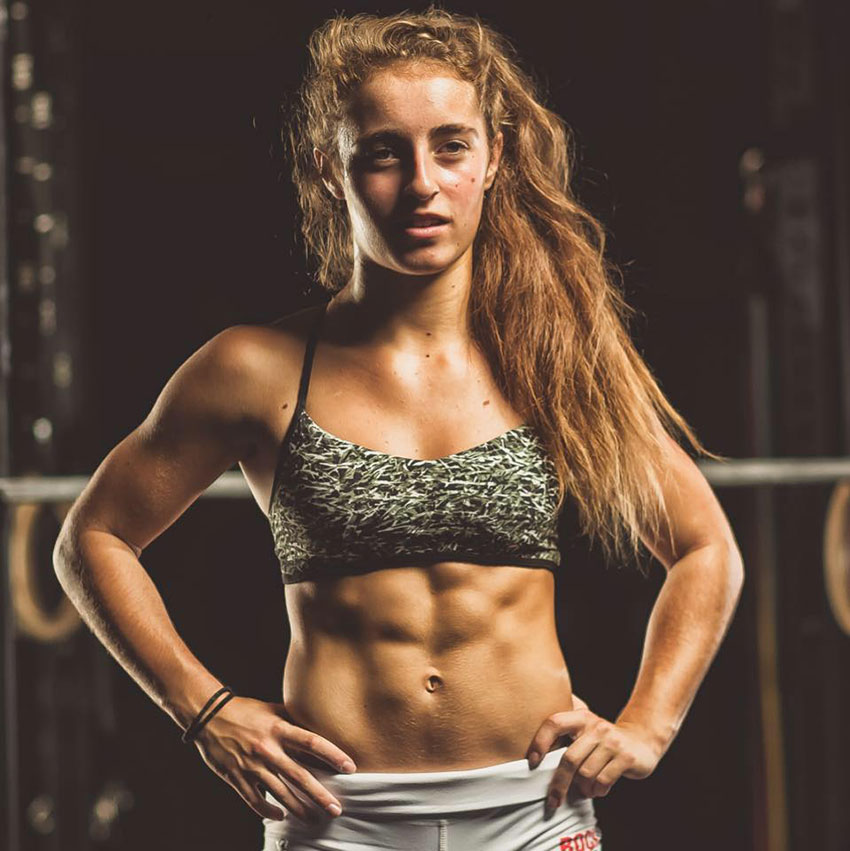 Demi Bagby
CrossFit Athlete, Bodybuilder, Social Media Celebrity
Demi Bagby is an American CrossFit athlete and bodybuilder from San Diego, USA. However, a freak accident left her facing the prospect of spending the rest of her life in a wheelchair, but her huge strength of character meant that this wasn't the case.
As a result, she soared to fame across social media – inspiring many people across the world with her transformation into a formidable CrossFit athlete.
Now, Demi aims to have a positive influence in other people's lives by spreading her message:
"There are so many ways that it can go wrong, but in your head there can only be one way, and it's all the way! You have to give it 110% and know that you're going to do it….You have to know that you will succeed, and once you have that, you'll be unstoppable".
This is her story:
---

Athlete Statistics
Full Name: Demi Bagby
Weight
Height
Age
Date of Birth
Under 115lbs (52.2kg)
4'11" (150cm)
22
January 10, 2001
Nationality
Profession
Era
American
CrossFit Athlete, Bodybuilder, Social Media Celebrity
2010
| | |
| --- | --- |
| Weight | Under 115lbs (52.2kg) |
| Height | 4'11" (150cm) |
| Age | 22 |
| Date of Birth | January 10, 2001 |
| Nationality | American |
| Profession | CrossFit Athlete, Bodybuilder, Social Media Celebrity |
| Era | 2010 |
---

Accomplishments
Career Achievements
CrossFit Athlete
Bodybuilder
Social Media Celebrity
---

Biography
Life Changing Accident
Demi Bagby was born in San Diego in 2001, where she has spent her life ever since. She grew up with a love of sports, taking part in soccer and cheer-leading on a regular basis.
However, in 2014, Demi suffered a freak cheer-leading accident in which she broke her back. As a result, she was left paralyzed for three months – facing the prospect of never being able to walk again.
Demi was left devastated and took a huge knock to her confidence. Consequently, her days as a cheerleader came to a grinding halt.
During her period of recovery, Demi became fascinated with CrossFit and calisthenic athletes. It was at this point Demi vowed to herself that if she was ever able to walk again, these were exactly the sports that she wanted to become involved in. Recalling this moment, Demi stated:
"I saw videos of people online doing CrossFit, and calisthenics, and all these fun kind of workouts, and I told myself if I was ever able to walk again that I'd be determined to live it everyday, and just learn new things everyday".
---

Bouncing Back
Demi fought a hard battle to recover from her back injury. But one day, she won. Proving wrong all the doctors who said that she would never walk again.
After a miraculous turnaround, Demi was eventually able to start pursuing her CrossFit dreams just a year after her injury.
It was at this point, Demi began bodyweight training in order to build her dream physique. She soon started to perform strength movements such as pull ups to build her body.
However, she hit a roadblock in the process. Things weren't quite going her was as initially, she wasn't able to perform certain exercises. But thanks to her determination, it was eventually possible for her to start performing more advanced movements, such as muscle ups.
From then on, Demi's motivation for fitness was all-time time high. She took this sense of heightened motivation as a perfect opportunity to keep pushing forward.
Present Day
Demi overcame a potentially life-changing event to become an inspiration to many people across the world. In the process, she also became a social media celebrity and established CrossFit athlete.
After working hard to make a name for herself in CrossFit, Demi was able to rank 23rd worldwide in her age category in 2016. This result gave her the platform to excel in her CrossFit career.
Once she reached her fitness goals, it then became Demi's aim to positively influence other people to achieve their own. She wanted to show people that they too can overcome any obstacles in their path – just like her.
Demi states the following in regard to this:
"Strive to be the best version of you. You are limitless. You are truly capable of anything your mind can conceive. Don't be afraid to push the loose boundaries known as the impossible".
"I've always wanted to spread a positive impact on the world of what being active and healthy can really do. It may be simple, but that does not mean that it's easy. Allow your passion to become your purpose and truly love and be grateful for the life you live". 
---

Training
Demi performs a wide range of sports in order to maintain her lean physique. This includes the likes of CrossFit, calisthenics, acrobatics, yoga, parkour, lifting and surfing. Being able to perform these after breaking her back proves she is a determined, passionate, and dedicated individual.
To obtain maximum benefit from her training in the gym, Demi performs workouts which comprise of exercises such as those listed below:
Demi Bagby Workout
Clapping Ring Pushups
Muscle Ups
Backflip Wall Balls
Flag Raises
One Arm Toes to Bar
Rope Climb
---

Nutrition
Demi's aim is to stay as lean as possible so that she can perform well during her CrossFit and calisthenics workouts. To achieve this, she follows a diet that revolves around the following types of foods:
Demi Bagby's Nutrition Plan
Complex Carbohydrates
Lean Protein
Healthy Fats
Fruits
Vegetables
---
Editor's Tip
Inspired to reach your maximum potential like Demi? Read our comprehensive guide on how fat burning supplements can really up your game!
---

Idols and Influences
Throughout her recovery period, Demi took inspiration from many CrossFit and calisthenics athletes including Kristi Eramo and Frank Medrano. She was inspired by the exercises they were able to perform – making Demi want to follow in their footsteps.
But, it was Demi's positive mental attitude that allowed her to keep pushing forward – continually reaching new heights in her fitness career.
From then on, Demi began inspiring her followers online, and accomplishing all of her own goals along the way. Here's Demi talking about inspiring others with her achievements in fitness:
"Inspiring others to be strong and healthy is all I could ever ask for. I know what being injured feels like, and it's a struggle. But breaking my back and doing what I do now is one of the biggest blessings and struggles I've ever experienced".
---

What we can learn from Demi Bagby
Demi Bagby has become an inspiration to so many people since she fully kicked her fitness journey into gear. She suffered a horrific injury that left her paralyzed for three months, but she didn't let that stop her from following her dreams.
What can we learn from Demi Bagby is? You may be a long way off from reaching your goals. But, so long as you give it your best shot, you can go far in your fitness journey – just like Demi.