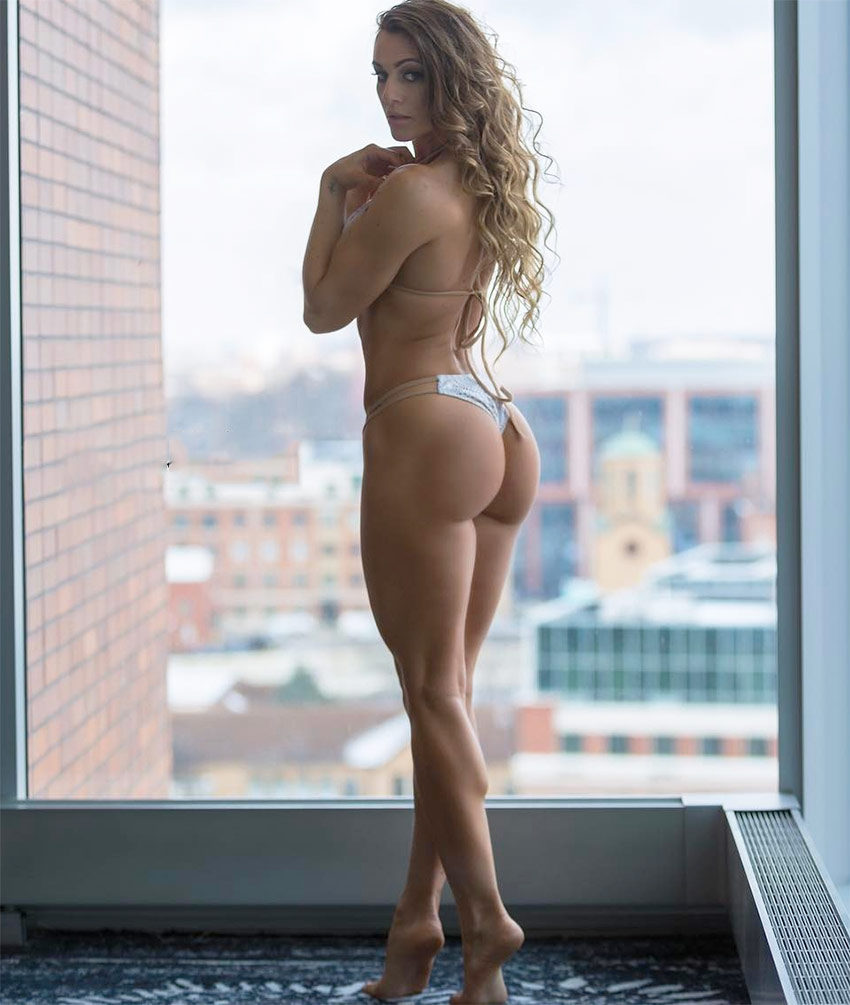 Caroline Campos
Fitness Model, Pro Bikini Athlete
Caroline Priscila De Campos (AKA. Caroline Campos) is a Brazilian bikini athlete and fitness model. She moved to the USA after graduating from college, deciding to pursue a career as a fitness model.
Only 2 years after making her debut appearance, Caroline earned her Pro Card – successfully becoming a WBFF Fitness Diva Pro. However, it wasn't always easy for the Brazilian; she suffered a severe knee injury which almost ruined her dream.
This is her story:
---

"I showed myself that I had more strength than I could have ever imaged."
Athlete Statistics
Full Name: Caroline Priscila De Campos
Weight
Height
Year of Birth
Nationality
115 - 125lbs (52.2 - 56.7kg)
5'3" (160cm)
1984
Brazilian
Profession
Alias
Era
Fitness Model, Pro Bikini Athlete
Caroline Campos
2010
| | |
| --- | --- |
| Weight | 115 - 125lbs (52.2 - 56.7kg) |
| Height | 5'3" (160cm) |
| Year of Birth | 1984 |
| Nationality | Brazilian |
| Profession | Fitness Model, Pro Bikini Athlete |
| Alias | Caroline Campos |
| Era | 2010 |
---

"I have always enjoyed sports, from ballet to paddle boarding, and even some more radical things like boxing, motocross racing, skiing, snowboarding, and surfing."
Accomplishments
Qualifications
Pharmacy Degree – Univille Universidade
---

"Coming from a knee replacement surgery 2 years ago, I did my very 1st figure competition after 3 months off and ended up winning 1st place!"
Biography
Move to USA
Born and raised in Santa Catarina (Brazil), Caroline enjoyed a very active childhood; she participated in numerous sports including ballet, paddleboarding, boxing, motocross racing, and surfing.
After graduating from college, she made the big decision to move to the USA. However, the transition into the land of opportunity wasn't easy for Caroline – she began comfort eating junk food in order to deal with the stresses of her new life.
As a result, the Brazilian became overweight and started to suffer from depression.
Injury
Although Caroline had initially struggled to adapt to her new American lifestyle, she eventually found her feet and found the desire to get back into shape. For this reason, she began training to become a stunt double – but she suffered another set back almost immediately.
During her intense training for her new profession, Caroline seriously injured her knee; this resulted in the Brazilian needing knee replacement surgery – putting an end to her progress as a stunt double.
But this time, she didn't let herself fall into the trap of depression.
---
 
---
Bikini Athlete
Only 3 days after completing her surgery, Caroline showed her strength and returned to the gym – with her new ambition of competing as a bikini athlete.
Caroline had continued eating clean during her time on the sidelines, so it didn't take long for her to reach peak condition for her first show. Her hard work paid off, and she impressed the judges – earning a trophy on her debut.
But this was just the start.
Pro Card
Riding high from her victory, Caroline continued to progress in her new career. She featured on the cover of numerous magazines, and became recognized as a rising star of the fitness industry.
However, her greatest achievement came just 2 years after she made her debut as a bikini athlete; at this time, Caroline managed to earn her Pro Card – realizing her dream of becoming a WBFF Fitness Diva Pro
---

"I make goals for myself all the time. I'm not better than anyone, but I do work very hard and I go after things."
Training
During the lead up to competitions, Caroline performs 2 hours of cardio daily – making sure to burn enough calories to reach peak condition.
The Brazilian also places a strong focus on training her legs 3 times a week, while working her upper body for the other 3 days; overall, Caroline trains 6 times per week, allowing her body to rest and develop on Sundays.
---

"I'd say I'm an extremely honest person, and of course I love fitness and that's really why I do this, for the love."
Nutrition
Caroline knows the importance of nutrition, choosing to eat clean all-year-round – in order to maintain her incredible figure. Unlike other fitness models, the Brazilian hasn't craved junk food since becoming a professional bikini athlete; instead, she chooses to eat healthier alternatives, such as homemade chicken nuggets.
---

"I think every person that has passed through my life was some kind mentor either for the good or for the bad."
Idols and Influences
Caroline states that every person she's met in her life has helped her to achieve her goals. However, she names Gisele Bundchen as the model who inspired her to become a bikini athlete.
---

"I want to be remembered as Caroline de Campos, she was a blessed woman that gave us a lot strength to keep fighting and because of her I have changed my life to be a better version of myself."
What We Can Learn From Caroline Campos
One thing we can take away from Caroline, is to always bounce back from negative experiences. The Brazilian initially struggled to adapt to life in the USA, falling into depression and turning to junk food, in order to deal with her problems. However, she eventually found the motivation needed to turn her life around, earning her Pro Card 2 years after making her debut.
Ultimately, Caroline has taught us that anything is possible with hard work and the right determination to succeed.