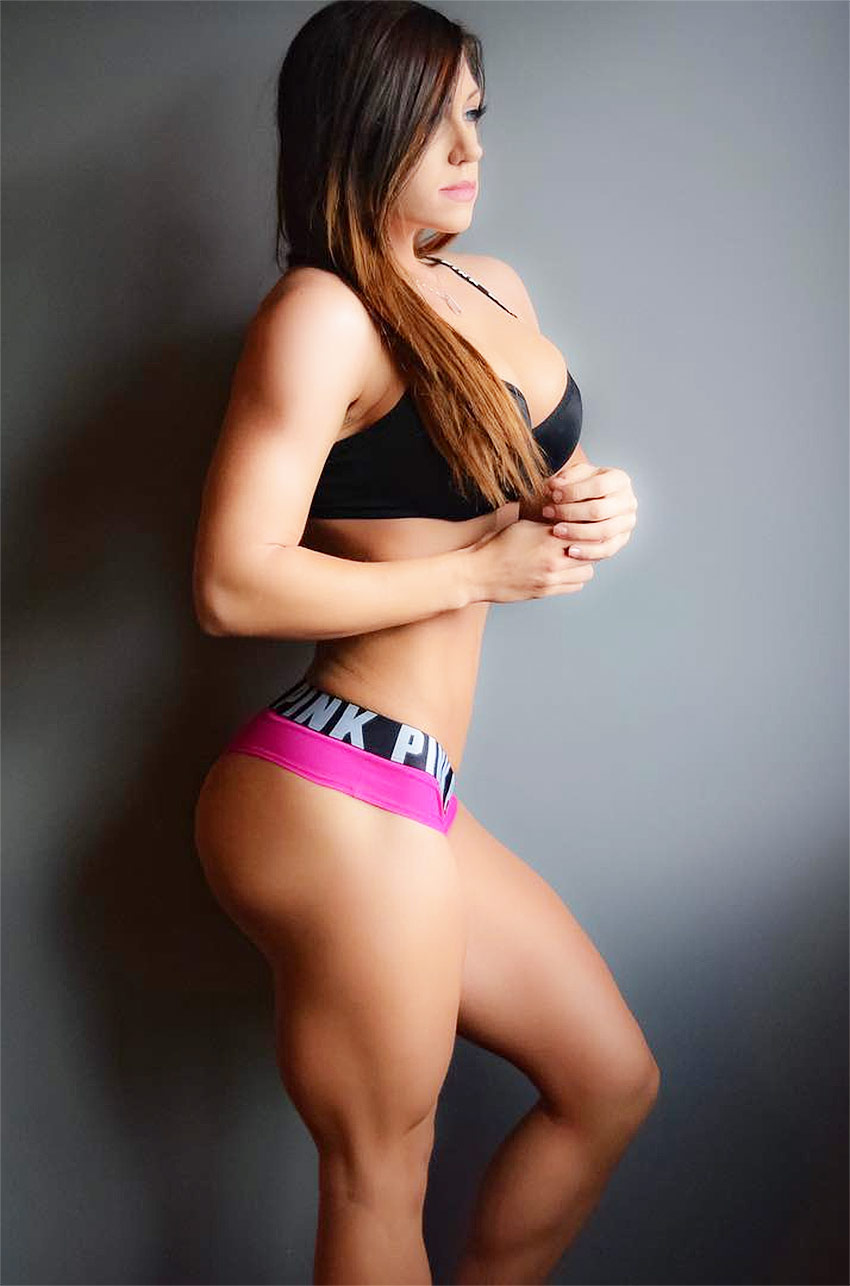 Caitlin Rice
Personal Trainer, Model
Caitlin Rice is a model and fitness icon who inspired millions of followers on social media.
She began posting pictures and videos of her fitness journey on instagram (@caitlinricefit), and has since become widely recognized for her great figure – becoming a social media star.
But she was once a model who struggled to adapt to the stresses of the profession.
This is her story:
---

"I always strive for progress.  Being fit is so much more than just looking good and having a good body."
Athlete Statistics
Full Name: Caitlin Rice
Weight
Height
Bust
Hips
Under 115lbs (52.2kg)
5'5" (165cm)
34"
24"
Waist
Year of Birth
Nationality
32"
1990
American
Profession
Personal Trainer, Model
| | |
| --- | --- |
| Weight | Under 115lbs (52.2kg) |
| Height | 5'5" (165cm) |
| Bust | 34" |
| Hips | 24" |
| Waist | 32" |
| Year of Birth | 1990 |
| Nationality | American |
| Profession | Personal Trainer, Model |
---

"I feel like there is no personal achievement more satisfying than helping others."
Accomplishments
Qualifications
Political Science Degree – Southern Methodist University (Dallas, Texas)
NASM Certification of Personal Training
---

"I became addicted to the feeling of being healthy and full of energy.  In addition to learning how to lift weights properly, I taught myself all about proper nutrition as well."
Biography
Early Years
Born and in the Lone Star State, Texas, Caitlin constantly moved around America during her childhood; her father served in the army, and was frequently re-stationed in different locations.
For this reason, she began training in the gym, to escape the stresses of being an 'army brat'. Fitness became her escape, and by the age of 16, Caitlin had become very lean.
Modelling
In 2006, at the age of 16, Caitlin was recruited to become a fashion model. However, this didn't turn out to be the dream job she was hoping for.
Becoming a model in the fashion industry meant that Caitlin was placed on a strict diet – she was forced to consume minimal calories, in order to reach the required dress sizes for her profession.
However, it wasn't long until she became unhappy with her lifestyle; she decided to leave modelling behind, setting a new goal of gaining a degree in College.
---

Caitlin's transformation from a fashion model, to female bodybuilder.
---
College
At the age of 18, Caitlin enrolled at the Southern Methodist University in her hometown (Dallas, Texas). During this period, she continued training in the gym, but also began living the typical student lifestyle – partying and drinking large amounts of alcohol.
This resulted in Caitlin gaining 15lbs, with no muscle definition.
"I gained 15 pounds and was what I call "skinny fat."  I had no muscle definition and a little belly from all the alcohol and bad food I was consuming." 
Fitness Journey
In her final year of college, Caitlin decided that she'd enjoyed partying enough. The future personal trainer stopped drinking alcohol and eating junk food, deciding to dedicate her time to sculpting her dream figure.
Over the next year, Caitlin fell in-love with weight-lifting; it became her passion, and she searched for ways to improve her figure, teaching herself about proper nutrition and form in the gym.
With her updated knowledge of fitness, she made much better progress on her goals – she managed to attain her dream figure, becoming addicted to her healthy lifestyle.
---

---
Social Media Star
Towards the end of 2012, Caitlin created social media profiles to share her journey with the fitness community. After posting pictures and videos of her workouts daily, she started gaining a mass of followers on Instagram.
By 2017, Caitlin had acquired over 1 million fans; inspiring aspiring fitness professionals around the world to follow a healthy lifestyle.
Personal Training
As a result of her new-found fame on social media, Caitlin became motivated to help her fans realize their fitness goals. Her years of training and dieting had taught her vast amounts about the industry, and she began using her knowledge to coach others as a personal trainer.
It wasn't long until she'd created her own website – which she uses to reach out to clients, forming diet and training plans to suit each individual.
---

"I started hitting the weights and did some research.  I learned how to lift weights properly and quite simply fell in love with it."
---

"The more I shared how awesome it is to feel amazing about yourself from eating properly and working out on my Instagram page, the more I got noticed by some of the bigger fitness pages and social media."
Nutrition
Caitlin knows the importance of nutrition when aiming to sculpt a great figure. She follows a well-planned diet all year round, eating 6 meals per day – based around lean protein, complex carbs, vegetables, and healthy fats.
But she has to curb her sweet tooth. To do this, she bakes protein cookies, muffins, pancakes, and mug cakes to satisfy her cravings without over-consuming calories.
The fitness icon allows herself one cheat meal per week, usually in the form of pepperoni pizza.
Supplement Stack
These are the supplements that Caitlin uses:
Whey Protein
Casein Protein
Pre Workout
BCAAs
Fat Burner
Multi-vitamin
---

"I am truly humbled by the support and love of all my followers.  As much as I inspire and motivate them, they do the same for me. "
Idols and Influences
Caitlin names her fans as her main influences; she appreciates their support, and loves nothing more than helping her clients achieve their dreams.
The fitness icon also acknowledges her parents as huge influences throughout her life. They were the first people who pushed her to realize her potential in the industry, encouraging her to workout and lead a healthy lifestyle.
---

"I've learned so many things in the process that I can apply to all areas of my life, including how to be dedicated and really put your all into something, how to persevere and not give up on your goals and dreams.

Also, how to motivate yourself and be the source of your own happiness, and how to focus and stay committed to the task at hand. "
What we can learn from Caitlin Rice
The main thing we take away from Caitlin's story is to place your happiness first. She became a fashion model at the age of 16, but didn't enjoy having to eat only minimal amounts of food to stay a small dress size.
However, she motivated herself to chase her true passion – fitness. As a result, she managed to sculpt her dream physique, and became a well-known figure in the industry.