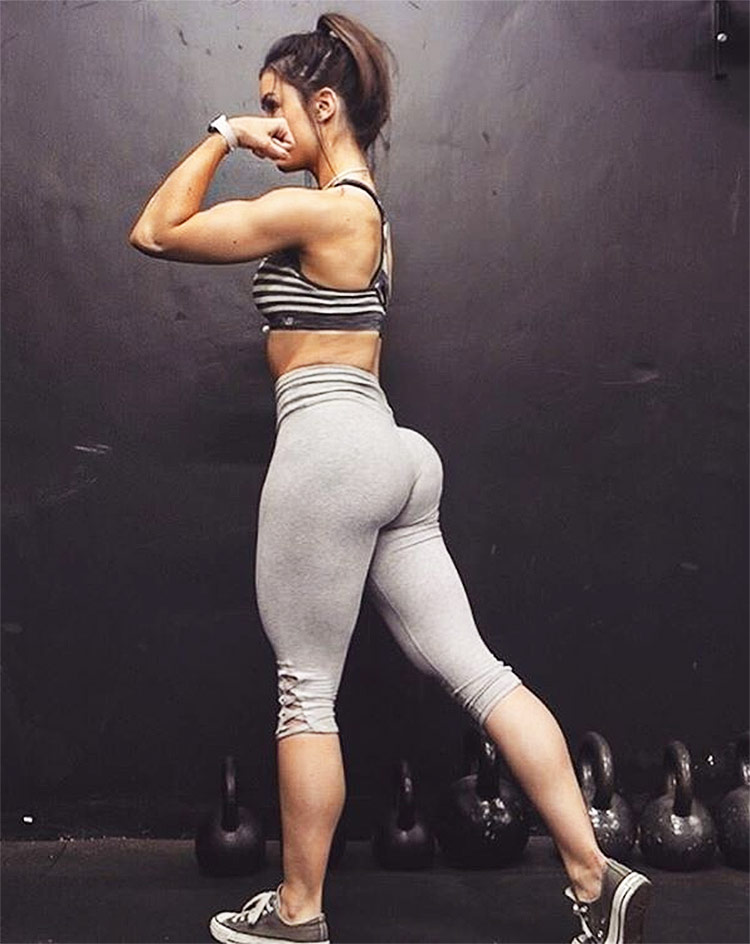 Bethany Tomlinson
Social Media Star
Born and raised in Somerset (England), Bethany began her fitness journey at the start of 2015. Initially, her motivation was to compete in the WBFF as a bikini athlete – as a result, the youngster began cutting body fat, reaching a weight of 98lbs.
At this point, she created an Instagram profile (@beth_fitnessuk), to share her fitness journey with the world; continuing her intense training in the gym, further developing her great figure.
By 2017, after overcoming difficult events in her lift, she'd gained 10lbs of lean mass, along with an impressive number of followers on social media.
This is her story:
---

Athlete Statistics
Full Name: Bethany Tomlinson
Weight
Height
Year of Birth
Nationality
115 - 125lbs (52.2 - 56.7kg)
5'3" (160cm)
1996
British
Profession
Social Media Star
| | |
| --- | --- |
| Weight | 115 - 125lbs (52.2 - 56.7kg) |
| Height | 5'3" (160cm) |
| Year of Birth | 1996 |
| Nationality | British |
| Profession | Social Media Star |
---

Accomplishments
Qualifications
Agri-Food Marketing and Business Studies – Degree
---

Biography
Struggling To Gain Weight
Unlike other females, Bethany's story didn't begin with her being overweight or with a eating disorder. She simply became unhappy with her skinny figure; Bethany felt that her naturally wide shoulders made her look out of proportion, and this negatively affected her confidence and self-esteem.
At this point, her confidence was so low, that she didn't feel comfortable in most clothes, apart from baggy t-shirts.
Losing Control
After beginning to weigh herself, she became even more aware of how 'underweight' she was. As a result, her mood really took a dip, and she noticed that she was treating her family and friends with a 'vile' attitude.
Here's Bethany talking about her struggles:
"When I started weighing myself, that's when I lost control a bit. I would weigh myself every morning and it would just fluctuate. 

"I was eating all this junk food hoping that I would gain weight, my mood was sh*t, I was just vile to my parents and I just didn't have any energy, my brain function was bad – It just didn't do me any good." 

"I would cry almost everyday that I would weigh myself, and It became an unhealthy obsession." – Bethany Tomlinson
The Loss of Her Father
A year before Bethany graduated from high school, she was hit with some news that would negatively change her life; her father was diagnosed with cancer, which made her confidence issues even more severe.
With the passing of her father, Bethany entered another tough period in her life. However, this lit a spark in her, and she became determined to battle her demons in honor of her father.
"I was determined, for him, to make something for myself, to make University work and to make him proud. He always wanted me to go to University and he was actually taking a degree himself – he was an incredibly intelligent man. 

"He was my number 1 fan for everything in life, everything I did he would support, and everything that went wrong, he would be there to help me. So I fought my problems and gave University a go." – Bethany Tomlinson
---

---
Start of Fitness Journey
After graduating from high school, Bethany hoped that leaving home to study at college would be a turning point in her life, both physically and mentally.
Finding strength through adversity, Bethany began to accept her unhealthy obsession at weighing herself and began seeking help online through fitness forums; she eventually created an Instagram profile, primarily to follow fitness models for inspiration and guidance.
Ultimately, after seeing female athletes' impressive transformation photos, Bethany finally found the motivation to embark on her fitness journey. It wasn't long afterwards that she started training in the gym, determined to learn more about fitness and nutrition.
Here's Bethany talking about her 'spark':
"I was able to see all the different female fitness models and their crazy transformation photos from them being small and skinny to gaining a butt. I didn't think that was possible, so that really got the ball rolling for me." – Bethany Tomlinson
Seeing Results
Although Bethany had began to train in the gym, she still didn't have the confidence necessary to begin weight training; she found working out in public to be intimidating, and slowly became demotivated by constantly training on cardio machines.
Determined to make her father proud, Bethany eventually succeeded in her fitness goals; she managed to work-up the courage to begin lifting weights in the gym, and this led to her making strong progress in the gym.
After finding the right balance in her diet, Bethany finally started to see the results of her hard work, sculpting a butt that she was finally proud of.
Not only did this boost your self-esteem and confidence, but it also instilled in her the drive to inspire others; she wanted those who struggled with weight issues to know that they could really make a change using fitness as their vehicle to succeed.
Social Media Sensation
Encouraged by her transformation, Bethany started posting pictures and videos of her workouts, using her Instagram profile ( beth_fitnessUK), hoping to reach out to females embarking on their own fitness journey.
Within 1 year, Bethany's story touched the hearts of the fitness community around the world; they noticed her incredible figure and transformation, heaping praise on the youngster and encouraging her to continue her progression.
By 2017, Bethany had attracted masses of followers, not only on her Instagram, but through her vlogs on YouTube too. Ultimately, this paved the way for her success, becoming known as a social media fitness icon internationally.
---

Training
At the start of her journey into fitness, Bethany felt too intimidated to lift weights in the gym. However, after becoming tired of training on the cardio machines, she finally began pumping iron – and she hasn't looked back.
Bethany now knows the importance of weight lifting when aiming to sculpt a lean, curvy figure. She believes that this has been key to unlocking her muscle-building potential and gaining an impressive butt.
When giving advice, Bethany tells her followers that it's important to drop the weight and focus on form to avoid injury.
"Don't be afraid to drop the weight and train correctly. Remember that you're training for yourself, not to impress others. Form over weight, always." – Bethany Tomlinson
Workout Routine
Here's Bethany's lower body training session:
Hamstring Curls – 4 x 10 reps
Stiff-leg Deadlifts – 4 x 10 reps
Front Squats – 4 x 10 reps
Sumo Deadlifts – 4 x 6-8 reps
Hamstring Curl Finisher – 1 set until failure
---

---

Nutrition
After making mistakes early in her fitness journey, Bethany has learned about the importance of nutrition; she's educated herself in this field, and has figured out exactly how many calories she requires to lose or gain weight.
However, she is a strong advocate of eating a well-balanced diet, and never completely cuts carbs from her diet.
Bethany believes that restrictive diets will almost always lead to a breaking point at some point, so she avoids simple carbohydrates and mainly stick to complex carbohydrate sources (apart from on allocated cheat days).
As she weighs around 120lbs, she tries to consume 120g-130g protein on a daily basis; this ensures that she achieves her protein requirements for the day to stimulate muscle protein synthesis (growth) and keep developing her figure.
Diet Plan
Bethany's daily diet plan looks something like this:
Breakfast 
2 soya & linseed bread slices
1/2 can of low salt & fat baked beans
1 light cheese slice
1 large egg
Lunch
1 can tuna
2 tbsp light mayo
Red pepper
Plum tomatoes
New potatoes
Post Workout Snack
Protein yoghurt
Handful of blueberries
Dinner
Turkey mince
1/2 Red pepper
Few slices of Zucchini
1/2 red onion
Tomato sauce
1 cup cooked rice
Snack 
---

---

Idols and Influences
Bethany considers her parents as the people who encouraged her the most to succeed in her fitness goals. Although the death of her father shook her life, she used this to motivate her to make positive changes to her life, to make her father proud.
In terms of idols in the fitness industry, Bethany names Katy Hearn as her main source of inspiration; she states that Katy's impressive transformation helped instill her with the belief that making radical changes to her figure was possible.
---

---

What We Can Learn From Bethany Tomlinson
Bethany has battled through tough times, fighting against her confidence issues, as well as the death of her father. However, she didn't let this destroy her life.
Instead, she found the determination to transform herself, both physically and mentally, to make her father proud.
Not only that this resulted in Bethany experiencing a serious increase in self-esteem, but by becoming a social media fitness icon, she uses her platform to help inspire others to succeed on their fitness journey.
What we can take away from Bethany's story, is to never give up in the face of adversity, and be willing to help others once you find yourself in a privileged position.