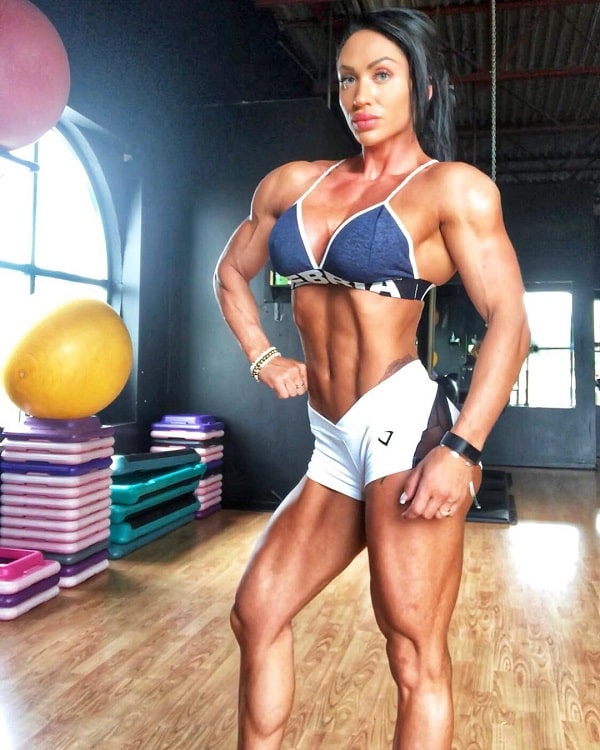 Azaria Glaim
Figure Competitor, Fitness Model
Azaria Glaim is an IFBB Figure Pro competitor and fitness model. She's become the youngest ever IFBB Pro from Canada, after winning the 2014 Canadian Nationals.
Initially, Azaria got into weight training in order to stay healthy and get in shape.
However, within months after she started training, Azaria's physique improved so much that other people started telling her that she should compete. Azaria thought "why not give it a shot?" but she didn't think this would amount to anything.
To her surprise, Azaria won her debut show, and two more shows after that. This included the Canadian Nationals, a victory that launched her into the IFBB Pro circuit.
This is her story:
---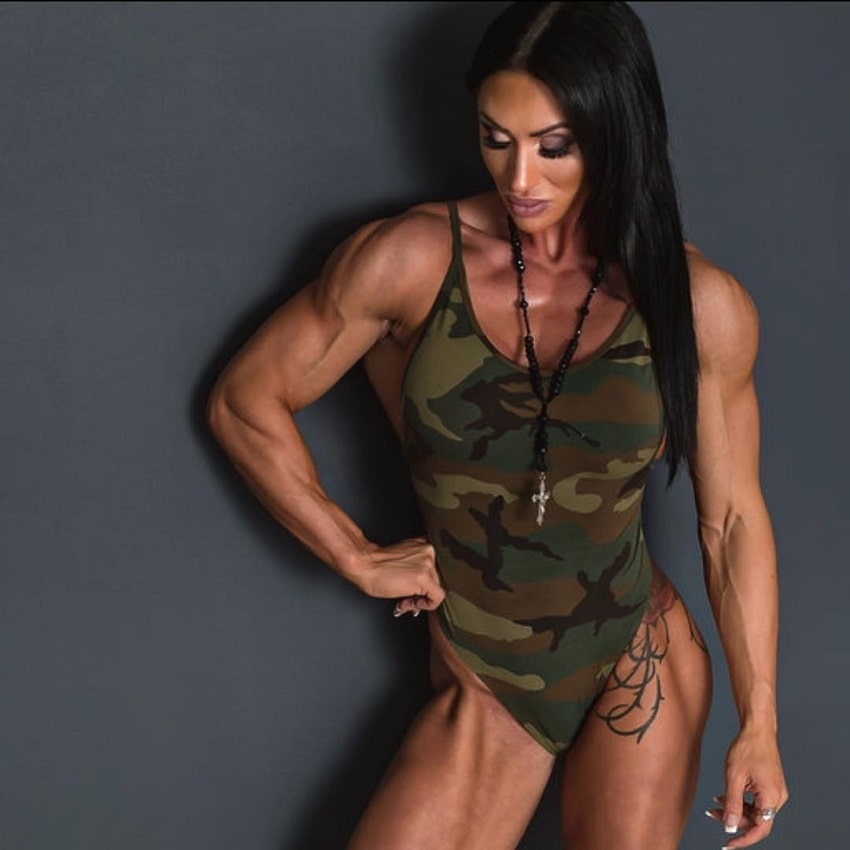 Athlete Statistics
Full Name: Azaria Glaim
Weight
Height
Age
Date of Birth
125 - 135lbs (56.7 - 61.2kg)
5'3" (160cm)
30
September 16, 1993
Nationality
Profession
Era
Canadian
Figure Competitor, Fitness Model
2010
| | |
| --- | --- |
| Weight | 125 - 135lbs (56.7 - 61.2kg) |
| Height | 5'3" (160cm) |
| Age | 30 |
| Date of Birth | September 16, 1993 |
| Nationality | Canadian |
| Profession | Figure Competitor, Fitness Model |
| Era | 2010 |
---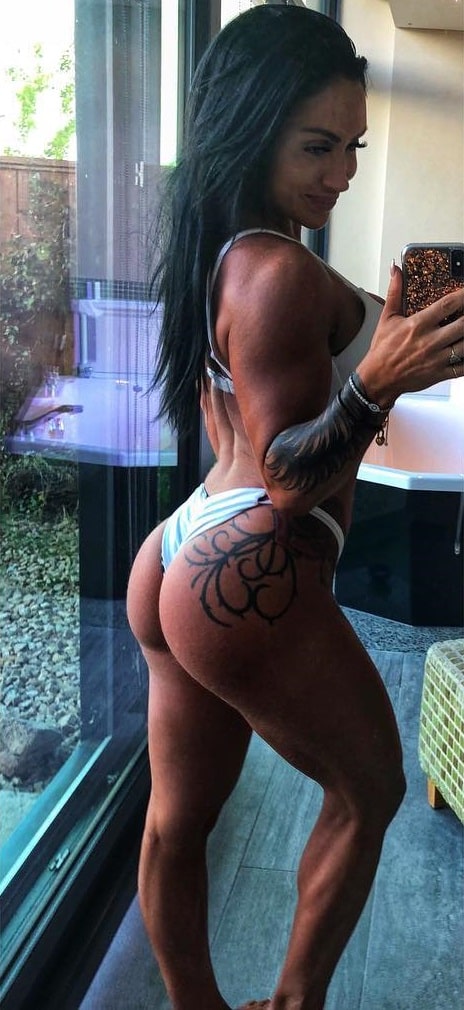 Accomplishments
2014
Provincials, 1st place
Canadian Nationals, 1st place, earned the Pro Card
2015
Toronto Pro Supershow, IFBB Figure Class, 3rd place
Vancouver Pro, IFBB Figure Class, 5th place
2016
Governors Cup, IFBB Figure Category, 16th place
Miami Muscle Beach Pro, IFBB Figure Class, N/A
Vancouver Pro, IFBB Figure Class, 2nd place
Rising Phoenix Arizona Pro, IFBB Figure Class, 6th place
2017
Toronto Pro Supershow, IFBB Figure Class, 5th place
2018
Vancouver Pro, IFBB Figure Class, 7th place
Toronto Pro, IFBB Figure Class, 5th place
---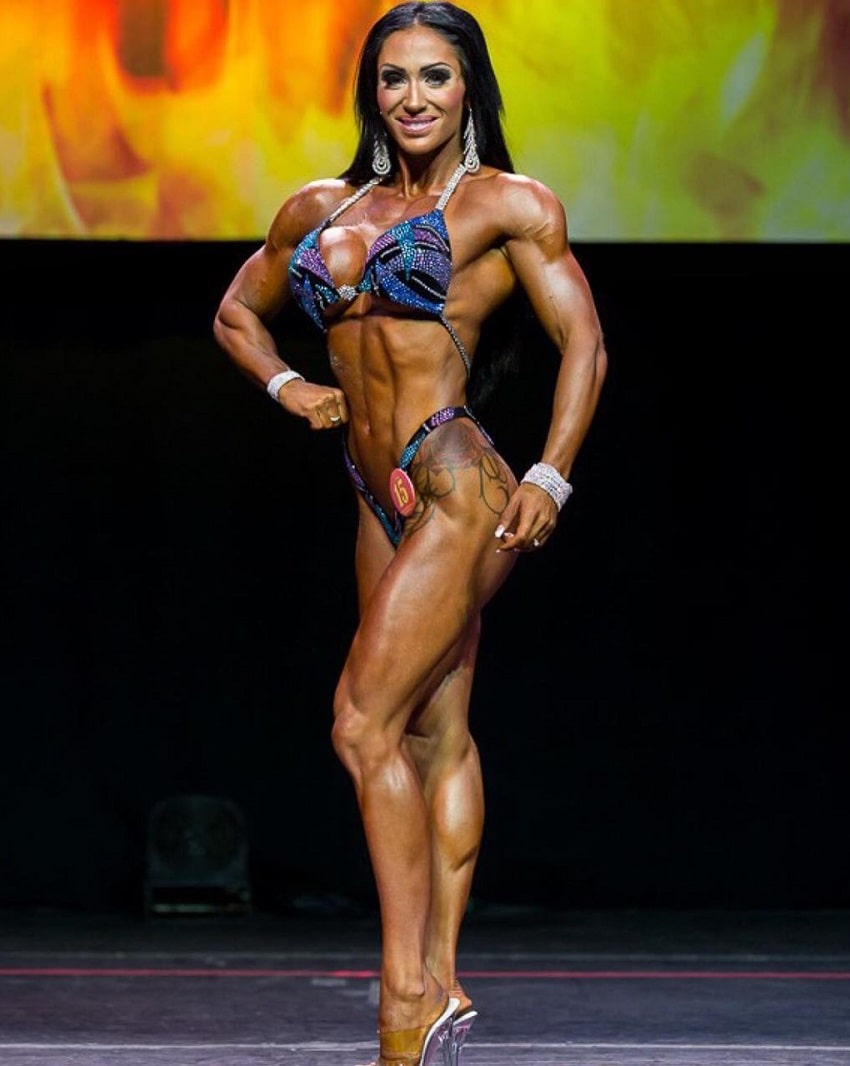 Biography
Summer of 2014 Fitness Beginnings
Azaria's fitness journey all started in the early summer of 2014. She'd been training for several months up to this point and loved the results she was getting.
"I had been training for not quite a year then but absolutely loved being in the gym. I didn't always know what I was doing but as long as I was training I felt good."
A Life-Changing Conversation
One night, Azaria went to the gym to vent her frustrations after a long and stressful day.
On her way to the gym, she met a tall man who introduced himself and told her that she will one day be an inspiration for other people.
"An extremely tall man came up to me, introduced himself and started talking all this life into me… How one day he sees me being a huge inspiration to females and males. How much potential he saw in me without even knowing me."
Azaria believed that this conversation was no coincidence, saying; "I knew there was a reason we met that night that was far greater than just a workout."
---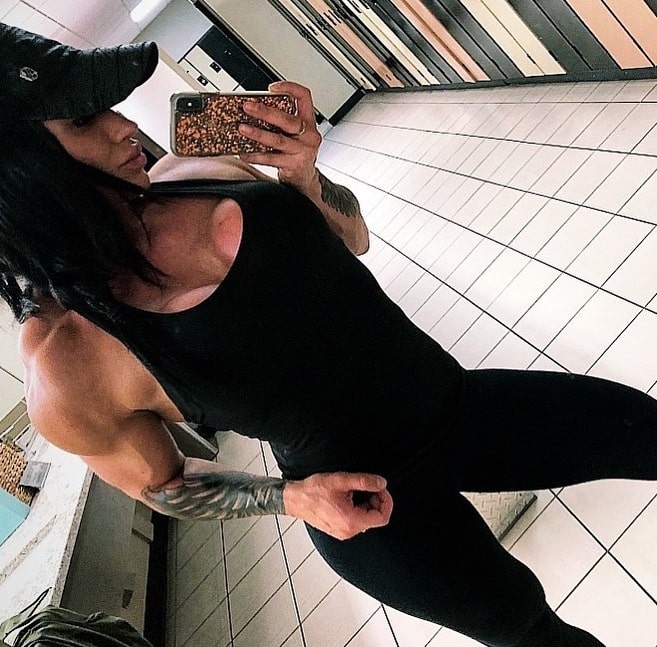 ---
Becoming a Competitor
The man Azaria had a conversation with later told her that she should compete in fitness.
Azaria was reluctant at first because she felt she wasn't ready to compete. She said: "Competing was something that always intrigued me but from dealing with anorexia and eating issues I never fully had seen myself in that way."
However, on second thought, Azaria realized that she had nothing to lose; deciding to give competitions a go.
"I went over it, chatted with my husband Brodie and I made the decision from a pure gut feeling to give it a shot."
---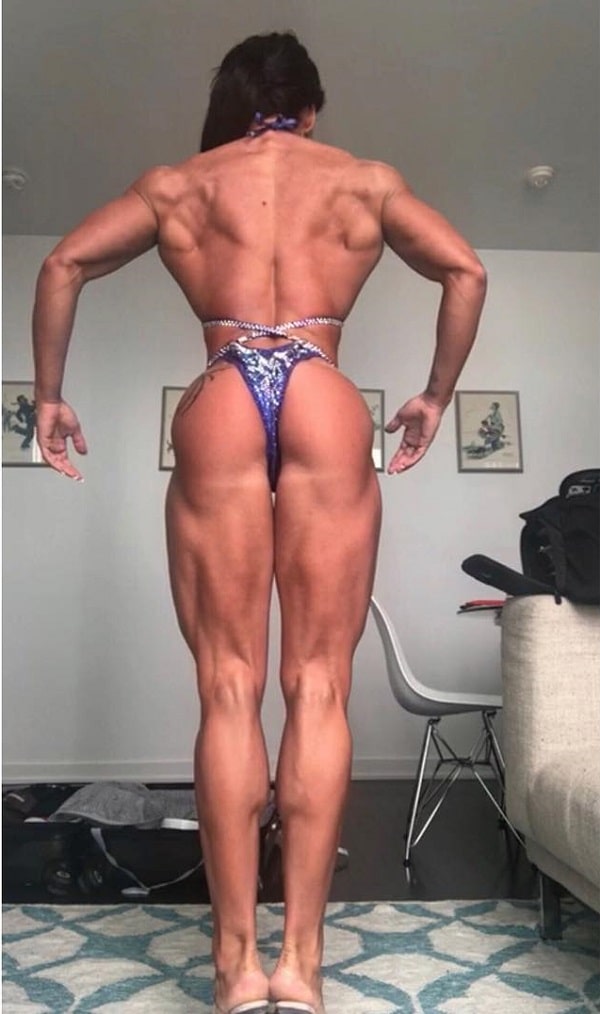 ---
First Show
As a part of her contest preparations, Azaria met her coach who helped her with training, dieting, and posing.
As soon as the two met, the coach saw incredible potential in Azaria. She said: "he was blown away with me, saying "you will be a professional athlete by the end of 2014." I giggled and smirked at him, allowing him to dream big without doubtful interference."
Becoming the Youngest Canadian to Turn Pro
It turned out that the predictions of Azaria's coach were correct. After several months of preparations, Azaria competed in her first show taking home 1st place.
She then achieved another victory at the Provincials just one week later, taking the overall title. Then the biggest test came.
Only two weeks later, Azaria stepped on the stage at the 2014 Canadian Nationals. At 20 years of age, she won both her class and overalls, leading her to become the youngest Canadian in history to turn Pro.
Following the show, Azaria said; "My coach, Darren, is a man of his word. If you put in the work, you'll reap the results."
---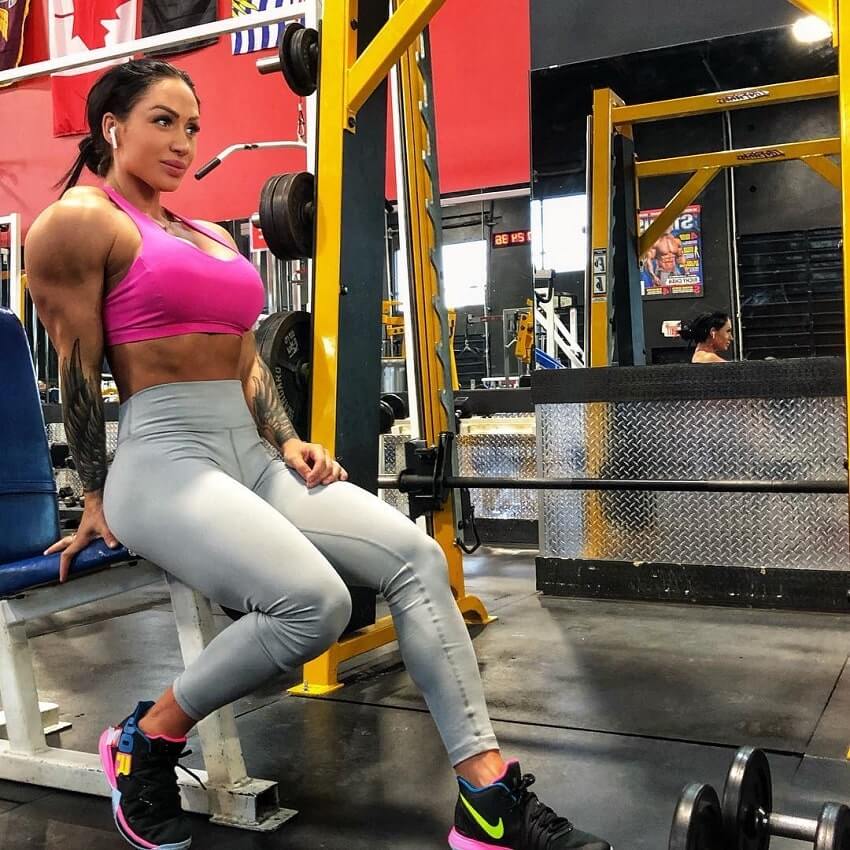 ---
Azaria Glaim Today
Ever since winning her Pro Card, Azaria has competed in the Pro Circuit against some of the best athletes in the world. These shows include:
Toronto Pro Supershow
Vancouver Pro
Miami Muscle Beach Pro
Rising Phoenix Arizona Pro
Azaria continues to push her boundaries, both on and off the stage, and looks set to achieve new milestones in her booming career as a figure competitor.
---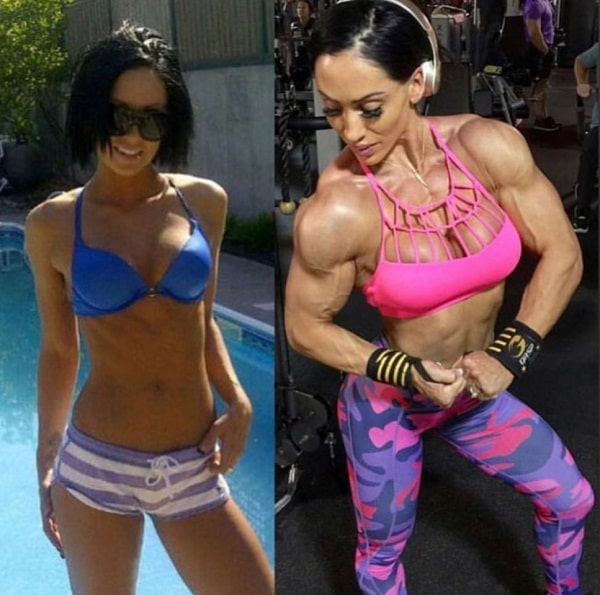 Azaria Glaim before and after she discovered fitness & bodybuilding.
Training
Training Overview
Azaria's training routine is extremely structured. She has her workouts written on paper, including exercises, reps, and sets.
She lifts heavy weights throughout the year in order to "build muscle maturity". Her focus lies on her back and leg muscles, along with keeping her waist lean and tight.
Azaria only takes rest days when it's absolutely necessary. She believes that in order to get ahead in her sport, she needs to be 'obsessed' with it.
"You can't be balanced, because that won't get you ahead."  – Azaria Glaim
Back Training Tips
Azaria typically trains back once per week. But she admits she can't always stick to this rule, as she loves training her back even on rest days.
She starts her back workouts with wide-grip pulldowns to engage and warm-up her lats. After this, she proceeds to working sets, doing 15-20 reps per set.
As the workout progresses, Azaria starts introducing drop sets to ramp up the intensity. "After I can't lift heavier weights, I just add drop sets".
However, during the contest prep, Azaria won't lift as heavy as she can; instead, focusing on lighter weights with 12-14 reps per set.
---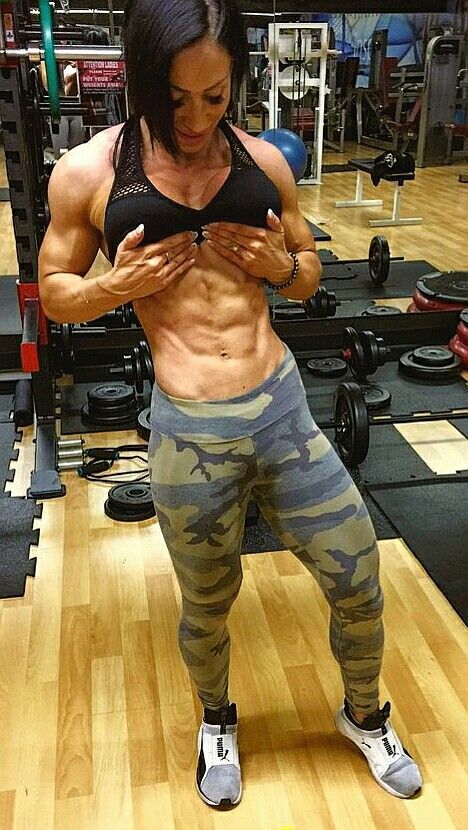 ---
Full Back Workout
Here's Azaria's back workout, explained in detail;
Exercise #1: Wide-grip pull-downs behind the neck
3-4 sets of 8-12 reps
Azaria ensures to keep her back arched in order to target her muscles more efficiently
She also makes sure that the top of the bar doesn't go above her head. According to Azaria, going further than this can only increase the chance of injury.
Her hands stay spaced out wider than her shoulders during the entire exercise.
Exercise #2: Seated Rows (Narrow and Wide Grip)
3-4 sets of 8-12 reps
At the bottom of every rep, Azaria ensures a full stretch of her lats. At the top, she keeps her back arched for maximum muscle contraction.
She switches between wide and narrow grips to target different parts of her back. "Narrow grip hits the lower lats and mid-back thickness, and wide grip hits your mid and upper back." 
Exercise #4: Bent-over Dumbbell Rows
3-4 sets of 8-12 reps
Azaria keeps her core and scapula stabilized throughout the whole movement.
She also keeps her elbows close to her body which helps to fully contract her lats.
She ensures the full stretch on her way down.
Exercise #5: Wide-Grip Pull-ups
3-4 sets of 8-12 reps
Before she begins the movement, Azaria stabilizes her scapula, holding her shoulder blades together. This way, her entire back gets engaged once she starts doing pull-ups.
She does her best to control all parts of the movement: concentric, isometric, and eccentric.
Exercise #6: Bent-over Barbell Rows
3-4 sets of 8-12 reps
Before she starts with the exercise, Azaria first stabilizes her core and scapula.
Just like with dumbbell rows, she keeps her elbows close to the torso for maximum lat contraction. Azaria says she received this tip from none other than the 6-time Mr. Olympia Dorian Yates.
---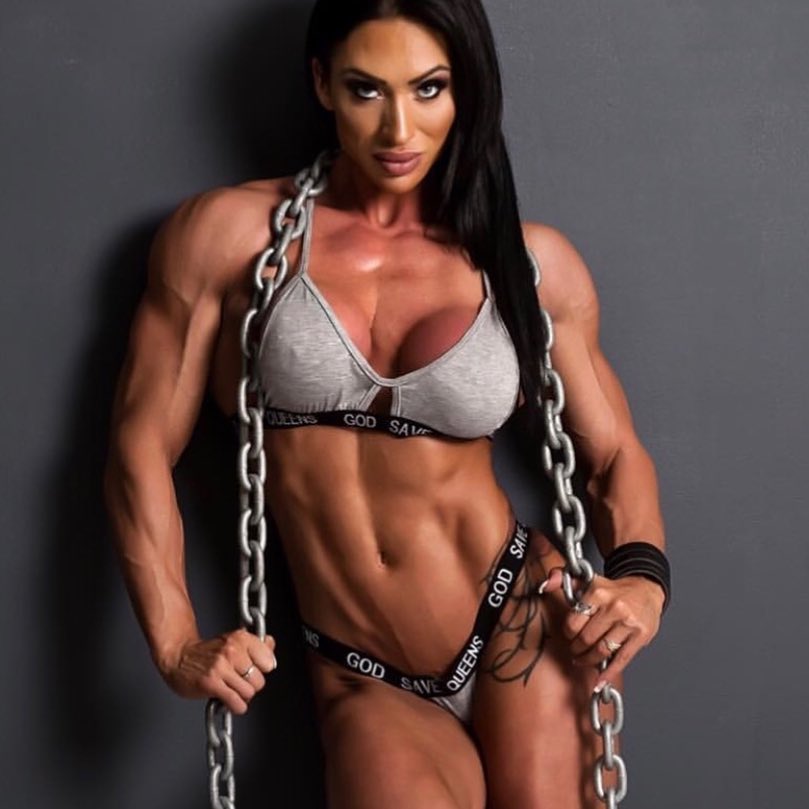 "Start to finish! If there's one thing I can say to competitors is enjoy where you are. Put in the work. Embrace everything, and be proud of yourself! There will be ups and downs but don't work off emotions!" – Azaria Glaim
Nutrition
Azaria doesn't stray too far away from her lean physique year-round.
She eats similar foods every day, regardless if she competes or not. This ultimately makes her contest preparations much easier.
However, she'll consume more calories when looking to build muscle or reshape her figure.
---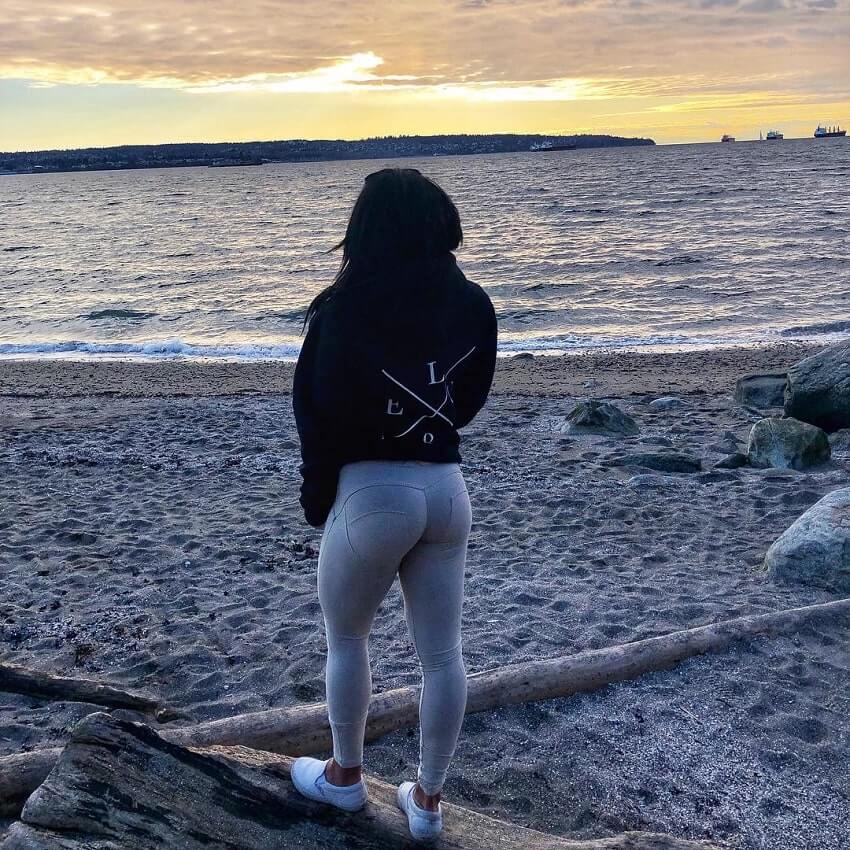 Idols and Influences
One of the key people in Azaria's road towards to top was her coach Darren. With his help, Azaria had created an awesome physique which saw her become the youngest IFBB Pro in Canada.
As she says; "I had the mindset that I could achieve it, and I had the right guidance with Darren." – Azaria Glaim
---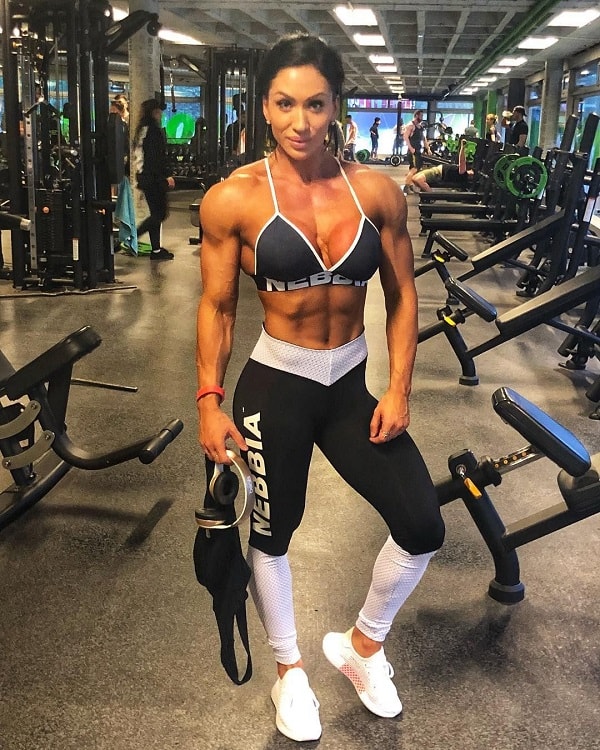 What we can learn from Azaria Glaim
Azaria Glaim wasn't always planning to become an athlete, but after the opportunity presented itself, she took the leap of faith and hasn't looked back since.
Her story teaches us the importance of courage. Believe in yourself, take bold decisions, and success will find you sooner or later – just like we've seen with Azaria.