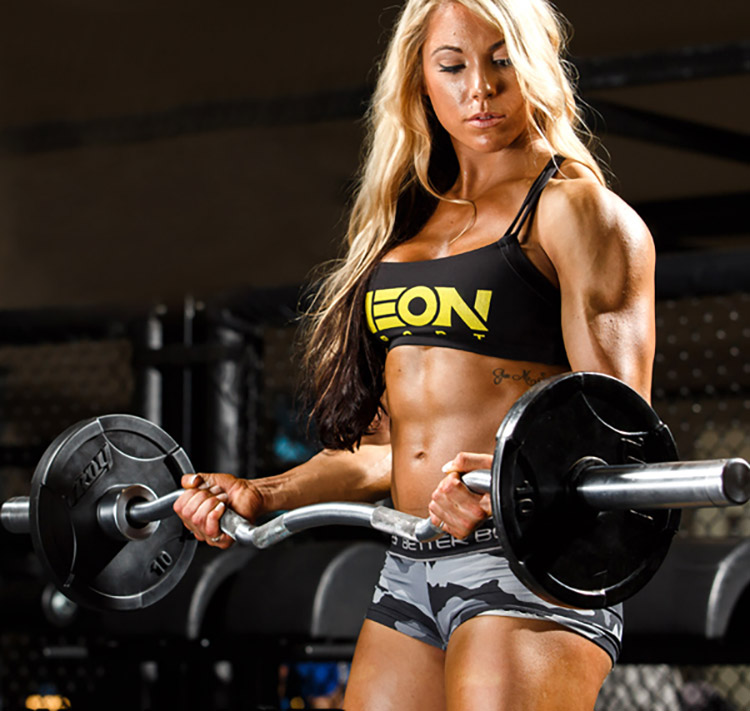 Ashley Sarina Hoffmann
WBFF Fitness Pro, Online Coach
Born in 1988, Ashley Sarina Hoffman was involved in sports before she entered kindergarten, and by the time she reached high school, she was a top athlete in every sporting activity she participated.
As years passed and Ashley entered college, she began to slip away from training and started to develop bad habits, which started to catch up to her. Ashley wasn't happy with the situation she was in. She started going to the gym with a close friend and eventually got back in shape.
Since her transformation back into fitness, Ashley has become a celebrity in the fitness world with numerous show titles as well as being a successful online personal trainer, who continues to lead and inspire people worldwide.
This is her story:
---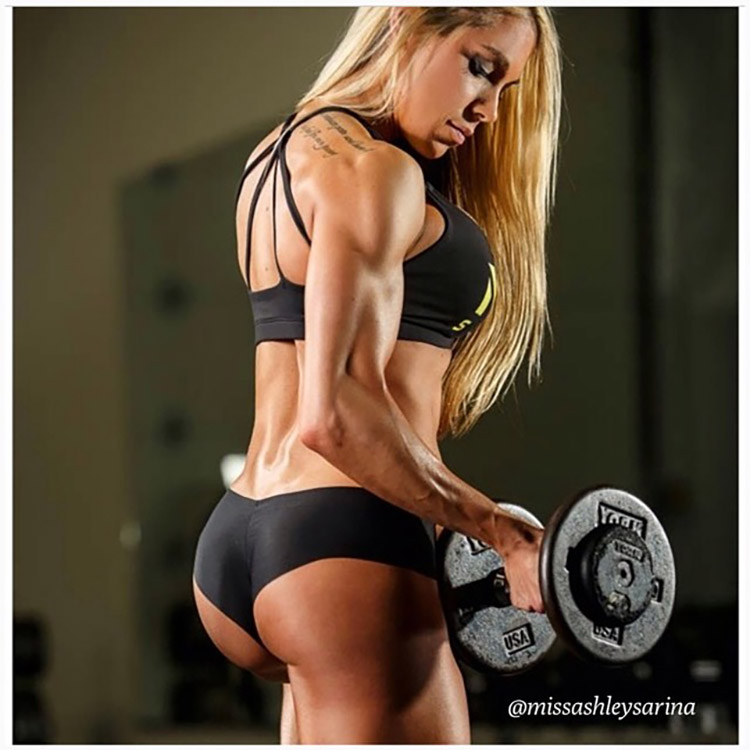 "Shredded or not, the weight feels the same. Your intent should be the same. Your effort should be the same."
Athlete Statistics
Full Name: Ashley Sarina Hoffmann
Weight
Height
Nationality
Profession
125 - 135lbs (56.7 - 61.2kg)
5'6" (167.5cm)
American
WBFF Fitness Pro, Online Coach
Era
2010
| | |
| --- | --- |
| Weight | 125 - 135lbs (56.7 - 61.2kg) |
| Height | 5'6" (167.5cm) |
| Nationality | American |
| Profession | WBFF Fitness Pro, Online Coach |
| Era | 2010 |
---
"One day it just clicks. You learn to care less about what other people think of you and more about what you think of yourself. And you smile. You smile because you are truly proud of yourself and the person you fought to become. You are flawed. Yet, you are beautiful."
Accomplishments
Competitions
2012 NPC Fox Cities Showdown: Bikini B Class – 1st Place
2012 NPC Fox Cities Showdown: Overall Bikini Champion
2012 NPC Natural Northern USA Championship: Bikini D Class- 1st Place
2012 NPC Natural Northern USA Championship: Overall Bikini Champion
2013 WBFF World Championship: Awarded Pro Card-Fitness Diva division
2013 NPC Jr Nationals-Chicago: Top 10
2013 NPC Team Universe: Top 20
Achievements
WBFF Fitness Professional Athlete
Fitness Gurls Magazine Cover Model
Muscle & Body Magazine Cover Model
com Bodies Of Work Volume III
Neon Sport Sponsored Athlete
FitmarkBags Athlete
Violate The Dress code Athlete
Contributing writer for Bodybuilding.com articles
Fitness Author
Personal Trainer/Online Wellness Coach
Rated one of the top fitness models and top glutes in the fitness industry
---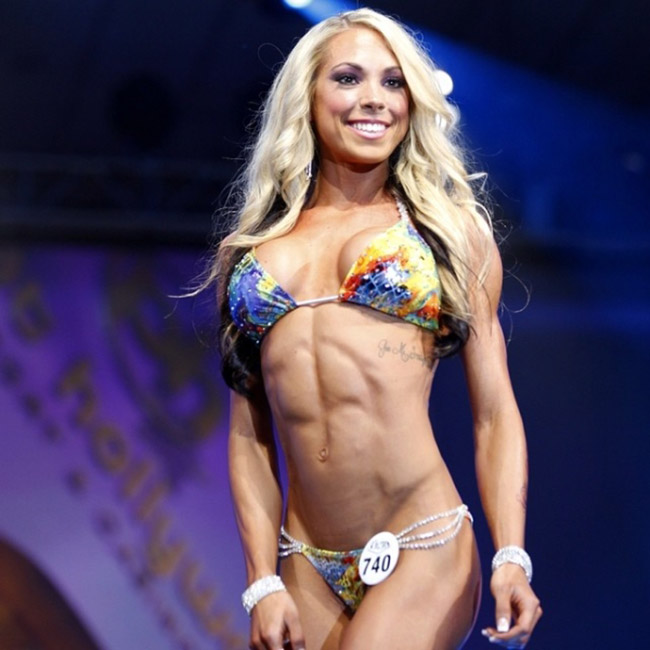 "I no longer look at myself in the mirror and rip myself apart. I no longer compare myself to millions of other girls. I'm confident in my skin, mind and heart. There is nothing wrong with being competitive but when you start to pick out your flaws and think you're not enough, that's when your mindset is not where it should be. A happy mind = a happy soul."
Biography
Childhood And Teens
Ashley was born on January 31, 1988, in Milwaukee, and ever since she was a child, Ashley would partake in different athletic activities and she was always competitive.
She was an avid track and field athlete who also competed in the triple jump and100 and 300 hurdles. Ashley also enjoyed horse riding when she was younger, however, as Ashley says; "that died out as soon as I graduated high school."
As she was growing up, Ashley developed a habit of eating a lot of unhealthy food. It didn't affect her much as she was very active and had a fast metabolism, but things soon started to catch up with her.
She said; "In high school, I was involved in varsity track and field. I did every sprinting event, opens and relays. As well as long and triple jump, 100 and 300 hurdles. I was a busy bee for track and field and could get away with eating whatever I wanted since I was so active and only weighed no more than 100lbs."
---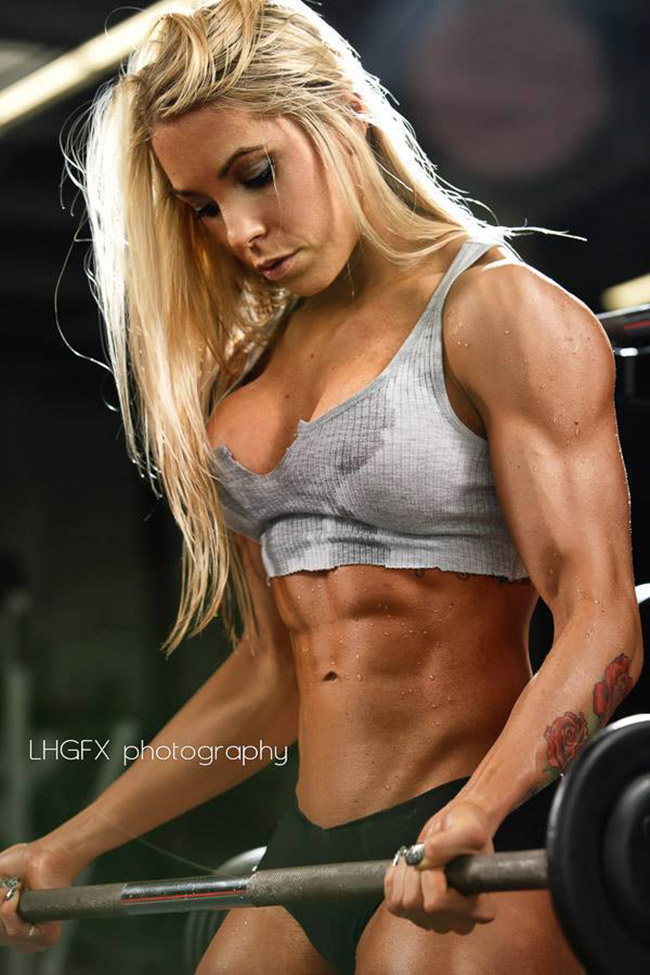 ---
College Habits
When Ashley started going to college, she completely lost track of her diet and even neglected training. She would study all week and drink alcohol on weekends, and eventually, those habits took their toll.
Her physical appearance started to deteriorate, and she was not feeling well because of it. Ashley realized she would need to change her lifestyle if she wanted to feel better.
In the meantime she pursued her passion for photography – Ashley shot wedding photography for a few years, and eventually stopped because she was unsatisfied with the look of her body.
She admitted; "However since I wasn't involved with sports or wasn't very active, I was very uncomfortable with my body. No activity and the eating habits of a teenager were catching up to me fast."
Comeback
Ashley decided to return to her old training habits and get back in shape. She also met a friend who was a personal trainer, and they started going to the gym together.
As soon as she started to eat properly along with the training and the help of her friend, Ashley quickly developed a toned body and started to feel like her old self.
Competitions
Soon after regaining her health and her awesome physique, Ashley started to compete in bikini shows. Her first show in Wisconsin took place in early 2012 which she won in both height class and overall.
She continued with a series of wins, some of them being the 2012 NPC Natural Northern USA Championship, along with the Bikini D Class- 1st Place, where she also took home 1st place as overall Bikini Champion.
Eventually, Ashley won the 2013 WBFF World Championship and was Awarded her Pro Card in the Fitness Diva division.
Ashley says; "I have lost a few very close people to me while I was training for shows. That was always very difficult for me but still made it through. I have been through some very difficult times health wise as well." 
---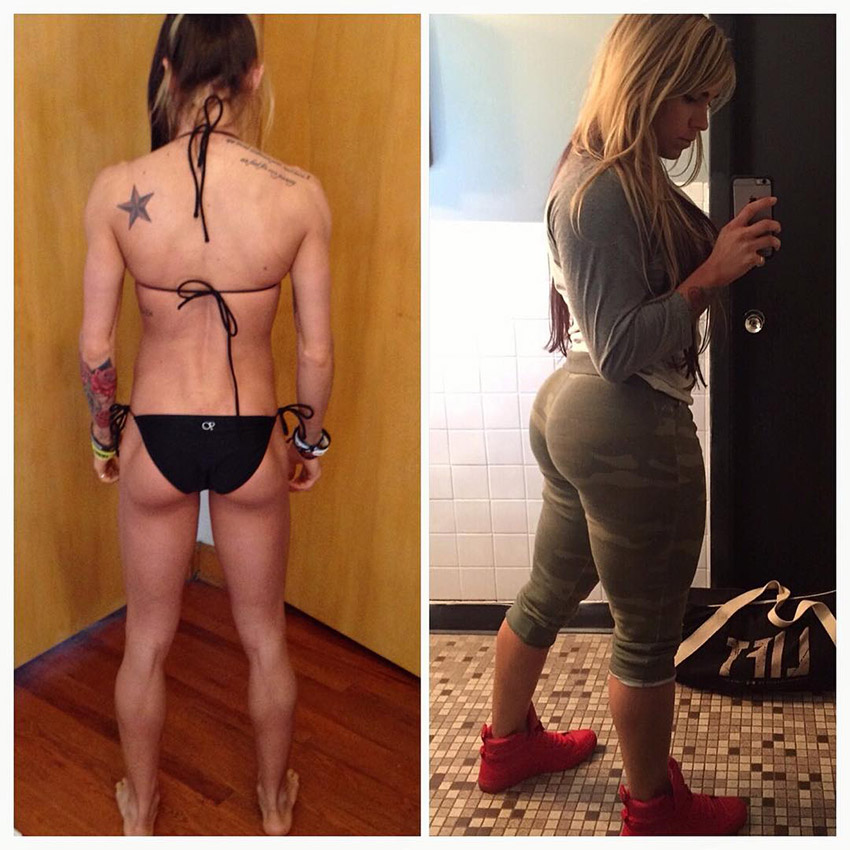 Ashley before and after.
---
Life Outside Competition
After her competition in 2013 , the NPC Team Universe, where she placed in top 20, Ashley decided to work on becoming an online trainer and grow her social media following.
Needless to say, she successfully did it and is continuously working on her business where she offers her personal training services to numerous people around the world, who only have words of praise for the aspiring American coach.
---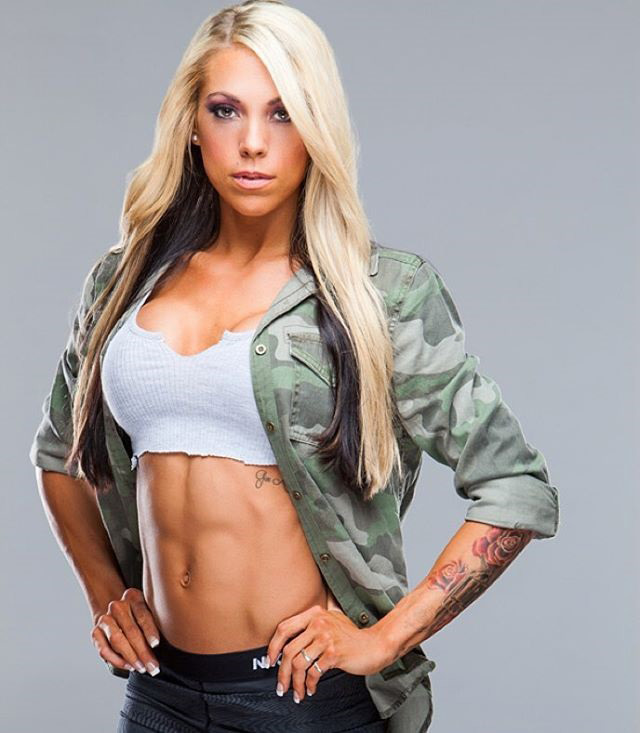 "I was addicted instantly and became even more addicted once I started seeing muscle. That was the start of it all for me."
Training
Ashley's favorite exercises are squats, deadlifts, and lateral raises. She says they provide her with the best feeling because they are exceptionally challenging, and admitted that lateral raises are by far her favorite one.
Leg Workout
Ashley is passionate when she trains legs because she believes that nothing can compare to a feeling she gets after an exhausting leg workout.
She also stresses that anyone who has problems with hip flexors and knees should properly warm up before starting with working sets.
Ashley's legs routine looks like this:
Warming up with stair stepper
Exercise 1: Back Squat
Exercise 2: Front Squat
Exercise 3: Single-Leg Extension
Exercise 4: Walking Lunge
Exercise 5: Lying Leg Curl
Exercise 6: Stiff-Legged Deadlift
Training Routine
Ashley usually has 2 different training splits which she changes every so often.
First training split:
Monday: Heavy upper body
Tuesday: Heavy lower body
Wednesday: HIIT/abs
Thursday: Hypertrophy back & arms
Friday: Hypertrophy legs
Saturday: Hypertrophy shoulders & chest/high
Sunday: HIIT/abs
Second training split:
Monday – Quad emphasis
Tuesday – Back
Wednesday – Hamstring and glutes
Thursday – Chest and shoulders
Friday – Arms and abs
Saturday – Quads, hamstrings, and glutes
Sunday – Rest
---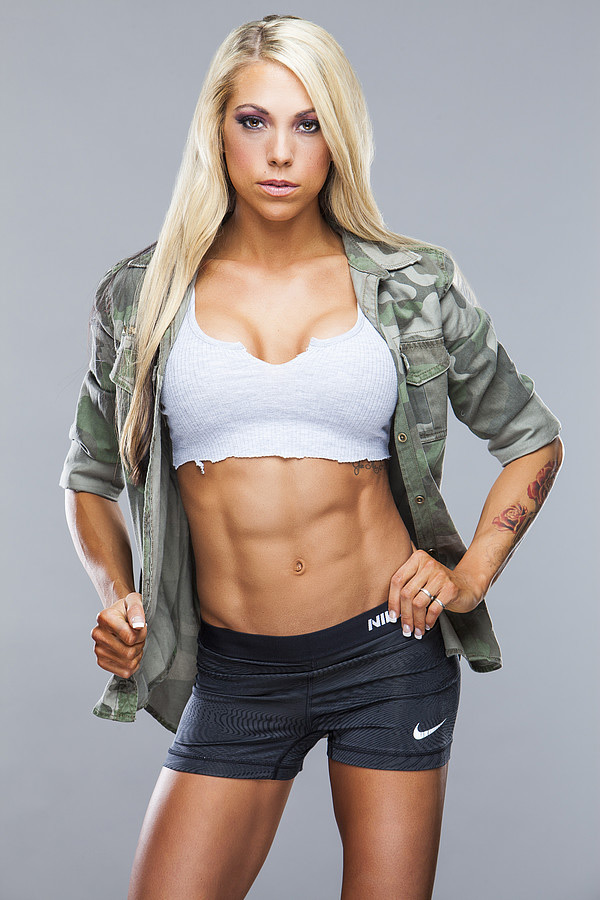 "Keeping variety in your diet will help break up the monotony. I incorporate different protein, carb, and fat sources on a regular basis so that I'm never bored."
Nutrition
The American sticks to 100% organic, whole foods. She believes that "you are what you eat", and by fueling her body with quality foods, she says that her physique is on point all year round.
Her diet consists of eggs and protein powder, fruits and lean meats. As a source of carbohydrates, Ashley eats whole grain products. Nut butter, nuts, avocados, and coconut oil are her sources of fat.
Ashley also mentioned vegetables as one of the most important parts of her diet and said that she has a serving of vegetables in every meal.
Occasionally, Ashley allows herself a cheat meal because she believes that it is not detrimental to her diet, as long as it fits her macros.
Supplementation
Ashley's favorite supplements are BCAAs and L-carnitine, along with vitamin c, multivitamin, and fish oil.
---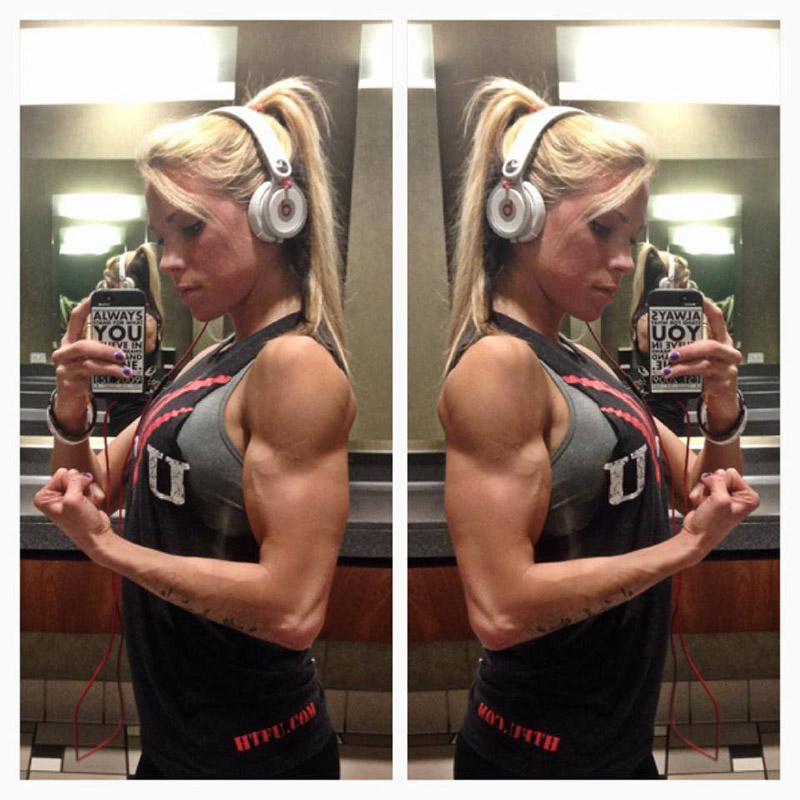 "The world will always judge you. So live your life the way you want to. Be weird. Be happy. Stop being concerned with what people will think of you. Don't let judgment from outsiders stop you from being you. Let the Internet voice their opinions because you shouldn't live your life being what others want you to be. The social media world is fast to judge based on appearance. So let them judge. Be real. Be you."
Idols and Influences
Ashley admitted that she looks up to Danna Linn Bailey the most. She says that Dana's videos motivated her to go to the gym, and Ashley also enjoyed how Dana always use heavy weights.
She also mentions Ashley Horner as another influence in her life.
---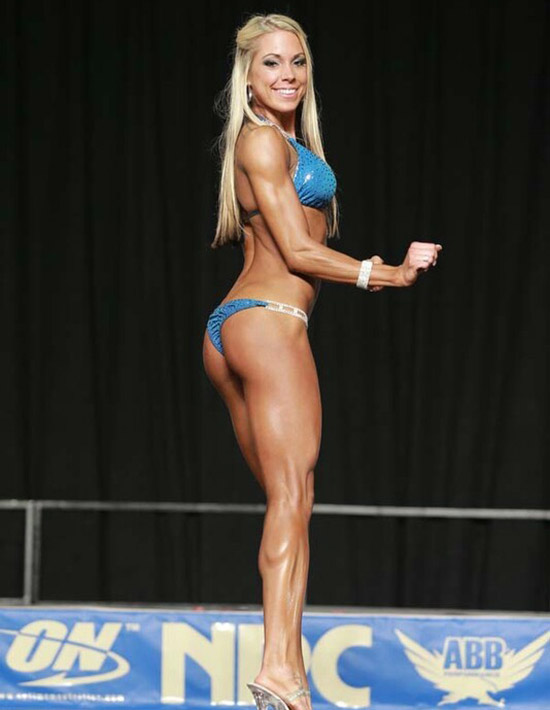 What we can learn from Ashley Sarina Hoffmann
Ashley Sarina Hoffmann showed us that failure doesn't mean the end of the road. She was on point with her training and aesthetics for most of her childhood and teenage years, but she lost track of it all in college.
Eventually, she made an incredible comeback and became more successful than ever. If we can learn something from Ashley, it's that one should never give up on our goals and dreams just because of failed attempts.
Keep working on your dreams, don't give up, and just like Ashley, you too could achieve your own greatness.