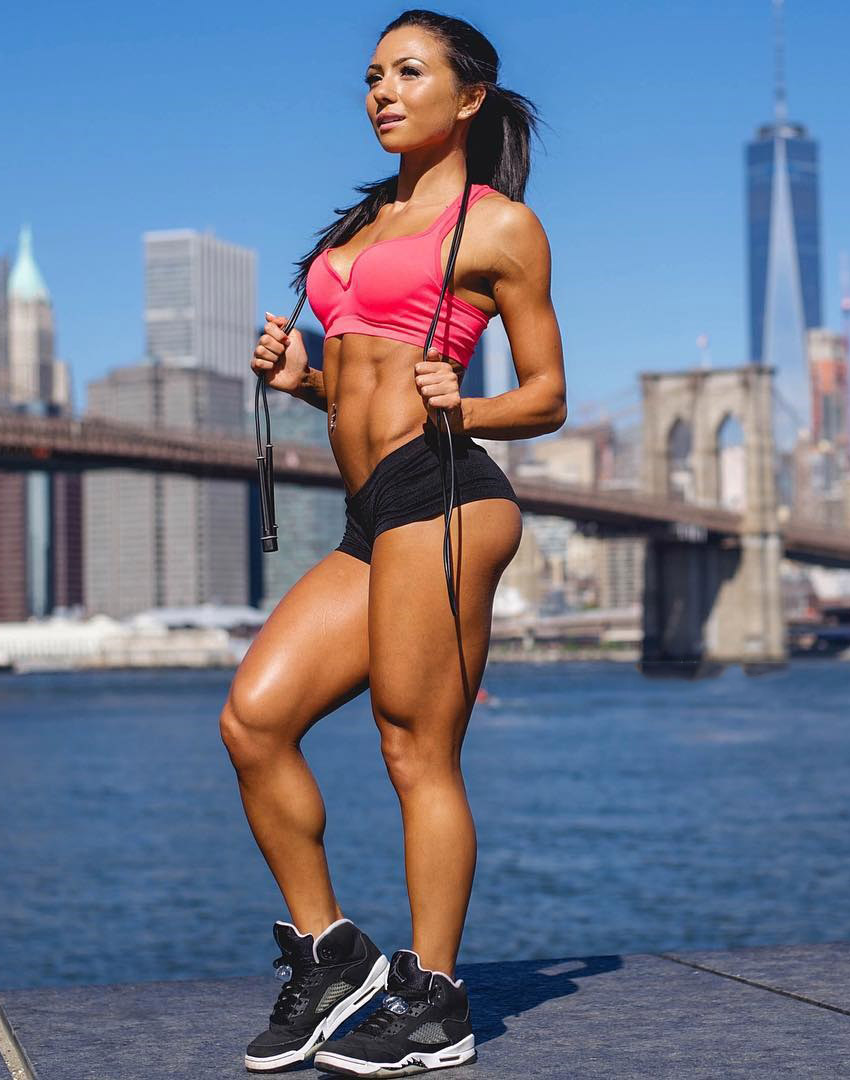 Ashley Nocera
Professional Bikini Athlete, Fitness Model
From fitness enthusiast to professional Bikini Athlete, Ashley Nocera has sculpted one of the greatest female physiques in the world.
She began lifting weights at the age of 15 as a hobby. But by 19, she'd earned her Pro Card after winning her first ever competition.
This is her story.
---

Athlete Statistics
Full Name: Ashley Nocera
Weight
Height
Year of Birth
Nationality
Under 115lbs (52.2kg)
5' (152.5cm)
1995
American
Profession
Era
Professional Bikini Athlete, Fitness Model
2010
| | |
| --- | --- |
| Weight | Under 115lbs (52.2kg) |
| Height | 5' (152.5cm) |
| Year of Birth | 1995 |
| Nationality | American |
| Profession | Professional Bikini Athlete, Fitness Model |
| Era | 2010 |
---

Accomplishments
2014 WBFF NYC Championships, Bikini Amateur, 1st (Pro Card)
2014 WBFF Las Vegas World Championships, Pro Bikini, 7th
2015 WBFF World Championships, Pro Bikini, 5th
---

Biography
Early Years
Even as a child, Ashley had a passion for fitness. She looked up to her grandfather who was a bodybuilder, fascinated by his muscle mass growing up.
At the age of 4, in 1999, Ashley began swimming and went on to compete at a high level. For the next 10 years, this sport became her life.
However, she never followed a balanced diet and hadn't developed the figure that she desired. By the age of 15, in 2010, Ashley had become unhappy with her appearance.
---

Ashley's transformation: from 15 to 18-years-old
---
Start of Fitness Journey
That same year, Ashley made it her goal to sculpt her dream physique and entered the gym. It was at this point that she started her journey into the world of bodybuilding.
For the next3 years, Ashley trained rigorously to realize her ambition, lifting weights whenever she had time. By 18, in 2013, through hard work and determination, she'd built an aesthetic physique.
After seeing her progress, Ashley had fallen in love with fitness. She wanted to take her passion further and set her sights on competing.
---

Ashley earning her Pro Card at the 2014 WBFF NYC Championships.
---
First Competition
A year later, Ashley had achieved a physique capable of competing. She was finally ready to enter her first contest.
She walked on stage for the first time at the 2014 WBFF NYC Championships. Her strict diet and intense training paid off, impressing the judges with her aesthetic figure.
Incredibly, she walked away with the trophy in her debut show. But that wasn't all – she'd surpassed all expectations and earned her Pro Card simultaneously.
By the age of 19, Ashley had become a professional Bikini Athlete.
---

Ashley at the 2014 WBFF Las Vegas World Championships.
---
Life as a Pro
Through her victory in the New York show, she'd qualified for the 2014 WBFF Las Vegas World Championships. A few months later, she entered her second contest.
Although she didn't win, she placed a respectable 7th in her first professional competition. She spent the rest of the year developing her body, preparing to compete with other professional athletes.
In 2015, she returned to the WBFF World Championships. She improved on her previous performance by placing 5th.
---

---
Online Sensation
With every show that she appeared in, Ashley gained more recognition for her great physique. It wasn't long until she'd attracted a mass of followers on social media.
By 2016, at 21-years-old, Ashley had become an online sensation. She'd become the inspiration for many fans around the world, being admired for her incredible figure.
---

Training
Ashley trains 6 days per week to maintain and develop her amazing physique. She performs high reps in sets of 3-5 depending on the exercise.
She splits her workouts into lower body and upper body sessions. In terms of cardio, she enjoys HIIT in short 1-minute intervals on the treadmill and stair master.
Workout Routine
Ashley's routine looks like this:
Monday – Lower Body
Squats 5 x 6-8
Dumbbell Lunges 3 x 20
Straight Leg Deadlifts 4 x 10-12
Barbell Good Mornings 4 x 10-12
Leg Curl 4 x 10-12
Tuesday – Arms/Abs
Dumbbell Curl 3 x 10
Hammer Curl 3 x 10
Skull Crusher 3 x 10
Tricep Pushdown 3 x 10
Dips 3 x Failure
Russian Twists 3 x 20
Cable Chops 3 x 15
Wednesday – Lower Body
Cable Kickbacks 4 x 15
Hip Thrust 3 x 15
Box Jump 4 x 10
Step Up 3 x 10
Adduction Machine 3 x 15
Standing Calf Raise 3 x 20
Thursday – Shoulders/Back/Abs
Dumbbell Shoulder Press 3 x 10
Dumbbell Front Raise 3 x 10
Pull-Ups 3 x Failure
Cable Pullover 3 x 10
Seated Cable Row 3 x 12
Weighted Decline Crunches 4 x 15
Hanging Leg Raise 4 x 15
Friday – Lower Body
Squats 5 x 8
Deadlifts 4 x 8
Leg Press 4 x 12
Leg Extension 3 x 12
Barbell Lunges 3 x 20
Abduction Machine 3 x 15
Saturday – Cardio
20 Minutes Stairmaster
15 Minutes Treadmill
Sunday – Rest
---

Nutrition
Ashley eats 6 meals a day to keep her body fuelled and metabolism high. Her diet plan consists of lean proteins, complex carbs and healthy fats.
She aims to build muscle while keeping a low body fat all-year-round.
Diet Plan:
Meal 1: ½ cup Oats and 1 scoop Protein
Meal 2: Fruit Smoothie
Meal 3: 6 ounces Chicken, ¼ cup Brown Rice and 1 cup Vegetables
Meal 4: ¼ cup Almonds
Meal 5: 6 ounces Chicken or Tuna, Salad and 1 cup Vegetables
Meal 6: 4-6 Egg Whites
Supplements Stack:
Whey Protein
Fish Oil
Multivitamin
CLA
BCAA
---
Editor's Tip
Inspired to reach your true potential? Read our review on how fat burning supplements can really up your game!
---

Idols and Influences
Ashley has inspired many fans around the world to begin their fitness journeys. However, she names her grandfather as the inspiration behind her success.
Her grandfather was a bodybuilder while she was growing up, and he shared his passion for fitness with Ashley.
---

What we can learn from Ashley Nocera
Ashley has taught us to set our aim high and work hard to reach them. She began by fulfilling her ambition of sculpting an aesthetic physique, and then exceeded all expectations by earning her Pro Card by 19-years-old.
One thing we can take away from Ashley's story is that hard work gets you results.