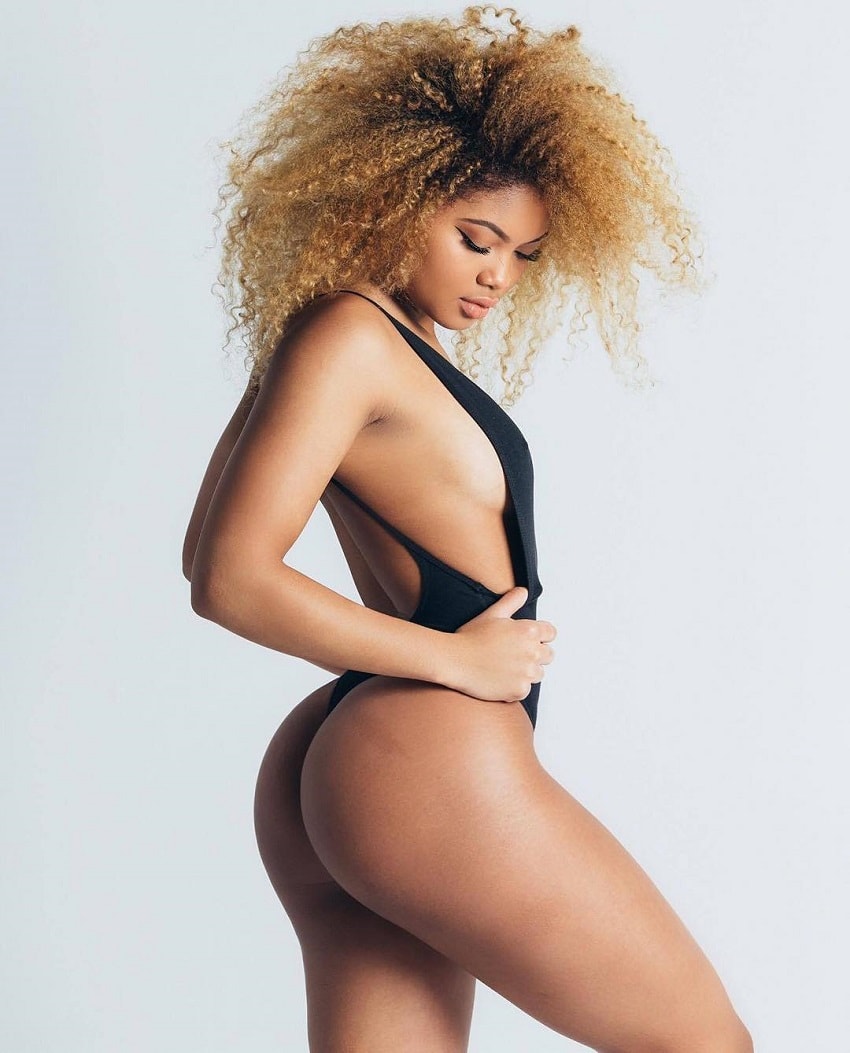 Annabelle Hayes
Fitness Model, Entrepreneur
Staying active was something Annabelle Hayes loved since she was a child. Growing up, she played sports such as soccer, volleyball, and track, and was also an avid student. However, it wasn't until 2015 that her fitness journey started.
After long and stressful days of college classes, Annabelle headed straight to the gym to train with weights. She used the 'iron' as an outlet for her frustrations. And it worked. Not only did Annabelle feel better, her physique also began improving.
As luck would have it, the fitness community was booming on social media around this time. Annabelle took advantage of this by posting photos of her body transformation online. Before long, she built an immense following base.
Annabelle now uses her influence to preach the benefits of the fitness lifestyle far and wide – this is her story:
---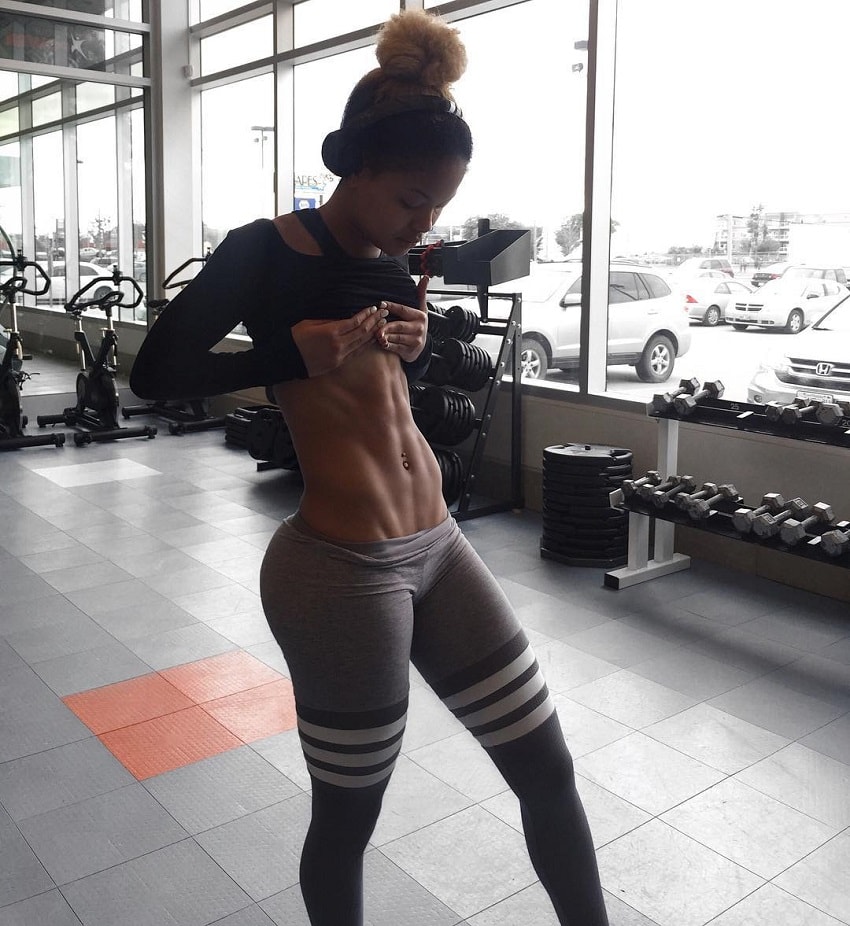 "You don't have to like the process but you'll fall in love with who it turns you into."
Athlete Statistics
Full Name: Annabelle Hayes
Age
Date of Birth
Nationality
Profession
26
December 8, 1996
Ghanian, Philippine
Fitness Model, Entrepreneur
Alias
Era
bellsebobo
2010
| | |
| --- | --- |
| Age | 26 |
| Date of Birth | December 8, 1996 |
| Nationality | Ghanian, Philippine |
| Profession | Fitness Model, Entrepreneur |
| Alias | bellsebobo |
| Era | 2010 |
---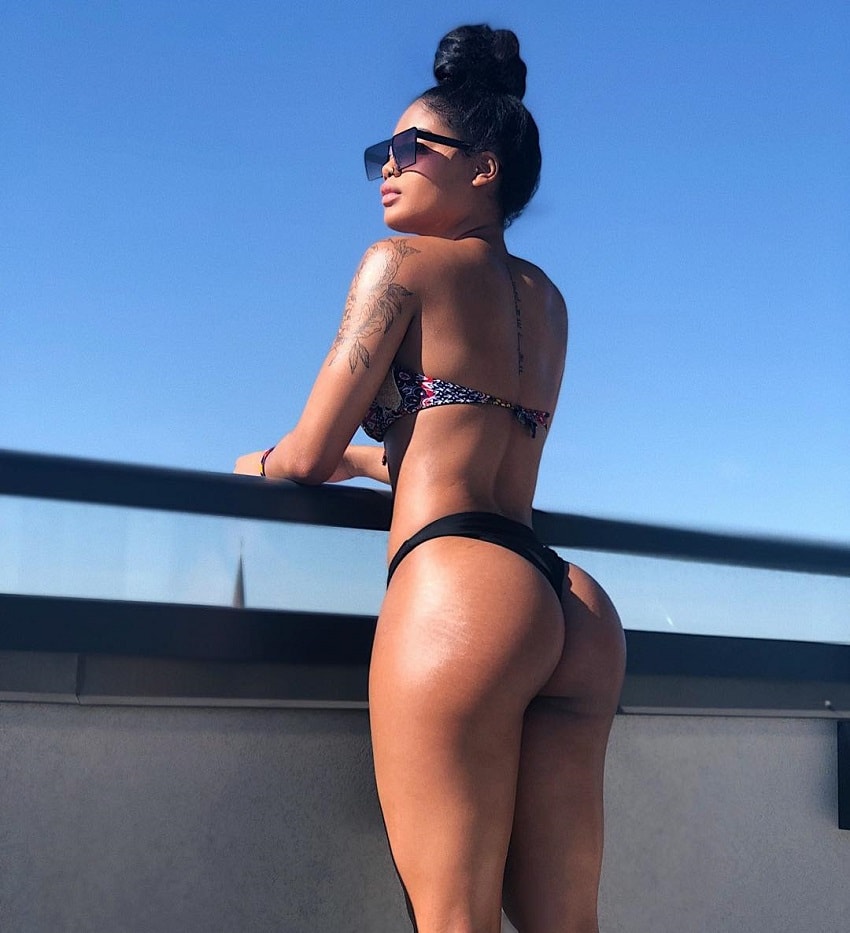 "Never allow your happiness to be determined by how the outside world reacts to you. You can't control other people's actions, words, or thoughts. All you can do is learn to adapt to each different situation without getting sensitive or emotional."
Accomplishments
Fitness Model
Online Trainer
Entrepreneur
---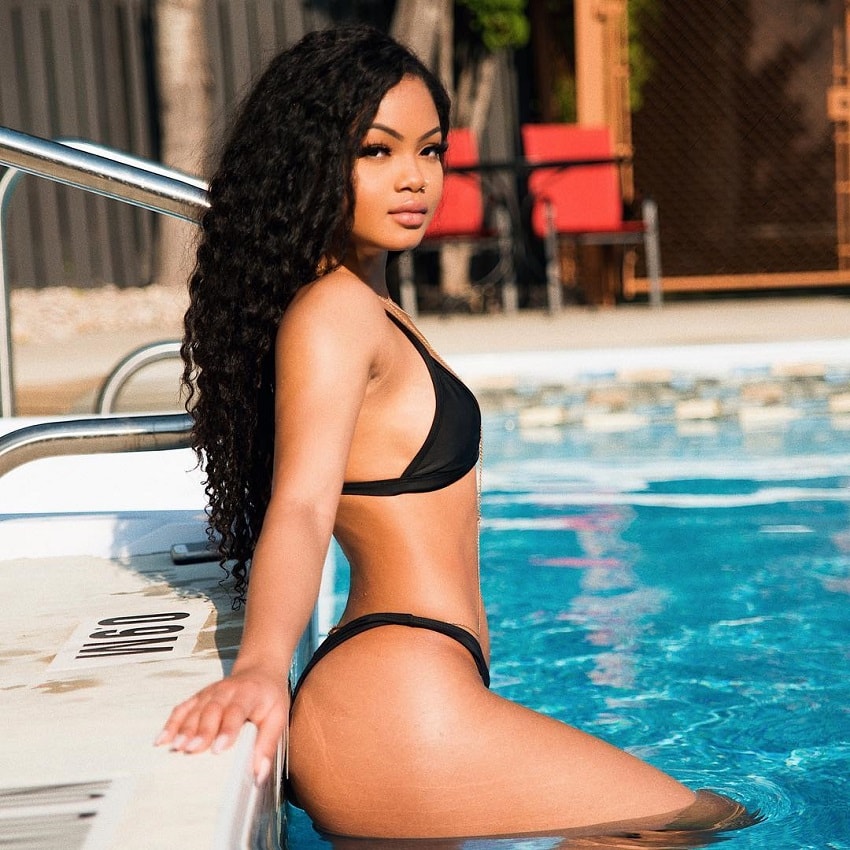 "When you know you got it, you don't spend time trying to prove it to other people."
Biography
Annabelle's Background
Half-Ghanian, half-Philippino, Annabelle Hayes loved to stay active as a youth, taking part in soccer, gymnastics, basketball, track, ballet, and volleyball. She played some of these activities as a part of her school curriculum program. As for other sports, she played them in her spare time for her own fun.
"Whether it was in school or on my personal time, I loved keeping myself physically active."
But it wasn't until 2015 that Annabelle plunged into the world of weightlifting. She was 18 at this point, and had just graduated from high school. One of Annabelle's goals during that time was to gain a fitter figure. And she thought to herself, what better way to do it than by training in the gym?
---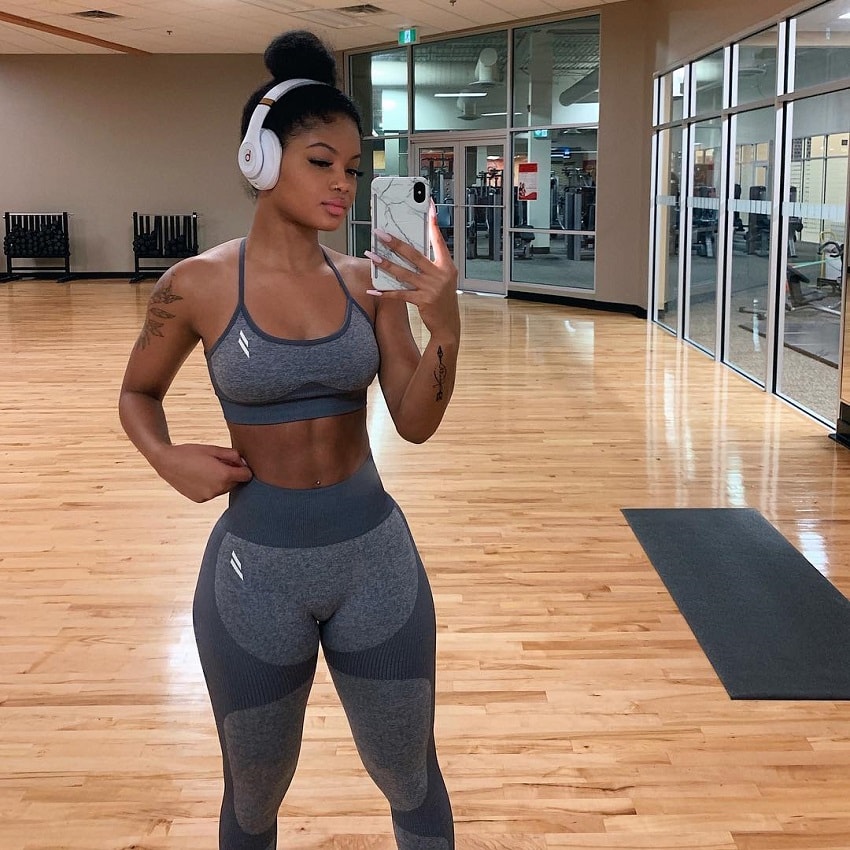 ---
Gym – a Relief From College Classes
Around the same period she took on weight training, Annabelle started going to college. She described her early college days as stressful. Gym helped her out with this immensely.
Weights became her outlet for venting the negative emotions and frustration after a long day of college classes. The gym became Annabelle's "playground" , where she spent up to 4 hours per day working out.
"I went to college and the gym became my happy place and my form of relief. I didn't start weight lifting because I wanted to look a certain way, it was because at the time I was so stressed with college and with my personal life that it became my outlet for anything if I was stressed, depressed, happy, sad, etc."
A New Path in Fitness
Before long, Annabelle's hard training began to reflect on her physique. She became fitter, leaner, and more toned. Motivated by these results, Annabelle started researching nutrition and fitness in-depth. She used all the resources she had available; internet, magazines, and other sources of information.
As her knowledge of fitness improved, so did her results. It was during this process that Annabelle started becoming really passionate about what she did. Fitness became her 'obsession'.
Eventually, Annabelle's love for fitness & health saw her enter the world of social media, where she soon began sharing pictures of her transformation.
The people who came across Annabelle's profile soon became her fans. New followers kept on coming each month, as Annabelle Hayes slowly became a name to look out for.
---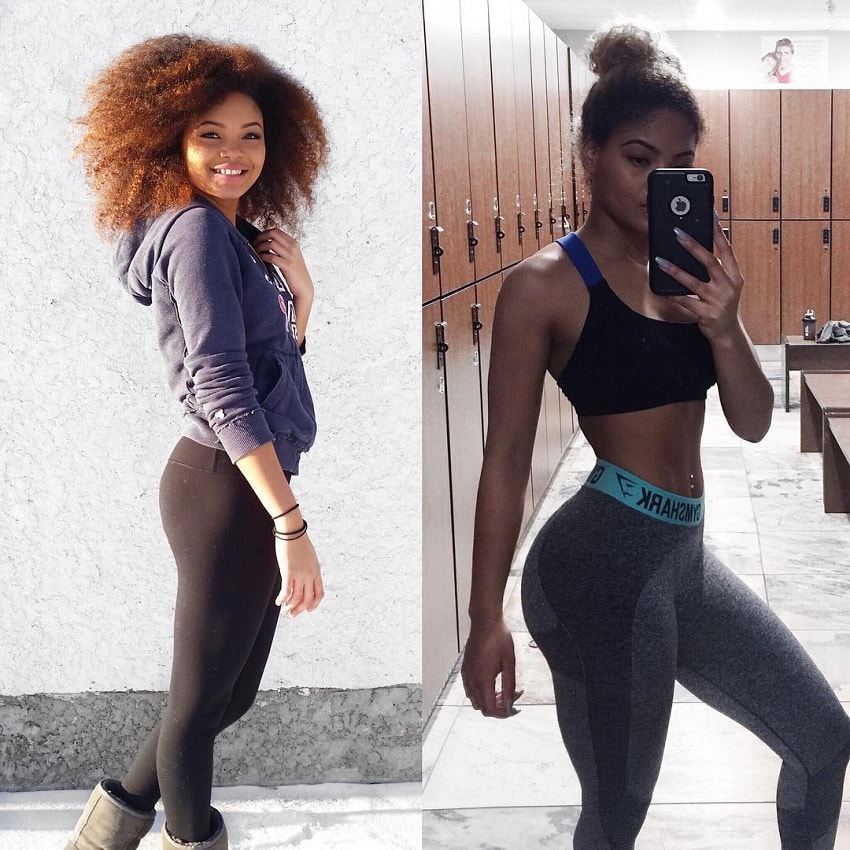 Annabelle's transformation.
---
Social Media Influencer
By the age of 18, Annabelle already had an avid following on the internet. This number continued to grow, allowing her to eventually start a career out of her love for fitness.
"Girls on social media started asking me questions about how I was able to transform my body and that's when I said to myself I wanted to help other people reach their fitness goals." – Annabelle Hayes
Annabelle's mission to help others with her fitness advice continues, as she looks set to reach even greater milestones in the coming years.
---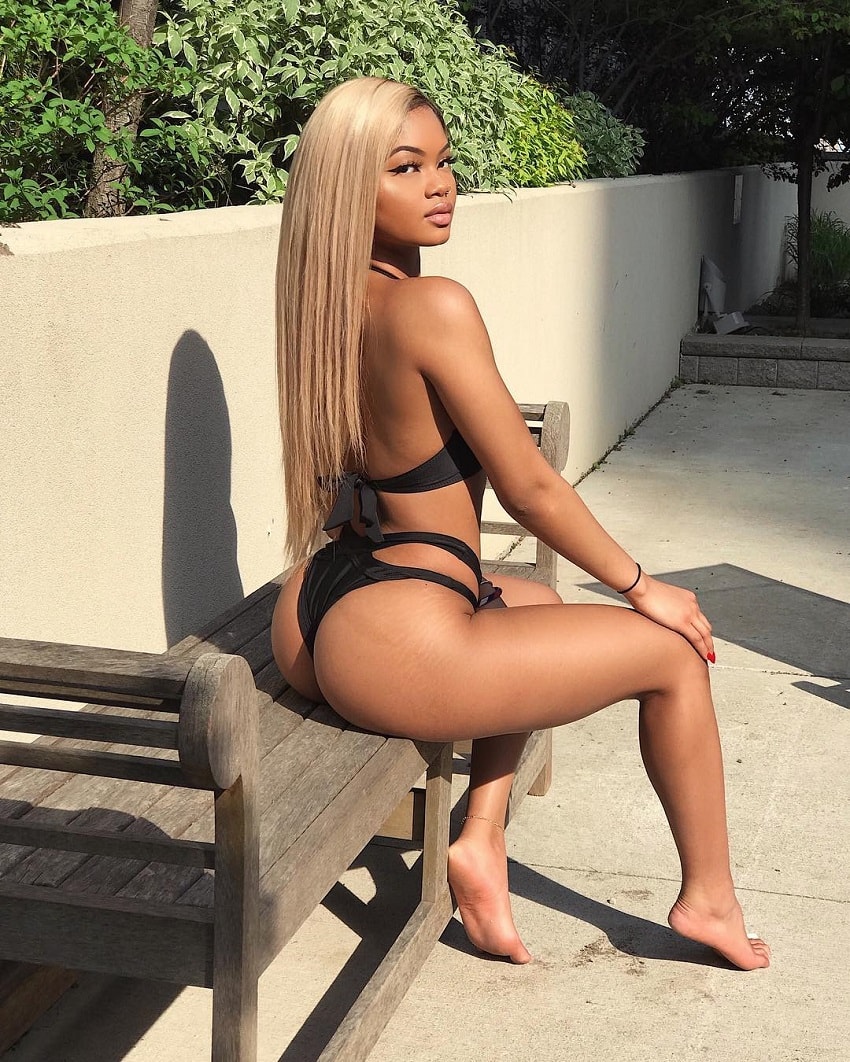 "Grind for it as much as you pray for it and it will be yours."
Training
Overview of Annabelle's Training
Annabelle Hayes does a wide range of exercises in her workouts. However, it's clear glutes and abs are some of her favorite body parts. For this reason, she loves doing exercises such as glute kickbacks, leg press, hanging leg raises, and squats.
Due to their versatility, squats enable Annabelle to work on her glutes, hamstring, quads, and core at the same time. This compound movement puts a lot of stress on her muscles, shaping and refining them like no other exercise.
In terms of workout intensity, Annabelle is a big proponent of high-volume training. Her ab workout, which can be seen below, has over 30 sets in total.
However, even though she trains with a lot of volume, Annabelle's workouts don't last very long. This is because she keeps her rest periods short, which serves two purposes; to save her time, as well as to make the workout more intense.
Glute Workout
Here's how a typical glute training session looks for Annabelle;
(Warm-up) Banded Glute Kickbacks, 4 sets of 15 reps with each leg
Glute and Hip Extensions, 3 sets of 10-15 reps
Reverse Squats on a Machine, 3 sets of 10-15 reps
Banded Light-Weight Smith Machine Squats, 4 sets of 10-24 reps
Banded Heavy-Weight Reverse Squats, 2-3 sets of 10-20 reps
Standing Hamstring Curls, 3 sets of 10 reps with each leg
Hip Abduction, 3 sets of 10-15 reps – superset hold 5 reps
Single-Legged Side Press, 3 sets of 10 reps
---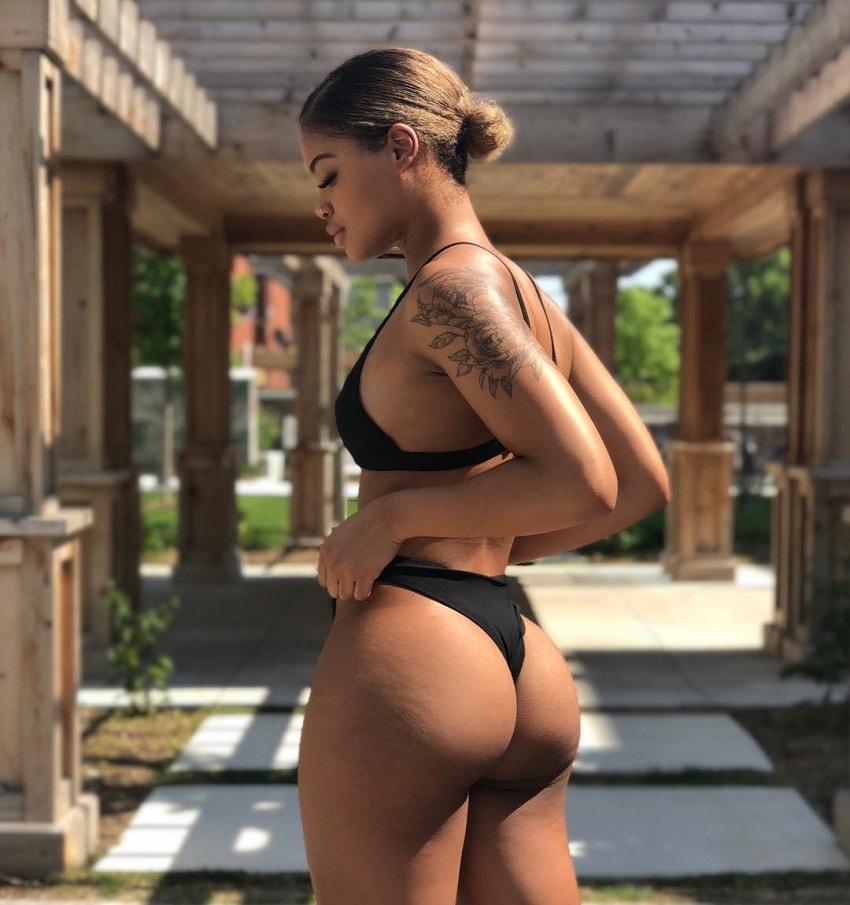 ---
Annabelle's Ab Workout
This is the workout Annabelle does to achieve lean and rock-hard abs;
(Warm-up) Medicine Ball Sit-Ups, 3 sets of 20 reps
Russian Twists, 3 sets of 20 reps
Medicine Ball Pass-Throughs, 3 sets of 20 reps
Side Crunches, 3 sets of 20 reps each side
Knee to Elbow Crunches, 1 set of 10 reps each side
Weighted Cable Knee to Elbow Crunches, 3 sets of 15 reps
Cable Abdominal Crunch, 4 sets of 15-25 reps
Abdominal Twist Machine, 3 sets of 15 reps each side
Weighted Crunches, 2 sets of 20 reps – superset with regular crunches, 2 sets of 20 reps
DragonFly Knee Touches, 2 sets of 10 reps
Dumbbell Sit-Ups, 2-3 sets of 10 reps
Stability Ball Knee Tucks, 2-3 sets of 10 reps
The Importance of Stretching
Annabelle takes time to stretch after almost every workout. Even when she doesn't have the time to stretch after a workout, she'll do it once she gets home, or in the evening before bed. Stretching improves Annabelle's flexibility, blood flow to muscles, and resistance to injuries.
---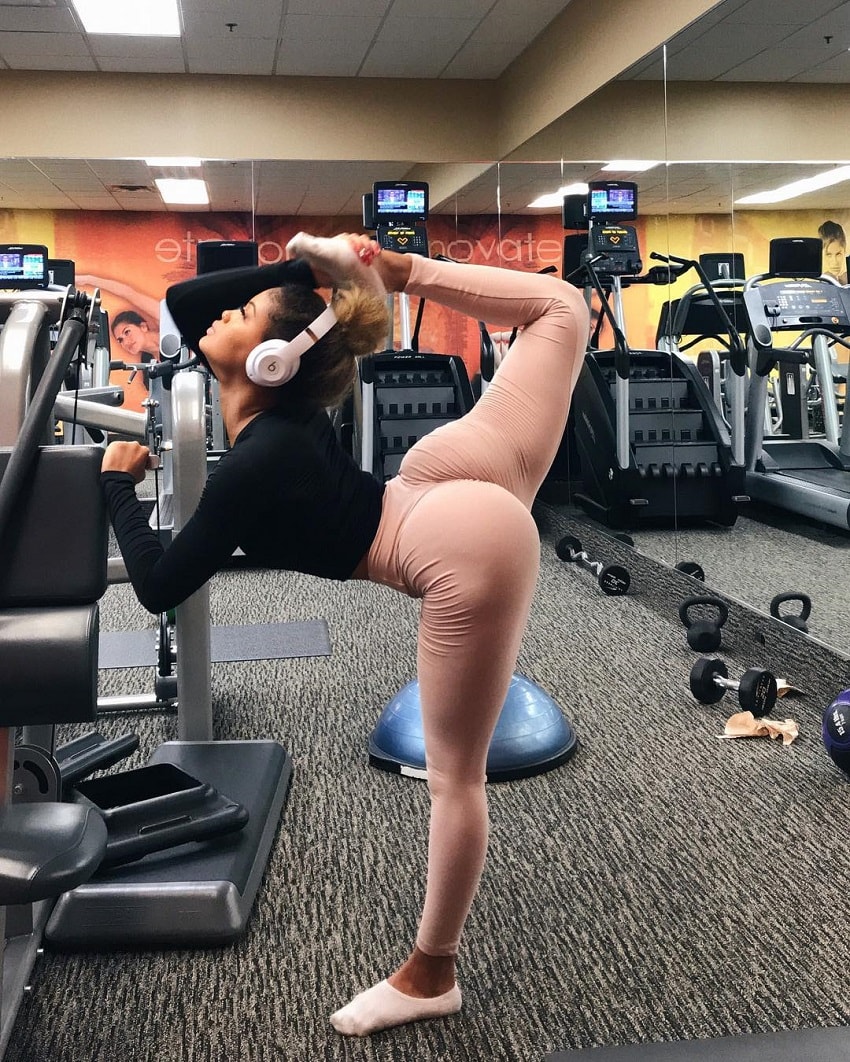 "Sore today, strong tomorrow!"
Nutrition
Annabelle Hayes knows the importance of eating healthily but also rewards herself when the time is right.
She bases her diet on nutrient-dense foods such as leafy greens, fruits, organic eggs, and chicken. Along with enjoying a tasty 'cheat meal' at the end of the week.
Greek Salad Recipe
Here's Annabelle's greek salad recipe that's low in calories and rich in micronutrients;
Ingredients:
2 small cucumbers or 1 large one
2 small tomatoes
1 tbsp olive oil
1 bell pepper (optional)
1/4 cup of olives (optional)
half an onion (optional)
2 oz ( 60g ) feta cheese (optional)
salt and pepper for taste
How to:
"Prepare the vegetables. Wash everything and peel cucumbers."
"Slice cucumbers and tomatoes, cut onions into rings and bell pepper into strips (if you have them). Combine everything in a bowl. Season, add olive oil and mix. Optional: add feta cheese on top (whole slice) and sprinkle it with oregano." – Annabelle Hayes
Total Calories and Macros:
(makes 2 portions)
120 Calories per portion
3g protein
7g fat
13g carbohydrates
---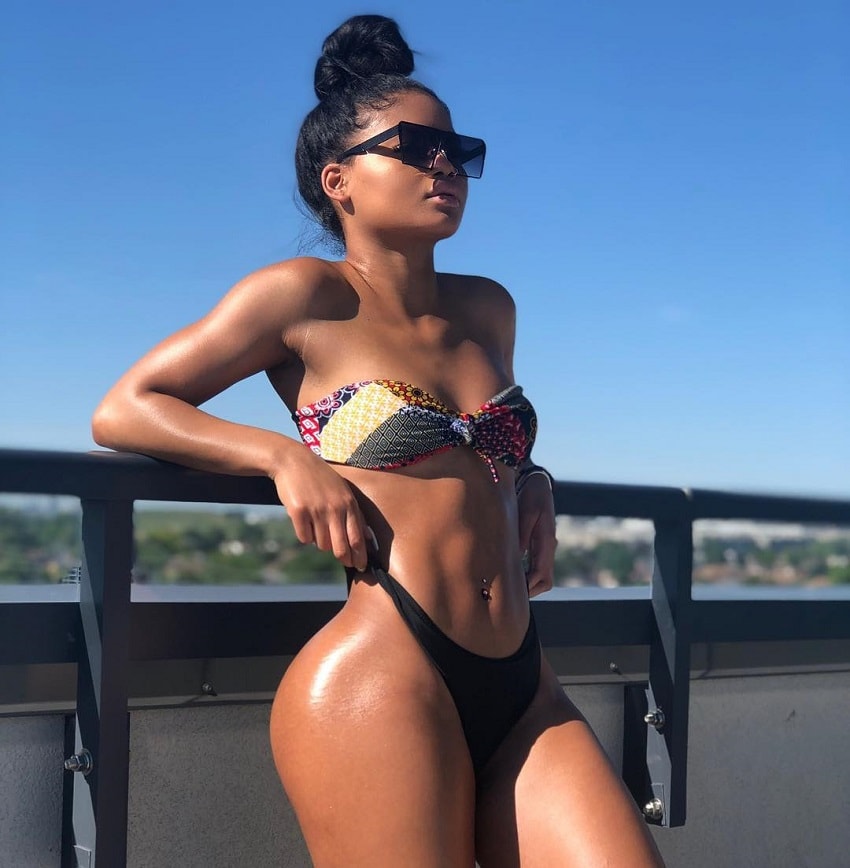 "Progress isn't achieved by luck or accident but by working on yourself daily."
Idols and Influences
Annabelle's Motivation
Results are the main source of motivation for Annabelle. Seeing her body change through consistent hard work is what keeps her going.
"Once you see the results it truly becomes an addiction, even if it was little… to me it's still progress." – Annabelle Hayes
---
"A flower doesn't think to compete with the flower next to it, it just blooms."
What we can learn from Annabelle Hayes
Annabelle Hayes has shown us that discipline can bring you amazing results in whatever you do.
Building a figure like Annabelle's certainly isn't easy; she had to put in a lot of work into every day, doing 30+ sets per workout, several times per week. As Annabelle says, "Consistent actions create consistent results." – Annabelle Hayes