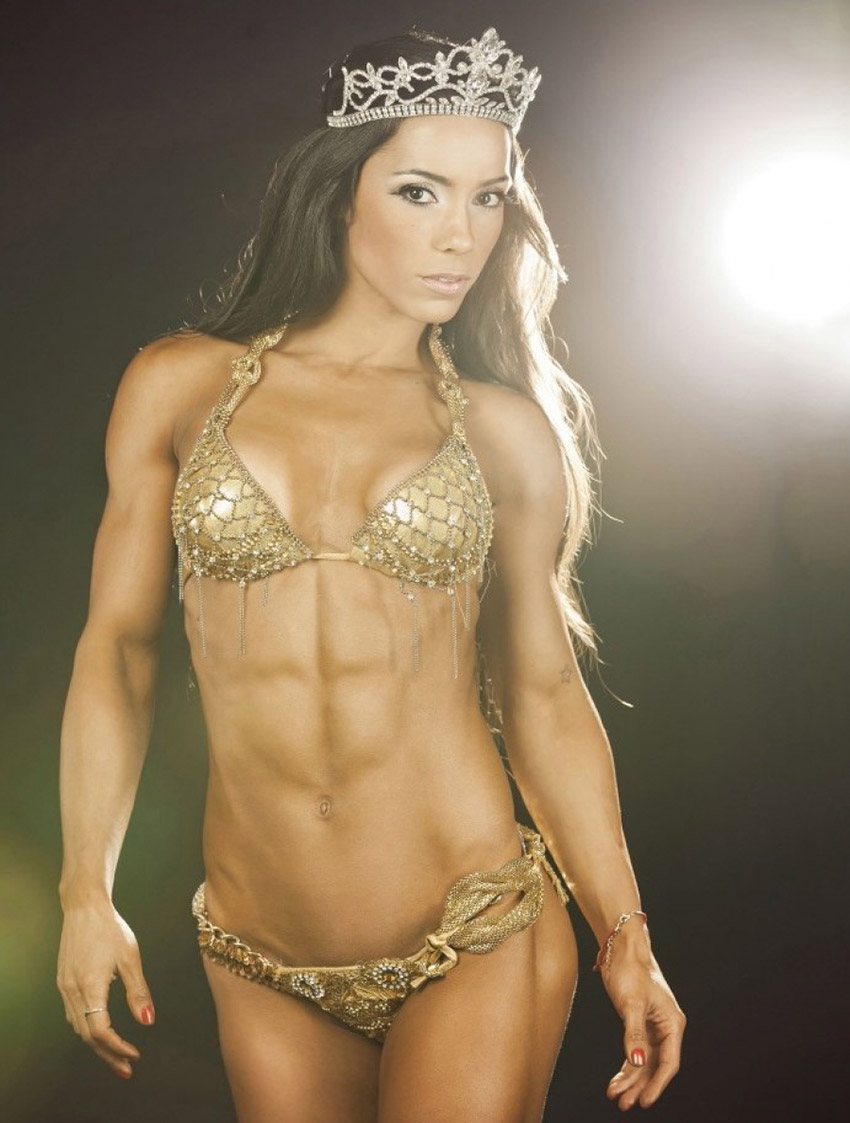 Andreia Brazier
Fitness Model, Personal Trainer
Brazilian-born Andreia Brazier has taken home 4 consecutive WBFF titles. Her earlier days were spent doing modeling jobs in her native Brazil. A 2005 trans-Atlantic move saw her starting as a personal trainer in the UK.
She quickly went on to find fame in the fitness world with her incredible physique, definition and one of a kind stage presence.
This is her story:
---

"My biggest competition this year (2013), as it has always been, is to keep improving myself. We always have room for improvements."
Athlete Statistics
Full Name: Andreia Brazier
Weight
Height
Bust
Hips
115 - 125lbs (52.2 - 56.7kg)
5'2" (157.5cm)
35″ (88.9 cm)
29″ (73.7cm)
Waist
Thighs
Calves
27"
-
-
Year of Birth
Nationality
Profession
1978
Brazilian
Fitness Model, Personal Trainer
Alias
Era
-
2000, 2010
| | |
| --- | --- |
| Weight | 115 - 125lbs (52.2 - 56.7kg) |
| Height | 5'2" (157.5cm) |
| Bust | 35″ (88.9 cm) |
| Hips | 29″ (73.7cm) |
| Waist | 27" |
| Thighs | - |
| Calves | - |
| Year of Birth | 1978 |
| Nationality | Brazilian |
| Profession | Fitness Model, Personal Trainer |
| Alias | - |
| Era | 2000, 2010 |
---

"So I decided to make a choice at the beginning of 2012 to set a goal to achieve my dream physique and ensure I achieve it."
Accomplishments
Competitions
2012 WBFF Pro Diva Fitness Model
2013 WBFF Pro Diva Fitness Model
2014 WBFF Pro Diva Fitness Model
2015 WBFF Pro Diva Fitness Model
---

"I love the fitness lifestyle so much and I have always wanted to dominate in this sport. In everything I do I always give it my absolute 100%."
Biography
Early Life and Move To London
4 x WBFF winner Andreia Brazier started weight training in 1993. Dubbed as the "New Generation Fitness Victoria's Secret model", she has had a meteoric rise to fitness fame. As a young girl she was always active and would always be on her bike or skateboard, the latter testament to her adventurous and fiery personality.
She was born in Porto Alegre, South Brazil and moved to the United Kingdom in April 2005. Before leaving her native Brazil, Andreia had already started her modeling career and had appeared in commercials, a reality TV show and catalogs.
The move to London was primarily to build on her English language skills. She fell in love with the United Kingdom and settled in London where she met her husband, Tom Brazier, who runs a fitness company called TBConditioning.
In 2007 the opportunities really started rolling in, and Andreia was working more in the fitness industry than just normal modeling. She had worked with Tom on building TBConditioning, a company that is world renown for creating exceptional physiques and athletes and they got clients globally.
---

An early modeling shot of a young Andreia Brazier.
---
Effortless, Captivating and Perfect – Becoming the Champion
In 2012 Andreia began competing in the WBFF, category Pro Diva Fitness Model. Critics said her physique may have been too muscular or vascular, but it's safe to say the feisty Brazilian was a clear winner and took home the crown. Something she has done for 4 years straight. Effortless, captivating, perfect and unique are all words commonly used to describe her on stage.
As time went on she was beginning to tire of London. She went over to Dubai in November 2012 to work with a client. Quickly, demand for her services grew and, after being charmed by the United Arab Emirates, decided to stay. Within a matter of weeks, her new business A1 Lifestyle was set up, and it's safe to assume her work with TBConditioning came to an end.
When speaking about London she said, "I've been there seven years now and here was an opportunity for a new life and change." Andreia now trains at 24 Fitness in the Al Quoz area of Dubai and is having a lot of success. She has also been traveling, visiting India in 2016 to give talks on fitness.
August 2016 sees Andreia competing for the WBFF Pro Diva Fitness model title in Toronto. She has announced this will be her last competition.
---

"The more you give, the more you get. I will help people achieve what they want but they have to want it. It's like a mother wanting her son to be a doctor. They have to do it for themselves."
Training
Andreia does no cardio. To train, she uses a metabolic system, that is heavily supported by her strict nutritional plans. The focus of her training is on heavy lifting to build lean muscle and burn the most body fat possible. She is extremely conscious of form and movement while exercising and focuses on the mental connection with the muscle used.
---

"I don't really have cravings because my body tells me when to eat. I always make sure I have a snack in my bag. I like to keep my diet clean."
Nutrition
Andreia keeps her diet clean all year around and fully avoids junk food. In the run up to a competition she will start to restrict carbs, whilst for the rest of the year keeping them at a moderate intake.
Her cheat food is almond butter, the result of her not really having cravings. Something that no doubt plays a huge part in keeping lean all year round. Her fridge is typically full of clean staple food. Plenty of white fish, vegetables, lean steak, and eggs.
---

"When I am in the dark, I know the Sun will shine sometime soon and when it shines nothing can stop it!"
Idols and Influences
Andreia gets inspired by watching Olympians, in particular, Jessica Ennis and Usain Bolt.
---

"The universe gives me the wisdom and power to transform my life for the better."
What we can learn from Andreia Brazier
Andreia is a huge example of how important nutrition is. She understands the need for discipline with food and thinks getting an incredible physique like hers is 70% nutrition and 30% training.
She is a true champion because of her unflappable discipline, and even after a few injuries in her early years, has dominated her class year after year in the WBFF.  She is one to watch and is assured to continue making huge waves in the fitness world for years to come.