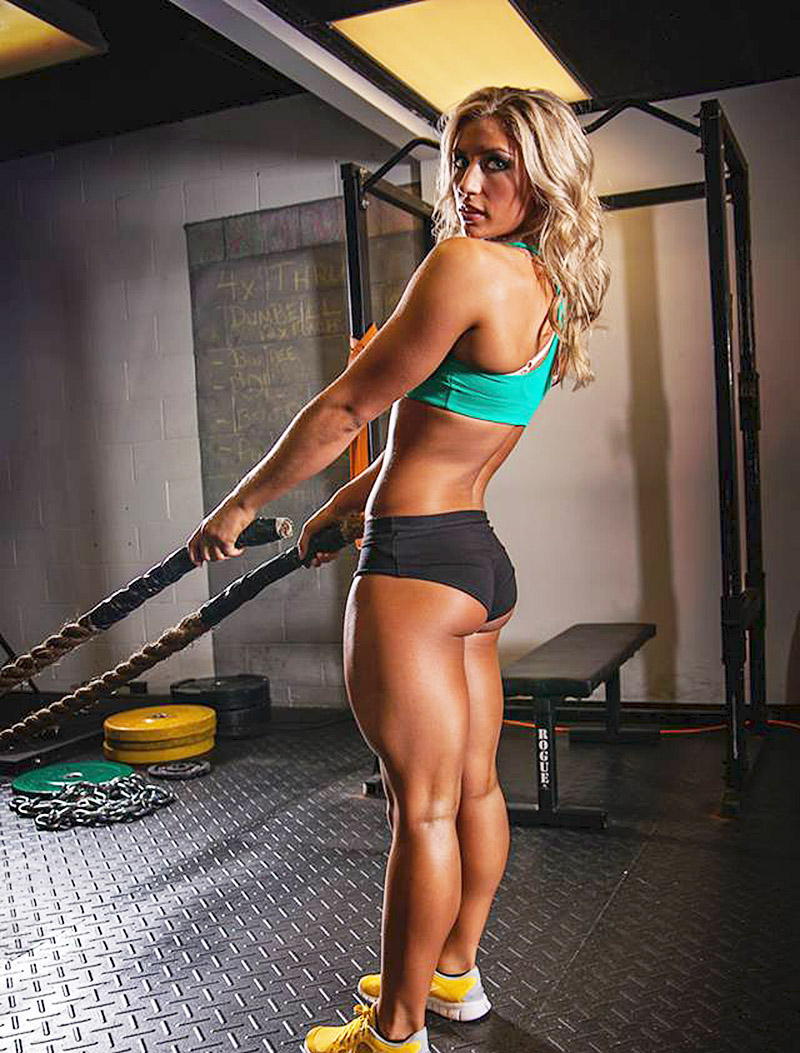 Alyssa Loughran
Fitness Model, Actress
From party-loving student to bikini athlete, Alyssa Loughran worked hard to transform her lifestyle and physique to become a fitness icon.
She began her journey while still in college after becoming unhappy with her appearance. She's since won and placed highly in various competitions, alongside an appearance in a short-film.
This is her story:
---

Athlete Statistics
Full Name: Alyssa Loughran
Weight
Height
Year of Birth
Profession
125 - 135lbs (56.7 - 61.2kg)
5'7" (170cm)
1991
Fitness Model, Actress
| | |
| --- | --- |
| Weight | 125 - 135lbs (56.7 - 61.2kg) |
| Height | 5'7" (170cm) |
| Year of Birth | 1991 |
| Profession | Fitness Model, Actress |
---

Accomplishments
Competition History
2010 Kumite Classic Bikini America Competition, 2nd
2010 Kumite Classic Model America Competition, 1st
2013 NPC Pennsylvania State Championships, 5th
2014 Kumite Classic Bikini America Competition, 1st
Filmography
2013 The Way to a Woman's Heart, as Allyson
---

Biography
Early Years
Born and raised in Pennsylvannia, America, Alyssa was very active growing up. She particitipated in many different sports, such as soccer and netball, keeping fit and lean.
However, during high school and college, she began leading a party lifestyle. At this point, Alyssa became very unhealthy after drinking alcohol and eating junk food on a regular basis.
Start of Fitness Journey
Not long after enrolling at college, Alyssa started to become unhappy with her appearance – this is what motivated her to sign a gym membership.
In 2009, Alyssa began lifting weights in the gym, determined to sculpt her dream physique. At the age of 18, she'd embarked on her fitness journey.
---

Alyssa at the 2010  Kumite Classic Model America Competition.
---
First Competition
Alyssa trained rigorously throughout 2010 and by the end of the year, she'd made serious progress. She was encouraged by her friends to enter a fitness show, and they entered her into her first competition – the Kumite Classic.
On her 19th birthday, 21st August 2010, Alyssa walked on stage as a bikini athlete. Impressively, she took home the trophy in the Model America category and placed 2nd in the Bikini America division.
At this point, she realized her potential to succeed in the industry.
More Shows
Alyssa took time away from competing while completing her degree at college, but she never stopped working hard in the gym. During this period, she pursued a career as a model, taking part in various photo shoots.
By the age of 22, she'd graduated and sculpted an even better physique. She was ready to enter bigger contests.
The model entered her first NPC show in 2013 – the NPC Pennsylvania State Championships in the Bikini category. Although she wasn't able to replicate her previous success, Alyssa placed in the top 5.
However, she came back strong in 2014 and walked away from the Kumite Classic Bikini America show as the champion.
---

Alyssa competing at the 2014 Kumite Classic show.
---
Acting
In 2013, Alyssa made the decision to act in her first film, "The Way to a Woman's Heart". She enjoyed appearing in this short film, but she decided her future lied in fitness.
Online Sensation
Through more exposure, Alyssa was noticed online, being the subject of numerous forums. Fitness fans began admiring her aesthetic physique, and it wasn't long until she'd gained a mass of followers on social media.
By 2016, at the age of 25, Alyssa had become an online sensation.
---

Training
Alyssa trains 4-5 days per week for up to 4 hours per workout. She alternates lower and upper body sessions, training each every other day.
The fitness model also practises thai boxing and wrestling two days a week. In terms of cardio, she aims to run at least once a week to keep her heart healthy.
Workout Routine
Alyssa's routine would look something like this:
Monday – Upper Body session
Tuesday – Lower Body session
Wednesday – Thai Boxing
Thursday – Upper Body session
Friday- Lower Body session
Saturday – Wrestling
Sunday – Rest
---

Nutrition
While Alyssa's come a long way since leading a party lifestyle in college, she still indulges in cheat meals like pizza and burgers on a regular basis.
However, she counteracts this by training in the gym for at least 2 hours a day – she makes sure to burn off the extra calories from these cheat meals.
She consumes 6 small meals throughout the day, trying to keep her metabolism as high as possible.
Supplements Stack
Multivitamins
Fish Oil
Dandelion Root
Whey Protein
---

Idols and Influences
Alyssa names her family and friends as the main inspirations behind her success. She wouldn't have competed in her first competition if it wasn't for her friends entering her into it.
---

What we can learn from Alyssa Loughran
Alyssa has taught us to take action if we aren't happy with something. She entered the gym and started weight lifting after becoming unhappy with her body, and sculpted an incredible physique.
One thing we can take away from Alyssa is that you should never be afraid of trying new things – Alyssa's friends entered her into a fitness competition and she made the most of the experience, walking away with a trophy.