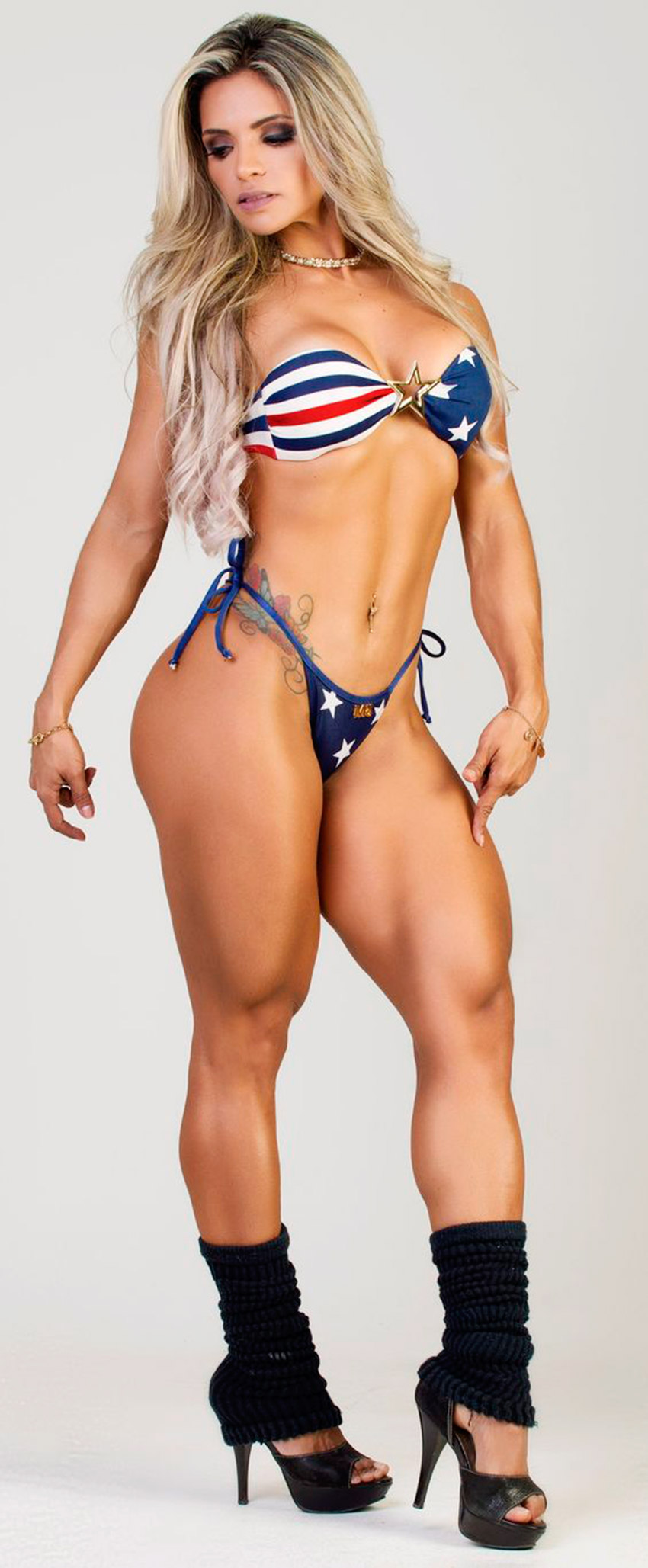 Aline Barreto
Fitness Model, IFBB Athlete
From lifting weights as a hobby to developing into a professional fitness athlete, Aline Barreto has become an icon in the industry.
She began lifting at 16 after becoming unhappy with her physique. By the age of 31, Aline had placed in numerous competitions, winning 10 trophies in the process.
This is her story:
---
 
"I always liked the practise of weight training, but only considered competing after working out for 5 years"
Athlete Statistics
Full Name: Aline Barreto
Weight
Height
Bust
Hips
125 - 135lbs (56.7 - 61.2kg)
5'1" (155cm)
35"
37"
Waist
Thighs
Year of Birth
25"
22"
1985
Nationality
Profession
Era
Brazilian
Fitness Model, IFBB Athlete
2010
| | |
| --- | --- |
| Weight | 125 - 135lbs (56.7 - 61.2kg) |
| Height | 5'1" (155cm) |
| Bust | 35" |
| Hips | 37" |
| Waist | 25" |
| Thighs | 22" |
| Year of Birth | 1985 |
| Nationality | Brazilian |
| Profession | Fitness Model, IFBB Athlete |
| Era | 2010 |
---

"I always try to focus on a goal to get the best results."
Accomplishments
Competitions
2015 Arnold Classic Brazil, Wellness Category, 1st
2015 ExpoNutrition Sao Paolo, Wellness Category, 1st
2014 Brazilian Nationals, Wellness category, 1st
2014 Mr. Rio, Wellness Category, 1st
2014 Arnold Classic Brazil, Wellness Category, 1st.
2014 IFBB Fitness Isla Rio De Jeneiro, 1st.
2014 King and Queen of Cabo Frio Beach Championships, Wellness Category, 1st.
2013 ExpoNutrition Sao Paulo Championships, 1st.
2013 Nutri House Cup, 1st.
2013 Mr. Cabo Frio, Wellness category, 1st
---

"I was unhappy with my appearance in my early teens. I was very skinny so I wanted to add some muscle with weight training"
Biography
Early Years
Born in Rio De Janeiro, Brazil, Aline became embarrassed with her appearance during her teenage years. She knew that she was very skinny for her age and wanted to tone up.
At the age of 16, in 2001, Aline started training in the gym, embarking on her fitness journey.
For the next two years, she lifted weights in the gym, slowly developing her body. She was determined to sculpt her dream physique.
Pregnancy
In 2003, Aline fell pregnant at 18-years-old and was forced to stop training. After giving birth to her child, she took a further two years away from the gym.
But she hadn't given up on her ambition.
---

---
Return to the Gym
Towards the end of 2005, Aline had recovered from the strains of childbirth. At 20, she focused on building her body again.
She returned to the gym and set her sights higher than before – she wanted to compete as a fitness athlete.
Despite the added stress of raising a baby, she was more determined than ever to succeed.
First Competition
Over the next 8 years, Aline trained whenever she could to sculpt her body while being a mother. However, she made more progress than she'd anticipated.
Gifted with great genetics, Aline found herself in incredible shape and began to realize her potential in fitness. She was excited to see where the industry could take her.
After being inspired by Bikini Athletes on social media, at the age of 28, she entered her first competition – the 2013 Mr. Cabo Frio. All of her hard work paid off, and she walked away as the champion in her debut show.
---

---
More Success
Riding high from her victory, Aline was hungry for more. It wasn't long until she entered her second contest – 2013 the Nutri House Cup in Brazil.
She managed to replicate her success and take home another trophy. But she was just getting started.
Champion and Online Sensation
For the next 2 years, she dominated competitions in her home country, winning a further 8 shows. Aline gained more attention with every trophy, and she was soon noticed on social media.
By 2016, Aline attracted a mass of followers on social media admiring her incredible body. Not only had she sculpted one of the greatest female physiques in the world, but she'd become an online sensation.
---

"I never train cardio, but I use HIIT in the gym."
Training
Unlike other athletes, Aline doesn't train cardio to stay in shape. Instead, she relies on her weight training in the gym, making use of HIIT to keep her heart rate up.
She trains multiple muscle groups at a time, focusing on up to three per day. Her favourite workout is legs – she trains her lower body at least three times a week.
Workout Routine
Aline's training plan looks something like this:
Monday: Quadriceps and calf;
Tuesday: Back, shoulders and buttocks;
Wednesday: Quadriceps, posterior leg and calf;
Thursday: Chest, biceps and triceps;
Friday: Quadriceps, posterior leg and calf;
Saturday: Back, shoulders and buttocks;
Sunday: Rest.
---

"My diet is always made up of complex carbohydrates and lean proteins."
Nutrition
Aline plans her diet around lean proteins, complex carbs and green vegetables. She also makes sure to drink around 3 litres of water a day.
She separates her meals into 6 meals per day to feed her body.
Diet Plan
Aline's diet plan would look something like this:
Meal 1 – Oats and Egg Whites
Meal 2 – Chicken, Sweet Potato and Broccoli
Meal 3 – White Fish, Brown Rice and Broccoli
Meal 4 – Chicken, Sweet Potato and Broccoli
Meal 5 – White Fish, Brown Rice and Broccoli
Meal 6 – Chicken and Broccoli
Supplements Stack:
BCAA
Glutamine
Whey Protein
Multivitamins
Creatine
Pre-Workout
Fat Burners
Vitamin C
---

Idols and Influences
Aline has a number of fitness idols that have inspired her to achieve success in her career.
However, the three that she names specifically are Eva Andressa, GracyAnne Barbosa and Michelle Lewin.
---

What we can learn from Aline Barreto
Aline has taught us to never give up on your ambitions, regardless of any life event. She was forced to pause her journey after becoming pregnant, but she returned to the gym as soon as she recovered.
One thing we can take away from Aline's story is that setting your goals high is important – if she hadn't aimed to improve her body at 16, she wouldn't have realized her potential in the industry and become an icon.