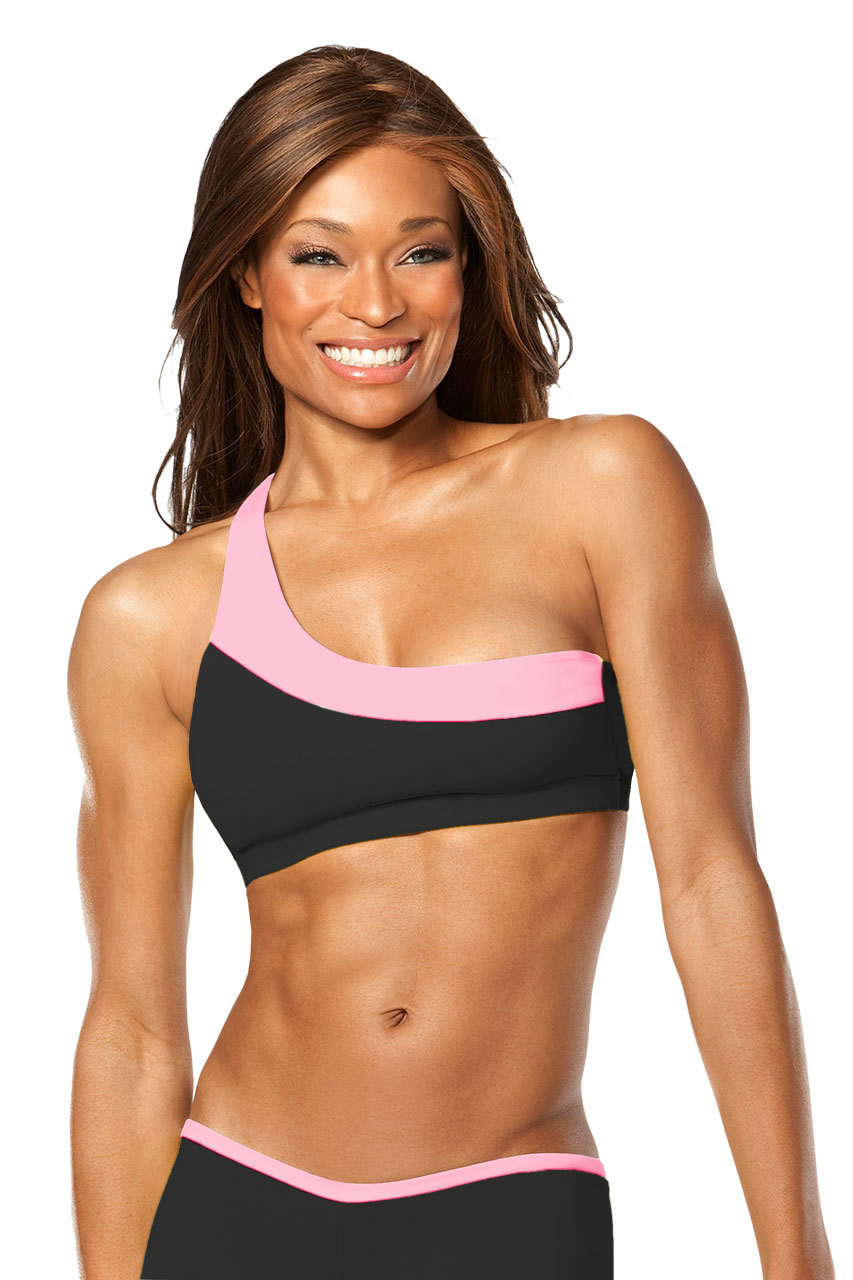 Alicia Marie
Fitness Model, Professional Figure Competitor
Born and raised in Cleveland, Ohio, Alicia Marie AKA "The Machine" is a professional Figure and Bikini Competitor, Fitness model, TV personality, and an author.
Since she was a child, Alicia was always fascinated by the women featured in comic books, which inspired her to become active throughout her childhood and teens.
By the time she entered college, she started training hard in the gym, and has since managed to build an amazing physique. She's also achieved impressive strength records, squatting almost 300lbs in her junior year in college.
Eventually, she started competing in bikini shows, winning many, and becoming a professional competitor. Alicia has also become one of the world's most recognized health and diet gurus, and she's reached many people across the globe with her story.
---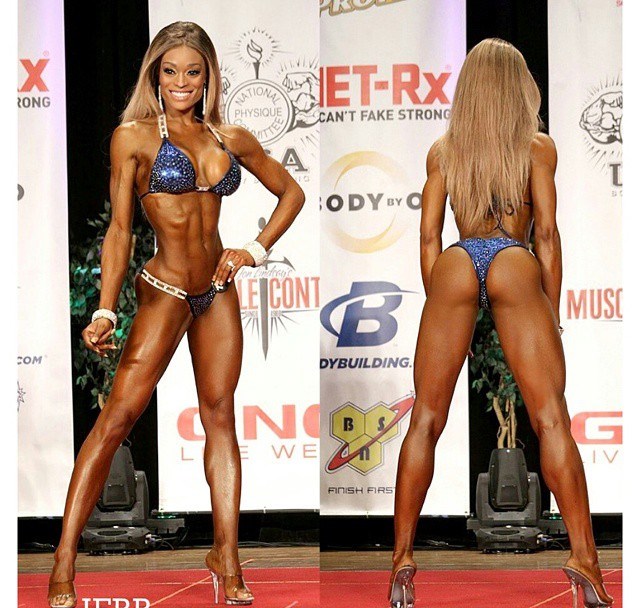 "Don't underestimate the power of rest, stress, life, 'adulting' – we often forget how much we need. Get your ass to sleep!"
Athlete Statistics
Full Name: Alicia Marie
Weight
Height
Bust
Hips
125 - 135lbs (56.7 - 61.2kg)
5'10" (177.5cm)
34''
36''
Waist
Year of Birth
Nationality
24''
1975
American
Profession
Era
Fitness Model, Professional Figure Competitor
2010, 2000
| | |
| --- | --- |
| Weight | 125 - 135lbs (56.7 - 61.2kg) |
| Height | 5'10" (177.5cm) |
| Bust | 34'' |
| Hips | 36'' |
| Waist | 24'' |
| Year of Birth | 1975 |
| Nationality | American |
| Profession | Fitness Model, Professional Figure Competitor |
| Era | 2010, 2000 |
---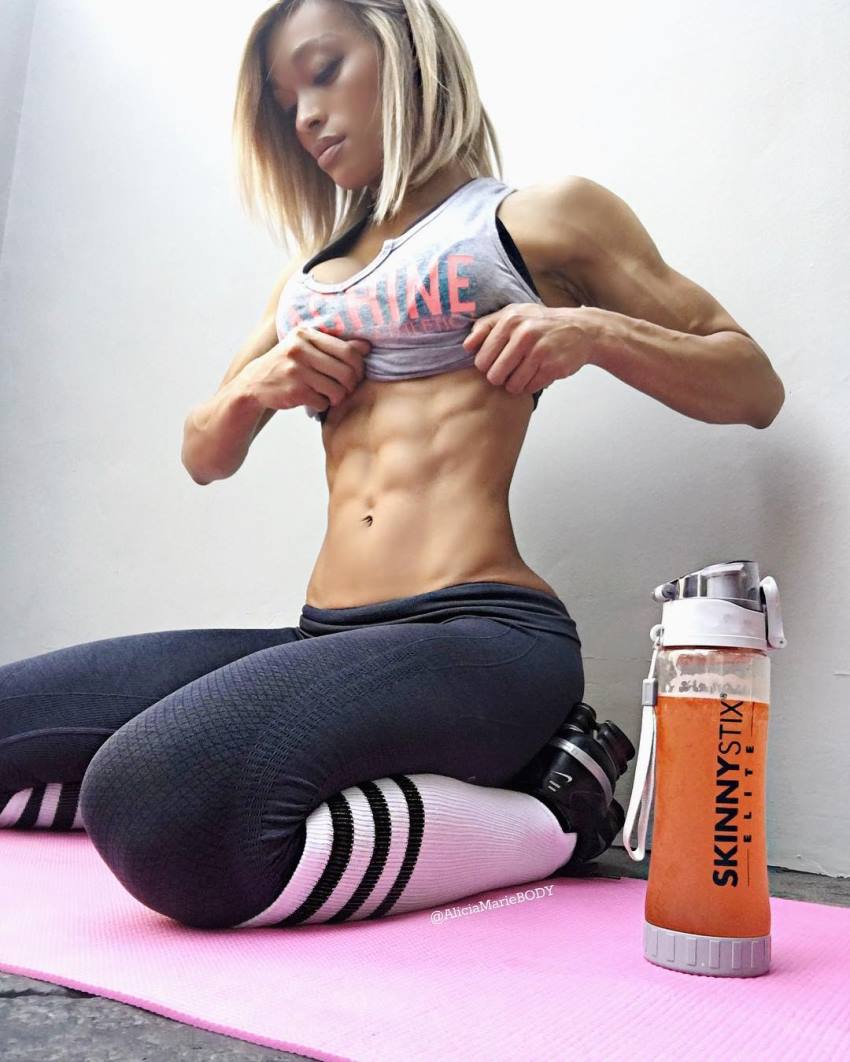 "Saturdays are a big gym day for me, so sometimes I like to wear something that reminds me of what I am… a machine."
Accomplishments
Competitions
2015 IFBB Greater Gulf States Pro, 13th
2015 IFBB Northern California Pro, 5th
2015 IFBB Musclecontest.com Pro Bikini, 5th
2015 IFBB Musclecontest.com Pro Bikini, 1st
2015 IFBB Legends Pro Bikini, 11th
2010 IFBB New York Pro Bodybuilding & Bikini Championships, 11th
2009 IFBB Europa Super Show & Supplement Expo, 12th
2008 NPC Team Universe Bodybuilding, Fitness & Figure National Championships,  1st
2008 NPC USA Bodybuilding & Figure Championships, 2nd
2007 NPC Arnold Amateur Bodybuilding, Figure and Fitness, 2nd
---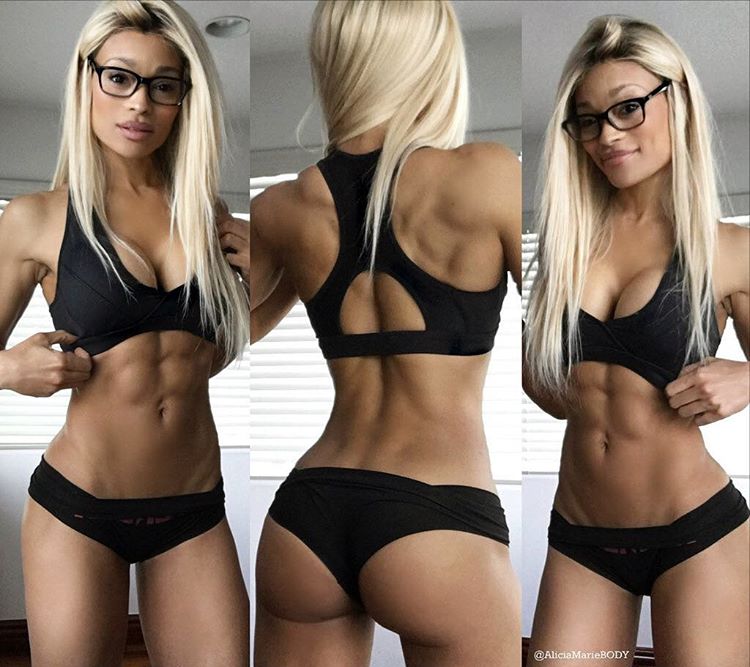 Biography
An Athletic Child
Alicia Marie was born on December 15, 1975. She's one of two other sisters, Michelle and Elizabeth.
As a child,  Alicia hoped that one day she'd look like the women who inspired her from the comic books, and throughout her entire childhood and early teens, Alicia stood out in various sports, such as track and field, softball, martial arts (Kali, weapons) and gymnastics. By the time she entered high school, Alicia had already started working out with intensity in the gym. It was at that point, she noticed she possessed great strength and endurance.
Alicia realized she was strong and tireless when working out, and she quickly used it to her advantage. She would go to the gym and lift an incredible amount of weight for someone her age, and because of that, she got the nickname, "The Machine" from her friends.
Turning Fitness Into a Career
During her college years, Alicia dedicated more time to weightlifting than before, and it wasn't long before she noticed real changes, and progress in her shape.
She would often squat over 250lbs, impressing her friends and trainer. However, Alicia admitted that lifting so much weight wasn't always the right thing to do, as her knees suffered because of it.
Alicia later graduated from college and started pursuing her fitness career full-time. She saw Los Angeles, California, as the city with the best opportunity for her to chase and create a successful career.
After moving to Los Angeles, it didn't take Alicia long to get recognized for her potential, and she soon found herself modeling for several reputable modeling agencies. Her physique was also improving day by day, and it was only a matter of time before Alicia started looking into fitness competitions.
"They used to call me 'The Machine' at my old gym – well, that was one of the nicknames! I like feeling strong like I can take care of myself. I like feeling like I can kick anyone's butt."
---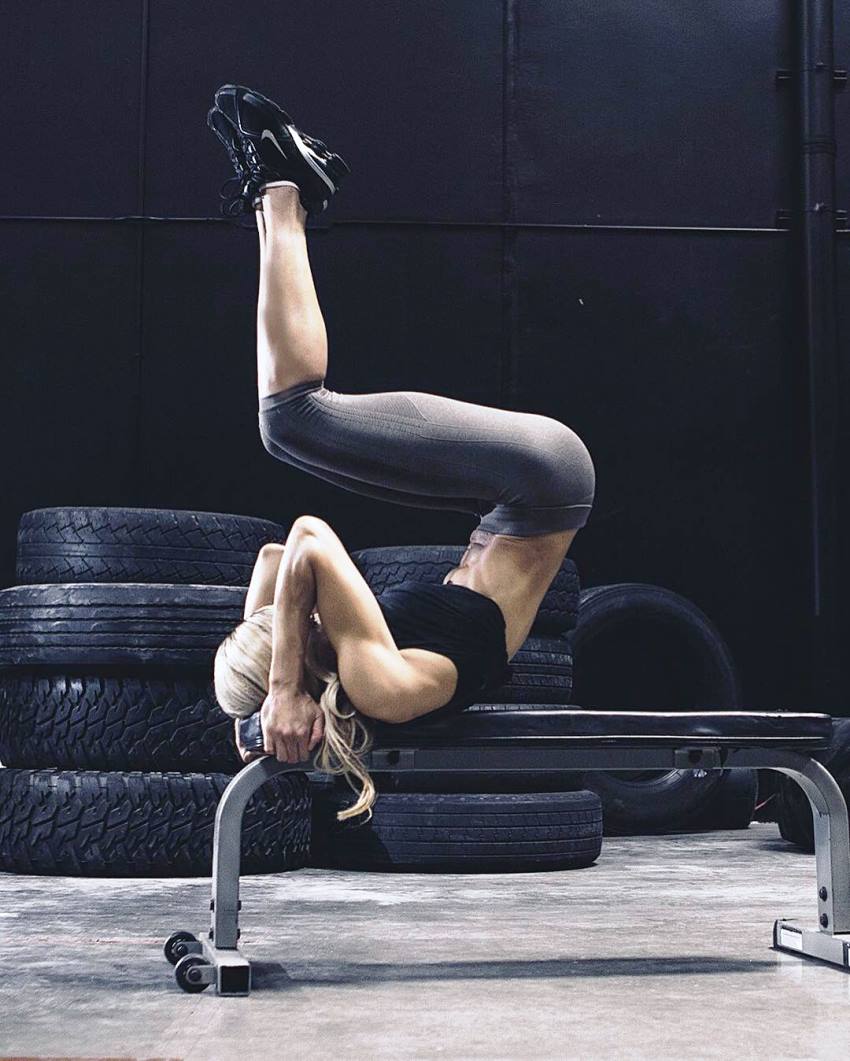 ---
Becoming a Figure Competitor
After several months of preparations, Alicia's first local show came in 2003. After the competition, Alicia said she was hooked and wanted to compete in more shows.
She continued competing locally and regionally for a few years, winning numerous figure and bikini shows. Eventually, she took part in her first big competition, the 2007 NPC Arnold Amateur Bodybuilding competition. In the class of Figure and Fitness, where she came in 2nd place.
After placing 2nd at the Arnold Amateur, Alicia took some time off the stage to look back on what she could have done differently and to further improve her physique. She came back the year later, aiming to win her Pro card and get into the professional league of bodybuilding.
Alicia fought hard and competed at the 2008 NPC USA Bodybuilding & Figure Championships, but she was "disappointed" after placing 2nd . However, she didn't have much time to think about the loss as her national competition was only 12 weeks away.
Pro Card
After 3 months of hard work in the gym and dieting, Alicia stepped on the stage at the NPC Team Universe Bodybuilding, Fitness & Figure National Championships, and managed to take home 1st place, earning her Pro card.
According to Alicia, one of the reasons for her quick success was her focus on aesthetics, rather than on endurance and strength.
She believed that her shoulders were her lacking body part and after several months of training, Alicia developed an all-around, impressive physique which got her the National Figure title and the Pro card.
Later Competitions
Alicia's professional debut came in 2009 at the IFBB Europa Super Show & Supplement Expo, where she came in 12th place.
The following year she took part at the IFBB New York Pro Bodybuilding & Bikini Championships, placing 11th out of 38 competitors.
After the New York Pro Show, Alicia said how she started to feel both mentally and physically exhausted from all the competitions and decided to take a longer break. According to her, she focused more on modeling and growing her personal training business during that period.
Alicia made a comeback 5 years later, taking home 11th place at the 2015 IFBB Legends Pro Bikini. That same year, she participated at the IFBB Muscle Contest Pro Bikini, this time, winning the show and impressing everyone with her success. Alicia competed in 3 more shows in 2015 – the IFBB Greater Gulf States Pro, IFBB Northern California Pro, and the IFBB Muscle Contest Pro Bikini, before taking a longer break from competitions once again.
---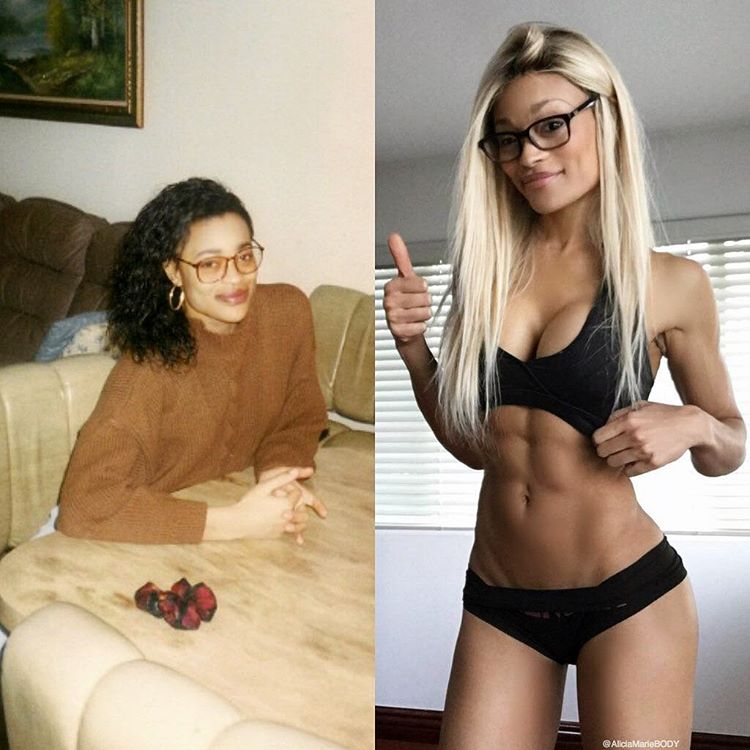 Alicia before and after.
---
Life Outside Competitions
Besides being a competitor and a fitness model, Alicia is a Television personality, and also an author of a well-known book about fitness, dieting, and lifestyle.
Since stepping off stage in 2015, Alicia has started her personal training and clothing line business, and has gained a lot of fame through her social media sites, where she posts pictures of her awesome physique which motivates people around the world to live healthier lives.
When asked about her plans for the future, Alicia said she is working on her E-book, and plans on growing her clothing business. Lastly, this is Alicia's message to all of her fans; "I can talk all day about being yourself and doing what makes you happy in the long run. No one is going to give you what you want. If you want something go get it, dang it. Stop waiting for opportunities to drop in your lap. Why wait on 'fate'?
Bring the life you want to yourself. That goes for every single little thing that you want for yourself in this life. It is not about the destination, it's the journey. You grow by challenging yourself to get it, whatever it is. And then, just taking the bull by its proverbial horns. Everything you want – you have to go out and get yourself. That is the truth."– Alicia Marie
---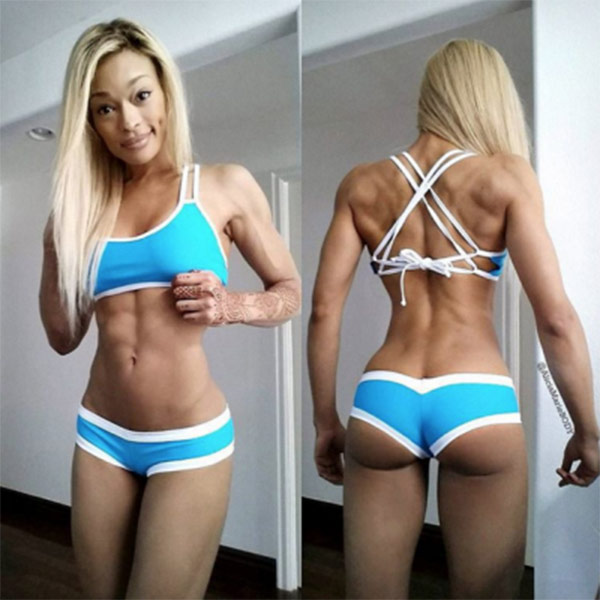 "One of my favorite classic moves for chiseling ABS , are bench roll-ups or dragonfly crunches."
Training
Cardio
After she stopped competing, Alicia said she doesn't do as much weightlifting as before, and now focuses mostly on cardio.
According to Alicia, she loves doing cardio up to 5 days a week, usually performing it on a treadmill, stepmill, and runner. Alicia advises that cardio is something that should be done often, not just because of cardiovascular health, but also because it helps keep a "clear mind",
Favorite Exercises
Captains Chair for abs: Alicia likes this one because it specifically targets the lower section of abdominal, which is something that many people usually have problems with, according to Alicia.
Walking Lunges – "One of the best exercises for glute and hamstring development," says Alicia
Jumping Rope – This exercise works everything, Alicia claims. It's both a HIIT and workout in one. She believes this exercise is great for arms, core, legs, and calves development, and is also beneficial for the cardiovascular system.
Workout Routine
During her competition days, this is what Alicia's training split looked like;
Cardio or Calves, Back/Biceps, Abs
Triceps, Light Chest, Cardio (basic like the stepmill 30 mins)
Off/Cardio only or martial arts (Eskrima)
Shoulders, Abs
Legs/Glutes, Light cardio for stretching
Cardio, Abs
Martial Arts (weapons, Kali)
---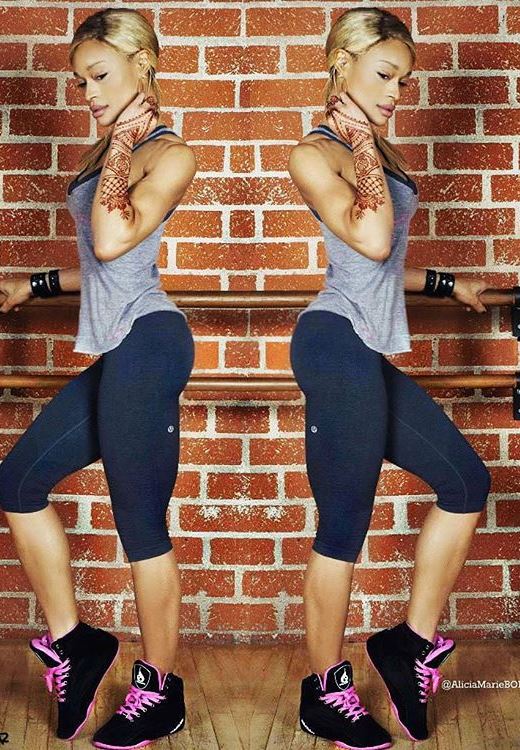 "If you have too much sugar in your diet – you'll never be able to get the results you really want. Save it as treat only. Cut back wherever you can. As soon as I cut back on sugar, it's easy to get my abs to shred up."
Nutrition
Dieting
Alicia allows herself to cheat occasionally, but prefers to eat clean most of the time. According to her, she knows what her body likes, but also knows what she has to eat in order to look good.
There is no dairy in Alicia's diet because she can't tolerate lactose. She also said how sweets are her biggest weakness, and it takes a lot of willpower to "resist them".
Alicia is a big fan of carb-cycling, especially when preparing for a competition. It's something that gives her the best results when cutting, Alicia believes.
These are Alicia's basic tips for anyone who wants to get in shape:
1)    Be consistent
2)    Stop Whining (results or excuses?)
3)    Get your diet right.
Supplementation
When she isn't competing, Alicia doesn't use many supplements. The only ones she likes to use are probiotics, multivitamins, and omega fish capsules.
However, when she's preparing for a competition, Alicia will usually add a fat burner, pre-workout and possibly a whey isolate to her supplement stack.
---
Editor's Tip

Inspired to reach your maximum potential like Alicia? Read our comprehensive guide on how fat burner supplements can really up your game!

---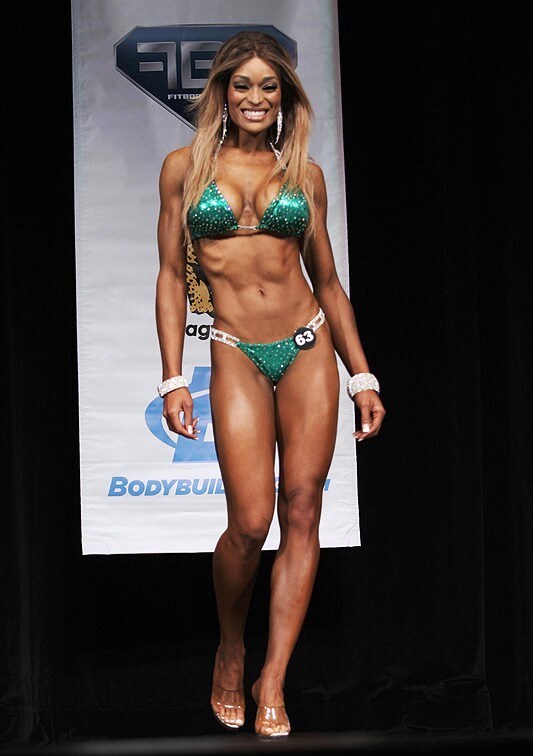 ---