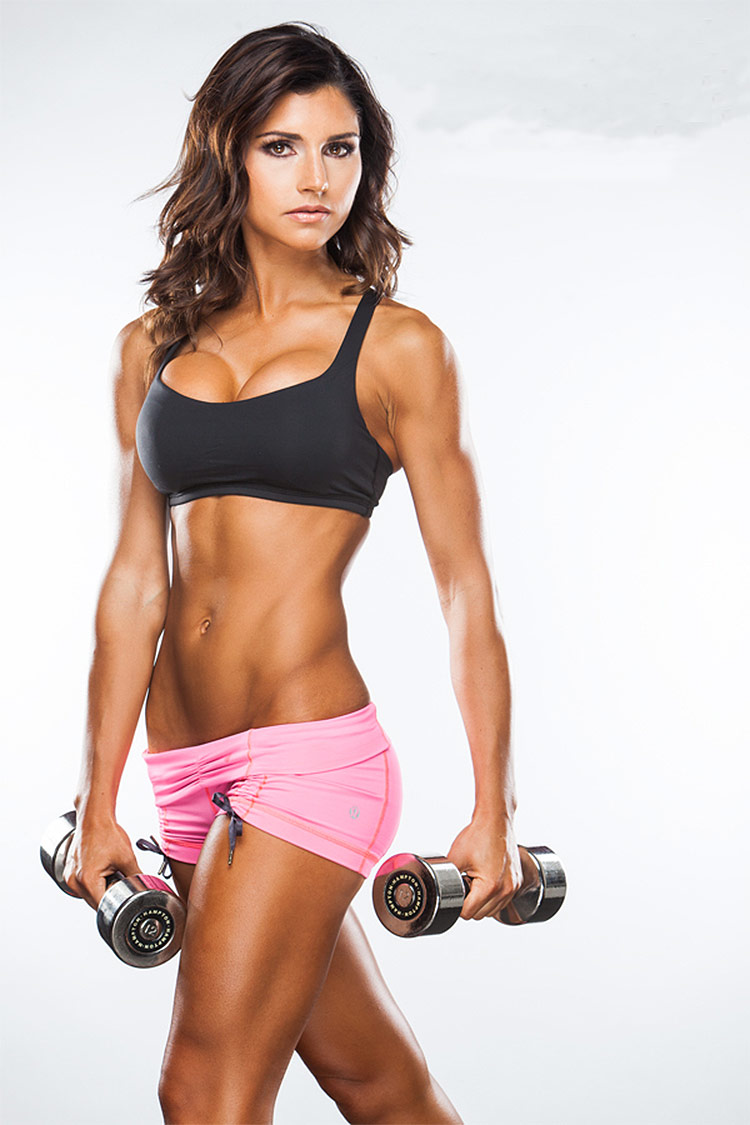 Alexia Clark
Model, Fitness Icon, Social Media Star
Alexia Clark is a fitness icon, model, and social media star from Arizona, USA. She has an impressive portfolio, modelling for a number of products – ranging from Instant Knockout (a fat burner), to sports clothes.
She's become one of the leading female figures in the industry after becoming the self-proclaimed 'Queen of Workouts' on Instagram; through social media, she constantly engages with followers around the world to spread her love for fitness.
This is her story:
---

"You were born with the ability to change someones life, don't waste it."
Athlete Statistics
Full Name: Alexia Clark
Weight
Height
Bust
Hips
Under 115lbs (52.2kg)
5'6" (167.5cm)
32"
33"
Waist
Age
Date of Birth
23"
33
May 22, 1990
Nationality
Profession
Era
American
Model, Fitness Icon, Social Media Star
2010
| | |
| --- | --- |
| Weight | Under 115lbs (52.2kg) |
| Height | 5'6" (167.5cm) |
| Bust | 32" |
| Hips | 33" |
| Waist | 23" |
| Age | 33 |
| Date of Birth | May 22, 1990 |
| Nationality | American |
| Profession | Model, Fitness Icon, Social Media Star |
| Era | 2010 |
---

 "The most important thing is finding why you want to make the change to have a fitness mindset."
Accomplishments
Qualifications
Thunderbird Academy – High School Diploma
Arizona State University – BS, Communications
Health and Fitness Lifestyle Coach qualification
Neurological Health and Fitness qualification
Modelling
Men's Health Magazine
Good Morning America
---

"I've always loved exercising and playing sports. When I graduated from Arizona State University I was in marketing but wasn't loving it."
Biography
Early Years
Born and raised in Arizona, USA, Alexia has always enjoyed exercising and playing sports since she was a child. However, she hadn't considered a career in fitness in her youth.
She enrolled in Arizona State University to study marketing, but she didn't enjoy her degree – finding herself more interested in working out in the gym.
It was at this point, when Alexia realized that she should pursue a career in the fitness industry.
---

---
Fitness Modelling
Alexia's participation in sports and training in the gym had resulted in her sculpting an aesthetic physique. Her friends realized that she had the potential to succeed as a model – Alexia saw her opportunity to enter the fitness industry, and took it.
After graduating from high school, she began auditioning for numerous commercials and fitness modelling shoots. It wasn't long until she featured in marketing campaigns for big companies, gaining exposure in the industry.
In 2011, she left her day-job as a project manager at a digital marketing company – setting her focus on making a living as a fitness model.
---

---
Social Media Star
In 2013, the fitness model began posting pictures and videos of her lifestyle and training on Instagram. She developed into a well-known figure in the industry, after featuring in reputable magazines – gaining masses of followers online.
By 2016, Alexia had become an online sensation, and had inspired fans around the world to lead a healthy lifestyle.
---

"My workouts are always different! I mix HIIT with traditional lifting with crossfit and make my own little Alexia workout. I use a lot of full body movements and I don't try to lift as heavy as I can. Form is so important to me!"
Training
Overview of Alexia's Training
Alexia aims to fit 7 workouts per week into her busy schedule as a fitness model. She enjoys mixing HIIT with traditional CrossFit, creating her own style of workouts.
"Do I workout every day? Yes, I do. I workout once a day 7 days a week. I have days where I push myself and train hard and I have days I take it easy, do something fun and just get movement in. "
But she doesn't lift as heavy as she can – instead, focusing on full range of body movements and form.
---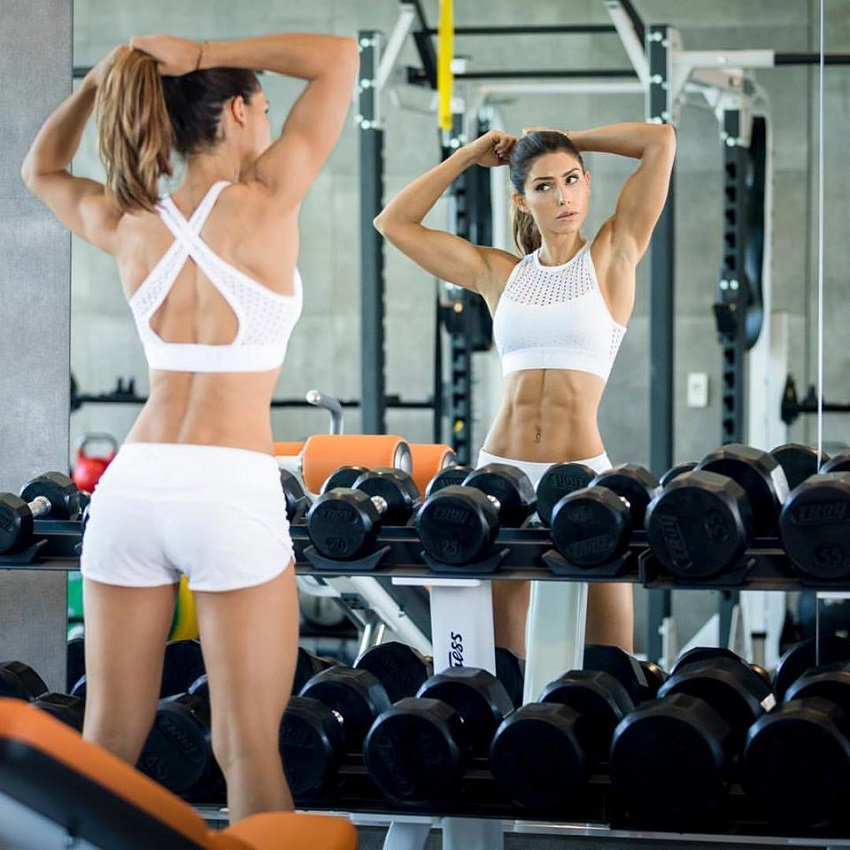 ---
Fat-Burning Circuit Workout
Here's Alexia's full-body workout for burning fat;
Circuit 1 (3 rounds)

Push-ups, 10 reps
Jump Overs, 10 reps
Bent-Over Rows, 10 reps
Overhead Press, 10 reps
Back Squat, 10 reps

Circuit 2 (3 rounds)

Ball Toss
Dips
Kettlebell swing into the press
Alternative Step-ups
Plank Press

Circuit 3 (3 rounds)

Max Pull-ups
Trx Rows, 15 reps
Battle Ropes, 40 reps
Sit-ups, 15 reps
Wall Walks (3)

Circuit 4 (3 rounds)

Close-grip Pulldown
Single-Arm Lat Pull
Oblique Crunch
Cable Reverse Grip Row
Rear Delt Flys
Between each round, Alexia will take 45-60 seconds of rest. She'll also make sure to keep hydrated, drinking a lot of water between each circuit.
---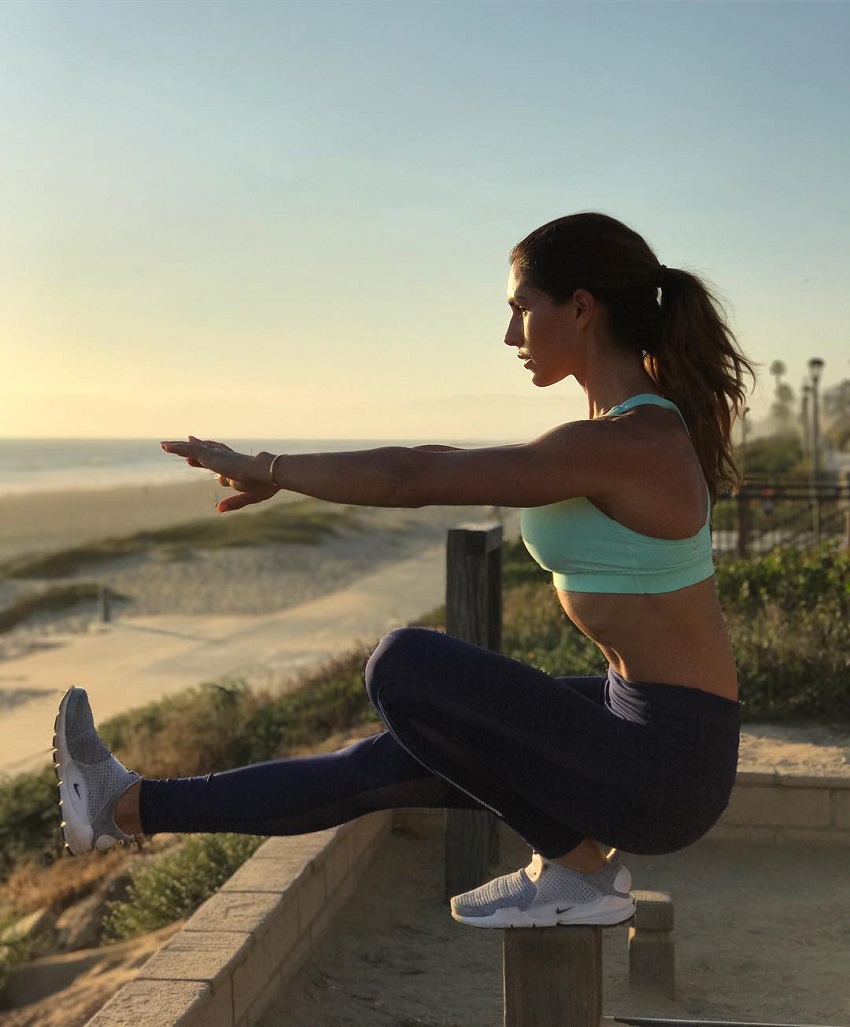 ---
Mixing Things Up
Alexia Clark never has the same workout twice. She constantly changes her training by incorporating different exercises, training styles, and other methods to achieve constant progress in the gym.
In Alexia's own words; "Every day presents new challenges, and no two days go exactly the same. The same should apply to your fitness regimen, to keep it mindful." – Alexia Clark
However, Alexia says that these changes don't always have to be huge. Sometimes, it's simply changing her rep range that will make a difference in Alexia's overall progress.
---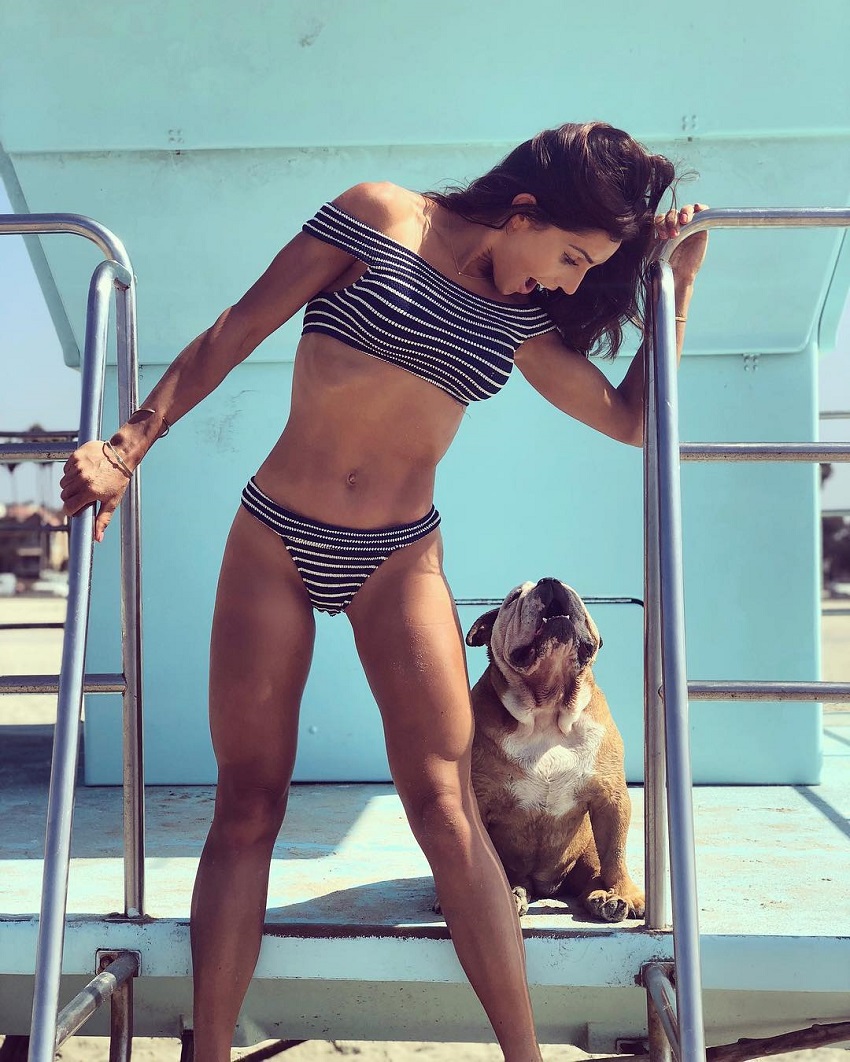 ---
Training Advice from Alexia Clark
Here are top 5 training tips from 'Queen of Workouts':
Prepare mentally before a workout – Alexia always tries to keep a strong and positive mindset when going into a workout. In her words, "It's more about the mindset and positive thinking for me. I believe when the mental focus is present in a workout, the overall results are better." 
Keep your workouts fresh – Changing her routine doesn't just improve Alexia's results, it also makes her workouts more interesting. This, in turn, helps her stay motivated on her fitness journey.
Have a backup plan – If she doesn't have an access to a gym, Alexia will find a way to train without weights. For example, there are occasions where she'll train with nothing but resistance bands."I always have resistance bands with me! I love using them for training." 
Have a training partner every now and then – Alexia believes that training with her friends and family helps create a healthy environment where everyone motivates each other to push further on their fitness journey.
You don't have to be prefect, just consistent – Alexia says, it's not about staying 100 percent motivated all the time. Instead, it's about showing up in the gym regardless of how she feels – training on both 'good days', and 'bad days'.
---

" I never feel like I NEED to have a cheat meal. If I want something I eat it. It's about moderation. But, I do have a weakness for french fries"
Nutrition
Balance is Key
Alexia knows the importance of nutrition, and tries to keep her diet clean all-year-round. However, she encourages people to find healthy foods that they like, without restricting themselves to certain foods.
"Being happy is also SO IMPORTANT! Diets never work long term but what works is eating the right things for your body without feeling like you are restricted – so I guess I don't really have cheat meals."
Foods Alexia Clark Eats
Alexia's diet is based on foods that are rich in protein and fiber. These include chicken breasts, egg whites, fish, feta cheese, and dark green vegetables.
She also makes sure to consume a small amount of heart-healthy fats in the form of avocados, whole eggs, and nuts, as these foods help support Alexia's overall health.
Here are some of Alexia's go-to meals;
Roasted red pepper stuffed with chicken
Greek salad with feta cheese
Egg white omelet
---
Editor's Tip

Inspired to reach your maximum potential like Rachel? Read our comprehensive guide on how fat burner supplements can really up your game!

---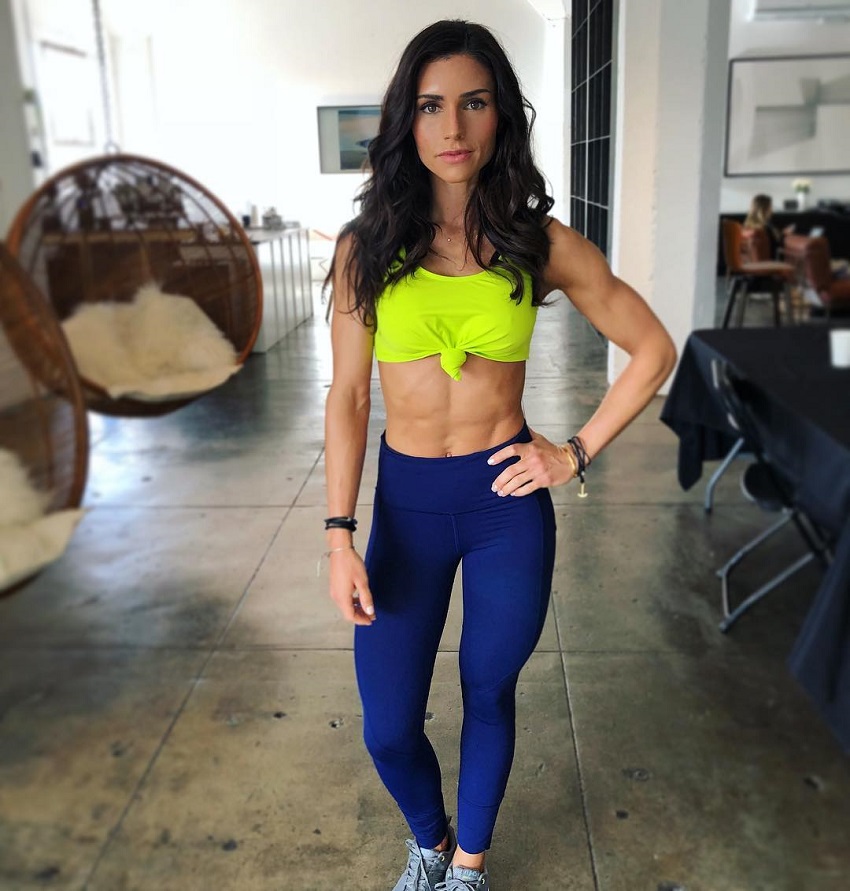 ---
Daily Meal Plan
Alexia's daily meal plan for fat loss would look something like this;
Morning
1 squeezed lemon in a glass of lukewarm water
Egg whites with oatmeal
Mid-Morning
Lunch 
Vegetable soup, egg sandwich, brown rice, and fish
Evening Snack 
Fruit juice and vegetable salad
Dinner
Greek Salad with Feta Cheese and soup
---
Alexia Clark in a professional photo shoot.
---
Supplements Stack:
Fat Burner (Instant Knockout)
BCAAs
L-Glutamine
---

Idols and Influences
Alexia names her family and friends as her main influences – they encouraged her to succeed as a fitness model, by pushing her to audition for numerous photo shoots.
---

What we can learn from Alexia Clark
If we can learn anything from Alexia Clark, it's to always follow your passion in life. She didn't enjoy studying marketing at college, and worked hard to find a way into the fitness industry – becoming a well-known fitness model and icon.
If you're unhappy with your situation, then you should take action to improve yourself.