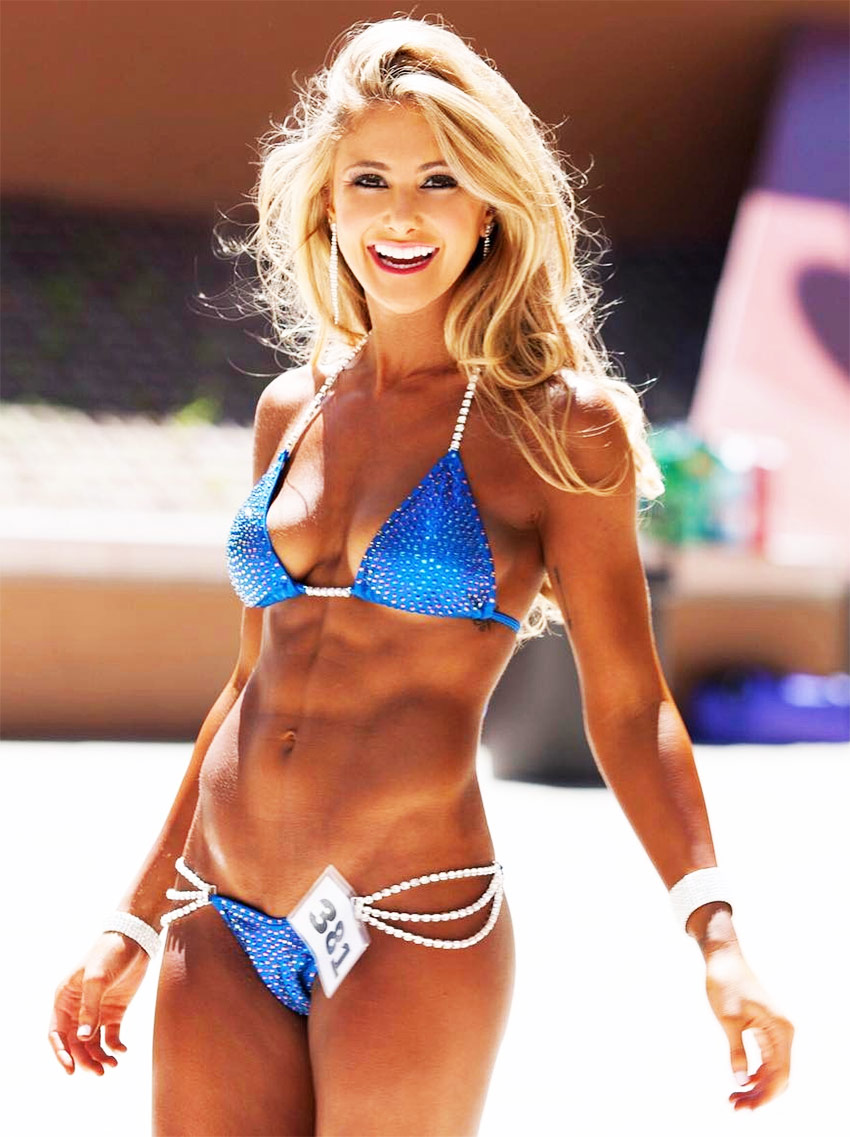 Alex Silver Fagen
Personal Trainer, Group Fitness Instructor, Yoga Teacher, Fitness Model
Alex Silver Fagan is a personal trainer, fitness & spokesmodel, sponsored athlete and social media star from New Jersey (USA).
Unlike many other fitness icons, she didn't grow up with an interest in fitness – her passion for the industry only developed during her time in New York, where she attended college.
However, she took immediate action towards pursuing her new ambitions; it wasn't long until she'd earned a trophy as a bikini competitor, and become sponsored by some of the biggest brands in the sports industry.
This is her story:
---

"Embrace the difficulties and the road bumps—all of them will make you better."
Athlete Statistics
Full Name: Alex Silver Fagen
Weight
Height
Year of Birth
Nationality
115 - 125lbs (52.2 - 56.7kg)
5'4" (162.5cm)
1993
American
Profession
Era
Personal Trainer, Group Fitness Instructor, Yoga Teacher, Fitness Model
2010
| | |
| --- | --- |
| Weight | 115 - 125lbs (52.2 - 56.7kg) |
| Height | 5'4" (162.5cm) |
| Year of Birth | 1993 |
| Nationality | American |
| Profession | Personal Trainer, Group Fitness Instructor, Yoga Teacher, Fitness Model |
| Era | 2010 |
---

"I started my fitness journey by competing in bikini competitions."
Accomplishments
Certifications
American Council on Exercise (ACE) Personal Trainer
Certified Functional Strength Coach (CFSC)
200hr Registered Yoga Teacher
Kettlebell Athletics 1
Functional Movement Screen
Y-Balance
ACE Flexibility Specialist
Fitness Modelling
NIKE Trainer
Wilhelmina Fitness Model
Women's Health Magazine Next Fitness Star 2016 Finalist
Team Bodybuilding.com Athlete
Performix Sponsored Athlete
Competition History
2014 NPC Atlantic States Bikini Competition – 7th
2014 NPC Northeast Summer Classic Bikini Competition – 2nd
2015 Bodybuilding.com Bodyspace Spokesmodel Search – 2nd
---

"It's always a struggle, but that's what makes it worth it. If each day were easy, you'd never progress."
Biography
Start of Fitness Journey
Born and raised in Millburn, New Jersey (USA), Alex enrolled at New York University to study Business Marketing. However, during her time in New York, she developed a strong passion for fitness – becoming determined to pursue a career in the industry after earning her degree.
In 2014, at the age of 21, Alex graduated from college; almost immediately, the youngster stepped up her game in the gym, setting her sights on competing as a bikini athlete.
First Competition
For the next year, Alex trained rigorously in the gym – determined to achieve a shredded figure capable of placing highly in her debut show.
By July, in 2015, the she'd reached her goal and appeared on-stage at the NPC Atlantic States Bikini Competition. Although she didn't have the dream start to her career in fitness, Alex placed a very respectable 7th against experienced athletes.
This pushed her to achieve success, as she continued chasing her ambition of making a name for herself in the industry.
---

---
Success
Wasting no time, Alex competed at the 2015 NPC Northeast Summer Classic show only a few months later. Again, she missed out on the gold medal, but she gained recognizion after earning a second place trophy – but she wasn't done yet.
Towards the end of the year, Alex finally tasted success after entering the Bodybuilding.com Spokesmodel Search. She competed against thousands of applicants around the world, but was eventually chosen to represent the brand as a sponsored athlete.
Personal Trainer
Alex's time as the spokesmodel for the leading bodybuilding website had gained her much exposure; this is exactly what she needed to kickstart her career in fitness.
After experiencing life as a sponsored spokesmodel, Alex made the decision to help others chase their dreams – earning her personal training qualifications and starting to coach others in 2016.
---

---
Social Media Star
Not long after, Alex had become a respected fitness model and personal trainer; as a result, she gained masses of followers on Instagram – with fans around the world admiring her incredible figure and lifestyle.
Using social media as a tool to reach a bigger audience, Alex began posting videos of her workouts – giving her fans advice on how to train with correct form (as well as advertising her services as a personal trainer).
It wasn't long until Alex had been approached by some of the biggest brands in the sports industry – appearing in numerous magazines and advertisement campaigns.
By 2017, Alex had become a fitness icon and social media sensation.
---

" I lift heavy weights and I'm also a yogi."
Training
Since attending New York University (NYU), Alex has been training in the gym for 6 days per week. However, due to her busy lifestyle as a personal trainer, fitness model & spokesmodel, and sponsored athlete, she had to make sure her workouts are fast and effective.
As a result, Alex is a big advocate of 'fast and dirty' circuit routines – she believes this allows her to develop her figure in the shortest time-frame using weights.
Workout Routine
Here's Alex's favorite circuit workout:
Fast and Dirty Circuit Routine – 3-4 Rounds with minimal rest 
Burpee With Side-to-Side Shuffle – 8 reps
Split Squat with Shoulder Press – 8 reps
Decline Push-Up with Cross Climber – 8 reps
Dumbbell Front Squat To Rotational Press – 8 reps
Renegade Row – 8 reps
Overhead Reach with Toe-Tap Leg Extension – 8 reps per leg
Favorite Exercises 
In terms of weighted lifts, here's Alex's top 3:
Barbell Deadlift
Box Jump
Dive Bomber Push Up
---

"I use my body differently all day long and am always on the hunt to learn more."
Nutrition
Being a personal trainer and fitness model, Alex knows the importance of nutrition when aiming to sculpt a great figure. For this reason, she eats up to 6 small meals per day – keeping her metabolism and fat burning potential fired up.
However, like many other athletes, she allows herself a cheat meal once per week – her favorite being pizza and ice cream.
---

" I began teaching classes and training clients in NYC in addition to finding a love for functional training, not just bodybuilding."
Idols and Influences
As a child, Alex wasn't really interested in fitness – her passion for working out developed during her time at college, when she became determined to sculpt her dream figure.
For this reason, Alex has always been a self-motivated person. However, since becoming a personal trainer, she claims that the progress of her clients is what pushes her to continue succeeding in the industry.
---

"I'm driven to never settle for being ordinary or average. We all have the potential to be great."
What We Can Learn From Alex Silver Fagan
If we can take anything away from Alex's story, it's to always help others when you're in the position to do it – as soon as Alex had began to establish herself as a fitness & spokesmodel, she earned her personal training certifications – offering to pass on her knowledge and coach others to success.
Also, Alex has taught us to never give up on our ambitions; she didn't have the dream start to her career (placing 7th in her debut show), but she pushed on and eventually tasted success – earning sponsorships from the biggest brands in the sports industry.