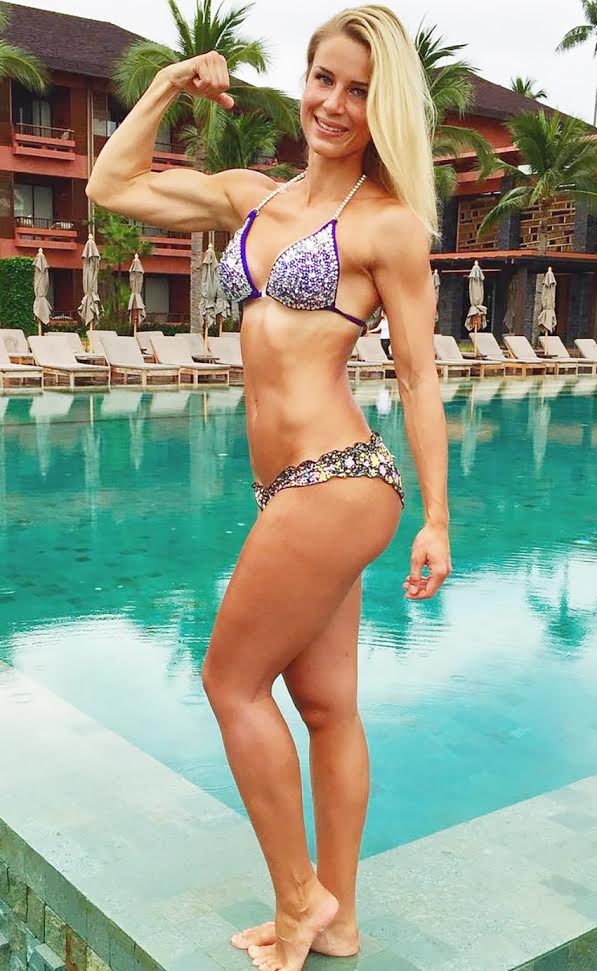 Adrienne Koleszar
Senior Police Commissioner, Professional Bikini Athlete
From enforcing the law to competing in Fitness World Championships, Adrienne Kolaszar has succeeded in becoming a fitness star. Through hard work in the gym, the police officer has attracted a mass of social media followers online after her photos went viral.
The professional Bikini Athlete has become an Instagram sensation, with her incredible physique being her claim to her fame. She has become an icon for female fitness, inspiring others to achieve their dream bodies.
This is her story:
---

"Only illness or force majeure could keep me away from the gym."
Athlete Statistics
Full Name: Adrienne Kolaszar
Weight
Height
Year of Birth
Nationality
135 - 145lbs (61.2 - 65.8kg)
5'8" (172.5cm)
1985
German
Profession
Era
Senior Police Commissioner, Professional Bikini Athlete
2010
| | |
| --- | --- |
| Weight | 135 - 145lbs (61.2 - 65.8kg) |
| Height | 5'8" (172.5cm) |
| Year of Birth | 1985 |
| Nationality | German |
| Profession | Senior Police Commissioner, Professional Bikini Athlete |
| Era | 2010 |
---

"I'm far from being at my final goal. Building your body naturally takes time."
Accomplishments
Competitions
25/10/2014 1. Int. Newcomer Cup Butzbach win and overall Champion

22/11/2014 1. Int.

Niedersachsencup Salzgitter win and overall Champion

29.11.2014 German Championships Bochum German Vice Champion 
---

"Today I am happier than ever. Life is beautiful and colorful."
Biography
Early Years
Adrienne, was born in the Jewel Box of East Germany, Dresden, and has always had a passion for fitness. With the encouragement of her family, she began training in the gym at 14, when her parents signed her first gym contract for her.
Entering the gym with a strong desire to lose fat around her legs and buttocks, Adrienne only focused on these areas when training in the gym.
Learning from her mistakes
During the early years, Adrienne began to notice that she wasn't making any improvements to her body. Although she was training hard everyday, Adrienne soon realized that spot reduction wasn't possible.
She had to change her plan or fail to realize her ambition – to achieve the lean physique she craved. This is what motivated her to change her diet and train harder, and it was in her late twenties when she started to plan her diet.
Going Viral on Instagram
In between her busy lifestyle as a police officer full-time, she began updating her Instagram profile with photos of her lifestyle and body. It wasn't long until she was noticed by the public.
In 2016, Adrienne had her first taste of fame when she found herself at the center of attention on social media. She had been noticed by the media worldwide, and gained a mass of likes and followers on Instagram.
At the age of 31, Adrienne quickly became an online sensation, as well as a fitness star.
---

"I am more enlightened, and much more confident than I was before."
Training
Adrienne trains her entire body in the gym everyday and cycles for 40 minutes, to maintain her lean physique. Unlike other athletes, she doesn't believe in having a rest day every week – she constantly trains unless she is ill or away on duty.
She enjoys training legs twice a week, but makes sure to target muscle groups on her body equally. Her favorite exercise is the hip-thrust.
---

"My greatest joy is the structure of my legs and bottom."
Nutrition
Adrienne respects nutrition and is careful to plan and weigh her meals everyday, in order to stay within her calorific target and macros. She enjoys cooking fresh meals whenever she has enough time away from her profession.
The fit police officer insists on eating potato instead of rice, and unlike other athletes, she has always included plenty of carbs in her diet. Interestingly, Adrienne eats more than the average bikini athlete – 2500 calories per day to sustain her while out enforcing the law and training everyday.
Supplements Stack
As for her supplements, Adrienne takes:
Whey Protein
BCAA
Multivitamins
Zinc
Magnesium
Creatine
---

"The more I ate, the less I weighed."
Idols and Influences
Adrienne looks up to other bikini athletes, naming the likes of Xenia Mennich, Ashley Kaltwasser and fellow fitness star, Michelle Lewin as her main influences.
---

"I have made great progress. I could burst with pride."
What we can learn from Adrienne Kolaszar
Adrienne may have started training from as early as 14, but she admits that she only got it right in her late twenties. What we can take away from Adrienne Kolaszar is to be determined to succeed, and to see anything through till you are closer to your goal.
An important lesson we can take from the Bikini Athlete is that there is always time to fit in any activity which helps you to get to your goal – she still manages to fit in daily gym sessions and diet plan around her busy lifestyle as a police officer.
If we can take anything away from Adrienne, it's to never be afraid to show others your journey or of any criticism. She regularly updates her social media with photos of herself, regardless of any criticism she may receive.