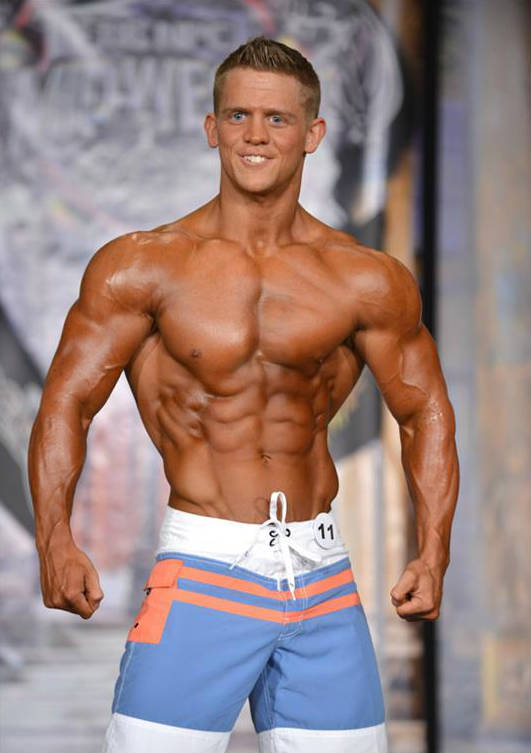 Tyler Stines
IFBB Physique competitor, personal trainer
Tyler Stines is an IFBB professional physique competitor, personal trainer and entrepreneur from Ohio, USA. He is well known for his success in the physique competition world, as well as his personal training advice.
Tyler started weight training in his freshman year of high school when he was on the high school wrestling team. During his four years on the team, he began to fall in love with the weight room and learn basic techniques which would help him throughout his career.
At college, he began to take his lifting more seriously; he built a professional training routine while studying for a Bachelors degree in Health Education, Exercise & Fitness . This would allow him to build a physique worthy of competition posing – starting a successful career and becoming a personal trainer to help others with their fitness goals.
This is his story:
---

Athlete Statistics
Full Name: Tyler Stines
Weight
Height
Nationality
Profession
165 - 175lbs (74.8 - 79.4kg)
5'9" (175cm)
American
IFBB Physique competitor, personal trainer
Era
2010
| | |
| --- | --- |
| Weight | 165 - 175lbs (74.8 - 79.4kg) |
| Height | 5'9" (175cm) |
| Nationality | American |
| Profession | IFBB Physique competitor, personal trainer |
| Era | 2010 |
---

Accomplishments
Career
Bachelors in Health Education- Exercise & Fitness (University of Cincinnati)
ISSA Certified Trainer
Competitions
2013 Jr USA's, 1st
2013 Team Universe, 3rd
2013 North Americans, 1st
2014 Dallas Europa, 5th
---

Training
Training Approach
Tylers workouts are constructed by Mike Ferguson – a well-known trainer in Ohio. In his off-season workouts, he focuses on gaining more mass by performing complex lifts and training heavy while training smart.
His workouts never exceed 45 min to an hour. He says that "too many people think that gaining muscle requires 3 hours in the gym, which is total nonsense." His workouts also only consist of 30-45 sec rest periods between his sets to ensure that he stimulates his muscles constantly throughout the session.
Very Little Cardio
Tyler says that his workouts are so intense that cardio is not required during his off-season sessions. When he is cutting before a competition, he introduces High Intensity Interval Training sessions, as well as sessions on the StairMaster or the bike.
When he is using the StairMaster, he likes that he can complete a cardio session, and hit the calf, quad and glute muscles at the same time. Because of this, he usually incorporates the StairMaster at the end of his leg session.
Routine
 Incline Dumbbell Press: 4 sets x 12/10/8/6 reps
Butterfly Machine: 4 sets x 15 reps
Flat Bench Press: 4 sets x 8 reps
Cable Crossovers: 3 sets x 15 reps
Standing Barbell Curls: 4 sets- 10reps
Hammer Dumbbell Curls: 4 sets- 12reps
Deadlifts: 4 sets – 10/8/6/5 reps
Lat Pulldowns: 4 sets x 10 reps
Barbell Rows: 4 sets x 8 reps
Pull Ups (weighted): 3 sets till failure
Close Grip Bench Press: 4 sets x 10 reps
Cable Tricep Pushdowns: 3 sets x 20 reps
Seated Dumbbell Shoulder Presses: 4 sets x 10/8/6/6 reps
Lateral Dumbbell Raises: 4 sets x 12 reps
Barbell Front Raises: 4 sets x 10 reps
Upright Cable Rows: 4 sets x 12 reps
Cable rear delt flys: 4 sets x 10 reps
Hanging straight leg raises: 4 sets x 25 reps
Decline Sit ups: 4 sets x 15 reps
Leg Extensions: 4 sets x 15 reps
Squats: 4 sets x 12/10/8/6 reps
Lunges (weighted): 4 sets x 10 reps each leg
Lying Leg Curls: 4 sets x 15 reps
Leg Press: 4 sets x 10 reps
Standing weighted calve raises: 4 sets x 15 – 20 reps
---

Nutrition
Nutritional Approach
Tyler likes to stay lean all year round while building muscle – seeing no need to bulk or cut dramatically. His nutritional regimen also remains the same and he only makes slight adjustments during the competition season if he has to lose some fat.
When it comes to cooking, Tyler likes to cook all his own food and he cooks in bulk. He prepares his meals 4-5 days in advance of eating them, so that it is much easier for him to come home after a session and eat straight away.
Tyler also keeps in mind his macronutrient needs while cooking.  He aims for just short of 3000 calories a day, to ensure that he can put on adequate muscle.
Supplements
He gets most of these calories from whole foods, lean meat, vegetables and eggs, but he also uses supplements daily to ensure he gets a constant stream of protein to his muscles. His usual daily stack is below:
Creatine
BCAA's
Whey Isolate Protein
Pre-workout
Off-Season Diet Plan
In the off-season, Tyler eats big. He usually includes 6 meals a day and eats a combination of eggs, lean meat such as chicken, and healthy and nutritious carbohydrates such as sweet potato.
One of his favorite meats is ground beef. He chooses 96% beef and includes this meat in various meals such as beef and rice, as well as spicy dishes. His daily meal plan in the off-season is below:
Caloric intake: 2,839 cals
Macros: 232g Carbs, 274g Protein, 86g Fat
Meal 1:
7 egg whites
1 whole egg
48g oats
Meal 2:
40g whey protein
15g almonds
Meal 3:
6-8 oz chicken breast
1 cup broccoli
15g almonds
Meal 4: Pre-Workout
40g whey protein
1 cup broccoli
170g sweet potato
Meal 5: Post-Workout
160g lean ground beef (96%)
205g white potato
Meal 6:
---

Idols and Influences
Tyler is influenced a lot by the famous bodybuilder Kai Greene. He appreciates Kai's attitude to the sport and his dedication to push through setbacks in his career.
---

What we can learn from Tyler Stines
Tyler has shown us how important dedication is in bodybuilding. He has worked with a trainer and is totally dedicated to a career in the fitness world – becoming a personal trainer himself to help others on their journey.
If you want to make it anywhere in the fitness industry, show as much dedication and passion at Tyler and who knows where you might end up.