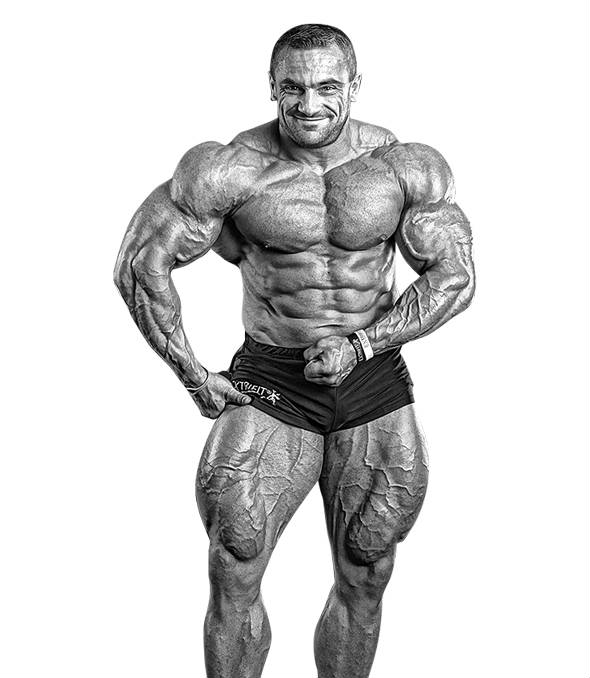 Tomáš Kašpar
Tomáš Kašpar is an IFBB professional bodybuilder and personal trainer from the Czech Republic. He's attracted a lot of international attention, and has been labelled 'The Czech Lion' on social media by his fans. 
While Tomáš has built an excellent physique – claiming a Pro Card in the process – he frequently tells his fans that it wasn't an easy road to the top.
In fact, he's spent over 20 years since he was 17 learning about bodybuilding and improving his physique. He says "I did a variety of sports from ice hockey, football and karate to athletics… but when I grabbed a dumbbell in my hand, I immediately knew that this was my sport!"
In more recent times, Tomáš has decided to help other athletes reach their professional goals. He works with competitors preparing for events, as well as bodybuilders looking to achieve their pro card.
---

Athlete Statistics
Full Name: Tomáš Kašpar
Weight
Height
Age
Date of Birth
255 - 265lbs (115.7 - 120.2kg)
5'9" (175cm)
44
August 7, 1978
Nationality
Czech
| | |
| --- | --- |
| Weight | 255 - 265lbs (115.7 - 120.2kg) |
| Height | 5'9" (175cm) |
| Age | 44 |
| Date of Birth | August 7, 1978 |
| Nationality | Czech |
---

Accomplishments
Competitions
2013 Arnold Classic Amateur Europe, 2nd
2013  Grand Prix Fitness House, 2nd
2013 Ben Weider Diamond Cup, 1st place (pro card)
2016 Nordic Pro, 4th place
2017 Arnold Classic South America, 5th
---

Training
Free-Weights And Machines
Tomáš loves to use free weights and machines. His favorite machine is the chest flye machine, but he also uses cables and squat machines regularly.
He prefers using machines for his lats in particular, due to the more predictable nature of the lift or pull. 
Squats For Full Body Growth
The squat is Tomáš' favorite exercise in his entire routine. He loves this compound movement, as it creates an anabolic state in his body which helps him build muscle in other areas.
Because of this, he usually plans his leg day for Mondays before he hits the smaller muscle groups. He believes there's no better exercise for building the quad and glute muscles – he looks forward to his leg day every week.
Shoulder Exercises
On days when he is hitting his shoulders, Tomáš incorporates lat pulldowns and rows on a machine, and barbell shoulder exercises such as the military press. He also enjoys completing dumbbell side lateral raises, to hit his anterior and lateral deltoids.
Punishing Arm Workouts
Tomáš also looks forward to his arm workouts. For his bicep exercises, he uses machines, cables, and free-weights to hit the muscle hard.
He pushes to his limits with light dumbbells until failure, and introduces drop sets of very light weights as his muscles are tiring.
When it comes to hitting his triceps (which he believes are the most important muscles in the arm,) he uses a combination of cable, dumbbell and body weight exercises. He enjoys dips (weighted and body weight,) and also completes seated tricep extensions, pushdowns and skullcrushers.
---

Nutrition
Importance Of Hydration
Tomáš drinks a lot of water while training and eating, to ensure his metabolism is in good working order. Water is also vital for protein synthesis, so Tomáš advises his clients to drink it throughout the day in large quantities.
Healthy Lean Meats
Lean meats such as turkey and chicken are also a staple in his diet. He buys and prepares his own food, and stores his meals in Tupperware containers to take to the gym with him. Doing so, allows him to focus on his workout at hand, rather than thinking about food preparation.
He spreads these meals out throughout the day, to ensure he gets a continual stream of protein and nutrients into his body. When he cant eat a meal, he often uses supplements such as mass gaining shakes – but he prefers to eat.
Supplements
As well as healthy eating and drinking, Tomáš uses supplements everyday to give him the edge in the gym. He takes BCAA'S, pre-workout powders, and a variety of whey protein shakes to help with his lean muscle gains.
---

What we can learn from Tomáš Kašpar
Tomáš makes it clear that it wasn't an easy road to the top. He worked extremely hard to attain his Pro Card, showing genuine passion for his sport. This passion can be seen in his personal training, where he loves to pass on the skills he has learnt to other professionals.
This mission to help others, is a path that many of you may want to follow. While you have spent years building your fitness knowledge, many others haven't. These people may benefit from your advice.