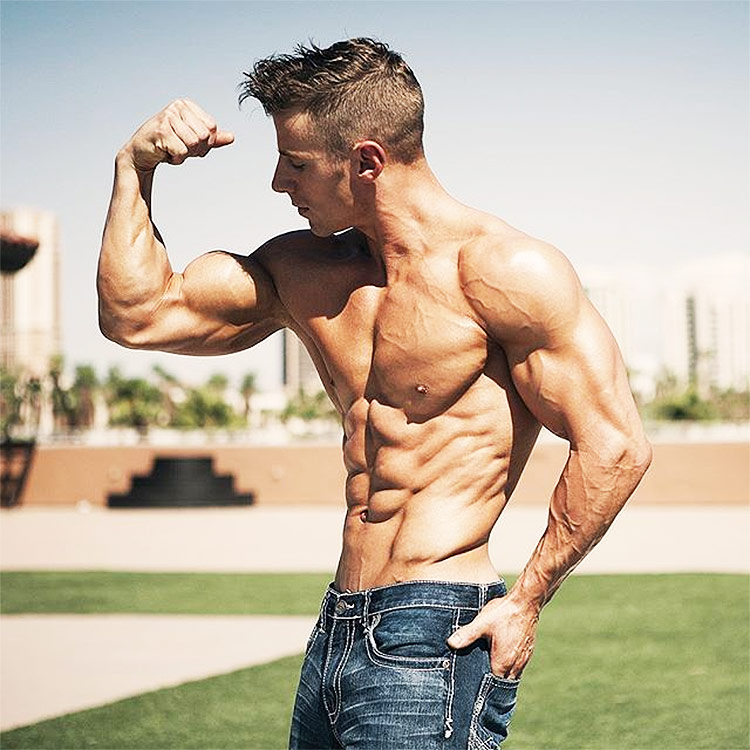 Tim McComsey
Dietition, Personal Trainer, Fitness Model
Tim McComsey is a fitness model and personal trainer from Texas, USA. He's sculpted an incredible physique, and is admired around the world for his shredded appearance.
But it wasn't always easy for the Texan – he suffered from bulimia during his teenage years and was dangerously underweight.
However, he overcame his issues, and bounced back to become becoming widely acknowledged in the fitness industry.
This is his story:
---

Athlete Statistics
Full Name: Tim McComsey
Weight
Height
Year of Birth
Nationality
175 - 185lbs (79.4 - 83.9kg)
5'10" (177.5cm)
1981
American
Profession
Era
Dietition, Personal Trainer, Fitness Model
2010
| | |
| --- | --- |
| Weight | 175 - 185lbs (79.4 - 83.9kg) |
| Height | 5'10" (177.5cm) |
| Year of Birth | 1981 |
| Nationality | American |
| Profession | Dietition, Personal Trainer, Fitness Model |
| Era | 2010 |
---

Accomplishments
Fitness Qualifications
Registered Dietitian
NASM Certified Personal Trainer
Performance Enhancement Specialist (PES)
---

"My whole life, since I was 3, has been based around fitness. I excelled at soccer and continued to play at college."
Biography
Early Years
Born and raised in the heart of The Lone Star State, Texas (USA), Tim's life revolved around sport as a child; he played soccer at the highest level in his early teenage years, and took a keen interest in fitness.
As an elite sportsman, Tim travelled America playing soccer. He became one of the most promising youngsters in his country, aiming to earn a contract after college.
Start of Fitness Journey
Tim's competitive nature led him to begin reading muscle magazines, idolizing fitness models and their shredded figures. He became unhappy with his appearance, finding the desire to sculpt his dream physique.
It wasn't long before Tim began lifting weights in the gym – determined to become bigger and leaner than the rest of his school.
At the age of 16, in 1997, Tim had embarked on his fitness journey.
---

"I was excited as I head off to college. My goal was to learn and teach everything I could about fitness and nutrition."
---
Bulimic
Although Tim was motivated to transform his physique, his lack of knowledge on nutrition cost him. He trained rigorously in the gym, but he wasn't eating enough to fuel himself, becoming very skinny.
As a result, Tim's soccer performance dipped – and he found himself on a downward spiral.
Desperate to find his form again, the youngster resorted to extreme methods; not aware of what he was doing, Tim began suffering from bulimia.
Road to Recovery
Tim's family soon noticed that his health was declining, and Tim was sent to a nutritionist – in an attempt to get him back-on-track.
At first, Tim didn't listen to any advice and continued with his health problems. However, after finally realizing how much damage he was doing to his body, Tim finally made the right changes to his lifestyle.
"I needed to make a drastic change. I knew I couldn't continue down this destructive path anymore. I started to make small goals for myself. Just getting through one meal at a time was my start"
---

Tim's transformation after beating bulimia.
---
Personal Trainer and Fitness Model
It was after graduating from College when Tim had succeeded in overcoming bulimia; he'd managed to find the right balance between exercising and eating healthy.
Following a well-planned diet, Tim became more energetic and began adding lean muscle mass to his frame. Over the next few years, the Texan worked hard to pursue a career in fitness – gaining his personal training qualifications and sculpting his dream physique.
By 2016, Tim had taken part in numerous photo shoots, and helped countless clients achieve their goals.
"My health and helping others is the most important reason why I continue to workout and stay healthy. My story and experiences gave me the tools I needed to now counsel others to live up to their potential.
I feel it is crucial to find out who we are and create balance in our lives so we can live it to the fullest. Comparing and competing with others can pave a toxic path."
---

"My routine is basic. I lift 5 times a week, normally hitting 2 bodyparts per workout."
Training
Tim lifts weight for 5 times a week – in 45-60 minute gym sessions. He enjoys training multiple muscle groups in his workouts.
In terms of cardio, Tim only performs a couple of minutes of HIIT at the end of gm sessions. However, he doesn't follow a set workout routine – instead, he listens to his body, deciding which muscle groups to train everyday.
Workout Routine
Tim's workout routine would look similar to this:
Day 1 – Chest, Triceps, and Lower Abs
Day 2 – Back, Biceps, and Obliques
Day 3 – Legs
Day 4 – Rest
Day 5 – Shoulders and Upper Abs
Day 6 – Chest, Triceps, and Lower Abs
Day 7 – Rest
---

"To gain healthy weight, you want to eat 4-7 meals a day that each include lean, complete protein, carbohydrates, and green vegetables. When following this plan, CONSISTENCY is key."
Nutrition
Tim knows the importance of nutrition, having recovered from being bulimic as a teenager. His plans his diet around white meat (fish and chicken), green vegetables, complex carbohydrates, and healthy fats.
The fitness model aims to consume 6 meals per day – to keep his metabolism high and his body fuelled to develop.
Diet Plan
Tim's diet plan will look similar to this:
Breakfast – 1 egg, 3/4 cup egg whites, 1/2 oats, 1/2 cup of fresh berries.
Snack – 25g Whey Protein, 1 cup unsweetened Almond Milk, 1 tbsp Almond Butter.
Lunch – 5oz Salmon or Grilled Chicken, 1 cup steamed broccoli, 1/2 cup of mashed sweet potato, 1/2 tbsp Olive Oil and Vinegar.
Snack – 25g Whey Protein, 1 cup unsweetened coconut milk, 2tbsp flax oil.
Dinner – 5oz lean white tilapia, 2 cups kale, mixed vegetables, 1tbsp olive oil and vinegar.
Snack – 1 cup fat-free cottage cheese, 1/8 cup of raw almonds.
Supplements Stack
L-Glutamine
BCAA
Fat Burner
Pre Workout
---

"My fulfillment is helping others achieve their goals regarding fitness and well-being."
Idols and Influences
Tim's inspiration comes from beating his own struggles during his teenage years. He knows how tough life can be, and now feels a responsibility to help others achieve their goals as a personal trainer.
"The fact that i'm in a position to be able to influence others is amazing, and I love knowing that i'm being a great role model to others."
---

"My story and experiences gave me the tools I needed to now counsel others to live up to their potential. I feel it is crucial to find out who we are and create balance in our lives so we can live it to the fullest."
What we can learn from Tim McComsey
One thing we can take away from Tim's story, is to listen to the advice of others and accept help. He suffered from bulimia, but refused to listen to nutritionists at first – but eventually overcame his downfalls after realizing his mistakes.
Tim was very skinny, with very little muscle mass, when he began following a proper diet plan and lifting weights. However, he managed to sculpt an incredible physique – with the right determination and work ethic, anyone can realize their fitness goals.