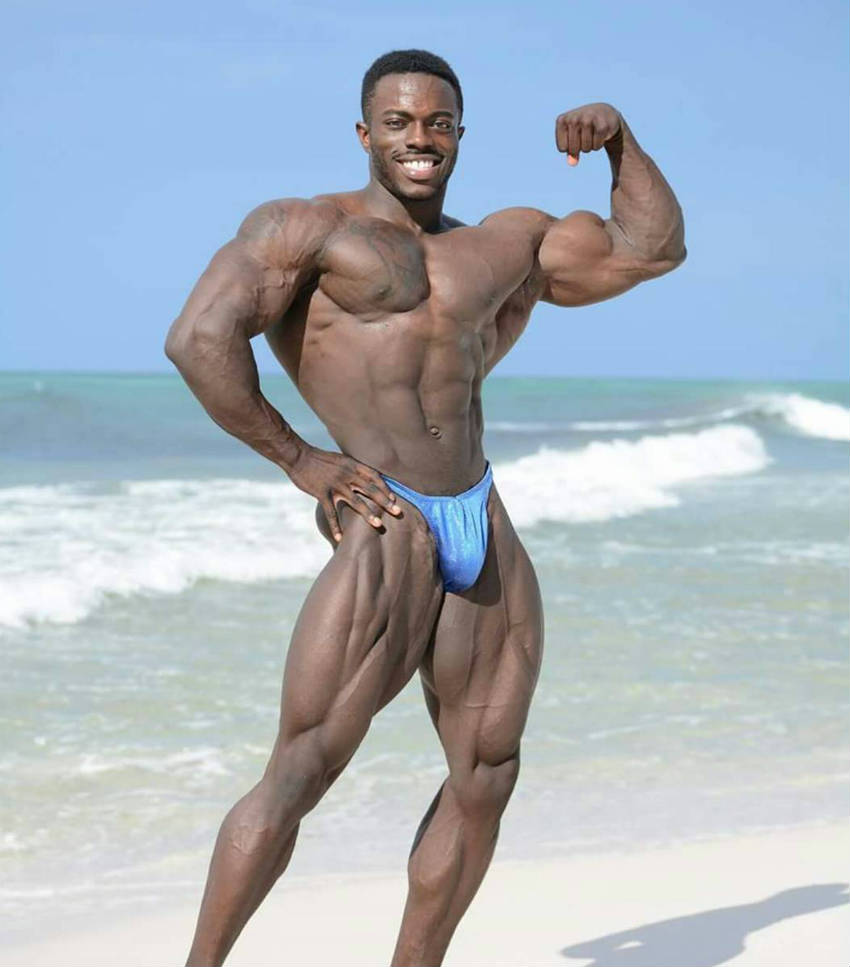 Terrence Ruffin
IFBB Professional Bodybuilder, Air force Airman
Terrence Ruffin is an IFBB Professional bodybuilder from Beatrice, Alabama (USA.) He was the youngest person to ever receive a Pro Card in 2014, winning the NCP Nationals at 21 years old.
While Terrence is the embodiment of success, he actually had quite a difficult start to his adult life – failing a Air Force training test. While this made him angry and depressed, he threw himself into bodybuilding and began to compete to restore his confidence.
Fast forward to today, and Terrence is a professional athlete who has won several IFBB professional competitions. He's won the 2016 IFBB Tampa pro, and the 2016 Kentucky Pro – making a name for himself in the professional competition circuit. This is his story:
---

Athlete Statistics
Full Name: Terrence Ruffin
Weight
Height
Nationality
Profession
155 - 165lbs (70.3 - 74.8kg)
5'5" (165cm)
American
IFBB Professional Bodybuilder, Air force Airman
Alias
Era
T Ruff
2010
| | |
| --- | --- |
| Weight | 155 - 165lbs (70.3 - 74.8kg) |
| Height | 5'5" (165cm) |
| Nationality | American |
| Profession | IFBB Professional Bodybuilder, Air force Airman |
| Alias | T Ruff |
| Era | 2010 |
---

Accomplishments
Competitions
2013 NPC Panhandle Showdown, 2nd 

2014 NPC Panhandle Showdown, 1st 

2014 NPC National Championship Lightweight, 1st (Pro Card)
2016 IFBB Prestige crystal cup, 3rd place
2016 IFBB Tampa pro, 1st place
2016 IFBB Olympia showdown, 9th Place
2016 IFBB Dayana cadeau classic, 2nd place
2016 IFBB Kentucky Muscle, 1st place
---

Biography
First Taste Of Bodybuilding
Terrence grew up in Beatrice, Alabama (USA.) His first taste of the bodybuilding came at the age of 13, when he sneaked into his mothers friends gym to play with the weights. This interest in lifting weights increased over the years, and he eventually signed up to a local gym in his freshman year of high school.
While he enjoyed the workouts massively, he says he was embarrassed when he first started, as "he could barely bench the bar on its own". As he kept turning up, he noticed that his strength was gradually improving, and he started lifting light weights.
Aiming For An Air Force Career
While Terrence enjoyed working out, he didn't necessarily enjoy school. At the age of 17, he decided that he would join the air force as a way to escape. He didn't want to go to college, and he saw the armed forces as a way to learn new skills.
He chose to join the Tactical Air Control arm of the air force and set off to train. Unfortunately, he didn't have what was required physically to pass through the week-long field training exercise in the woods. He was extremely distraught, as he had to return home and look for another career path.
Bodybuilding As A New Dream
Terrence was still determined to remain in the air force, and his way of dealing with this disappointment was to throw himself into weight training. He went back to the same gym he had trained in growing up – making a good set of friends and rekindling his love for the sport
When discussing this period, he said "when I went to the gym, all the worries and trials and whatnot, they all just sort of left … it was kind of a therapy. You can get out any frustrations, and you're too tired to worry about anything afterwards."
---
Terrence's transformation 19-22
---
Aiming for Competition Wins
Terrence was reassigned to Keesler Air Force Base in Mississippi, for avionics training. He continued to lift weights, finding a number of air force colleagues that shared his love, who spotted him in the gym.
Some of these friends noticed the massive improvements Terrence was making, and encouraged him to take part in some amateur competitions. He says that he could always see himself progressing, and he really enjoyed the feeling of people noticing the changes to his body, when he sometimes couldn't see them himself.
His agreed to begin competing – taking part in his first amateur competition in April 2013. He came second in the teen class, and fifth in the lightweight 150-pound division. Through this victory, he managed to be qualify for another event in Miami – which he won decisively.
Going For The Pro Card
In 2014, Terrence decided that he could now attempt to win his Pro Card. He attended the 2014 NPC National Championships with a hopeful confidence, but wasn't sure he could actually pull out the win.
As the judges for the lightweight category read out his name in first place, he was completely "shocked". With this victory, he had won his Pro Card, and in 2014 became the youngest competitor of all time to do so at 21 years old.
"I like to entertain…Being on stage and being able to make people excited is pretty fun."
Professional Competing in 2016
With his Pro Card in his belt, Terrence decided that 2016 would be his time to shine and compete against the world finest physiques. He competed at 5 major competitions throughout the year, and landed a podium finish at 4 of them.
His two victories at the 2016 IFBB Tampa pro, and the 2016 IFBB Kentucky Muscle, were his best performances of his career at that stage. He showed everyone that he could do whatever he wanted if he set his mind to it.
---

Training
Instinctual Approach
Terrence believes that the best way to train for him, is to train with what feels right. He says that most days he doesn't actually have a workout plan before he goes to the gym, or will "come up with something a few hours before training."
While his actual workouts are instinctual, he split is always planned out in advance. He works out on an 8-day schedule – focusing on one body part each day. His split is below.
First Day: Chest
Second Day: Quads
Third Day: Rest
Fourth Day: Back
Fifth Day: Arms
Sixth Day: Hamstrings
Seventh Day: Shoulders
Free Weights And Machines
When it comes to the decision between free weights and machines, Terrence chooses both. He loves to make use of any new gym technology that is introduced – believing that anything that can potentially improve his look should be considered.
Cardio
Similarly, while many bodybuilders choose to avoid cardio altogether, Terrence loves to completes a lot of cardio and reveal his physique. In fact, he credits his cardio as the key to a number of his competition wins.
He completes aerobic exercises five times a week, for about 20 minutes. Sometimes this includes runs as part of his air force schedule, but he takes the time to use the elliptical machine and treadmill on his own.
---

Nutrition
Maintaining A Strict Diet
Terrence believes that his strict diet is central to his success. When bulking, he eats 6 times a day. One meal plan for a bulking day in 2016 is below.
Morning Meal: 10 egg whites and three whole eggs and oatmeal
Second Meal: white rice and eight ounces of chicken, beef or turkey
Third Meal: white rice and eight ounces of chicken, protein shake
Fourth Meal: white rice and eight ounces of chicken, one potato
Fifth Meal: Potential cheat meal (see below) or rice and chicken
Sixth Meal: 10 egg whites and three whole eggs.
Cheat Meals
In terms of cheat meals, Terrence allows himself two meals a week during bulking season where he eats pizza, or some other fast food option. He says that these meals are necessary, as his meals are generally quite bland throughout the week.
Importance Of Water
He also drinks more than a gallon of water each day. He values this water intake for his protein synthesis, as well as hydration, as he sweats a lot during cardio.
---

What we can learn from Terrence Ruffin
Terrence Ruffin's story is a lesson in never giving up. He suffered from a serious setback in his life when he failed his Air Force training the first time round. He didn't let this affect his performance though, throwing himself into bodybuilding while he was reassigned.
This absolute determination, allowed him to become the youngest Pro Card holder of all time in 2014, at 21 years old. If you have suffered from a setback, it may be useful to follow Terrence's lesson, and find a new path toward your fitness and life goals.