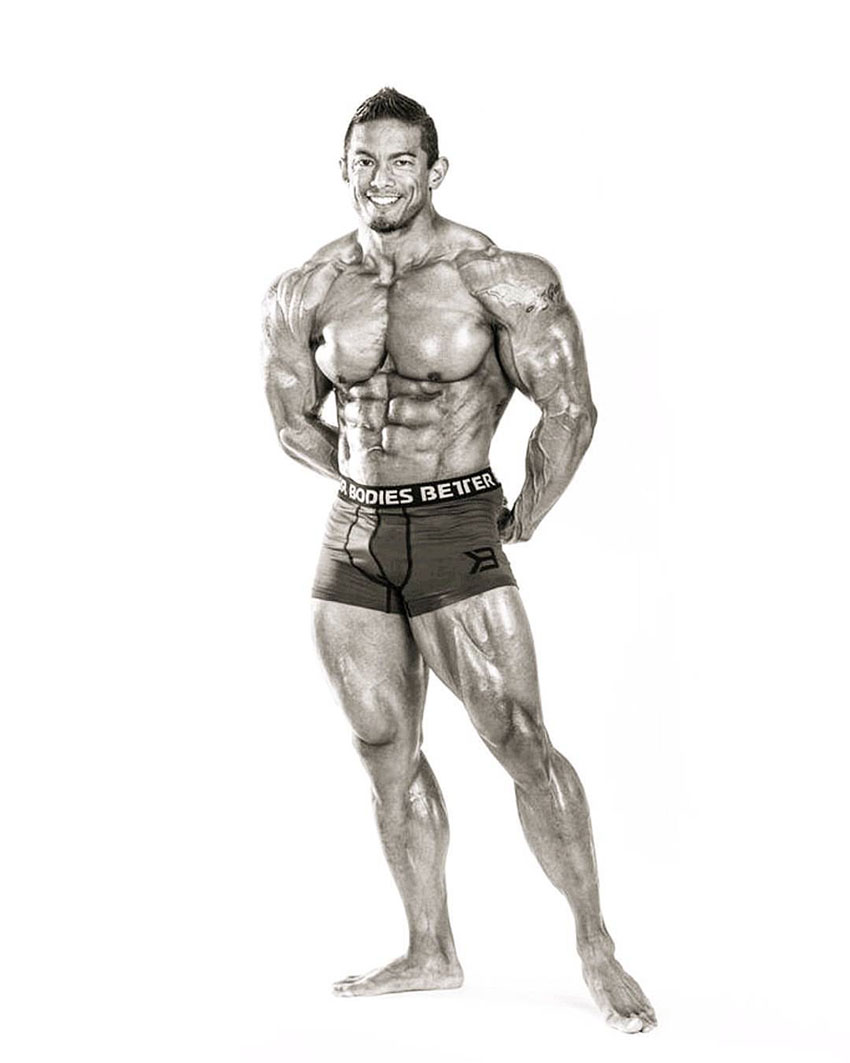 Stan McQuay
IFBB Professional Bodybuilder, Personal Trainer
Stan McQuay is famed all across the world for his well conditioned and shredded physique. Starting off his fitness journey from an early age, Stan took part in a range of competitive sports throughout his childhood, such as Brazilian Ju-Jitsu and American football.
However, life wasn't always an easy ride for Stan. Throughout many of his teenage years, Stan chose a life of crime – building a substantial criminal record in the process.
After being forced to take part in community service for 12 months for a crime that he committed, alongside seeing his best friend being sent to jail for committing a murder, Stan realized that he needed to clean up his act for good. From that moment onward, he turned to the weights room to guide him away from negativity.
By 1997, Stan began appearing on the bodybuilding stage to showcase his incredible physique. Ever since then, his fitness career has gone from strength to strength – reaching his peak upon being awarded IFBB Pro status in 2006.
This is his story:
---

Athlete Statistics
Full Name: Stan McQuay
Weight
Height
Age
Date of Birth
205 - 215lbs (88.5 - 93.0kg)
5'7" (170cm)
50
July 12, 1973
Nationality
Profession
Era
Japanese/Irish
IFBB Professional Bodybuilder, Personal Trainer
1990, 2000, 2010
| | |
| --- | --- |
| Weight | 205 - 215lbs (88.5 - 93.0kg) |
| Height | 5'7" (170cm) |
| Age | 50 |
| Date of Birth | July 12, 1973 |
| Nationality | Japanese/Irish |
| Profession | IFBB Professional Bodybuilder, Personal Trainer |
| Era | 1990, 2000, 2010 |
---

Accomplishments
Career Achievements
IFBB Professional Bodybuilder
Personal Trainer
Competition History
2017
IFBB Wings of Strength Chicago Pro: Men's Classic Physique – 6th place
IFBB Vancouver Pro: Men's Classic Physique – 5th place
2016
Mr. Olympia: Men's Classic Physique – 10th place
IFBB Salt City Showdown: Men's Classic Physique – 1st place
IFBB MuscleContest Pro: Men's Classic Physique – 3rd place
2014
IFBB New York Pro – 212 15th place
Arnold Sports Festival – 212 9th place
2011
IFBB Mr. Olympia 212, 7th
IFBB Sacramento Pro, 1st (Qualified for Olympia)
2010
IFBB Sacramento Pro, 3rd (Qualified for Olympia)
202 Olympia, 7th
IFBB Detroit Pro, 1st (Qualified for Olympia)
2009
202 Olympia, 14th
IFBB Europa Pro, 7th
IFBB Orlando Jacksonville Professional, 1st (Qualified for Olympia)
2006
NPC Nationals Light Heavyweight – 1st place (pro card)
2004
NPC Nationals Middleweight, 2nd
2003
NPC Nationals Middleweight, 2nd
2002
NPC USA Championships Middleweight, 1st
2001
Musclemania Superbody Professional, 1st
2000
NPC USA Championships Middleweight, 4th
Musclemania Professional, 2nd
Musclemania Superbody 1st
NPC California Championships Middleweight, 1st
1999
Musclemania Welterweight, 1st
1998
Musclemania Welterweight, 2nd
1997
ABA California Natural Championships 1st
---

Biography
Stan's Sporting Beginnings
Born in Yokosha, Japan in 1973 to a Japanese mother and Irish father, Stan McQuay has spent the majority of his life living in the USA – relocating from Japan at the age of one. His family lived in Illinois for a few years, before they decided to settle permanently in California.
Growing up, Stan always had an interest in leading an active lifestyle – taking part in surfing, skateboarding and wrestling throughout his childhood. By the time he reached 9 years old, his sporting journey took a different direction, when he started to focus on playing American football instead.
Fast forward to his high school years, Stan began to take part in Brazilian Ju-Jitsu alongside American football. However, Stan lacked the power and strength that was needed to become a success in these sports.
In order to build his performance, Stan turned to the weights room to start building lean muscle. In the process, he was able to improve his performance in the sports he took part in. But during this time, Stan's behavior outside of his sporting interests began to take its toll on his life in a negative way.
Troubled Youth
Throughout his teenage years, Stan was never far from trouble. Despite his passion for competitive sports, Stan made several poor decisions which blighted his youth. Consequently, he regularly got into trouble with the police, building up a criminal record in his late teens.
But one day, matters were made far worse, when Stan's best friend at the time was arrested on a murder charge. He was found guilty, which meant he was sentenced to jail. During this period, Stan's life continued to fall downhill, to the point where he was arrested in front of his peers in college for a crime that he committed.
Stan was left hugely embarrassed due to being dragged out of class and arrested by the police. As a consequence for his actions, Stan was forced to take part in 12 months community service.
Throughout this period, Stan came to the realization that he needed to change his ways, or risk suffering the same fate as his best friend. From that moment onward, Stan committed himself to improving his life for good, turning his back on a life of crime in the process.
Pushing Past Negativity
To overcome his criminal past, Stan turned to the gym once more, with the intention to clean up his act. He began training in the gym on a regular basis, aiming to pick up where he left off following on from his days playing American football.
Weight training quickly became a passion for Stan from the moment he stepped into the weights room. To ensure continual progression, Stan set himself new goals on a regular basis – aiming to build a great physique. Stan knew that if he gave it his all, he would one day achieve just that.
After several months of training hard in the gym, Stan was able to build a muscular, defined, and sculpted physique. Those around him in the gym were impressed by his efforts, at which point they encouraged Stan to compete on the bodybuilding stage.
Stan quickly became interested in competing due to being praised on his great physique. It was at this point, he began preparations for his debut competition in 1997 – the ABA California Natural Championships. Finishing in first place, Stan proved to himself that he was able to live his life more positively. From then on, he set his sights on earning more success.
---

Competing on the Bodybuilding Stage
Stan kept pushing forward as he grew a thirst for success. He appeared in the Musclemania competition two years in a row in 1998 and 1999 in the Welterweight division, finishing in 2nd and 1st positions respectively.
Because of his triumphs on the bodybuilding stage, Stan realized that he wanted to help others achieve the same level of success. He started personal training to achieve this, setting up his own business in the process.
His career went from strength to strength, to the point where he became a personal trainer for several high profile clients. Alongside his personal training company, Stan continued to appear on the bodybuilding stage.
After he became hooked on the competitive bodybuilding lifestyle, Stan then set his ultimate goal of winning his IFBB Pro Card. After a hard fought battle, which involved a disappointing 4th place finish in the 2000 NPC USA Championships Middleweight division, Stan eventually achieved IFBB Pro status, placing first in the 2006 NPC Nationals competition.
Stan McQuay's Life Now
All thanks to his hard work and dedication, Stan was able to make his mark no matter where his bodybuilding journey took him. He changed weight class several times, competing in the middleweight, welterweight, and light heavyweight divisions.
However, Stan has made a name for himself in the Men's Classic Physique category – finishing in first place in the 2010 IFBB Detroit Pro, as well as the 2016 IFBB Salt City Showdown.
Over the years, Stan has not only his inspired his clients to reach their fitness goals, but also his online followers. In addition, he has appeared on the front cover of several fitness magazines across the world, highlighting that his fitness journey had reached new heights.
---

Training
To avoid the chance of reaching a plateau, Stan regularly changes his training methods in order to push his body to its limits. This includes alternating between supersets, dropsets, lifting heavy weights with low repetitions, and light weights with high repetitions. However, to avoid injuries, Stan ensures that he lifts weights that aren't beyond his capabilities.
Additionally, Stan performs his exercises using a mixture of exercise machines and free weights. By adding variety into his training, Stan is able to shock the system, resulting in continual lean muscle growth.
During the bodybuilding off-season, Stan performs fasted cardio 2-3 times per week in order to stay as lean as possible. By doing so, he uses his fat stores as a form of energy, which in turn increases his metabolism throughout the day.
Furthermore, Stan follows a training split which involves working out in the gym at least 5 – 6 days per week. His training methods and favorite exercises are listed below:
Stan's Training Methods
Training Split
Monday: Quads, One Hamstring Exercise, Abs and Calves
Tuesday: Chest
Wednesday: Back, Abs and Calves
Thursday: Hamstrings and One Quad Exercise
Friday: Shoulders, Traps, Abs and Calves
Saturday: Biceps and Triceps
Sunday: Rest Day
Favorite Exercises
Other Forms of Training
Mixed Martial Arts (MMA)
Calisthenics
Plyometrics
---

Nutrition
Stan aims to stay as close to his competition weight as possible during the bodybuilding off-season. He does this by eating clean, whole foods all year round. However, as he is often on the move, he sometimes relies on supplements in order to reach his daily macronutrient needs.
Listed below are the foods he includes in his daily diet, along with his supplement stack:
Stan McQuay's Diet
Diet Staples
Egg Whites
Eggs
White Fish (Cod, Tilapia, or Halibut)
White Rice
Yams
Vegetables (Asparagus, Green Beans, or Powdered Greens)
Supplements
BCAA's
CLA
Multi-Vitamins
Whey Protein Powder
Isolate Protein
Glutamine
Meal Replacements
---

Idols and Influences
Stan is inspired by athletes who take part in 'Ironman' triathlons. He greatly admires their work rate, stamina, and determination – inspiring Stan to follow their example.
Across the bodybuilding scene, Dexter Jackson, Flex Wheeler, Shawn Ray, and Frank Zane are some of the bodybuilders that inspire Stan the most. Highly influenced by their success and incredible physiques, Stan wanted to build a great physique of his own – just like his bodybuilding idols.
---

What we can learn from Stan McQuay
If there's one thing we can take from Stan McQuay's story, it's that his thirst for success led him a long way in his bodybuilding career. Determined to reach all of his fitness goals, Stan has maintained a 'never give up' mindset which has resulted in success on the bodybuilding stage.
Despite this, Stan's poor life decisions during his teens meant that he began to follow the wrong path. Ultimately, his life reached its lowest point when he was arrested in front of his peers in college. Consequently, he was punished with 12 months community service.
However, this made Stan realize that a life of crime was doing him more harm than good. From then on, he set out to improve his life forever – discovering a love for bodybuilding along the way.
By staying motivated, dedicated, and working hard, Stan was able to turn his life around for the better, building a great physique in the process. By showing the same motivation as Stan, you might just turn your own goals into a reality, whether in fitness or otherwise.