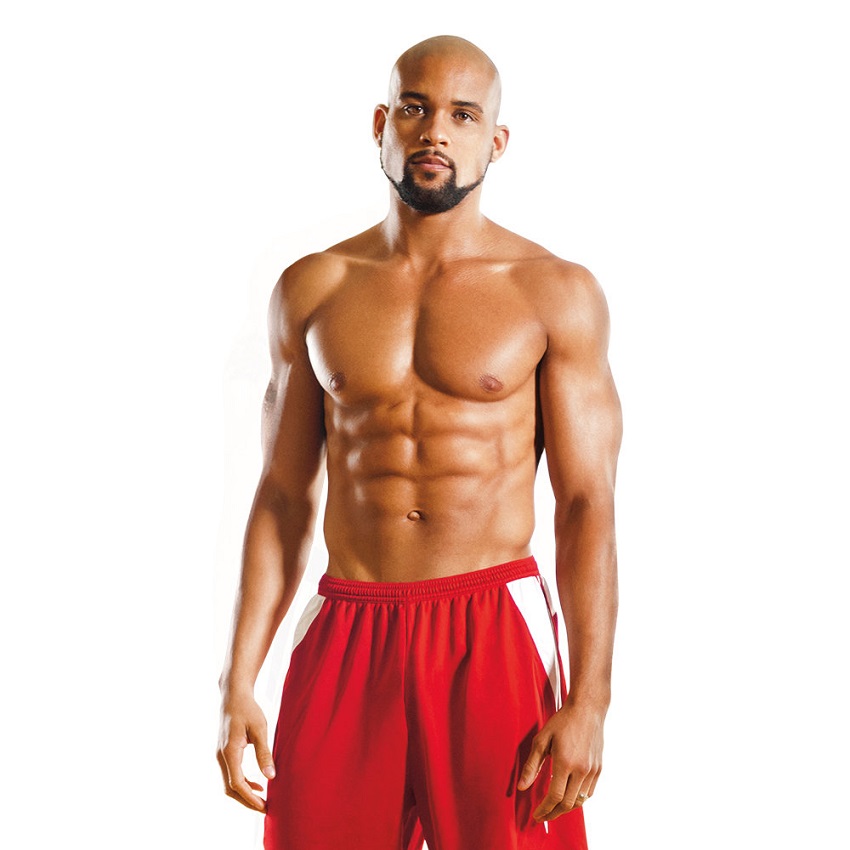 Shaun T
Author, Motivational Speaker, Fitness Model, Personal Trainer
Shaun T is a choreographer, fitness motivator, and entrepreneur known for his training advice. He's been on the TV screens around the world, featuring in shows such as Dr. Oz, Oprah, and many more.
However, Shaun didn't always plan on becoming a fitness athlete. He initially enrolled in college to study communications. However, after gaining 50 lbs during his freshman year in college, Shaun joined a gym in order to get back in shape – a decision that changed his life forever.
This is his story:
---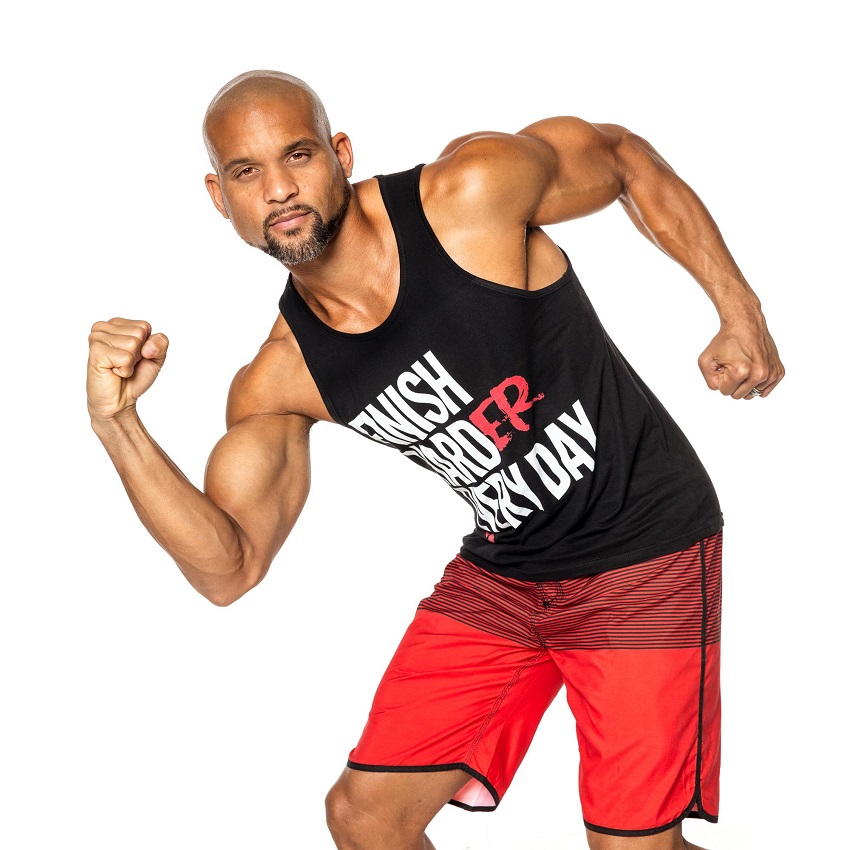 "You have to find a program that makes you feel motivated to do more. There is no fitness blueprint, no one right answer for when and how much. Just find a fun way to move that will add to your energy rather than deplete it."
Athlete Statistics
Full Name: Shaun Thompson
Weight
Height
Age
Date of Birth
185 - 195lbs (83.9 - 88.5kg)
6' (183cm)
45
May 2, 1978
Nationality
Profession
Era
American
Author, Motivational Speaker, Fitness Model, Personal Trainer
2010, 2000
| | |
| --- | --- |
| Weight | 185 - 195lbs (83.9 - 88.5kg) |
| Height | 6' (183cm) |
| Age | 45 |
| Date of Birth | May 2, 1978 |
| Nationality | American |
| Profession | Author, Motivational Speaker, Fitness Model, Personal Trainer |
| Era | 2010, 2000 |
---
 "Without a powerful mind, a bomb ass body don't mean shit."
Accomplishments
Motivational Speaker
Training Coach
Model
Fitness Entrepreneur
TV Personality and Host
Choreographer
---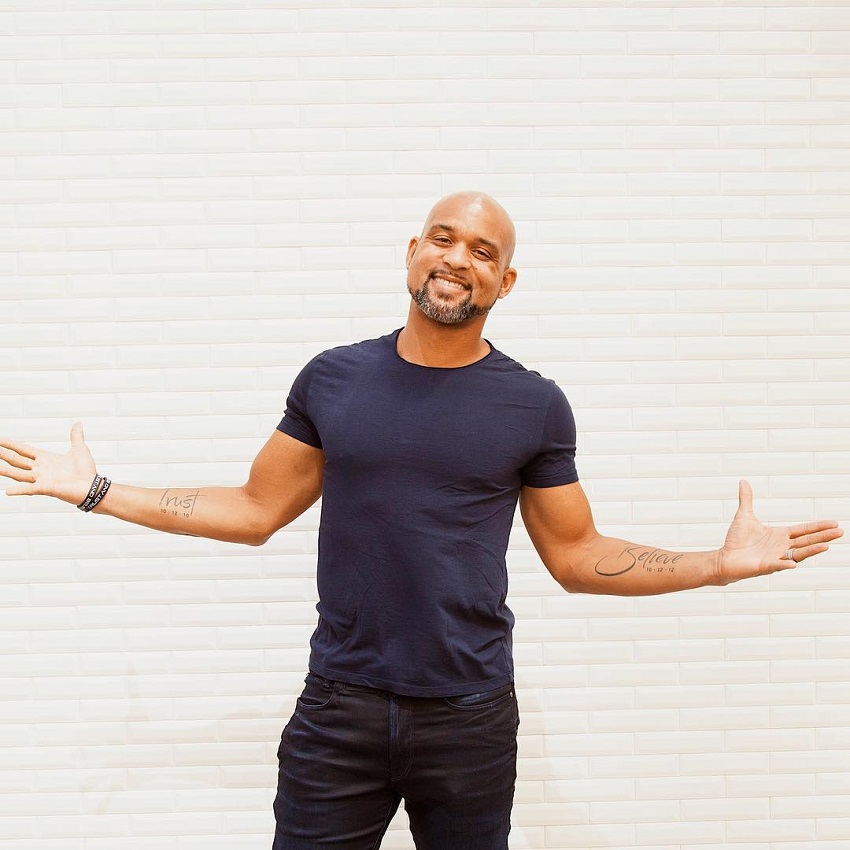 "When someone pisses me off I focus on how I can rise above instead of stooping to their level."
Biography
Shaun's Sports Background
Shaun T was born and raised in New Jersey, USA. During his early childhood, Shaun found love for sports and disciplines of all kinds. His favorites were baseball, American football, and track.
When he enrolled in college, Shaun had to pause his athletic pursuits. This was due to Shaun's academics taking priority. In his words; "I didn't run track the first year because I was on academic scholarship and wanted to focus strictly on school."
---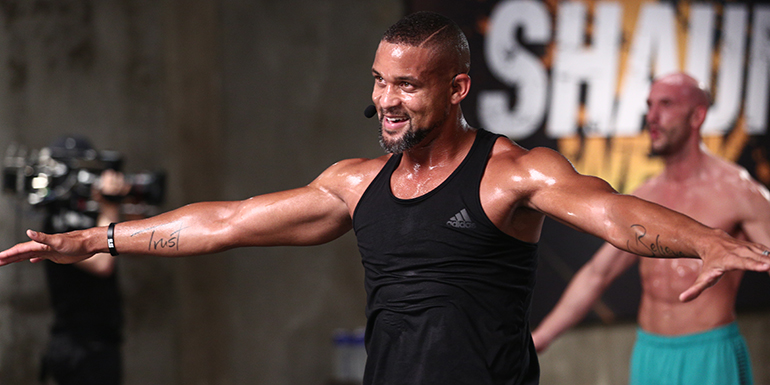 Shaun T during one of his fitness workshops.
---
Early Days in Fitness
Because of his inactivity, Shaun soon saw his weight go up. By the end of his freshman year of college, he'd gained 50 pounds – going from 178lbs to almost 230lbs.
Once he saw himself in the mirror, Shaun realized it was time to make a change. He said; "I was still athletic in my mind, but not physically. So, I changed my major from communications to sports science and I started going to the gym again, at first just working out for 10 minutes a day."
Although he didn't train a lot, Shaun still saw great improvements in his body. Before long, he became athletic and fit once again.
Teaching Dance Classes
From his new major in Sports Science, Shaun was tasked to teach a fitness class to groups of people. But it wasn't a training class – instead, Shaun was assigned to teach a hip-hop aerobics class.
Although surprised initially, Shaun decided to give dance a try. He quickly progressed in hip-hop dance, attracting numerous people to attend his classes. At one point, Shaun had over 90 people regularly attending his dance classes.
"I got really good, and had 90 people who showed up to my class regularly. That led me into dance."
As his experience in dance and fitness grew, Shaun realized he could make a career out of his passions. In his words; "Later, I got into kickboxing, step and boot-camp classes, too, and I started to realize I could do this for a living."
---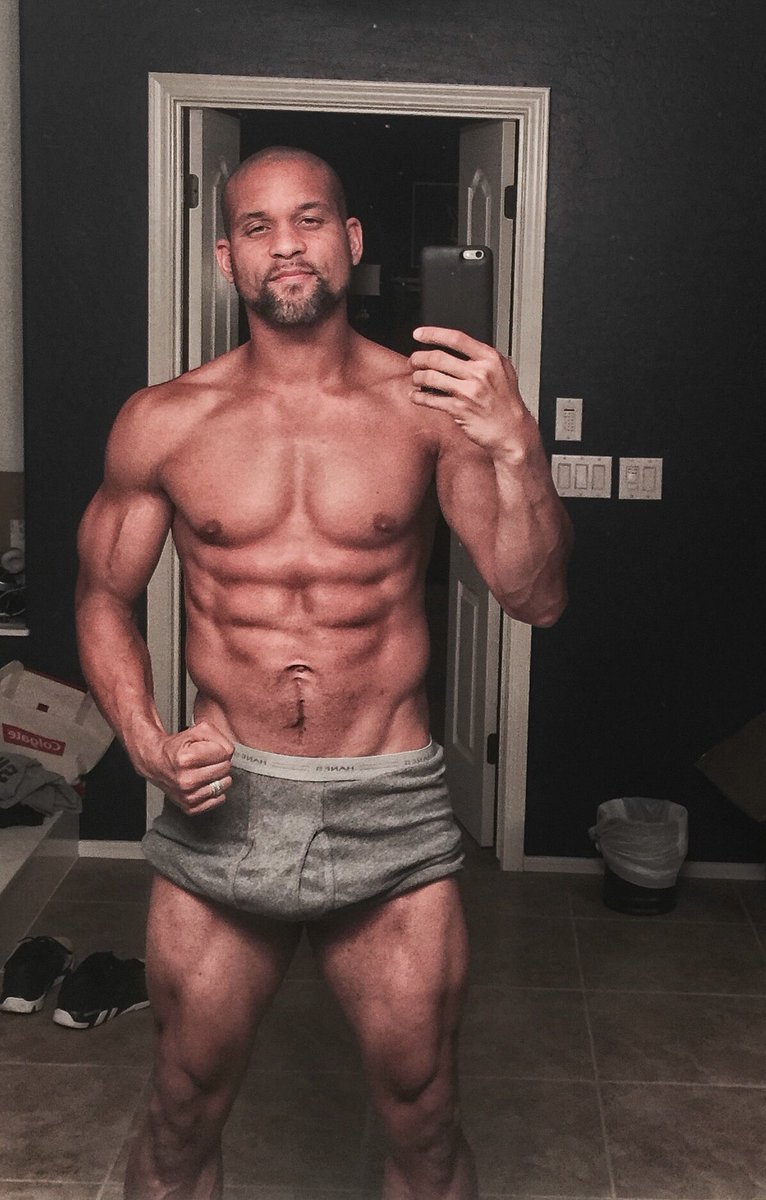 ---
A New Career
After graduating with a Major in Sports Science and minor in Theater and Dance, Shaun moved to Los Angeles. There, he started working as a dancer, fitness trainer, and choreographer.
He taught fitness classes all across LA, and was soon approached by fitness companies who noticed his work. Ultimately, Shaun partnered with some of these companies to create his very own fitness brand.
"It ain't easy! Change takes work and if you put in the work you'll feel better about your life. So…don't run from the work! Feel the work!"
---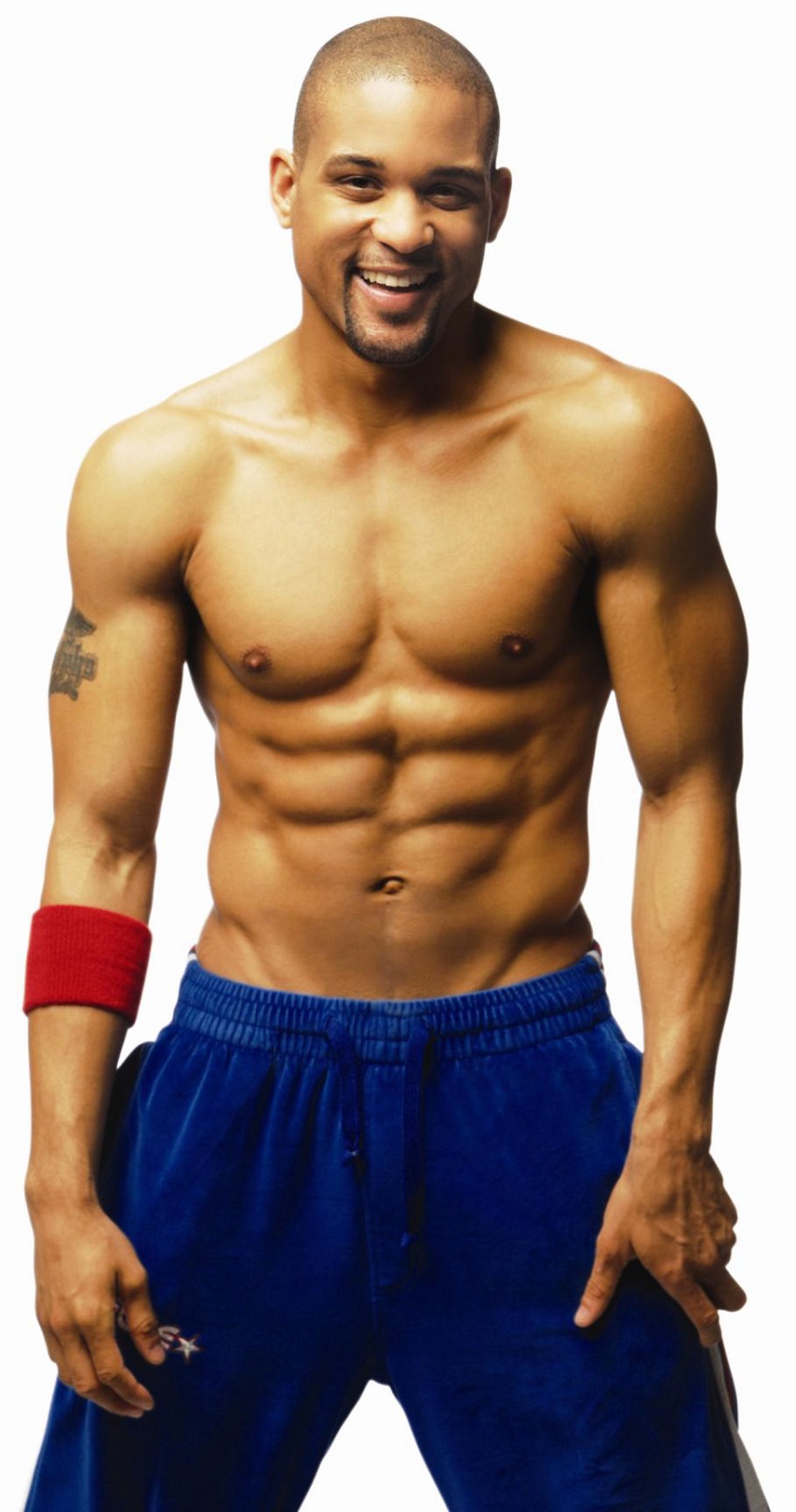 ---
Dancer, Fitness Motivator, and TV Personality
Throughout the years, more and more opportunities opened up to Shaun. He became a model, fitness entrepreneur, and even a backup dancer for none other than Mariah Carey. His choreography work wowed everyone who saw him.
From there, Shaun only kept going from strength to strength. Thanks to his awesome work in fitness and dance, he soon began appearing in popular TV shows. Including Oprah and Dr. Oz.
Today, Shaun is regarded as a world-renowned motivational speaker, fitness model, and TV personality. Everyday is a new challenge for Shaun – a new opportunity to grow his career, and also help others with his awesome fitness advice.
"I'm doing what I'm supposed to do. I never, ever feel like I'm working. Wait, I take that back: The only time I feel like I'm working is when random people ask to feel my stomach muscles."
---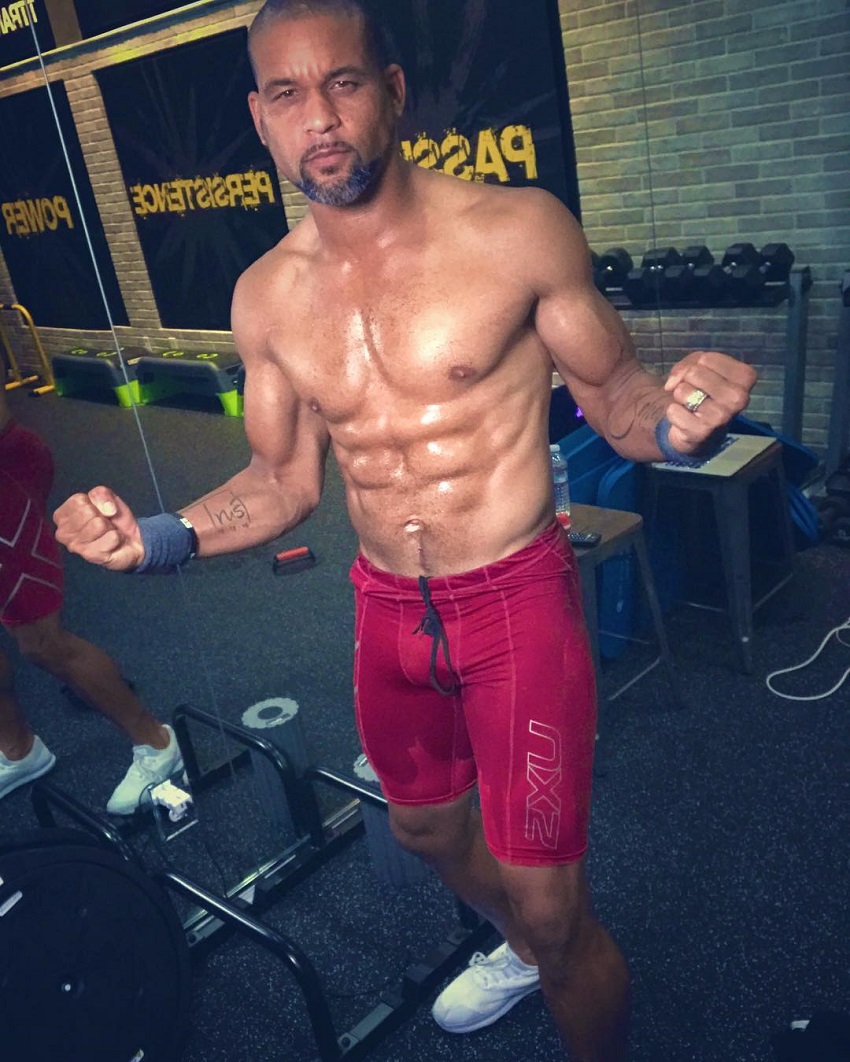 Training
Intense Training
Shaun enjoys combining all types of training – from bodyweight workouts and speed drills, to heavy weight training. However, there's one common thread among all of Shaun's workouts – intensity.
No matter in which way he trains, Shaun will always make his workouts as intense as possible. He strongly believes that growth comes from pushing past his own comfort zone.
This is the same training philosophy Shaun preaches to his clients, in his own words; "I've done the workouts. I've created them. I know how it feels when it gets to that breaking point. I want to push people and have them dig deep, to go a little bit harder."
---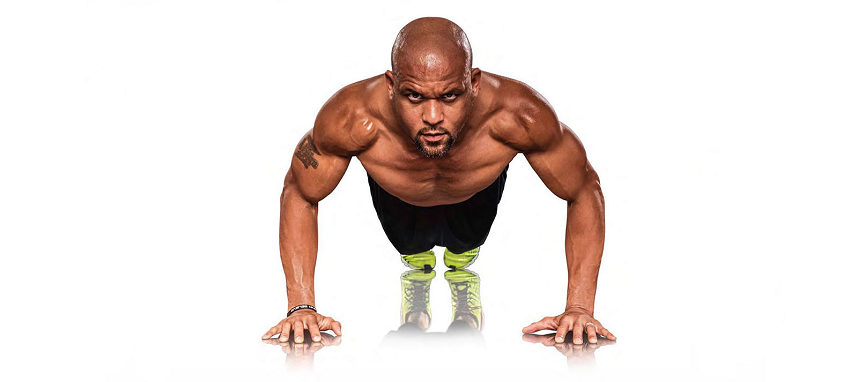 ---
Shaun's Motivation to Train
These are Shaun's top 7 tips on staying committed to training;
Do exercises that you love
Find a reason and motivation for each workout
Make a check-list of mini goals, and have an end-goal
Find someone who will hold you accountable for sticking to your goals
Join a workout group
Don't look at the scale, look at yourself in the mirror instead
Stay positive and patient
---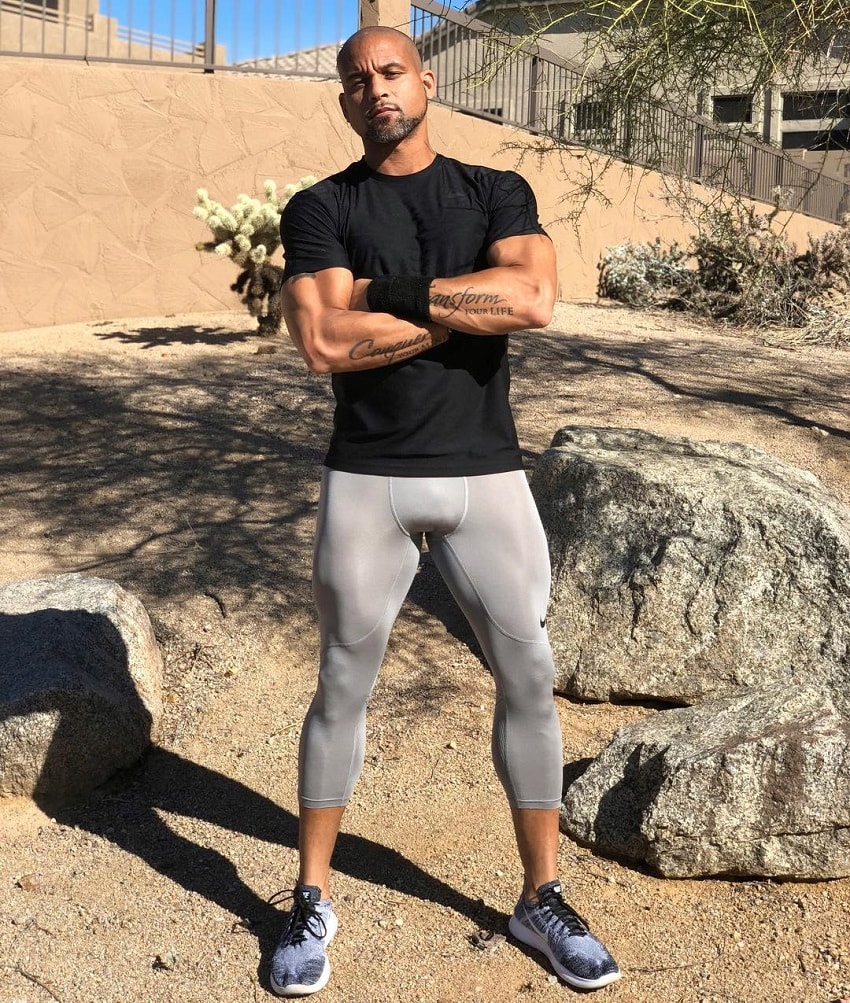 "Commit people! Does life sometimes get in the way? Sure, but outside of some medical issue, you have to buckle down and commit! Stop making excuses because "excuses" are tools of incompetence!"
Nutrition
Daily Diet of Shaun T
Shaun starts his day with up to eight egg whites scrambled with bacon and avocado. He'll replace the bacon with chicken if he's on a strict diet and needs to watch his calories. After his main breakfast, Shaun will eat some berries, one of his favorite types of fruit. Lastly, he'll have his coffee early in the morning to get him started for the day.
Before his mid-morning workout, Shaun will drink his pre-workout supplement. He also likes to eat sweet potatoes around this time, as they are ideal for fueling his muscles with energy. "I simply mash it up without any dressing, it really is the ultimate powerhouse food," says Shaun.
After his workout, Shaun won't eat anything for a couple of hours. He explains; "I try not to eat too much in the middle of the day, except for drinking lots of water as I want to eat super healthy later in the day and I don't want to fill my body up."
For his last meal in the evening, Shaun will eat steak with bacon, spinach, and quinoa. This is a meal packed full of proteins, healthy fats, and vitamins, which help Shaun's muscles recover during sleep.
---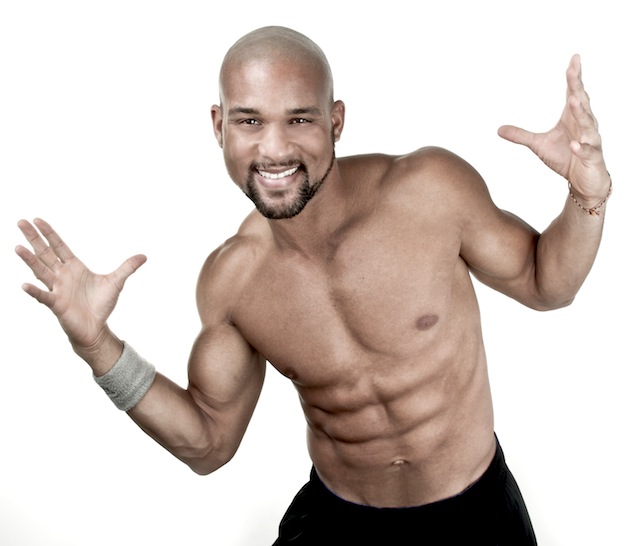 ---
Flushing Toxins For Weight Loss
Shaun is a believer that a healthy gut results in faster weight loss. He's found that when he eats unhealthy for a period of time, his gut becomes inflamed and it becomes harder for him to lose weight.
As Shaun says; "Did you know your gut can hold buildup from bad eating habits that makes it harder to lose weight? Your colon can even hold up to 15 lbs. of excess weight! Over time, this kind of buildup can lead to weight loss resistance and digestive issues. One of the things in my routine for a 'fresh start' is flushing toxins." – Shaun T
In order to remove toxins from his gut, Shaun will follow specific dieting protocols every once in a while. These include 24-hour fasting, intermittent fasting, drinking lemon water on an empty stomach, and other methods that flush toxins from his body.
---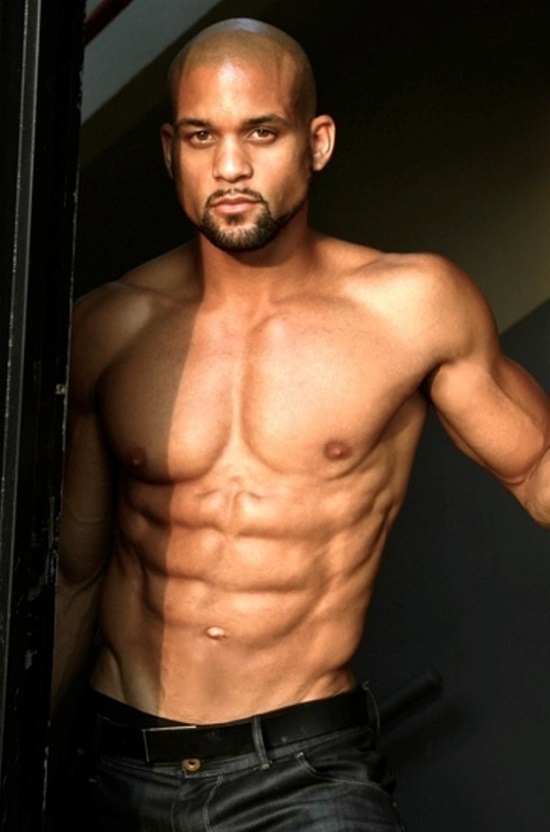 Idols and Influences
Shaun gets motivated when he sees other people progress on their fitness journey.
After achieving his own physique transformation, Shaun decided to give it back to the fitness community – becoming a personal trainer and fitness motivator who now helps others to achieve their own body goals.
---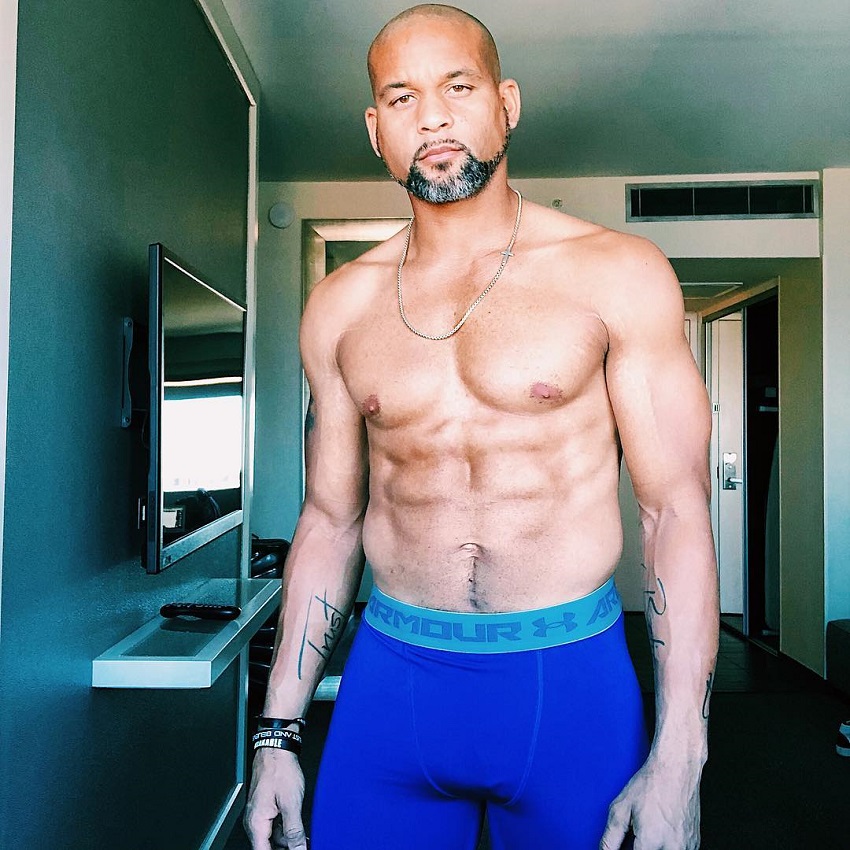 What we can learn from Shaun T
Shaun T has always known he was bound to a life of sports from his early years when he played American football and track.
Although he had a short period where his physical progress stagnated due to academics, Shaun eventually came back stronger than before. He completely transformed his body, and life after entering the gym.
His transformation inspired him to push others to achieve similar success as he did. For Shaun, it's clear to see that his drive and motivation to help others led him to reach greatness.
With the same attitude as Shaun, you too can reach the mountain of success in your own life.