Roger Snipes was born in 1979 in a town close to London, England. He's been widely known as a top British bodybuilder, fitness model, fitness competitor and personal trainer.
He started his journey in competitive track and field events in his youth, however, his competitive nature turned him towards weight training to out-perform his rivals.
This led Roger to leave track and field behind and focus on bodybuilding full time. Hesitating in the beginning, Roger reluctantly entered his first show in 2010, needless to say, he took home 1st place posing his awesome physique.
He continues to train hard and compete in numerous competition around the world. He's been recognized as one of the leading bodybuilders from the UK.
This is his story:
---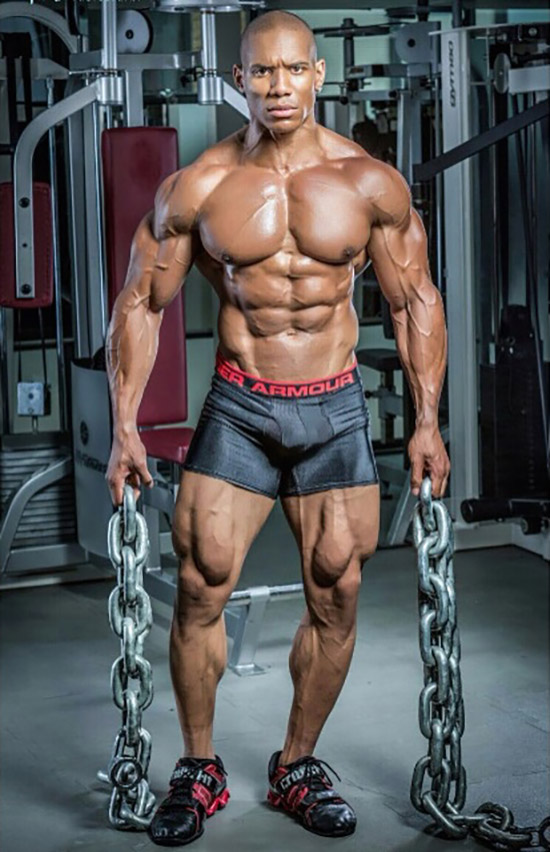 Athlete Statistics
Full Name: Roger Snipes
Weight
Height
Year of Birth
Nationality
215 - 225lbs (93.0 - 102.1kg)
5'10" (177.5cm)
1979
British
Profession
Era
Bodybuilder
2010
| | |
| --- | --- |
| Weight | 215 - 225lbs (93.0 - 102.1kg) |
| Height | 5'10" (177.5cm) |
| Year of Birth | 1979 |
| Nationality | British |
| Profession | Bodybuilder |
| Era | 2010 |
---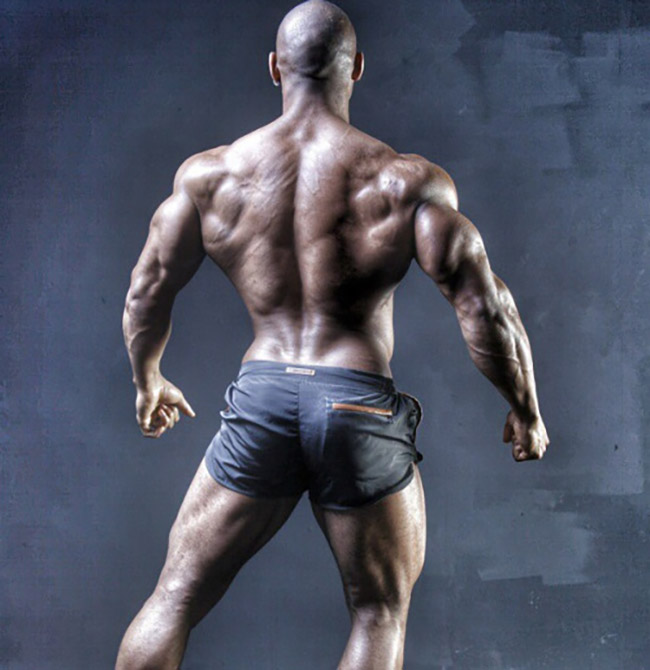 Accomplishments
Competitions
Mr. UK 2010, 1st place – Model
Mr. Britannia 2010, 1st place – Model
Muscle mania 2011, Qualifier 1st place – under 85kg Body Building
Fame UK 2011/Miami pro – 1st place – Muscle model
Musclemania British championship final – 1st place and Overall – over 85kg- Body Building
WBFF European Championship 2013, 1st Place – Muscle model
WBFF World Championship 2015, 2nd place – Muscle Model
---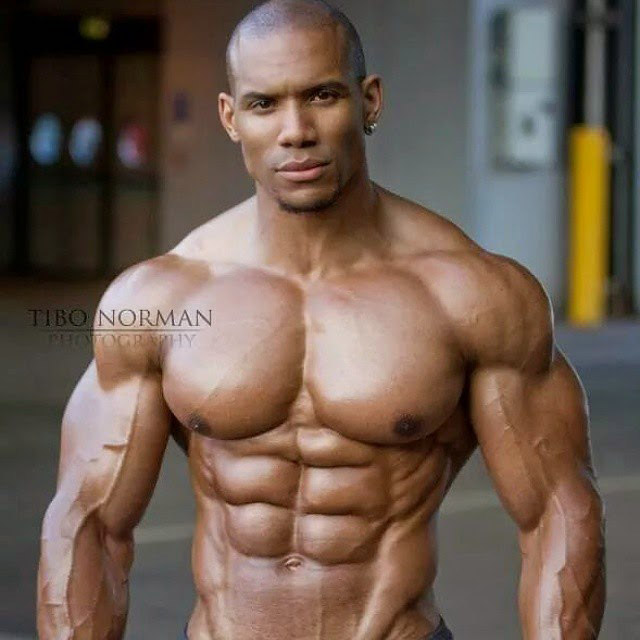 Biography
Roger Snipes grew up in London England and was always interested in sports as a child. He took part in numerous track and field events in different stadiums around London and took part in an athletic group named the Young Socialists.
He first started training with a small set of weights, which he used since he was 10 years old up until the age of 15.
Roger's background was mainly sprinting but he gave up the sprinting life after a couple of years when his love for bodybuilding started to take over.
"I always had a sculpted frame through intense cardio circuits but not big muscles. I was a big fan of Mr. Olympia in the 90's and watched many videotapes of body builders on stage."
While friends were partying, Roger was going to a friend's local garage or his bedroom where he could bench, squat or do any type of activity to grow his muscles. Roger soon became obsessed with lifting weights.
Winning Edge
When Roger competed in athletics, he always liked to keep up with the fastest group as he didn't like to lose. This is partly what spurred him onto weight training, knowing the extra muscle would give him a added edge on his competitors.
Finding new motivation coupled with his competitive edge, Rodger started training hard and soon found himself looking at magazines asking himself; "maybe one day I could be on the cover or in one".
Although Roger was approached for many years to enter bodybuilding, he was put off from being on stage. Roger described it as; "I'm not posing in a thong on stage so other people can get thrills".
It wasn't until he went to watch a competition in the flesh that he saw how he could be on that very same stage and take home the glory. Roger took part in his first competition in 2010 and walked away with 1st place.
---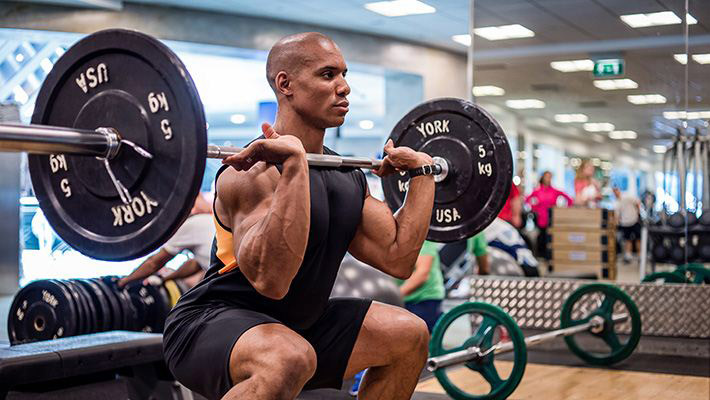 ---
Competitive History
Ever since his first competition in 2010 at the Mr. UK Model show, Roger became hooked and went from strength to strength.
Again, competing in the 2010 Mr. Britania he won 1st place, and again in the 2011 muscle Mania taking 1st place in the under 85kg category.
Roger then branched out from the UK bodybuilding scene and competed in the WBFF European Championship in 2013 taking 1st place and again in the 2015 WBFF World Championship winning 2nd place in the Muscle Model category.
A Passion For Bodybuilding
Roger loves the thrill of shaping and molding his body and seeing the results first hand. Here's Roger describing his enjoyment for bodybuilding;
"I like the idea of molding, crafting and shaping the body to your own specification. Anyone can take a car to a garage to get it modified but when you put in the work yourself, it's a lot more gratifying."
---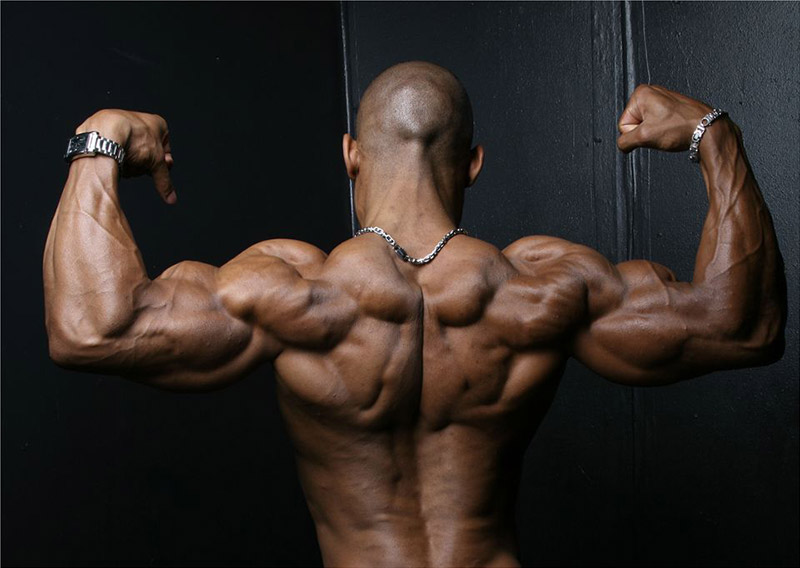 Training
Roger trains mostly with strength and some hypertrophy, this is what works best and where he sees the maximum results. His lifting regime is arduous and contains low reps and heavy weight, adding in some accessory work with and higher repetitions to help grow his muscles.
Roger's Workout
Monday: Quads/Calves
Hack Squat 4 x 8
Seated Calf Raises 6 x 8
Leg Press 4 x 8
Standing Calf Raise 4 x 8
Lunges with dumbbells 12kg 4 x 8
Leg Extensions 4 x 8
Tuesday: Back/Triceps
Seated Rows 4 x 8
Dips 4 x 8
Hammer Strength Row 4 x 8
Rope Pushdown 4 x 8
Wide Grip Pull Ups 4 x 8
Kickbacks 4 x 8
Bent Over Barbell Rows 4 x 8
Tate Press 4 x 8
Wednesday: Chest/Biceps
Flat Bench 4 x 8
Preacher Curls 4 x 8
Incline Bench 4 x 8
Barbell Curls 4 x 8
Hammer Strength Decline 4 x 8
Concentration Curls 4 x 8
Cable Fly's 4 x 8
Hammer Curls 4 x 8
Thursday: Legs
Glute Hamstring Raises 4 x 8
Hip Raises with 100 kg bar 4 x 8
Deadlift (Stiff Leg) 4 x 8
Squats 4 x 8
Kickbacks 4 x 8
Hamstring Curls 4 x 8
Wide Sumo Squat Pulses (parallel to below parallel) 4 x 8
Friday: Shoulders
Upright Rows 4 x 8
Front Raises 4 x 8
Rear Fly's 4 x 8
Rope to Face Pulls 4 x 8
Behind The Head Shoulder Press 4 x 8
Shrugs 4 x 8
Seated Lateral Raises 4 x 8
Seated Row with Wide Bar and Elbows High 4 x 8
Saturday: Rest Day
Sunday: Rest Day
---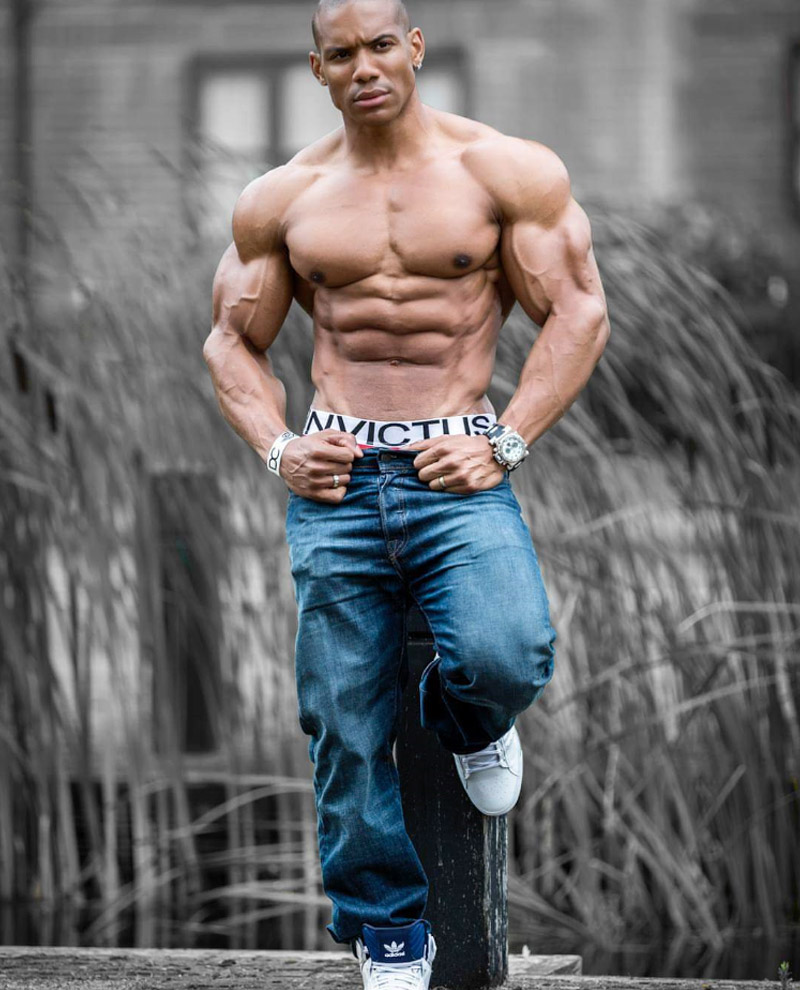 Nutrition
Roger often mixes up his diet according to how he feels, he says he'll eat clean most of the time but has a cheat meal when he feels his body needs it.
"I would say my diet is quite mixed from clean to dirty. I think I have a balance according to what my body needs."
Roger's Diet
Meal 1: Oats, Blueberries, Flaxseeds, a Banana & Protein Shake
Meal 2: Chicken, Spinach & Brown Rice
Meal 3: Turkey Mince in Tomato Jar Sauce & Seasoning with Sweet Potatoes & Peas
Meal 4: Diced Carrots with Chopped Apples, Oranges, Cherries & Grapefruit
Meal 5: Protein Shake
Meal 6: Salmon & Green Vegetables
---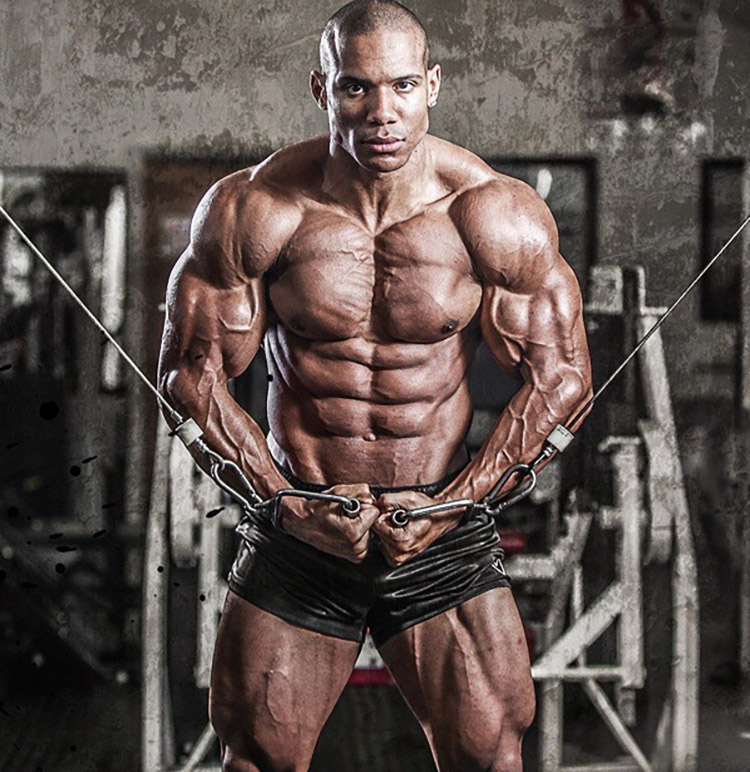 Idols and Influences
As time has passed in Roger's life, he's been motivated by many different things. When he was younger on the track and field team, he never wanted to be last. He names Linford Christie as one of his idols.
Then, when he got older and entered the world of bodybuilding, he names Arnold, Lou Ferrigno, El Sonbaty, Dorian Yates and Flex Wheeler as all great bodybuilding icons.
He's always asking himself; "How can I improve and be better than I was!"
---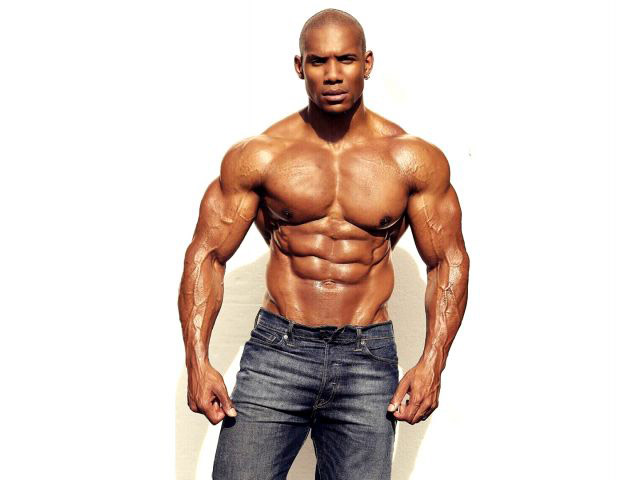 What we can learn from Roger Snipes
Roger was born with a competitive edge. He never liked to lose, that's why he was drawn towards creating the strongest version of himself with weight training in order to outclass his competitors on the track.
Moving towards bodybuilding, Roger has shown the world what can be achieved when goals are made with a passion to succeed.
If we can learn anything from Roger, it's his refusal to come last has pushed him forward in every aspect of his life. "Having a goal gives you a direction to head to, without one you wouldn't know how fast to move in order to get it." – Roger Snipes