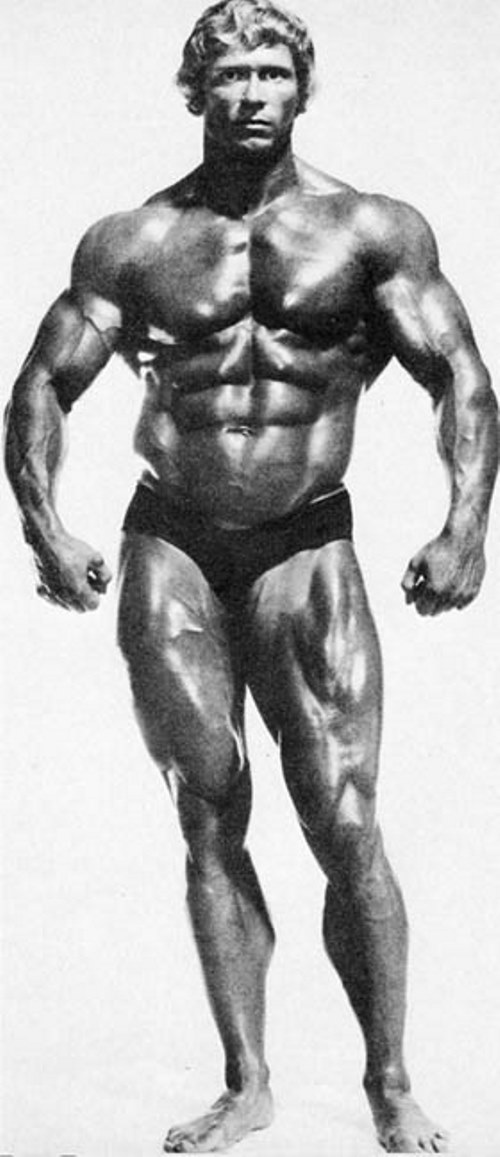 Paul Grant
Bodybuilder, Actor
Paul Grant was a Welsh bodybuilder from the Golden Era who trained with the likes of Lou Ferrigno and Arnold Schwarzenegger. During his peak years in bodybuilding, Paul won titles such as Mr. Wales, Mr. World, Mr. Europe, and Mr. Britan. He was also a two-time runner-up at the Bodybuilding World Championships.
Alongside bodybuilding, Paul appeared in the legendary 1976 documentary Pumping Iron, and was a respected food store owner.
However, there were also some "dark moments" in Paul's life. At the age of 30, he was diagnosed with a serious kidney disease. This affected his eyesight, forcing him to spend eight hours per day attached to a kidney dialysis device.
Paul died on the November 23rd, 2003 (aged 60). He's survived by his wife Christine Mason, who was also a bodybuilding competitor.
This is his story:
---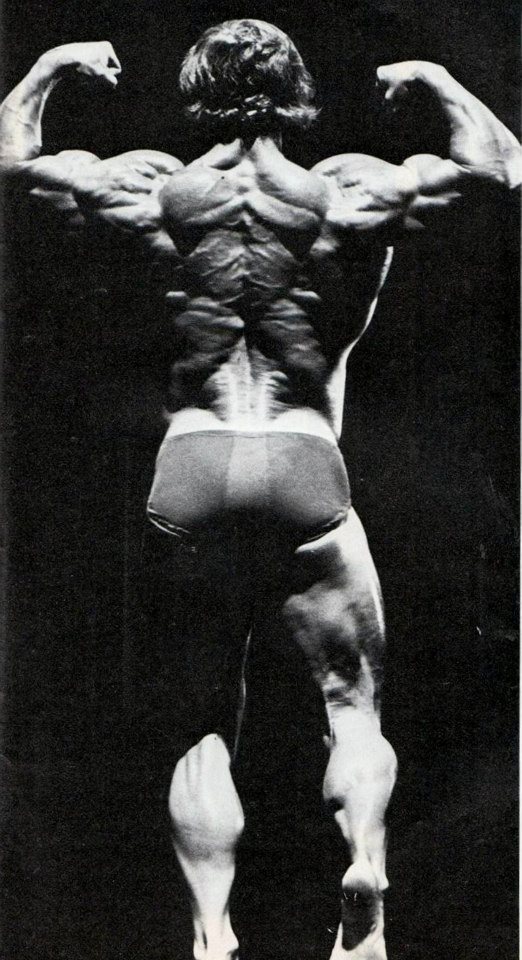 Athlete Statistics
Full Name: Paul Grant
Weight
Height
Chest
Waist
215 - 225lbs (93.0 - 102.1kg)
5'11" (180cm)
50''
33''
Nationality
Profession
Era
Welsh
Bodybuilder, Actor
1970, 1980, 1990
| | |
| --- | --- |
| Weight | 215 - 225lbs (93.0 - 102.1kg) |
| Height | 5'11" (180cm) |
| Chest | 50'' |
| Waist | 33'' |
| Nationality | Welsh |
| Profession | Bodybuilder, Actor |
| Era | 1970, 1980, 1990 |
---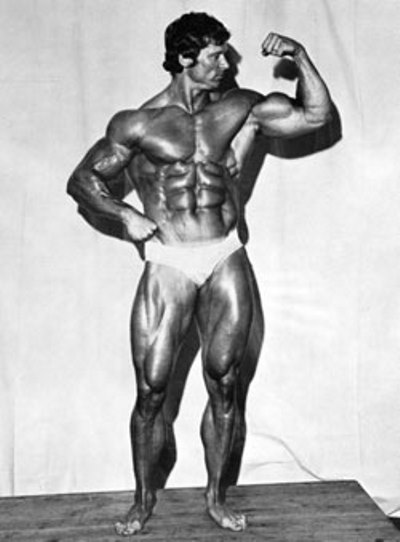 Accomplishments
Competitions
1970
Mr. Universe – NABBA, Tall, 6th
1971
Mr. Britain – NABBA, 2nd
Mr. Europe, Tall, 1st
Mr.Europe, Overall Winner
Mr. Universe – NABBA, Tall, 2nd
Mr. World – AAU, Tall, 1st
Mr. World – AAU, 2nd
Mr. World – AAU, Most Muscular, 2nd
1972
Mr. Britain – NABBA, Winner
Mr. Universe – NABBA, Tall, 1st
1973
Mr. Universe – NABBA, Tall, 1st
Pro Mr. World – WBBG, 2nd
1974
Universe – IFBB, Tall, 3rd
1975
Universe – IFBB, Tall, 3rd
1977
European Amateur Championships – IFBB, HeavyWeight, 2nd
Universe – IFBB, HeavyWeight, 3rd
1978
USA vs the World – IFBB, HeavyWeight, 4th
---

Biography
Aspiring Businessman
Paul Grant was born in Swansea, the second-largest city in Wales. He was an extremely enthusiastic child, excelling in academics, and sports such as cross-country running.
In fact, Paul was so enthusiastic about life that he dropped out of school at the age of 16; aspiring to become a businessman. It didn't take him long to embark on his first business endeavor – starting a bread delivery business.
As his passion for entrepreneurship grew, so did his interest in bodybuilding. He'd work hard on improving his business during the day, and spend his evenings working out and gaining size.
Early Shows
In 1967, Paul married his wife Christine, who was a bikini competitor. This led to Paul becoming more and more interested in the thought of stepping on the stage.
The inevitable happened; Paul took part in his first ever show – the 1970 NABBA Mr. Universe, taking home 6th place in the Tall class. From that point on, his love for bodybuilding only grew stronger.
The following year was one of the most successful throughout his entire career as a bodybuilder. Paul took part in four shows that year, winning two of them – the 1971 Mr. Europe, and the 1971 Mr. World.
He was cut short one place of the Mr. Universe title that year, losing by a slight margin. However, he was able to come back in a better shape one year later, winning the 1972 Mr. Universe, as well as the 1972 Mr. Britain title.
Friendship with Arnold and Acting
During this time, Paul developed a mutual friendship with Arnold Schwarzenegger. The two often trained together in the famous Gold's Gym in Venice, California. Later, in 1976, both of them appeared in the bodybuilding documentary Pumping Iron.
While he was living in California, Paul worked for Joe Weider.
---

---
Later Competitions
In 1973, Paul won the NABBA Mr. Universe title once again, defeating his biggest threat, Lou Ferrigno.
One year later, he took part at the IFBB Universe, this time, taking 3rd place.
By 1978, Paul decided his career as a competitive bodybuilder was near its end. His last show was the IFBB USA vs the World, where he came in 4th place in the HeavyWeight category.
Kidney Problems
Another reason for Paul's early retirement from the sport was a kidney illness he developed in his early 30s. This rare disease severely affected his eyesight, forcing him to spend several hours per day, three days per week, attached to a kidney dialysis device.
---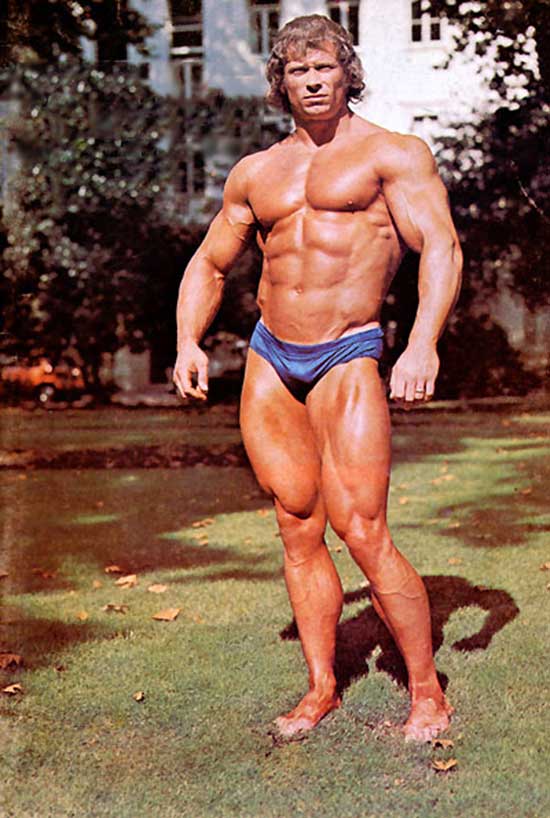 Paul on a magazine cover.
---
Entrepreneur
After receiving a kidney transplant in 1985, Paul returned to his business endeavors; opening a health food store, and later, a gym. He also became the president of the WFBB (Welsh Federation of Bodybuilders).
Having spent over 25 years in the WFBB, Paul was responsible for staging numerous Mr. Wales and Mr. Britain competitions.
Death
Paul Grant died on 23rd November 2003, at the age of 60.
---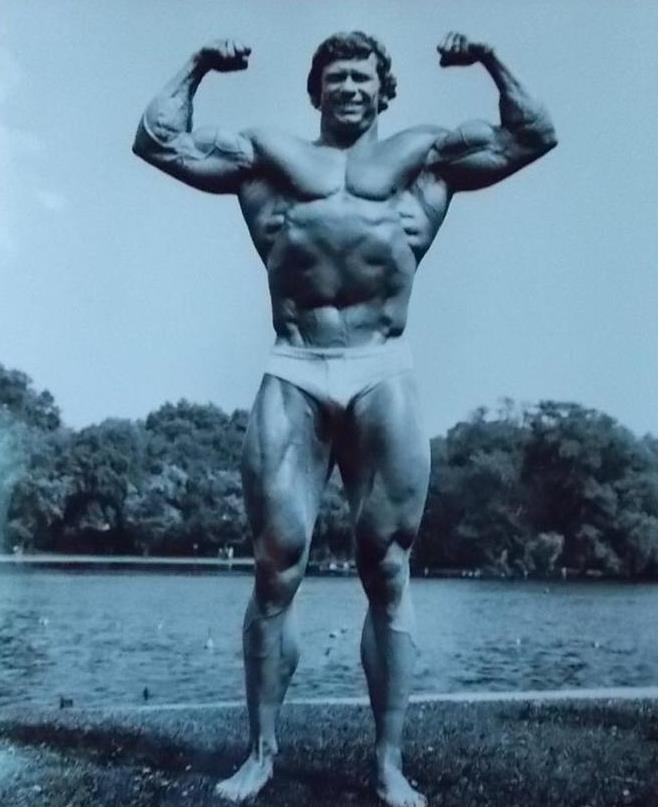 Training
When he was at the beginning of his bodybuilding journey, Paul used light to moderate weights to tear his muscle fibers down. He said that most beginners made a mistake of using heavy weights, thus causing injury.
In his prime, however, Paul trained using extremely heavy weights, with a low number of reps (5-8). He found this was the best way for him to build a massive physique.
An example of his mass-building program can be seen below.
Mass-Building Plan
Warm-up: Bent knee sit-ups, 1x 25-50
Barbell Squats, 5×5
Dumbbell Pullovers, 5×10
Press Behind Neck, 5×5
End Barbell Rowing, 5×5
Lying Triceps Press, 5×5
Barbell Curls, 5×5
Calf Raises, 5×20
---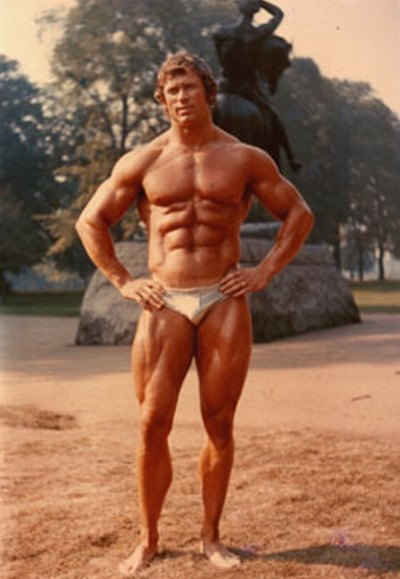 Nutrition
Number one principle that Paul followed whenever he wanted to gain mass was this; "You must always supply your body with more muscle building and energy producing foods than you burn up during your workouts and other daily activities."
Seeing this, it's clear that Paul stuck to a basic, old-school type of diet. He would consume a lot of calories that came from whole food sources, and aimed to gain around 2 lbs of body weight per week. Any more than that, he would accumulate too much body fat; something he avoided at all costs.
Gaining muscle wasn't an easy task; it required a lot of discipline and dedication, more so in Paul's era. Following his basic approach to lifting and dieting, you too could follow in his footsteps.