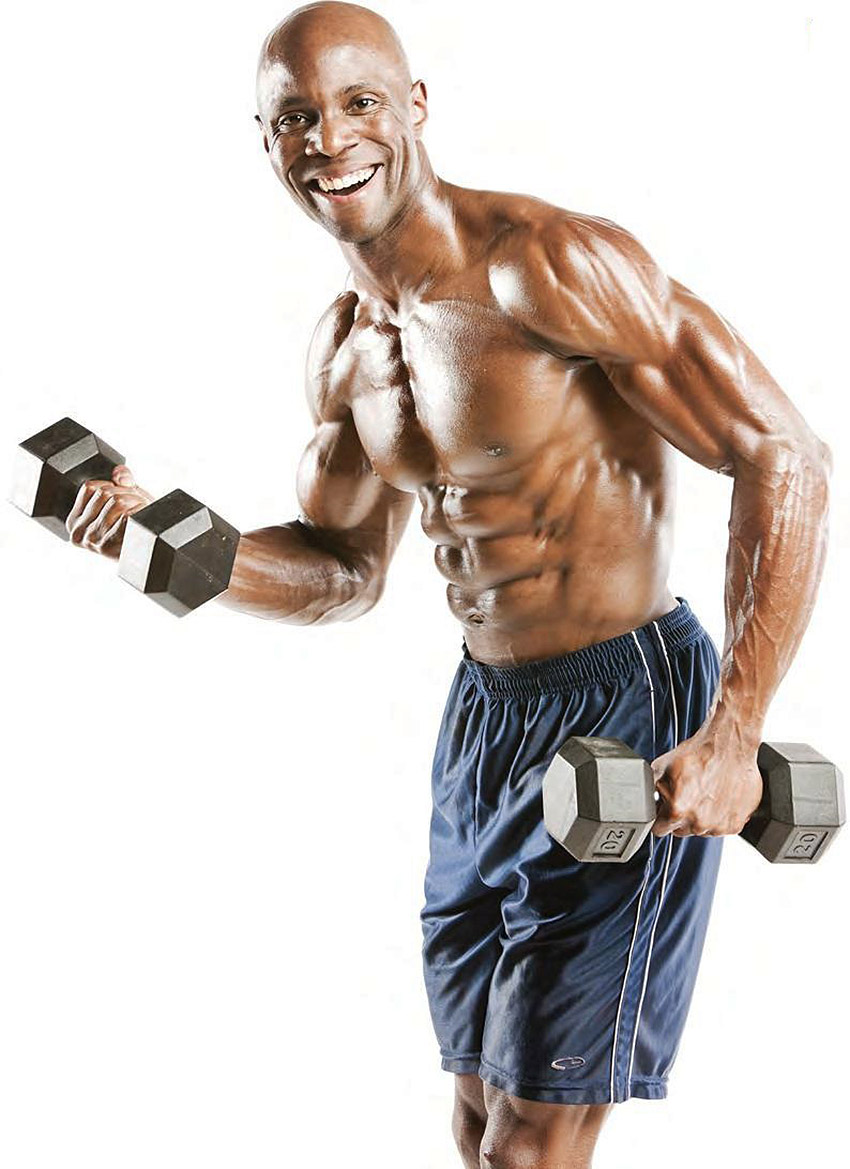 Obi Obadike
Fitness Model, Writer
Obi Obadike is one of the most recognizable figures in the bodybuilding industry. He's been named as "the most ripped fitness model in the world" and is the in-house expert for a leading fitness website.
However, he began his journey as a skinny teenager who wanted to pack on some muscle, and suffered a career-ending injury as a promising athletics star.
This is his story:
---

"My body-fat all year round is between 4 and 5 percent and the reason why I stay this lean is first of all I want to always be ready to do a photo-shoot."
Athlete Statistics
Full Name: Obi Obadike
Weight
Height
Year of Birth
Nationality
205 - 215lbs (88.5 - 93.0kg)
6'2" (188cm)
1976
American
Profession
Alias
Era
Fitness Model, Writer
The Most Ripped Fitness Model in the World
2000, 2010
| | |
| --- | --- |
| Weight | 205 - 215lbs (88.5 - 93.0kg) |
| Height | 6'2" (188cm) |
| Year of Birth | 1976 |
| Nationality | American |
| Profession | Fitness Model, Writer |
| Alias | The Most Ripped Fitness Model in the World |
| Era | 2000, 2010 |
---

"I am most proud inside the gym because I have improved my physique every year over the past 3 years since I've been in the fitness industry."
Accomplishments
Competitions
2008 FAME World Championships and Pro Showdown, 2nd
2008 FAME American Challenge USA, 2nd
2009 WBFF World Championships, 2nd
2010 WBFF World Championships, 1st (Pro Card)
2011 WBFF World Championships, 2nd
---

"I am flattered with any compliment honestly because I still remember when I was that skinny kid in high school that no one looked at."
Biography
Early Years
Born and raised in Southern California, America, Obi had always played sports growing up, but he was very skinny as a child – he was verbally bullied during high school because of his small frame.
Ultimately, this is what motivated the future icon to enter the gym and begin lifting weights. At the age of 16, in 1992, Obi had embarked on his fitness journey to the top of the industry.
Modelling
By the age of 18, in 1994, Obi had began to build a very aesthetic body. It was at this point that he began pursuing a career as a model.
He landed his first gig as part of a national advertising campaign that year, and went on to appear in two more commercials representing reputable companies.
However, his passion since his early teenage years was athletics. After his successful venture into the modelling industry, Obi set his sights on becoming a professional athletics star.
---

"What made me get into the fitness industry because I wanted the opportunity to inspire people all over the world to be fit and healthy.

I felt the only way to do that was to make a big name for myself in the fitness industry and then to use that platform to help people get in better shape."
---
Athletics
It wasn't long until Obi had fallen in love with fitness and made serious progress to his physique. As well as his body, his athletic ability had developed and he shot to the top of his class at sprinting.
By the time Obi entered his senior year at College, he'd broken every major collegiate sprinting record and been awarded the "athlete of the year" title.
Injury
After graduating from College, Obi was on the way to becoming a successful athletics star. But just as things were looking up for the youngster, he had his whole life turned upside down.
At the age of 24, in 2000, the future fitness icon suffered a series of hamstring injuries that ruled him out of sprinting. After years of breaking records throughout his youth, Obi was forced to search for another career path.
---

"I've beaten guys in college that are competing at that world class level now so it is just one of those things that happens to certain athletes unfortunately.

Despite the injuries I still held the title as the fastest man in Cal State Fullerton history for a 5 year period."
---
Fitness Model
Although Obi had suffered numerous hamstring injuries, he'd still retained his incredible physique through hard work and dedication. Motivated by his previous success as a model, Obi decided to pursue a career in his second passion – fitness.
He began emailing countless publications, working relentlessly to make a name for himself. With his great worth ethic, it wasn't long until Obi had landed some photo shoots as a fitness model.
In 2008, at 32-years-old, Obi appeared on the cover of two respected magazines. But he was only just getting started.
Becoming an Icon
Although he'd had a dream start to his career as a fitness model, things only got better for Obi. Over the course of 2009, he carried his ability to break records into his new profession.
He became the first American fitness model to land a major European advertising campaign, and first American fitness model to be featured in a natural bodybuilding magazine in Australia.
Obi also landed more international supplement campaigns than any other fitness model or bodybuilder in the world that year.
By the age of 33, Obi had taken the industry by storm. He started to gain a mass of fans, inspiring others to lead a healthy lifestyle – Obi had become a fitness icon.
---

"I love what I do because I have the ability to transform a person physically and mentally and that is a priceless feeling not only as a trainer but also as a writer."
---
Pro Card
Not content with his achievements as a fitness model, Obi set his sights on becoming a competitive athlete. It wasn't long until he'd ticked off another accomplishment on his list of ambitions.
Obi started off strong, placing 2nd in his first competition – the 2008 FAME World Championships and Pro Showdown. However, his greatest achievement came 2 years later.
In 2010, Obi entered and won the WBFF World Championship, but the trophy wasn't the only thing he took home that night. At the age of 34, Obi had become a professional competitor.
Writer
For the next 6 years, Obi didn't stop achieving more success. He became a writer for the leading bodybuilding website, using his experience and education to help others to realize their dreams.
---

"My favorite abs exercise is sit-ups and I like this because I can feel the muscle working more than any abs exercise."
Training
Obi trains 5 times a week, working multiple muscle groups per session. He enjoys performing high reps – 10-12 – in sets of 4-5 to keep his shredded physique.
In terms of cardio, Obi will utilize HIIT which allows him to burn enough calories in a short space of time (20-25 minutes) – but he has to be careful, as he has a very fast metabolism so needs to keep himself from burning lean muscle.
Workout Routine:
Monday – Chest, Biceps and Abs
Tuesday – Shoulders and Back
Wednesday – Legs, Triceps and Abs
Thursday – Chest and Biceps
Friday – Back and Shoulders
Saturday – Rest
Sunday – Rest
---

"Typically when I am getting dialed in for a photo-shoot or a competition my diet consists of chicken and vegetables. Eating like this gets me shredded very quickly."
Nutrition
Obi isn't known as the "most ripped fitness model in the world" for no reason – he eats extremely clean all-year-round to maintain his low body fat (4-5%).
"Make sure you consume your carbs from the start of the day to the afternoon which should be enough to give you energy throughout the day"
Diet Plan:
Meal 1 – Oatmeals with Whey Protein
Meal 2 – Chicken with Vegetables and Brown Rice
Meal 3 – Turkey, Vegetables and Brown Rice
Meal 4 – Chicken and Vegetables
Meal 5 – Turkey and Vegetables
Meal 6 – Chicken and Vegetables
Supplements Stack:
---

"What I am proud about outside the gym is the ability to motivate people all over the world to be in better shape."
Idols and Influences
Obi has become a fitness icon in the industry, but he has numerous idols and influences who have helped inspire him to achieve success.
The fitness model names his fans and client that work hard to achieve their own dreams as huge inspirations to himself. He also names the likes of Michael Jordan, Jerry Rice, Kobe Bryant and Magic Johnson as his idols outside of bodybuilding.
However, the athletes he looks up to in the sport include:
Flex Wheeler
Paul Dillett
Lee Haney
Ronnie Coleman
TJ Hoban
Sebastian Siegel
Kelechi Opara
---

"You can have great abs, great physique, money in the bank and have all the wisdom in the world, but if you don't have the ability to share it with people then it means absolutely nothing."
What we can learn from Obi Obadike
Obi has taught us that getting back up after a disappointment and coming back strong is the most important thing. He suffered a career-ending injury in his youth, but still found success in the fitness industry after hard work and determination.
Once you've reached your own ambitions, you should help others to realize their dreams – Obi began writing for the leading bodybuilding website, using his experience to aid others in sculpting their ideal physiques.