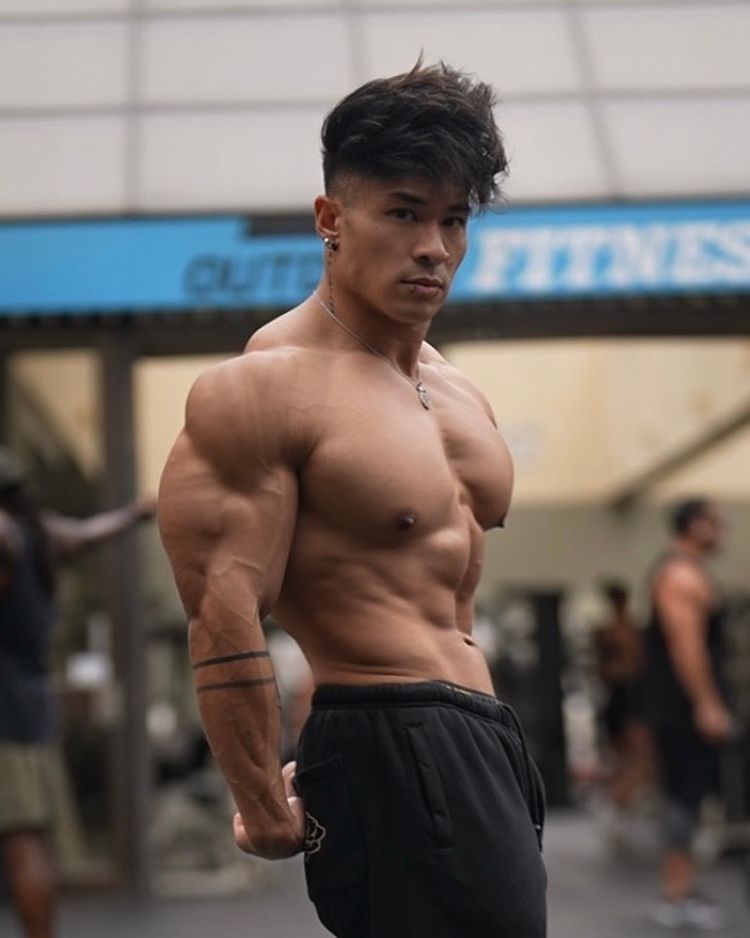 Nyle Nayga
IFBB Professional Bodybuilder, Certified Personal Trainer, Social Media Influencer
Nyle Nayga is a rising star in the bodybuilding world, as well as one of the most popular fitness influencers on social media, especially TikTok where he goes by the name K-pop Goku.
Early Years
Born in New Brunswick, New Jersey, in 1997, Nyle faced racism and battled severe body confidence issues growing up. After suffering from obesity, anorexia, bulimia, depression, and hormone instability, Nyle turned to exercise and nutrition as a way to fight back and build his self-esteem.
The transformation has been remarkable, as seen in one of the most-viewed videos on his YouTube channel titled "Nyle Nayga 10-Year Transformation from 167lb to 169lb IFBB Pro".
In the meantime, though, Nyle Nayga earned a bachelor's degree in mechanical engineering from Purdue University in West Lafayette, Indiana. He's now moved from West Lafayette and is currently based in San Diego County, California.
His passion, however, remained fitness and nutrition throughout this time. It was during his studies at Purdue University that Nyle took his bodybuilding game to the next level resulting, ultimately, in achieving his IFBB Pro Card in 2019 at just 22 years of age.
Luckily for his followers and subscribers, Nyle shared his fitness journey on multiple social media channels.
Social Media Popularity
His breakout fitness influencer presence came on TikTok, where he now boasts 1.3 million followers and over 10 million likes for his viral workout videos. On this platform, Nyle shares insights into his training regime and his diet, as well as random posts that provide a glimpse into his daily life.
He also has a huge following on Instagram and YouTube. More than 1.2 million people keep up to date with his workouts and training tips on Instagram, while around a quarter million people subscribe to his content on YouTube. His most popular video on YouTube is titled "New Top Exercises for Chest & Triceps", which has amassed more than 10 million views.
Nyle Nayga Workouts
Nyle's workouts mostly focus on isolated exercises, targeting one muscle group at a time. He works out five days a week and lets his body recover on the weekends. For Nyle, this enables him to achieve the results he wants to see without missing out on his social life or other commitments.
In general, Nyle focuses on his chest on Mondays. This involves incline dumbbell chest presses, barbell bench presses, incline dumbbell fly reps, incline cable chest fly reps, and chest dips.
On Tuesdays, it's all about the back. Nyle starts with wide-grip lat pulldowns, t-bar row reps, barbell row reps, and machine low rows before finishing on cable pullovers and deadlifts.
On Wednesdays, Nyle concentrates on his shoulders, incorporating seated machine overhead presses, standing cable lateral raises, seated dumbbell lateral raises, and standing cable front raises before finishing on the reverse pec deck machine.
On Thursdays, he works on his legs, starting with extensions and leg presses, then moving on to hack squats and hamstring curls before rounding things off with standing calf raises and seated calf raises.
At the end of his workout week, Nyle develops his arms. This involves incline skulls crushers, tricep pulldowns, single-arm tricep pulldowns, single-arm tricep extensions, dumbbell spider curls, standing cable curls, dumbbell isolation curls and preacher curls.
Nyle Nayga Diet
Like all bodybuilders, Nyle Nayga eats an excess of calories when he wants to gain muscle, then runs a calorie deficit when he wants to lose weight. Whether bulking or cutting, Nyle likes to get a lot of protein, fruits and vegetables, alongside some healthy fats and complex carbs and still treats himself to eating out every now and then.
Nyle Nayga Business Ventures
Thanks to his huge social media following and impressive physique, Nyle has multiple sponsorship deals with some of the biggest health and fitness brands. One is YoungLA, a men's apparel company with a range of quality, affordable products. Another is HugeSupplements, a dietary supplement brand Nyle credits with helping him get the most out of his workouts.
Nyle has his own entrepreneurial ventures on the go as well. With his company, Nyle Nayga Fitness, he offers personalized workout programs and customized meal plans, as well as online coaching.
Helping others build their physical and mental strength to realize their health and wellness goals is what drives Nyle, and it seems this is what he'll continue to do for many years to come.