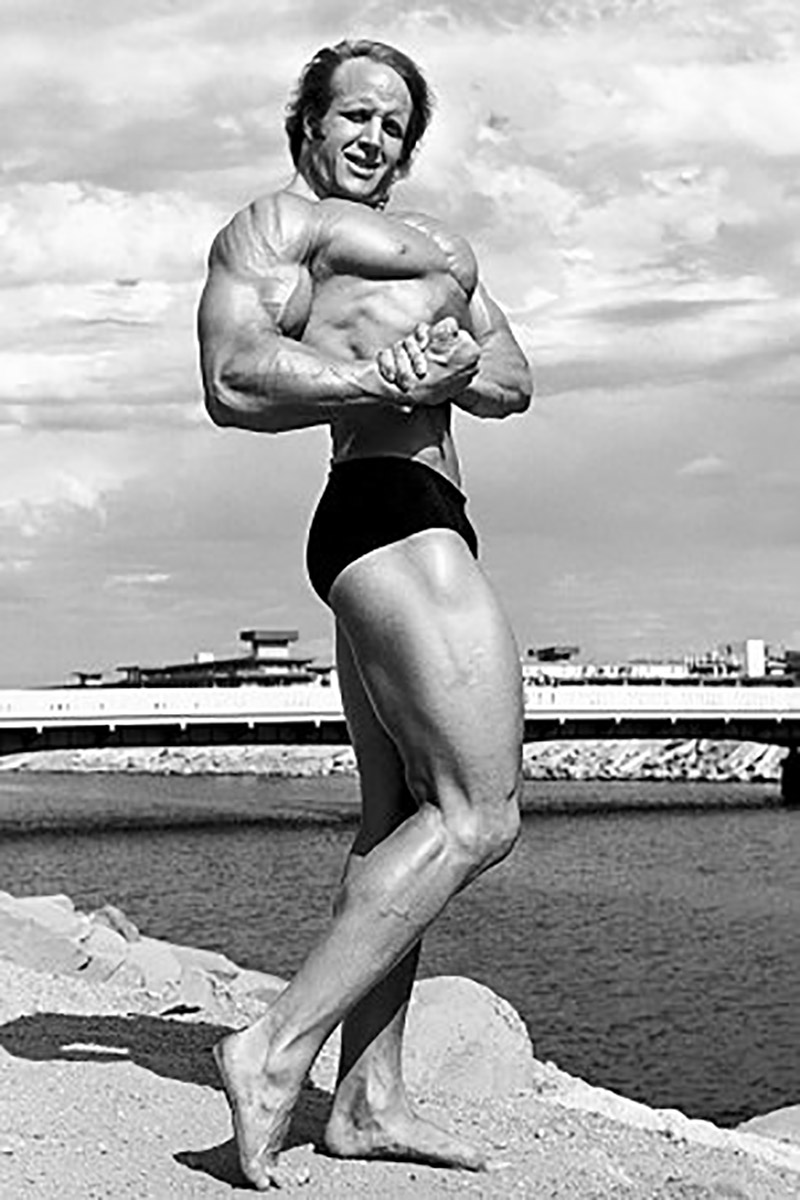 Mike Katz
Bodybuilder, NFL Player
Mike Katz AKA: (Superhuman & Big Mike Katz) became one of the strongest NFL players in the 1950s' for the New York Jets. His knowledge and thirst for weight training are what crowned him with the nickname "Superhuman".
However, Katz wasn't always a confident and sporting athlete. As a child, he'd receive racist remarks regarding his faith and bullying about his appearance. Needless to say, Katz went on to prove them wrong and became a Pro in all aspects of life.
Later on in life, he moved towards bodybuilding after the NFL, where he became known as one of the toughest tall-class, and heavyweight competitors of the 1960′ 70s' and 80s'.
This is his story:
---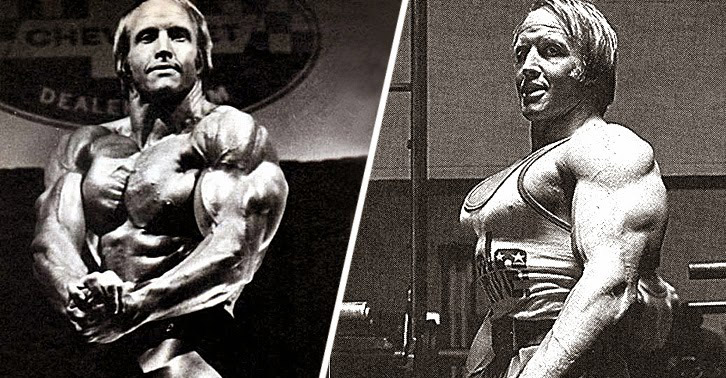 Athlete Statistics
Full Name: Mike Katz
Weight
Height
Year of Birth
Nationality
235 - 245lbs (106.6 - 111.1kg)
6'1" (185.5cm)
1944
American
Profession
Alias
Era
Bodybuilder, NFL Player
Big Mike Katz & Superhuman
1960, 1970, 1980
| | |
| --- | --- |
| Weight | 235 - 245lbs (106.6 - 111.1kg) |
| Height | 6'1" (185.5cm) |
| Year of Birth | 1944 |
| Nationality | American |
| Profession | Bodybuilder, NFL Player |
| Alias | Big Mike Katz & Superhuman |
| Era | 1960, 1970, 1980 |
---

Accomplishments
Competition History
1963 Mr. Connecticut 2nd
1963 Mr. Insurance City 9th
1964 AAU Teen Mr. America; 4th Place
1964 AAU Teen Mr. America Most Muscular, 5th Place
1965 Mr. New England States 1st
1969 IFBB Mr. America Tall, 40th Place
1970 IFBB Mr. America Tall & Overall, 4th Place
1970 AAU Mr. East Coast Tall & Overall, 4th Place
1971 IFBB Universe Tall, 3rd Place
1971 Beat Brandon Lewi for the Heavyweight Championship of the World
1972 IFBB Mr. International Tall, 4th Place
1972 IFBB Universe Tall, 4th Place
1973 IFBB Universe Tall, 3rd Place
1974 IFBB Mr. International Tall, – 4th Place
1975 IFBB Universe Tall, 4th Place
1976 Mr. Olympia Over 200 lbs, 2nd Place
1980 NBA Natural Mr. America Professional, 4th Place
1980 IFBB World Pro Championships Did Not Place
1980 Retired after losing to Cooper Hayman in the National Strongman Competition
1981 Mr. Olympia 15th Place
---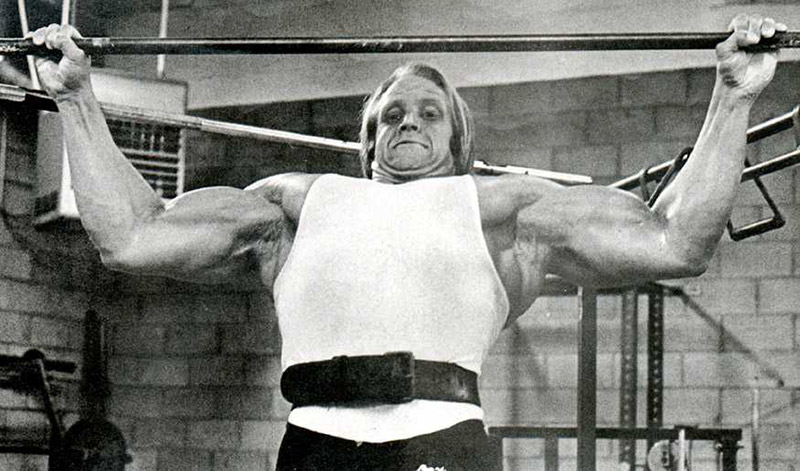 "You see, you can beat a dog and it's going to do one of two things – it's gonna roll over and die, or it's going to bite you and attack you. And I'm the kind of person..uh..whose the type of dog that will bite back – I wasn't going to roll over and die."
Biography
Early Years
Mike Katz was born on November 14th, 1944. He became a professional IFBB bodybuilder, and prior to his bodybuilding career, he played as a Pro footballer with the New York Jets. However, Katz wasn't always the sporting legend he's been remembered as.
Katz suffered as a child with anti-Semitism bullying, and constant remarks about his glasses and smaller frame, he found it difficult to fight back and defend himself as he didn't know how. He lost a huge amount of confidence.
His father was a football player and a top sporting athlete. He recalls his father's friends approaching him and asking "what do you want to do when you grow up?" Katz replied, "a professional football player". Nobody took him seriously.
The bullying he received as a child and the lack of confidence received from others motivated him to train and prove to everyone he could become bigger, stronger, and more confident. Needless to say, Katz went on to become one of the strongest NFL players for the New York Jets.
---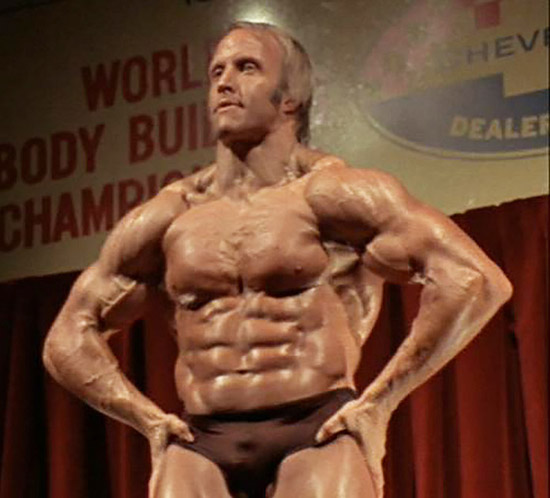 ---
 Superman Football Player
While playing for the New York Jets, he built up a reputation as a strong and fearsome athlete.
Mike would train every Friday night before the football game in the weights room underneath the NY Jets managers office. He knew weight training would make him stronger and faster than his competitors, even though, many advised against weights training as they claimed it would make an athlete "robotic", however, Katz knew otherwise.
"Jess Dow, the head football coach at the time would hear him train in the gym below. 'Hell's bell's' Jess would shout, 'What's Mike doing in the weight room? it's Friday night before the game!' "
It wasn't until he suffered a serious knee injury that Katz had to rethink his sporting career. His immense size and strength helped him to carry on playing through the pain. Katz was advised to carry on playing several more games in his final season with the NFL.
---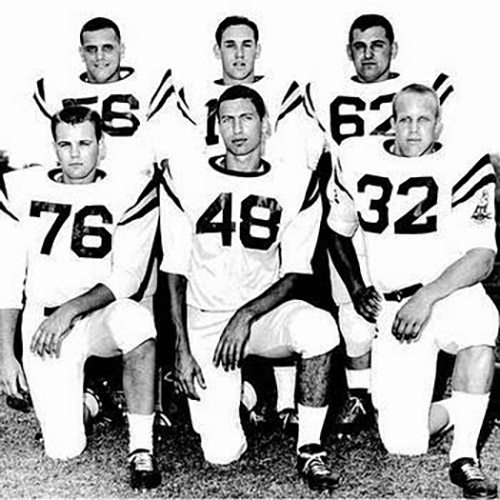 A young Mike in the NFL (bottom right)
---
"I was injured the year before the Super Bowl. I had a knee operation, and they never gave me an opportunity to recover properly. They called me Superman, they said 'How could Superman be hurt?' And so I played six games on a knee that should have been operated on."
Leaving The NFL
Eventually, this injury permanently ended his career. His ability to endure pain and continue playing earned him the nickname "superhuman".
---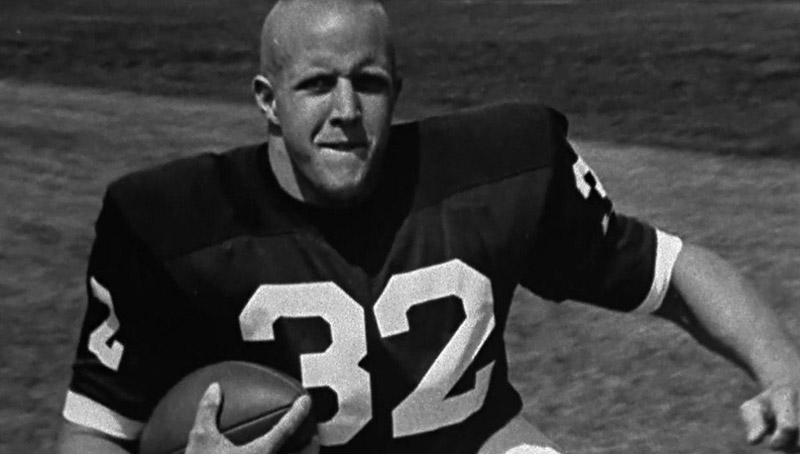 Mike playing for the New York Jets.
---
Bodybuilding History
Katz was known for being one of the 1970s' bodybuilding underdogs. In 1975 he placed 4th in the Mr. Universe competition in the tall class division.
After a few amateur competitions throughout the 1960s, 70s' and 80s' Katz turned his attention on the ultimate competition – the Mr. Olympia.
Placing 2nd in the heavyweight class, Katz proved to the world that the small child he once was, had become one of the world's greatest athletes.
His most famous win was the 1972 IFBB Mr. Universe and his first ever Pro debut was in the IFBB Mr. America in 1969.
Professional Career
After his successful sporting endeavors and becoming a world-renowned Pro bodybuilder, Katz attended Southern Connecticut State College where he graduated in 1966. He then worked as a Junior High School gym teacher.
Katz also opened a number of gyms across the country which his son now manages and operates.
---

"Arnold liked to train legs with me because he hated it and I loved too. My motivation pushed him to bring up his thighs."
Training
As seen in the famous bodybuilding film "Pumping Iron" Katz's training was so intense back in the "golden era" he recalls himself and Arnold would work the entire body which promoted a cardiovascular workout along with strength training.
Before he moved to California, Katz would take three to four hours to complete a training session. However, when introduced to Arnold, he cut his training sessions down to 1.5 hours wth no rest between sets. They'd mainly use drops sets as the main bulk of their training program.
---

Nutrition
According to Katz, he'd eat 4lbs of meat every day which was cut by hand in his local butchers. He'd eat pasta every third day and oatmeal for energy along with fruit and whole eggs.
Katz said he would eat large amounts of foods containing cholesterol to help him through the intense workouts.
He was also supplied with supplements by his manager Joe Weider and would have protein drinks twice a day along with desiccated liver tablets.
---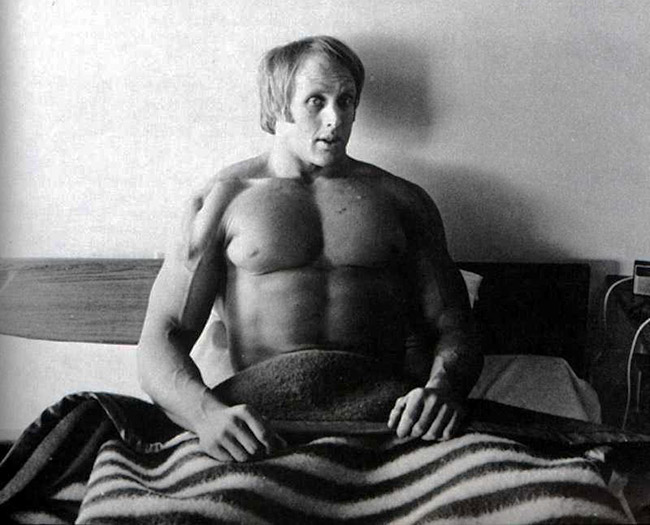 Idols and Influences
When Katz was around the age of 11 years old he went to the theater and saw his first ever Hercules movie starring Steve Reeves.
"It had a profound effect on me" Katz explains.
He immediately signed up for the Weider courses in the mail and posted pictures of the featured athletes on his basement wall for inspiration.
He found some empty milk crates and constructed a makeshift bench, he'd follow the training instruction in the Weider manuals. It's safe to say Katz was greatly inspired by none other that Steve Reeves and other famous bodybuilders of the time.
---

What we can learn from Mike Katz
Mike has taught us that even when the world was against him where he faced bullying and ridicule for his heritage, his size, and for wearing glasses as a child, he managed to become one of the strongest NFL players of his time and was nicknamed "superhuman".
Katz didn't stop there, he soon drew his attention towards bodybuilding where he became a tough competitor in the 1960′ – 70s' and 80s'. He showed huge strength and aesthetics in the tall-class divisions and proved once and for all, if a small skinny child can become a sporting champion, then others can do it too.